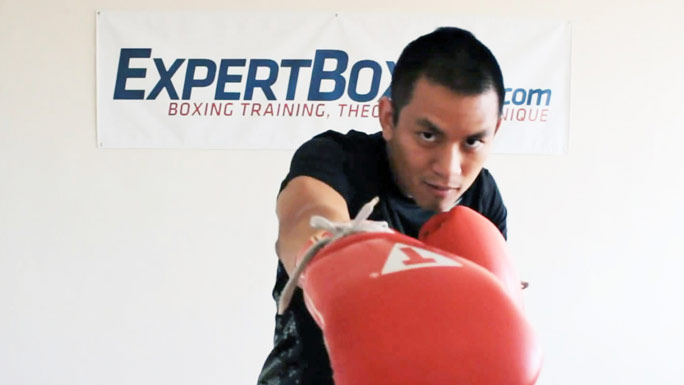 Isn't it amazing how difficult even the most basic things can be?
We've all been there before. The first couple days seems exciting as hell and you can't wait to come back. But then your beginner excitement dies down and training alongside other fighters, you start noticing all your deficiencies. And the harder you try, the more you feel unnatural at it.
Don't you worry, everything you're feeling is exactly what everyone else has felt before. What seems like a hundred mistakes really comes to only a few basic principles. Get those resolved and you'll be holding your own against the "intermediate" guys in no time!
Here are the most common beginner boxing mistakes I see in the gym:
BEGINNER BOXING MISTAKE #1 – Too much upper body focus
Most beginners are overly-occupied with their upper body movements. Punches and blocks use only the arms, slipping movements use only the head, and their lower body (if they ever think of it) is used only for footwork. Dividing their body into separate parts and functions like this makes it easier to learn boxing in pieces but keeps you from being truly powerful!
Instead, all movements should combine the UPPER body and LOWER body together! Yes, the entire body moves at once for every movement. Punches will require leg movements. Small head movements will require small twitches in your hips and knees. Footwork will require upper body movement. Think about it…how weird would it feel to run without moving your arms? Or how about swimming using only arms but not legs? It just doesn't feel right!
All body movements should use your upper and lower body!
The guys moving their lower and upper body IN UNISON will have more balance and more power. The feet are not only for footwork…they are also used for punches, defense, head movement—EVERYTHING! Even standing still in one place requires active feet. Without using your legs to put energy into your stance and punches, it'll feel like you're punching from a wheelchair.
The guys NOT using the lower and upper body together will always have a difficult time with balance and maximizing their power. Using only their upper body makes them over-reach and swing themselves off balance. To avoid losing balance, some will hold back or get tentative with their power. Others, insisting on swinging with full power anyway, will tense up their back muscles as a way of preventing themselves from falling over. This only makes them stiff, shortens their range, hinders mobility, burns more energy and still prevents them from throwing with full power. Same goes for footwork without using the upper body; lots of off-balance, wasted energy, less mobility, and decreased power.
Moving your upper and lower body together keeps your entire body perfectly aligned. Not only are your punches more powerful but you can clearly feel their exact range. No more reaching off-balance! Blocking punches no longer pushes you off balance because your arms now connect to your legs, giving you the solidity of the ground (like when you push a car).
Don't get me wrong, moving the upper and lower body in harmony is one of the hardest parts about boxing and takes many years to develop that coordination. When you're getting punched in the face, the last thing you think about is your legs. But with lots of training, you'll eventually be able to move your entire body with every movement.
BEGINNER BOXING MISTAKE #2 – Not using the eyes
It doesn't need to be said that you need to use your eyes to be able to fight. You have to see the target, time the target as it moves, and then aim your punches towards the target. On defense, you have to watch for incoming punches, follow-up punches, and also countering opportunities. Your eyes are absolutely essential for combat.
So why are we having problems doing what is so natural for everyone? Beginners have a huge problem with using their eyes because they don't feel comfortable! Actually, that's not even a beginner instinct, that's a human instinct. We FLINCH and brace ourselves when we sense danger. Our eyes close as a way of protecting ourselves. Unfortunately in boxing, that instinct is counter-intuitive and doesn't help at all. The more you're being attacked, the more your eyes should be open to help you negate the attacks.
Should you find a comfortable beginner, they still might not be using the eyes! Just because their eyes aren't flinching doesn't mean they know what to look for. I'll do my best to help you through both issues.
Train your eyes to see punches
This is a matter of technical training as well as psychological conditioning. You can improve very quickly if you do this everyday! Shadowbox with a partner. Both of you are "shadowbox-sparring" from a slight distance so no punches ever land. Make you practice at super slow speeds as well so you can REALLY see the entire movement of the punch. Spending time in front of a live opponent throwing punches makes you more familiar with fighting movements and move comfortable.
Beginners have no idea how little they understand punching movements. They often visualize punches from only 2 snapshots of the entire movement, the BEGINNING STANCE and the EXTENDED STRIKE. This is a huge issue when it comes to developing your fighting reflexes and getting comfortable with fighting. WHY?! It's because in realistic combat, many punches are not thrown from the same stance and also don't end at the same angle. You have to be prepared for punches starting and ending from different angles.
Not only that but there are also many snapshots from start to finish. It would be more ideal if your mind could visualize at least 5 snapshots of every punching movement. For example: a jab at start, a jab at the loaded position, a jab being released, a jab almost fully extending, a jab during impact, and then the same number of snapshots as the jab retracts and another punch is coming out. Yes, it's a lot to train for. But this is what you must know to be COMFORTABLE!
What NOT to do – fight blind
The worse way to train is all-out speed, all-out intensity without any control. I'm sure you've seen it before. Two beginners swinging wildly with their eyes closed, both trying to attack and defend blindly. This is why I'm such an advocate of slow sparring.
See my other guides on how to use your eyes during a fight:
BEGINNER BOXING MISTAKE #3 – Training faster than they can handle
Beginners are always trying to train, spar, or fight above their level. They're going so fast that it not only affects their performance but also their ability to learn!
If you ever felt any of these things, there's a good chance you are trying to perform way above your level:
Boxing is too hard.
Boxing is too tiring.
Boxing is too painful.
I don't have enough power.
I don't have enough speed.
My hands aren't fast enough.
My defense isn't good enough.
My footwork isn't good enough.
It's common nature for people to want to be better and to want to rush their way there. Training fast will help you learn fast and get better quicker, right? Unfortunately, no. Sparring above your level only helps you spar faster with the same bad technique. It doesn't help you develop intelligent reflexes and to think faster. Again…like I already said, work on slow sparring.
Train at your level and you'll never feel inadequate. RESPECT YOUR LEVEL. If you're a beginner, work on beginner techniques at beginner intensity. Stay there until you're absolutely comfortable. Then speed things up a bit, make it a little more challenging. But only a little. Keep it comfortable until you're ready for the next step. That's the only way to learn anything complicated. Going too fast too soon will not only overwhelm you, but you won't learn anything. It's also potentially very dangerous—this is boxing, remember?
BEGINNER BOXING MISTAKE #4 – Always forcing instead of feeling
If you splash the water, you'll waste lots of energy and go nowhere.
If you feel the water and paddle with it instead of against it, you can go very far using very little energy.
Beginners lack the common sense of only doing what feels right. They will try to force all movements from all positions without any regard to how it feels. They'll throw jabs that hurt their elbows. Or punch or move around in ways that lose balance. Or slip in ways that hurt their back.
Generally, they just have no idea of feeling their way around things. They'll try to throw an awkward left hook when maybe a right cross is better from that position. Or they'll try to slip even when it doesn't work. They will try to force out whatever move that they want no matter what. They aren't sensitive to their body or the situation in front of them.
Being able to read the situation in front of you takes time, experience, and maturity. These are things beginners don't yet have but need to work on. Can't get your jab past your opponent's defense? That's ok, try something else. Still doesn't work? That's ok, too. Just wait, be patient. Let the fight come to you. Openings are everywhere. You just have to take your time and look for them. Doing the same thing never works, but trying random things without studying the situation first doesn't work either.
BEGINNER BOXING MISTAKE #5 – Not using the jab
Beginners don't use the jab enough. And not only do they not use the jab enough, they also don't use it without variety. They typically think of the jab as only being an opener to bigger punches and bigger combos. They fail to realize that the jab is the number one offensive tool, number one defensive tool, and also number one counter-offensive tool.
The jab is everything!
Many fighters don't know how to make their jab functional. They feel their jab isn't fast enough, isn't strong enough…so instead, they rely on their right hand and left hook or other big punches. But the problem is none of those punches have the speed or reach that the jab has. None of those other punches can set things up the way the jab can.
Go back to really perfecting that jab. Make it snap! Make it crack. It doesn't mean putting more muscle into it or trying to turn it into a left cross. You have to learn how to make one tiny little effortless movement lightning fast and powerful at the same time. It should be strong enough to break a nose. This little skill alone will do wonders for your boxing ability. Heck, if you can earn your opponent's respect with a jab…imagine with your power punches can do?
The best way to get past beginner boxing mistakes?
The truth is: there's no such thing as mistakes. Beginners do the best that they can. And they can't do any better because they don't know any better. Everything they're doing is natural. It's all part of the process.
Don't let it get you down or make you feel uncoordinated, or untalented. Just be patient, work hard, take your time, learn, and enjoy the process. Really work on all the little nuances and before you know it…you'll be moving around like a pro in there. Oh yeah, it also helps to have a good coach and good training buddies who will work with you at your level instead of overwhelming you and beating you down.
What were YOUR favorite beginner tips? What things help you the most when you were starting?