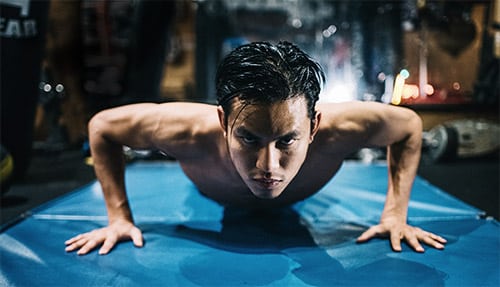 Quite often, we find ourselves in moments of doubt, confusion, fear, anxiety, and even failure. We become so afraid that we lose sight of our meaning in life. We forget about our passions and our dreams. We forget who we are and who we had hoped to be. Instead of living in hope and wonder for the future, we cast shadows upon our own destiny because of fear, and the fear of fear, and the fear of failure.
From the things I've been through, the books I've read, and the things I've learned from others…I've come to find some things that I think could help anyone. These are things you could apply to any challenge in life. Whether a dream, whether a hardship, or maybe a fear, there are always empowering ways to approach things.
These are my best tips for anyone going through the most challenging, most nerve-wracking, and most exciting journeys in their lives.
I've always felt that much of the mental strengthening tips we hear often are along the lines of, "mind over matter" or "stay focused, stay positive" or "you gotta believe!" And it's not that I disagree with those phrases, it's more that I feel they often to lead to an ineffective approach in dealing with problems. I feel these phrases cause people to try and think away their problems. As if all they had to do was tell themselves what they wanted to hear and everything they wanted would come true.
The problem with most mental strength tips
is that they shield you from reality.
Well, things don't work that way. Just because you say it is so doesn't make it so. You cannot become successful by denying reality. Shielding yourself from the truth only makes it that much harder for you to connect with the world around you and benefit from it.
I like to see the truth, to accept it. To enjoy it. And then…WITHOUT bending the truth…I give light to the truth in such a way that it [the truth] helps me along my goals. That's my overall strategy.
My mental strategy in dealing with things is not to lie or hide the truth from myself.
My mental strategy involves dealing with reality as it comes, and using every bit of it that I can to empower me.
There are things you have to say to yourself. Things you must remind yourself.
Mental Strengthening Tips
1. "I am excited to be here."
My original draft for this line was written, "I want to be here." But I don't feel that's powerful enough. It sounds like a guy trying to convince himself that he wants something. No…that's not enough. You have got to be excited! Life is beautiful. Life is exciting, it's scary, it's exhilarating, and it's amazing.
You know what it sounds like when someone isn't excited? This…
I'm not sure about this. I'm afraid of this. I don't know what to expect. Somebody else made me do this. I don't see any fun in this at all. I only see the negatives in this.
The most important thing you have to tell yourself everyday in the gym, and in the moment before you step into the ring is—I want to be here. Something changes in this when you realize how excited you are about something, how much you love something. How much you appreciate the moment.
I want to be here.
This is the moment I've been waiting for.
I want to fight. I want to work hard.
I enjoy this. I live for this!
2) "Pressure brings out the best in me."
Many people are terrified before they step up into the spotlight. "OH MY GOD, NO! I'M NERVOUS!" they claim. There is this fear that they won't perform as well under pressure as they did in practice. After all this time spent thinking about their fight and training for it, they have suddenly changed their minds about the moment they've been waiting for. Now they're terrified and don't want to go through with it.
I'm not ready. I can't do it. It's too soon. I'm scared. I'm not good enough. I'm gonna mess up. I'm gonna fail. I feel like I won't be able to perform as well as I did in practice.
I used to be like that for a while. And all kinds of people would give me advice like:
"Oh don't worry about it. It's all in your head."
"You'll do fine. Just go out there and have fun."
"You've already won. Don't worry about winning. Don't have expectations."
Or maybe they'll tell me to meditate. Or maybe they'll tell me to get amped up. Drink Redbull and ride the nerves like a wild dragon. "If you can't tame it, ride it!", they claimed.
Well none of it worked for me. And I felt the reason was this— nerves are real. Being nervous is a real thing. It EXISTS. You can't just think it away or lie to yourself that it doesn't exist. You're not going to be very successful dealing with your nerves if your general strategy is centered around pretending that it doesn't exist.
The best strategy for me was to take the challenge of dealing with nerves head on.
Nervousness is real. Pressure is real.
The lights will be on. Many people will be watching. There is A LOT of expectation to do well.
But here's what makes the difference:
Pressure brings out the best in us.
The more pressure there is, the better I will do.
And done. From there on out, the more pressure I perceived in an event, the better I prepared and the better I expected for myself. I even stared down the idea of pressure. I was like:
Oh yeah?
Come on, nerves. Come on, pressure. Come on out and face me.
I know you're there and I want to challenge you. I want to face you.
The more pressure I have, the better I'll do.
I faced the pressure head on daring it to affect my performance. Needless to say, the problem went away very quickly.
3) "I will respect myself."
This is an important mental adjustment for those who are always putting themselves down, being down on their efforts, not appreciating themselves. It's even crazier when these same people (who put themselves down) are simultaneously busy putting everyone else up (always complimenting others but never themselves). It truly is a major mental self-esteem problem that will affect everything you do in life.
First off, you have to love yourself. Be kind to yourself. Respect your effort and respect your accomplishments. Yes, you can be nice to everyone else around you. "GOOD JOB! NICE WORK!"…those might be things you tell your friends all the time, right? Well you have to tell yourself that, too! You can't just only be nice to everyone else but then to yourself, you're always thinking…."Oh man, you suck. You're such a screw-up. You can't do anything right. You'll never be any good."
It doesn't work that way. You have to respect yourself first and foremost.
I love myself.
I will respect my effort.
I will respect my accomplishments.
I will not put myself down.
I am getting better.
I might actually be very good.
I might be better than I thought.
The best thing you can do on those hard days in training when you don't feel so great…just sit yourself off to the side and give yourself a pat on the back. "You're doing great, tomorrow you will do even better."
4) "I enjoy challenges."
You can't just be doing things that are HARD FOR OTHERS but EASY FOR YOU. No, hell no. You have to make mistakes, fail a few times, conquer fears, experience major discomfort. Challenges have to be personal. It has to be a CHALLENGE TO YOU for it to be considered a real challenge.
Whatever it is that you do, it has to force you to step up. It has to force you to face fear, walk through the hell of self-doubt, and drag yourself to the finish line. This is where all the personal growth and amazing happens.
I'm going to say something very cliche but it's true. The reward is in the journey, not in the finish line. If the only thing important to you is that trophy at the end, I would have to say you're not on the right path to fulfill your spirit. If the most transformative thing for you is that little trophy at the end…I would dare say you can find something better. Why not find a challenge where the entire journey is meaningful. Where you can be proud for everything you went through. Where the journey was more meaningful than the trophy you get only at the end?
PS: if all you want are IMPRESSIVE things, you're only looking for external validation rather than internal validation. The challenge is to impress yourself, not others! Start your life by looking for challenges, then face them.
I'm ready to take on these challenges. I'm ready to harden myself and become stronger. I'm ready to go through hardship, mistakes, and failures, to make myself better. I'm looking to push my limit.
5) "I celebrate hard work."
I think it's so sad that after a long hard training routine, fighters put themselves down so much for failure. Because they lost, got beat up, got knocked out, or in some way failed to meet their own expectations.
And I do understand why this is hard. To dream of a moment and to have that dream shattered, taken away from you, and replaced instead with a humiliating memory, how could anyone be happy for that?
Well…anyone can be so much happier focusing instead on all the exciting stuff and good stuff you did. Things you learned, the progress you've made. Seriously…be happy for yourself. Yes, we celebrate victories and trophies and first place prizes, but we should also celebrate hard work.
Don't waste time thinking about your mistakes and failures. Whatever you think about, leaves an imprint in your mind and strengthens your neural connections in the patterns that you don't want. Focus on what's good.
Focusing on what's positive IS NOT OPTIMISM. This is NOT the empty promise of thinking positive. The positive that you've done IS the truth. You did all this incredible work and grew and improved so much. You better enjoy it. For of the rest of your life, if you want to be a winner and FEEL like a winner, then you better learn how to celebrate hard work every time. Hard work is that best friend who will always put you in the right direction, even when he lets you down at times.
The next time you fail to meet an expectation:
I am proud of myself. I want to celebrate my hard work, my progress, my hopes and dreams. I did a great job.
The Joy of Failure
I think that in all this striving for achievement that we do, it's easy to lose sight of why we do what we do. What's the point of suffering? What's the point of torturing yourself, beating yourself up mentally everyday, to seek the external validation in something that means so little to you and even less to everyone else?
When was the last time you wanted to be validated by something…money, a car, a trophy, a title, a job, someone else's respect, a beautiful girl…and the moment you got it, it stopped validating you, it stopped making you happy. Seeking external validation is a never-ending cycle of unfulfilled expectations. You cannot enjoy life until you have it. And once you have it, it loses its meaning.
Live for yourself. Live for the joy of not knowing what comes next. Remember the times you used to play as a kid, always trying things because you had fun doing them. And you had fun even when you messed up, even when you "failed". Live your life with the excitement that you are taking the most exciting gamble there is and that you enjoyed the game regardless of winning or losing.
Always play to win,
but when you lose, lose like a winner. 🙂
Great Books for Mental Strengthening
I'd like to share 2 of my favorite books for mental strengthening. Honestly, I think everyone should be reading this…not only athletes. So much of our lives are created by the way we think. And without careful learning of how to use our mind, we will use it only as efficiently and inefficiently as the methods we copied from those around us.
For the sake of controlling your performances, your life and future, your success and happiness…please read these gems:
The Power of Your Subconscious Mind
An incredible book to teach you the science behind the subconscious mind. How it alters your perception of reality and ultimately alters your reality. You will learn how to control your subconscious mind and to use it alongside your conscious mind to create any reality you want. The book goes over typical scenarios in life such as confidence, success, failure, fear, health, and many others to show you how to maximize the power of your subconscious mind in each situation.
With Winning in Mind 
This book will teach you how to prepare your mind to make positive imprints and build habits to edge you closer to competitive success. Tons of great insight into how the mind works to help you succeed and put together winning strategies in a really common sense manner. Very easy tips and guaranteed if you read one chapter a day or even one chapter a week, you will notice instant results in your competitive performance. I'm almost embarrassed to realize how simple some of these are and yet hardly anybody knows them. They really do work.