Find the perfect distance between your feet to give your boxing stance the best balance, power, mobility, and efficiency.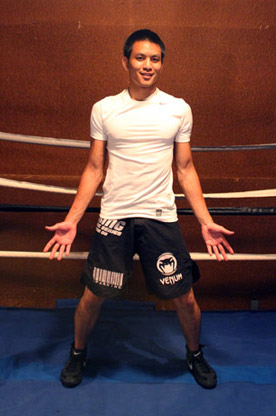 Here's a question I hear everyday,
"How far apart should my feet be?"
Every trainer knows the answer to this one…
"About shoulder width!"
and so the boxer adjusts his stance as the trainers give him feedback.
"Errr…too far!"

"…now it's too close!"

"…it's still a little far"

"…ALMOST…but not perfect."

"…you know what…whatever, just use what feels comfortable."
The answer is so simple yet many boxers never get it right. Everyone knows how far apart a boxer's feet should be yet nobody knows their own perfect stance. Some trainers just give up and let fighters stand in whatever way feels most natural to them. But is that the right way to do it?
I did figure out an easy way to determine the proper distance between your two feet. I call it the "High and Heavy" method.
The "High and Heavy" Method
1. Stand straight.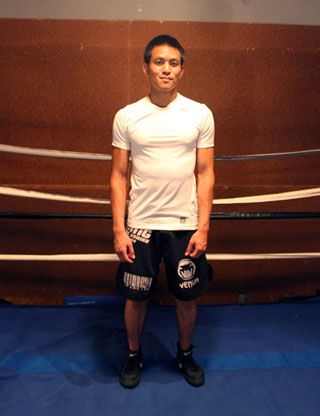 Start out in the "high" stance, feet spread shoulder width.
2. Rock side to side.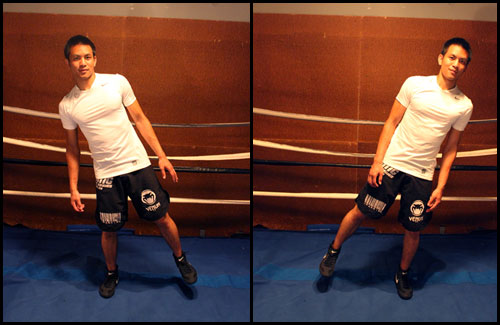 With your body straight, rock slowly side-to-side, shifting your weight from one foot to the other. Notice my feet don't lift more than a few inches off the floor.
3. While rocking side-to-side, WIDEN your feet.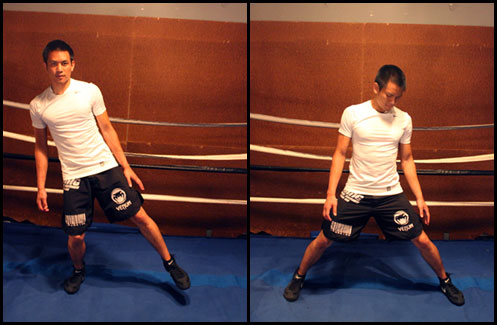 While rocking back and forth, slowly widen your feet until it's almost impossible to rock side-to-side anymore. Your hips should feel so heavy that your feet become stuck to the ground. This is now the "heavy" stance.
4. Bring your feet back together. Stop when you feel "high and heavy".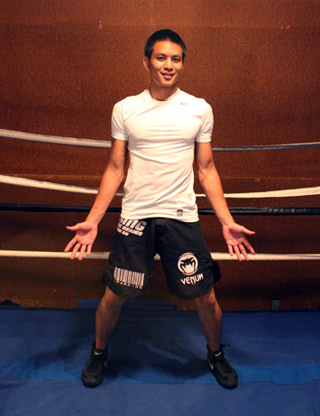 Ahhhhh. I found the perfect distance! HIGH AND HEAVY!
Still rocking back and forth, slowly bring your feet together. This time you want to be as tall as possible while still feeling "heavy". The perfect width is when you feel tall and yet your hips still have just enough weight that you can't rock so much. The moment you find this balance between "high and heavy", you have found your perfect foot width!
A little video demonstration of the "high and heavy" method.
What is the Point of the High and Heavy Method?
Why HIGH?
Standing HIGH gives you reach, mobility, and energy efficiency.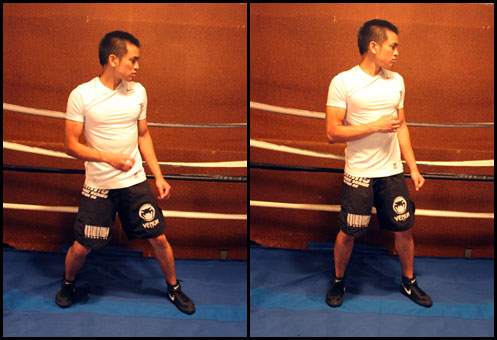 High vs Too High
Standing higher, you can reach your opponent's head better while keeping yours further out of range. Height and reach is always an advantage in boxing!
If you stand too high you will have less control over your balance. If your center of gravity is too high, you will have no weight to throw or defend against punches. I call this problem "floating hips". You can fix this by getting "heavy".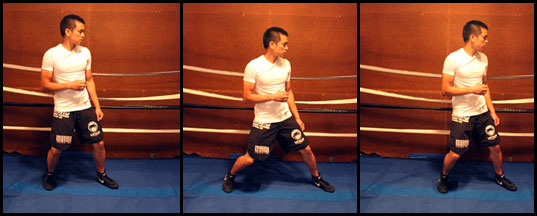 Good Mobility from Higher Boxing Stance
Standing high allows you to move better. Standing with your feet closer means you have more room to spread your legs. You can take longer steps to to go in and out of range without the need to jump. You'll be able to move FASTER as well as FARTHER!
You can also pivot faster. When your feet are closer together, you can get more rotation on your pivot than if you were standing in a wide stance. Swinging your foot just 2 feet might only pivot you 30 degrees from a wide stance, whereas it could pivot you 90 degrees from a narrower stance.

Standing high increases your leg efficiency. Because your legs are more directly under you, you use less energy carrying your body weight. (Notice how basketball players place their legs under them when they want to jump high.) When you move around, your legs distribute your body weight better so that one leg doesn't absorb too much of your body weight.
Why Heavy?
Standing HEAVY gives you balance and power.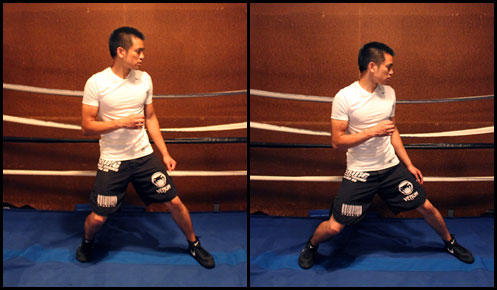 Heavy vs Too Heavy
Getting heavy, and lowering your center of gravity gives you more balance and power. Grounding your body weight allows you to throw and defend against harder punches. Getting heavy allows you to apply more of your body weight against the ground, moving with more power and more control.
Now you have to be careful of getting too heavy.
Too Heavy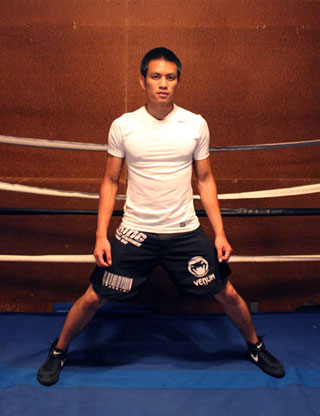 Being too heavy and too low to the ground is obviously bad. You'll actually have even less balance (your center of gravity may be closer to the ground but it's spread apart). Your feet are so far apart that anyone can push you off balance. Your feet have less room to step out, resulting in decreased mobility.
Wasted Leg Strength from being TOO Wide
Being too wide will waste leg energy.
Instead of just carrying your weight, your legs are applying horizontal force against each other (further adding to the downwards force already applied by gravity). You will burn more energy jumping up, or even side to side. Having your feet so far apart makes your body weight shift drastically from one leg to the other when you move, forcing each leg to work harder as it passes your body weight back and forth.

A wide stance moves less efficiently in all directions, using more energy, and with less range. Gravity only pulls your body down, yet your legs support at an indirect angle while adding their own unnecessary force. Even just standing still will tire out your legs if you stand too wide.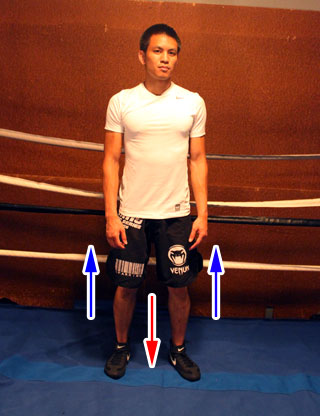 Standing taller results in the most efficient use of leg strength.
Gravity applies downwards force.
The legs apply only upwards force (effectively counter-acting against gravity).
#1 Problem With Boxing Stance: TOO WIDE
The problem with most boxers is that they stand too wide. They do this because they feel more balanced and more powerful this way. The truth is, they're just wasting energy. If you stand too wide, you may feel more balanced because you're pushing harder against something. I'm willing to bet you'll fall off balance easily if your opponent throws a hook. You might FEEL like your legs are adding power to your punch but this isn't the case.
Legs in a wide stance are just applying more force to each other,
not necessarily the punch.
Many beginner boxers start off a fight being too wide. Their feet have no room to move and so they rely on jumping to get in and out of range. Jumping around only works for so long. And then the worst happens: their legs get so tired they can't even stand in a normal boxing stance. So they stand higher, raising their center of gravity and walking around the ring because their legs are too tired to step in like a boxer. Without any weight to their stance, they get pushed off balance and don't have the power to counter.
And that, my friend is the tragedy of the beginner boxer's stance: Too wide and then too high!
Forget about punching and blocking,
if you can't stand right, you'll lose anyway.
The Perfect Distance: HIGH and HEAVY
Boxing is a tricky fighting art that requires both power punching and constant movement. Having power requires you to ground your weight whereas moving requires you to lift your weight. It's a very tricky balance most boxers can't figure out. Some boxers are the "stick and move" type which is running and jabbing all day. Other boxers are the slow-footed sluggers that punch powerfully but move like they're stuck in quicksand.
The perfect distance between your feet, the "high and heavy", will ground your weight for maximum power while still allowing you to move swiftly around the ring. You'll have good reach and height on your punches and be able to take nice big steps using minimal energy.
So the next time you step foot into the gym, remember: HIGH AND HEAVY!
Why Is The Distance Between Your Feet SO Important?
The entire fight will be you moving along the ground. Finding the perfect foot width maximizes your body's relationship to the ground. The distance between your feet determines the control of your body weight over the ground.
Again, maintaining the perfect foot distance between gives you:
balance

power

mobility

efficiency

height & reach
The SECRET to the Boxing Stance
So what happens after you find your perfect "High and Heavy" stance?
Well, I suggest you fight with it for a bit. And then when you're ready…whenever that is…you can read the next part. (Oh, I'm just kidding myself. I know all you guys are going to read that right now!)
The secret to the perfect boxing stance:
it constantly changes.
Don't get confused just yet. Let me explain. The "High and Heavy" method is to find the distance between your feet in your boxing stance! When you're fighting, you want to constantly shift your stance SLIGHTLY–WITHOUT CHANGING YOUR FEET DISTANCE. When you move, you will come up SLIGHTLY higher. Raising your hips (slightly) will lighten you just enough to move easier. When you get into punching range, you will do the exact opposite. You want to drop your hips (SLIGHTLY), so that you have a little extra balance and power to throw and block punches. You may have heard trainers tell their fighters, "Sit down on your punches." They mean for their fighters to drop their hips, thus dropping the weight, which is another way of what I call "getting heavy". The saying was not meant to be taken literally, but of course that's exactly what people do.
THE BEST BOXERS…the absolute BEST boxers…realize:
It is simply the MOVEMENT of lifting or dropping the hips
that allows a boxer to be mobile or powerful.
The greatest boxers can shift their hips with such subtlety that their opponents cannot tell whether they are moving or punching. The "High and Heavy" position for them is simply the balanced line that gets crossed ever so slightly throughout the fight. The experienced boxer will move and stand from his "high and heavy" stance and slightly drop his hips ONLY when he throws a punch or blocks a punch.