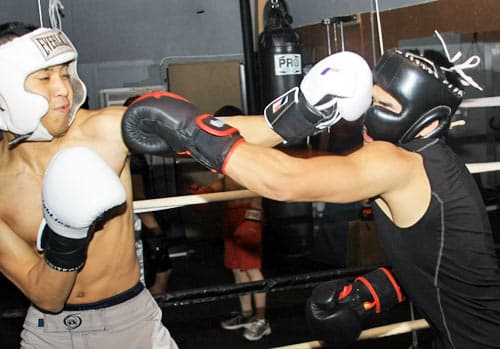 This is a guide base solely on training out your flinch reflex. I'm talking about the natural reflex where a fighter may blink or close his eyes and stiffen up his body when he sees punches coming his way. It's natural but there is a way to fight through it. You basically have to practice.

For most beginners, the flinch reflex is when they can't keep their eyes open when they are taking punches. For other fighters, it has to do with them panicking a little and holding their breath when they're taking punches. This only makes their condition worse since they will get the wind knocked out of them when they get hit with a clean punch. In fact, part of the reason why fighting in the ring is so tiring is because people can't overcome their flinch reflex and so they keep freaking out and holding their breath instead of relaxing.
2 drills to help you get rid of that flinch reflex
Glove-Tapping Drill
This is a very basic drill but  is still recommended for all boxers regardless of their skill level. Basically the boxer walks around the ring forwards and backwards as the trainer (or another boxer) keeps tapping him on his gloves. (These are not properly thrown punches, it's just a bunch of quick gloves taps from the "attacking" boxer. You rapidly tap his gloves at awkward rhythms.) The point of the drill is for the defending boxer to be able to block all the light punches while keeping his eyes open and his breathing in perfect rhythm. It will take a lot of practice but soon you will be able to take punches without getting your rhythm broken up.
Jab – Jab Counter Drill
Many fighters lose because they have not perfect this drill. This drill basically prevents you from leaning back when you're taking a punch. Basically you and another boxer will move around the ring taking turns at jabbing each other. Here's how it works: Boxer A jabs at Boxer B first. Boxer B immediately cuts the jab short by blocking it with the right hand and returns with a counter-jab at the air ABOVE Boxer A's head. NOW HERE IS THE CRITICAL POINT: when you are taking a jab, do NOT flinch and lean back to cushion the punch! Instead, you must quickly stop the punch and then step forward and make an assertive counter-jab into your opponent. It will take time but soon you will be able to quickly catch a jab, and instantaneously return a counter without wasting a split second by leaning back.
Once you learn these basic drills, you can learn the next reflex drill which is the [Push Down and Counter On Top]