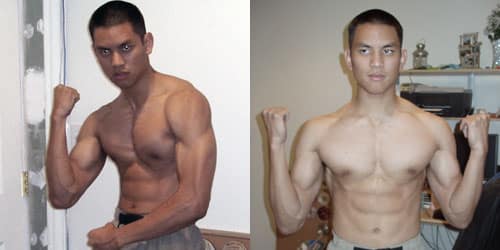 *This was 10 years ago when I thought lifting weights made me a stronger puncher.*
My body isn't like that anymore and yet I'm so much more powerful now even without trying. Earlier this year, I wrote a controversial article explaining why lifting weights doesn't increase punching power.
A lot of people disagreed,
many got angry.
One person called me a "stupid kid that doesn't know anything about sports science or boxing."
…this guide is not to convince ANY of these individuals.
For everyone else willing to READ and LISTEN and set aside your bias for a split second, here are some more explanations as to why I stand confidently at this conclusion today.
I write it because it might change the way you think about training, change the way you fight, and help you punch harder than you ever could.
1. Power comes from the ground
To be more precise, power comes from your RELATIONSHIP WITH THE GROUND (in relation to gravity.) And not just punching power, but ANY kind of power.
It doesn't matter what type of force you use to punch (push, pull, lift, drop, rotate, etc)…you will have to do it USING THE GROUND AS YOUR REFERENCE. (push from the ground, pull from the ground, etc).
The ground is your point of reference,
from which to generate powerful force.
The point of reference is NOT YOUR BODY, it's the ground. Do not forget this. The moment you forget about strengthening your contact to the ground, your power will fail. Imagine if I was to be swinging in the air with my legs off the ground, I wouldn't be able to generate ANY POWER AT ALL (regardless of my punching technique).
Moving on…
2. You can only go UP OFF THE GROUND, or DOWN INTO THE GROUND
Remember, the ground is your reference point.
All *powerful* movements you make must originate from the ground or else it's "ungrounded" and won't have any power. (If I was to punch on one leg, it wouldn't matter what technique I used; the punch would be weak.) Being that the ground is your point of reference, all movements are either going away from the ground or into the ground.
ALL POWERFUL MOVEMENTS are either going UP off the ground or DOWN into the ground.
The choice is yours. Obviously going down when you punch is so much more powerful than going up. You have the added force of gravity to increase your body mass (making you momentarily a heavier object) and aid rotation. You can also punch going up (useful for some tactical purposes) but much of your energy would be spent just to OVERCOME gravity's forces and then whatever's left is applied to the punch.
A forward movement is still an indirect angle of going UP off the ground. The reason being that there is nothing behind you to push you forward. So the only way to go forward is to either push yourself up at a diagonal angle from the ground or to push yourself UP off the ground and then fall forward. It's not a fall in the sense that you lose balance but it's a fall because you're letting gravity project you forward rather than you being able to move yourself forward.
So let's review again:
GOING DOWN uses the added force of gravity
GOING WITH gravity takes less effort and increases body weight
INCREASING BODY WEIGHT gives you more punching power
Quite simply, going DOWN IS BETTER THAN UP!
3. Punching power comes from INCREASING YOUR BODY MASS
Your ability to punch harder,
comes from your ability to make yourself heavy
at the moment of impact.
Your punching power is a resulting combination of your grounded body mass, rotation in the hips, speed of the fist, and controlled tension at point of impact. There are many forces at play but for the sake of easier explanation, I have over-generalized it to these 4 major ones.
a) GROUNDED BODY MASS – means how heavy and how dense you can make yourself.
The heavier you are at impact, the more powerful your punch (which is why big guys naturally hit harder than small guys, they have the weight advantage). Likewise, becoming a dense object at the moment of impact makes you more powerful than being loose (just like how a tight fist transfers more energy than a loose fist).
b) HIP ROTATION – refers to the circular acceleration of your hips in force generation.
Of all the accelerating forces in a punch, this one is probably the most important…NOT FIST ACCELERATION. Fist acceleration alone does not guarantee hip acceleration; which is why some fast-handed boxers still don't have any power. The hips are rotated to the spine, and rotating the hips powerfully rotates the spine powerfully which sends out the hand with power instead of only speed.
c) HAND SPEED – refers to the speed at which your fist travels when it makes impact.
Hand speed alone however does not guarantee any added power. What matters is THE ORIGIN OF YOUR HAND SPEED. If your hand is coming out fast because you have fast twitch muscle in your shoulder and triceps, it won't add any power. Only when your hand speed originates from your CORE ROTATION, will you have more power from faster hand speed. Nonetheless, any hand speed (whether from the arms or core or both) is useful because it can catch your opponent off guard and surprise punches tend to hurt more.
d) IMPACT TENSION – refers to the integrity of your form at the moment of impact.
This is THE ONLY TIME when you should be stiff during a punch—it's right at the impact. The reason you must become stiff is to transfer energy. Just like how when you play pool, the white ball must completely stop in order to transfer all energy to the ball it hits. If your white ball was still moving after hitting, that means it retained some energy still. Likewise, a puncher that doesn't stiffen his punches will only bounce the energy off his opponent when landing a punch. Boxing, however is a tricky game, you most "stop" only long enough to transfer energy and then must keep moving again for fighting purposes. The fight itself is still constantly flowing, but do know that there are microscopic moments of "stillness". Too many people overdo the impact tension and say things like "you must push punches all the way through!" which only wastes energy and slows down your combination rate because your fist is unnecessarily waiting around after impact.
Punching power IS NOT F=MA ( force = mass x acceleration )
I laughed when I saw all the references to the basic velocity equation in disagreeing comments from the first guide. Here's what many people said,
 "BUT JOHNNY, YOU'RE WRONG! Force equals mass times acceleration! More muscle equals more mass times more acceleration equals more power! You failed!"
No I didn't. Yes, the equation is correct. But it's application to the physics of punching motion is not that cut and dry. Comparing the complicated mechanics of punching to a simple linear physics equation is a failure.
F = MA is assuming a linear vector movement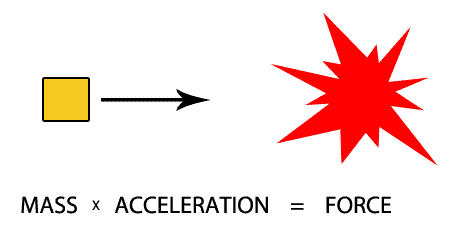 How is this equation relevant to punching?…I see only one object and one force at work here! 
Does the MASS refer to the weight of the fist or the weight of the body?
Does the ACCELERATION refer to the acceleration of the fist or the acceleration of the hips?
If we're talking about hip rotation, wouldn't it be circular acceleration (aka linear tangential acceleration) instead of linear acceleration?
Does the FORCE refer to the force transferred through the fist? Or the force generated through the body?
Is a punch a series of combined forces or just one force?
What if there's a curve in the motion of the fist?
What if there are gravitational forces or other external forces affecting the resulting force?
WHAT ABOUT THE FACT THAT PUNCHING MOVEMENT is nothing at all like a straight linear movement?! If punching was only a combination of pushing motions, then why isn't the best punching position me crouched up like a sprinter and then springing forward out of the blocks? (I'm kidding here.)
A punch requires multiple accelerations
of different masses
working together simultaneously.
A punch requires several forces to accelerate and decelerate from different areas simultaneously.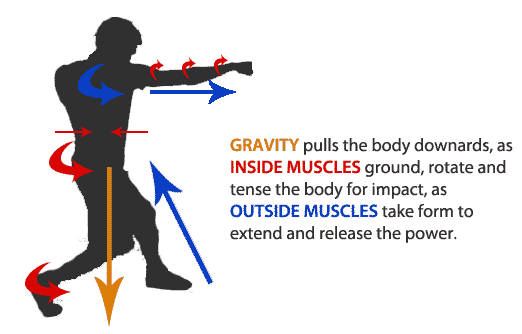 The force equation for a simple linear acceleration is F=MA.

The force equation for punching is WAY MORE COMPLICATED THAN THAT.
4. The MOST IMPORTANT MUSCLES for Punching Power
As I've explained before, punching power comes from:
increasing body mass
hip rotation
hand speed
impact tension
If you don't know how to punch, it will sound like 4 separate movement principles. First, you'll waste your time with squats to build leg muscles. Next, you'll waste your time with the bench press to build a stronger upper body. Then you'll do some cable pull-downs and push-ups to strengthen your triceps. And finally with the last of your energy, you'll rush through the crunches.
You'll soon find out why this is a GIANT WASTE OF TIME.
If you DO know how to punch, then you'll realize that all these movements are basically ONE MOVEMENT. Yes, it's beautiful—grounding, rotating, hand speed, impact tension—ALL THAT CAN BE DONE WITH ONE MOVEMENT!
The core ALONE can increase body mass,
rotate the hips and spine,
release the hand, and create impact tension.
The secret to punching power LIES IN THE CORE
The core alone can make ground you, making you heavier and denser as you punch. The core alone can rotate your hips. The core alone can send out your hand quickly. And the core alone can tense up your entire body at the moment of impact.
Haven't you ever noticed that when you're tired of punching, your stomach is tired or you're out of breath or you lose balance? It's because your muscles at your center are no longer holding you up. You're punching like a hollow skeleton which falls and bends as it struggles to move. The other muscles of the body such as the arms and legs fail too, but your punching suffers the most when your core fails.
Try running or squats until you collapse and then throw punches. Then try doing sit-ups until you collapse and then throw punches. And tell me which exercise affected your punching power more. Tired legs can still punch and let you fall into punches…but a tired core will always be too weak to do anything!
But what about other athletes that lift weights?
Yes, I'm aware of sprinters, gymnasts, basketball players, football players, and dozens of other athletes that lift wights for increased power. There is one fundamental difference between THEIR MOVEMENTS vs a PUNCHING MOVEMENT.
All those other athletes ARE MOVING THE BODY. Sprinters are pushing their bodies forward, gymnasts are swinging their bodies, basketball players and football players are moving their bodies all over the place.
A boxer throwing a punch is doing the exact opposite, he's trying to GROUND his body as much as possible! A punch is you generating force from the ground and then projecting it, transferring all of it to your opponent. If your hips move from their position (either up or forward or back) you will either decrease the power generated or decrease the power transferred.
Other athletes are moving their bodies,
boxers are not.
From a technical standpoint, boxers actually have the tougher job. It's very hard to generate and project power. See, a sprinter would only have to workout his legs and then run all out. He doesn't have to worry about anything else. (I'm over-generalizing; I'm aware it takes years to develop running technique.) A boxer on the other hand, has to generate a ton of force, and then transfer this force through a very small and weak extremity (the hand).
For this reason, the power punching skill takes so much longer to develop than many other movements (like running, jumping). A trained puncher can easily outpunch an untrained puncher 3-5 times but a trained runner can only outsprint an untrained runner by 15-30%. Regardless of how powerful you are, you have to understand that muscle power has a very low influence compared to technique when it comes to punching power.
5. INSIDE MUSCLES vs. OUTSIDE MUSCLES
I know I've said "core" a thousand times up above but it's actually more complicated than that. Instead of thinking about only your core, another way to look at your body is "inside muscles" vs "outside muscles".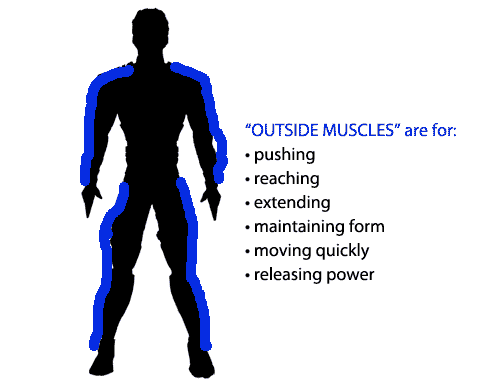 OUTSIDE MUSCLES – are the muscles that help you move your body OUTWARDS. Outwards movements can be characterized as pushing, reaching, forming, releasing power, and moving your limbs quickly.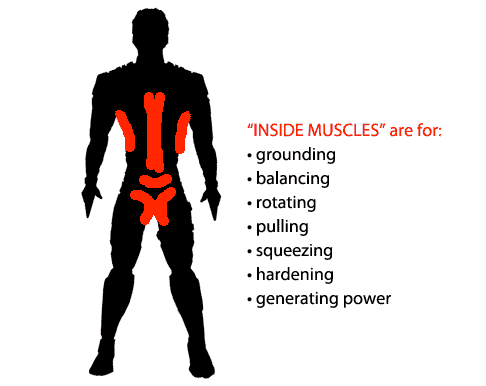 INSIDE MUSCLES – are the muscles that help you move your body INWARDS. Inwards movements can be characterized as rotating, grounding, balancing, pulling, squeezing, hardening, and generating power.
Train the INSIDE MUSCLES first.
If you want to increase your power in any movement, start by training your INSIDE MUSCLES first. I would consider the following as "inside muscles": abs, lower back, pelvic muscles, inside the hips, and adductors. The inside muscles are what make you SUPER SUPER HEAVY and hit with more torque.
Watch a pro boxer train and you will see that they all do tons of reps when targeting core muscles. It's common for champions to do 30-60 minutes of pure core work everyday. Strong inside muscles is what makes that old former champion feel heavy when you try to move him. Strong inside muscles can make you powerful even if you have skinny arms or even bad technique. These inside muscles help you stand and balance better, too.
What about the OUTSIDE MUSCLES?
When it comes to generating punching power, OUTSIDE MUSCLES (legs, arms) are pretty much useless.
They have a low impact on punching power, maybe 20% at best. This doesn't mean all non-core muscles are useless. It just means that you have to understand how everything fits together.
INSIDE MUSCLES generate the power.
OUTSIDE MUSCLES deliver the power.
INSIDE MUSCLES GENERATE POWER – the core anchors you to the ground, rotates your body, and hardens it for impact. Nobody can see these because they're on the inside of your body. (For example: I'm not talking about the outside abs, I mean the INSIDE ABS, the muscles underneath that six pack.)
OUTSIDE MUSCLES DELIVER POWER – arms and legs are for extending the mass of your core (connected to the ground) toward your opponent to transfer the force. When it comes to power punching, outside muscles are most responsible for maintaining the form of your punch. For example at the point of impact, having strong triceps and shoulders would keep your arm from collapsing and breaking the transfer of energy.
You could also say that outside muscles are important for RESISTING FORCE, or maintaining IMPACT TENSION. But this still means you need a strong core first to generate the force, and then strong arms to make sure all that power transfers through. Strong arms and legs ensure that your lines of power throughout the body stay connected when they're stressed at impact. You could say outside muscles need more ISOMETRIC STRENGTH (stationary resistance strength) than CONCENTRIC STRENGTH (moving strength). As long as your arms and legs are strong enough to resist a ton of force, they're strong enough for power punching…you don't actually need to be strong enough to lift heavy weights.
Outside muscles are also useful for speed and endurance. Strong arms will make sure you can throw many punches. Which is why the traditional boxing conditioning program focuses on speed and endurance. And the power and strength increase comes as a result of balanced conditioning, not necessarily because of an all-out focus on power.
So it's impossible to generate power with outside muscles?
No, of course not. Let's say I had no understanding of how to punch with my core. If that was the case, my only method of throwing punches would be to go UPWARDS. And if my punching technique is nothing more than pushing my legs up off the ground, then that will *unfortunately* be my punching technique.
If my legs are 100% of the power in my punch, THEN OF COURSE LIFTING WEIGHTS would in fact increase my power. The question you should be asking yourself is…"can I use my muscles in a more effective way for throwing punches?"
It's possible to increase your punching power
by weight lifting,
if you're punching with poor technique. (push punches)
Punching with outside muscles is not necessarily bad but it has many limits and definitely will not produce the strongest punch. Any time that you use outside muscles to PUSH YOUR PUNCH, you basically take yourself off the ground. You can try it now. Throw a punch while extending your legs. Sure, you can generate a hard punch but then you'd be shooting your weight up off the ground. You won't be able to punch again until your legs reset. Some people argue that pushing with the legs is still fine as long as you don't over-extend, and to that I disagree. The moment you "push" (whether a little or a lot), you upset your grounding and that alone decreases power. It's terrible for combination punches, but perhaps useful for something like say for example: a leaping hook.
How can I tell which muscles are "inside" or "outside"?
The differentiation is simple. If the muscle MAKES me heavier and/or denser, it is an "inside muscle". If the muscle MAKES me lighter (in relation to gravity), it is an "outside muscle". I would imagine this to be an amazing discovery for some (open minded individuals) and a painful discovery for others (particularly, the stubborn ones).
Here are some over-generalized examples:
My upper shoulder muscles can only project force upwards, so I would consider them outside muscles.
Lats pull me down and tighten/stabilize my core, so I would consider them inside muscles.
The tricky one – THE LEGS!
If I'm going to punch with my legs, I would be using the INSIDE LEG MUSCLES to help me ground, pivot, and rotate for more power. Which is better than using the outside leg muscles which only pushes me off the floor and away from my center.
At some point, it's less about inside vs outside but more-so about HOW you use your muscles.
6. The Limitations of Weight Lifting
I have nothing against weight lifting or any other forms of resistance training. There is nothing old school or new school about them. They are simply methods of strength training with many variations going in and out of popularity over the years. The way your body responds and adapts to its environment, on the other hand, has stayed constant over the years.
If you train one muscle in a certain way, you get a certain effect. If you train the same muscle in a different way, you get a different effect. Getting the effect you want depends on your understanding of boxing movements and the required training to stimulate the right muscles in the right way.
With that said, here are the LIMITATIONS of WEIGHT LIFTING:
1. Inability to prioritize the core and "inside muscles"
I don't doubt the effectiveness of weight training to increase contraction strength and power in your muscles. What I doubt is their ability to target the MOST EFFECTIVE PUNCHING MUSCLES. If you can find an invention or method that makes my core lift weights, then by all means SIGN ME UP!
2. Ineffective in increasing torque strength
True punching power comes from rotation. If I'm working my legs, I want to work my legs so I can ROTATE HARDER not push harder. If I'm working my calves, I want it so I can pivot my foot harder, not necessarily so I can jump higher. I can see how squats might make my legs stronger and more powerful but I don't see how they are the most effective exercise for increasing my hip rotation.
3. Poor angle coverage
I feel that lifting weights, especially heavy weights, becomes an isolation type exercise where you increase your strength at only a few angles. It's like I can push a lot of weight at one angle but then if I shift my arms to a different angle 20 degrees away, I become much weaker. For some of you, this is the difference between free weights vs machine weights, or weights vs calisthenics and I agree. I'd rather be a monkey hanging off the trees to develop all ranges of strength than to use a machine specifically designed to develop only your best looking muscles.
On the other hand, if I have a strong core, I can just stick out my fist at any angle and generate a hard punch through the core. This is more realistic for fighting, because my core doesn't move around much but my arms and upper body do.
4. Decrease in speed and endurance
As I've already said before, one of the main functions of outside muscles is for speed and endurance. The arm's job is nothing more than to reach out to your opponent. It's not built to generate power and it shouldn't be. The best thing you can do for your arms is to have speed and stamina.
I should also clarify that when I say speed, I don't mean the maximum speed of movement. I mean the overall consistency of speed. When it comes to a weaker outside muscles like the arms (and to some degree, the legs), longterm speed has a direct correlation to endurance. The better your arm endurance, the faster your hands will be throughout the fight. If your arms get tired easily, they will slow down quickly!
You're welcome to lift weights to aid the development of MAXIMUM HAND SPEED, but don't forget that arm endurance greatly affects their speed in a fight. Likewise, you should do the same when deciding whether to workout for endurance or power.
5. Weight lifting exercises the muscles that go AGAINST GRAVITY
The problem with weight lifting is that is has less to do with moving your body than it does with fighting gravity. Weight lifting exercises are almost always going against gravity…but the best punching muscles and best punching techniques are the ones that go WITH gravity. If you want to be powerful beyond your mind, you don't resist gravity, you find more ways to go WITH GRAVITY.
6. Weight lifting aids only the tension aspect (LAST 2%) of the punch
This has to do with your punching technique. A punch is made up of weight and speed (mass & acceleration). If you're a beginner, you'll probably try to do both weight and speed at the same time which means you are using 100% tension throughout the punch ("push-punching"). The other option, and far superior option, is to be a snapping puncher where you are using 98% relaxation and then 2% tension.
Snapping punches are better (faster, more powerful, using less energy) because you are relaxing during the first 98% which builds tremendous speed and saves energy and then applying tension only at the very last 2% of the punch which adds the weight for explosive effect. On the other hand a push-puncher will never be as fast because you will always move faster without a weight than with one. And then in the moment that you need a weight, your applied tension won't be as effective because your "weight" is already in motion.
So it really depends on how you punch. Is your punching technique 100% tension? Or is it 98% relaxation and 2% tension? And if it's only 2% tension, then weights won't make that much of a difference because lifting weights doesn't improve 98% majority of your punching movement. Have you been able to master both? (Snapping punches are much harder to do, btw.) And which method do you think the pros are using? Ask them and find out for yourself.
So lifting weights is OK for boxing after all?
Well, yes. You can do whatever the hell you want. You can train, squat a thousand pounds if you want to. But if you wanted to be effective, developing the inside muscles would come first and then outside muscles come second. If you prioritize your training this way, I GUARANTEE IN TWO MONTHS…you will quickly realize how unnecessary it is to develop excessively strong outside muscles.
I like weight lifting for stabilization strength, injury prevention, integrity of impact tension, and overall core strength assistance. Having strong outside muscles can help you stabilize your joints to ensure better energy transfer and withstand repeated impact to your joints/tendons/ligaments.
If you do any heavy weight lifting, it should be limited to only 5-10% of your boxing training. I wouldn't recommend doing so much because: 1) lifting heavy weights makes you sore and hampers your ability to do other boxing training. 2) you might gain weight which is terrible for fitting into smaller weight class, any increase in punching power rarely beats the naturally bigger guy.
Strong outside muscles are not required for power punching at all. I don't bench, I don't squat, I don't do any of that stuff…and I STILL HIT REALLY FREAKEN HARD. I'm a trainer now and I still hit harder than my boxers who train 30 hours a week and outweigh me by 10-20lbs. Granted, I have superior technique, but still: I know the right muscles and how to use them.
The beauty of inside muscles (RECAP)
Your body is NATURALLY DESIGNED
for downwards power!
All your inside muscles are functionally stronger than your outside muscles. Notice how muscles that project downward force are stronger than their counter-parts. The legs are bigger than the arms. The back is stronger than the chest. The lats are stronger then the shoulders. The butt is stronger than the hip flexers.
The best to way to stand/punch/move/etc is to go DOWN (with gravity) rather than to go up (AGAINST gravity). Therefore all the muscles you should develop are muscles that make you project downwards force, muscles that make you HEAVIER. If you're going to train, train to increase your downwards force (not upwards or forwards).
Develop the muscles that make you heavier!
Strengthen the muscles on the INSIDE of your body, before the outside. Try to develop muscles that are around your spine, also on the inside of your abs and hips, NOT THE OUTSIDE. Also work on the muscles on the inside of your legs (adductors). "Outside muscles" are only good at going UP and OFF the ground (terrible for max power, and fast combinations).
It's not that "outside muscles" are useless, but they are more for moving purposes like hand speed, running, jumping). If you want true power, you need muscles that drop you, help you grab the ground, and make you a "HEAVIER" mass as an extension of gravity.
How to FEEL your "inside muscles"…
A good way of discovering your inside muscles is to stand on one foot (the ball of your foot) and lifting the other foot up next to your standing knee. And then twist your hips CW & CCW a FULL 180 DEGREES while holding your upper body stationary. It helps to maintain a straight spine while being perfectly balanced on one foot. Wear socks so your feet can pivot easier.
Don't hang onto anything. Start off rotating your hips slowly and rotate your hips 180 degrees back and forth, then speed it up without breaking form. You should feel the INSIDE of your core burning (the SPINAL MUSCLES). That inside muscle is what matters. Too many people work the outside abdominals (crunches) or even worse (weights) and it's not as effective.
SOME OF YOU CAN'T EVEN DO THIS! And if so, it's clear you don't even have the muscles to maintain a strong axis. And how exactly do you expect to have a sharp powerful rotation if you can't maintain the strength and clarity of your axis? I'd be more worried about balance and footwork than power-punching if I were you.
Do you want to punch like me or not?
Ultimately this article is an explanation behind different methods of punching, not necessarily different methods of training. If you want to punch like me, then listen to me. If you don't want to punch like me, well then you should disregard all this.
This article isn't even about lifting weights. It's about identifying the right muscles for power punching. Weight lifting is STILL an effective way to develop powerful muscles, unfortunately it just isn't the best at targeting the most powerful punching muscles.