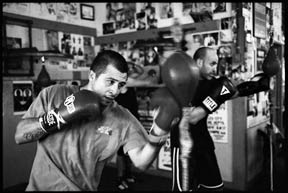 Boxing can be a dangerous sport so it's extremely important that your trainer and gym is teaching you proper technique. Here are some tips to finding a good boxing gym.
As a general guideline, your boxing gym should be an encouraging atmosphere for learning the sport of boxing. A real legitimate boxing gym should be focused on proper technique and constant improvement. Your trainer should be able to tailor workouts to your physical abilities and explain to you the details of certain boxing techniques.
To start out, you should probably ask around through friends and search on Google Maps for "boxing" near your address. Check out several gyms and talk to a few trainers. Be honest and upfront with them as to what goals you plan to achieve in boxing (fitness, amateur competition, boxing professionally, supplementing other martial arts skills) and let them know what your budget is. Most individuals in boxing do it out of passion since the sport itself is very difficult and many people quit for that reason.
No-Nonsense Way to Find a Good Competition Gym
If all you want to do is compete and nothing else, ignore the rest of this guide and just read this one paragraph. Look up local amateur boxing tournaments in your area and see which gyms have the best ranked fighters. Go to that gym and see if you can get access to the same trainers. Train there until you have nothing else to learn. Win as many amateur tournaments as you can. Turn pro when you're ready. That's all there is to it.
Different types of fitness centers that teach boxing:
YOUTH CENTER
These are the typical after-school programs designed to keep youth off the streets and out of gangs. There are usually all sorts of people in here – kids, women, old men, and anyone else from the neighborhood looking for a good workout. You'll see a few professionals and many young amateur boxers here. The atmosphere is real friendly and you'll get a lot of personal attention here.
The cost is minimal and most of the trainers are old veterans that love teaching people for the love of boxing. It's common for you to come numerous times and the subject of money doesn't even come up. Just show up at the gym and ask a random person how much it costs to train there. Tell them, "Hi, I'm Billy! What's your daily fee?" They'll laugh because they'll be unable to come up with a number and probably say, "Who cares? Put on some gloves… I'll be with you in 5 minutes." These gyms are good for learning but not good for developing advanced level skills.
PROFESSIONAL BOXING GYM
You'll recognize one by its smell – like a old sock unwashed for weeks. Tons of professionals and serious fighters all crowded into one open area like some kind of crazy "boxing zoo". You can spot the pros easily, just look for the guys wearing shirts that are completely drenched in sweat. You will get TOP-NOTCH battle-tested 110% authentic instruction. You'll see world-class sparring everyday. The atmosphere can be quite intimidating (imagine guys cracking the heavy bag for hours without getting tired) but at the same time very inspirational and inspiring. The cost can range from $15 to $50 a session depending on the trainer's ego.
There's usually dozens of trainers working out of a single busy pro gym and you can shop around each day until you find one you really like. I've been able to work with former world champions for as little as $15 per workout! The atmosphere here might seem intimidating at first because you see few women or children but don't worry. The fighters here are all hardcore and train to fight. Your workout WILL definitely push you beyond your limit. The trainers are old-fashion in that you'll never hear compliments on anything you do right. The sparring here can be quite tough so don't be too proud to ask the other fighter to go easy on you.
MMA GYM
MMA gyms come in two varieties – the REAL and the FAKE. The "fake" MMA gyms sell themselves as the ALL-IN-ONE martial arts fight centers where they give classes on everything and supposedly "specialize in everything". Real MMA gyms will focus their classes on variations of grappling, kickboxing, and boxing. Their knowledge of boxing is pretty good. My only complaint about some MMA gyms it that they only focus on the basics and aspects of boxing that are useful for MMA combat. They don't teach you the true intricacies of boxing and many fun tactics are left out because they conflict with principles of kickboxing or grappling. If you run into a FAKE commercial MMA gym, then it's really just another "fat camp" or commercial gym in disguise as a fighting gym.
FITNESS GYMS
These commercial gyms should definitely be avoided if you want to learn serious boxing technique. These fitness gyms are purely in it for the money and their motives are easy to spot. Their gym is very clean, often spacious, and they offer a wide assortments of price deals and training packages . The training is run more like cardio/aerobics sessions and I like to call them "fat camp". These gyms typically have the worst boxing instruction and charge you the most money. The plus side is that you'll see the most women here and so they are more comfortable for women who don't like training alongside men.
My favorite telltale signs of good boxing gyms:
AUTHENTIC MEMORABILIA
The easiest way to tell if the gym is legitimate is if you see AUTHENTIC memorabilia plastered on the wall. Good gyms are typically plastered with newspaper clippings and autographed photos of their past/current/future fighters winning local & national tournaments. You will also see posters of upcoming tournaments and local boxing shows (showing their constant involvement in the local boxing scene). What you DON'T want to see is the usual framed posters of Ali & Tyson. A local gym should be excited about it's local fighters!
YOU CAN MEET THE OWNER/HEAD TRAINER
I've typically found that the best gyms are ones where you can meet the owner and head trainer. You get to judge the personality behind the gym and the man behind the principles. You can see if the trainer and gym is working in your best interests.
CONTROLLED SPARRING
Watch a few sparring sessions and see how the trainers coach their fighters. You want to see controlled sparring where the fighters are being instructed TO BOX, NOT TO FIGHT. Good boxing gyms are not underground fight clubs and athletes should not be allowed to wail on each other until one quits. The key is to listen to the adjustments made by trainers.
FATHER/SON TRAINER/BOXERS
Seeing fathers training their sons at the gym is a very good sign. There is no love like a parent's and usually a father will seek out the very best gym possible for their son to train in. If you see a father preparing his son for competition at the gym, you can trust he's probably already staked out many other gyms.
A BUSY RING
The ring is probably the most important piece of boxing equipment. That is where you learn how to fight, that is where you truly learn how to box! If you see 30 people in the gym and NOBODY is in the ring, that should be a giant flag. In great gyms, the ring is always in use—you never see it empty. Somebody is shadowboxing, hitting the mitts, or sparring in there. There should always be people waiting in line to get into the ring!
MANY TRAINERS
The best gyms I've been to are full of trainers. Quite often, there may be almost as many trainers as there are fighters. Aside from the fact that some pros have more than one trainer (usually 1 trainer + 1 conditioning coach + his father/brother), it's very common for many old boxers and trainers to hang around the best gyms. You shouldn't see 1 or 2 trainers dominating the place. It's more like a community of trainers each giving opinions of their style and expertise discussing and refining teh sweet science together each and every day. Chances are, if the gym is full of trainers…it might also be full of talent! Even if you never get good, at least you always have someone correcting your form. In one day, I might be corrected 10 times by 3 different trainers.
COMPETITION FIGHTERS
If the gym isn't training fighters to compete, it's probably training them for weight loss. There's nothing wrong with this, but just know that if you want to compete, you should look for a gym full of competing fighters. Look for groin protectors hanging around the gym. Look for guys in sauna suits.
HOW TO SPOT A BAD BOXING GYM
A bad boxing gym is one that doesn't care for you personally. You should be noticed and given at least a little attention every time you come to workout. Boxing is a sport that emphasizes hitting and not getting hit so it's crucial that someone is looking out for you. Many gyms disgust me because the sparring is too tough on the beginners or the trainers spend more time training their "favorites" than they do with the other kids. I've seen many potentially good fighters get thrown in as "shark bait" so that the better trained fighters can practice their skills on unsuspecting "new guys". This common practice is a bit like hazing where new guys have to earn their respect before the trainers will take them seriously.
Another disgusting trait of bad gyms is how they focus more on winning than they do on boxing skills. Over time, this bad habit develops into just teaching fighters on how to cheat instead of using superior boxing skills to win. It doesn't matter how many awards the gym has won or if Mike Tyson trained there; if you don't feel comfortable training there, find a new boxing gym!
FINAL THOUGHTS ON GOOD BOXING GYMS
A good trainer and boxing gym will listen to your every need. You shouldn't be forced to spar when you don't feel like it. Your workouts should be flexible to your ability and not what the athlete next to you just did. A good boxing gym doesn't need to have the latest training equipment, former world champions as trainers, or the cleanest facility; it just needs to have a healthy atmosphere that emphasizes solid boxing technique and gives you room to grow. A good gym and trainer should be able to challenge you without taking you beyond your limits. I do hope that you all find a good gym and get to enjoy and love the sport of boxing as I do.
Read my other guides on boxing gyms: