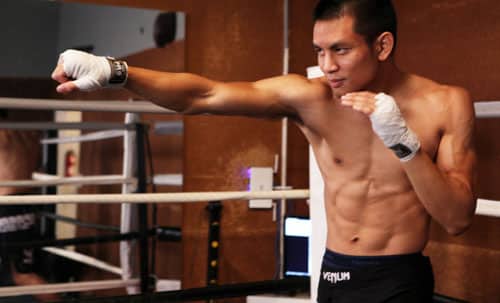 Many fighters seem to get stuck after learning the basics. You've perfected your form months ago and still for some reason can't hit the intermediate level. If you're still feeling like a beginner at your gym, then you are most likely failing at a basic skill. Only after you've mastered these absolute basic skills will you EVER be able to move on to more advanced techniques successfully.
See my 7 basic punching tips for all beginner fighters:

1. Relax
Being relaxed saves energy and allows you to punch harder. Your muscles must be calm and fluid, allowing the energy to flow throughout your entire body as you throw the punch. Being tense stops the energy from flowing and prevents you from throwing your best punch. Find power through relaxation.
Relaxing is the ONLY way to exert powerful force repeatedly without getting tired.
2. Aim
Keep your eyes on your opponent. Don't look past him, don't look down. When you throw a punch, make sure you look at the target. You should be careful not to look so intensely at a target before you throw since this telegraphs the punch. Never look at the body when you throw down (this also telegraphs), keep your eyes on your opponent's head and shoulders.
Looking at your opponent gives you better offense (punch accuracy and damage inflicted) as well as better defense (increase awareness of incoming attacks).
3. Exhale on every punch
Always breathe out on every punch. Make a small breath; don't exhale all of the air in one punch. As you throw combinations, you will let out spurts of air with each punch. The shorter and more explosive the exhalation, the better. Compact explosive breathing will result in compact explosive punches.
Exhaling properly creates more powerful punches and saves energy!
4. Timed impact
Hit with the force of your body all at once. When you exhale, your entire body moves and "hits" simultaneously. From head to toe, everything moves all at once. The foot pivots, the hips turn, the shoulders rotate, the arms extend, and the fist tightens.
The better you get at making your body hit all at once, the less effort it takes for a more powerful punch!
5. Keep your balance
Always be aware of your balance. Don't push into your opponents; exert power by finding contact with the ground. Don't lean your head past your knees. The best way to develop balance is to practice your punches with shadowboxing, not the heavy bag.
The better you get at staying balanced, the more advanced offensive and defensive maneuvers you can learn.
6. Cover with the opposite hand
When you punch with one hand, protect yourself with the other hand. The hand that's not punching should always be defending. Defend with the glove covering the chin and the elbow protecting the body.
The non-punching hand should always be defending and/or getting ready to punch.
7. Recover
Recover the punching arm quickly to cover the vulnerability you created while punching. Be careful, however, not to retract too quickly or your punching power will suffer. This mistake is known as "pulling your punches". Training will help you sense the right time to retract your fist.
The faster you pull your hands back, the less vulnerable you are and the sooner you can punch again!
Any other basic punching tips?
Did I miss anything else beginners should know? There are so many out there.