Want serious punching speed? If you've already read How to Punch Faster, then you're ready to practice the drills and exercises that improve that hand speed!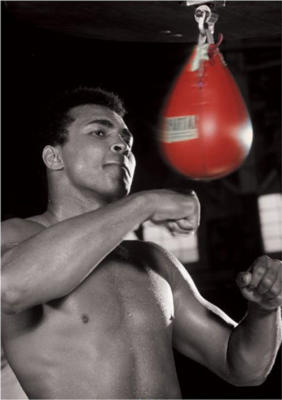 Speed kills, everybody knows this. Many great fighters have it: Muhammad Ali, Thomas Hearns, Ray Leonard, Mike Tyson, Roy Jones, Floyd Mayweather, Manny Pacquiao, I could go on forever.
Being able to land a punch before your opponent is probably among the biggest advantages in boxing. A split second difference can make all the difference between raising your hands in victory and picking yourself off the canvas. Even if you weren't born with speed, you still need it. Even if it's not part of your style, you still have to improve it. And so I beg you to incorporate these important drills to your regular routines because everyone knows: SPEED KILLS!
I know the goal is speed but don't rush through these drills. The most important factor to attaining maximum speed is relaxation. Relaxing is first a state of mind which then becomes a physical reality. Keep your mind clear and don't get too focused into one thing. Relax! Relax! Relax!
Instead of supplementing the speed with strength and accuracy, focus on balance and coordination. Too many beginners try to put speed and power together at first but that only slows them down and causes them to load their punches. Don't load your punches or try to focus on hitting a target. Instead, let your arms go, just try to keep your balance under you and your body moving together in coordination with that handspeed.
Sharp & Relaxed Breathing = Sharp & Relaxed Movement
Shadowboxing (Raw Speed Training)
Shadowboxing is everything! The more time I spend in this beautiful sport of boxing, the more I realize shadowboxing is sometimes all you need. This basic practice allows you to practice every technique and doesn't wear out your joints or stress your body. This underrated exercise can help you develop almost anything in boxing, footwork, balance, power, coordination, technique, form, and in our case–SPEED!
Shadowboxing is probably the most raw form of speed exercise. No bag to stop your punch, no gloves weighing down your hands. You are punching with only the weight of your hand into the air. With nothing to slow you down, this is the fastest you will ever be able to move your hands. You can punch as fast as you can imagine your combinations. Shadowboxing can develop your speed of mind, your punch speed, and your punch recovery speed.
Shadowboxing Drills:
Start moving around and relax your whole body. Don't worry so much about putting your hands all the way up. Use proper form but not to the point where you become stiff and tired in the shoulders. You want your whole body to be loose and relaxed when you shadowbox for speed!
Here are the punch numbers I'm using:
1 = left jab
2 = straight right / right cross
3 = left hook
4 = right hook / overhand right
5 = left uppercut
6 = right uppercut
*reverse these if you are southpaw (left-handed)
Ok, HERE WE GO! Follow along and mix it up!
Basic Jab
1, move around, 1
1, back step, 1
1, step in, 1
Double-jab
Triple Jab
Jab, Right Cross
1-2
1-1-2
1-2-1
1-2-1-2
1-2-1-1
Left Hook Now
Left-Right Left-Rights!
1-2-3-2-1
1-2-1-2-3
2-3-2
2-3-2-1
2-3-2-1-2
Tricky Combos
1-3
1-1-3
1-3-2
1-2-3-3-2
1-3-1-2
1-2-3-1-2
5-6-2
5-1-2-3-2
1-6-2-1-2
Uppercuts Now
1-6
1-6-3-2
3-6-3-2
1-2-5
1-2-5-2
Long Combos (focus on sharp rapid breathing!)
6-5-6-5-2-3-2
1-2-5-2-3-6-3-2
1-1-2-3-6-3-2
5-2-1-6-3-2-1-2
take any of the above and combine it with other punch combos
Go 3 rounds straight. Exhale on every single punch and every single movement. Don't worry about doing all the combos listed above. Stick to your favorite ones and then try one or two new ones each time. You should NOT be getting tired. If you are, then you're too stiff. Relax the shoulders some more and maybe even slow down just a little bit. If you get winded punching air, imagine what being in the ring might feel like.
When you step around during the combos, take REAL SMALL steps. You only need to take one-inch steps, that way your feet can move as fast as your hands. If you take big steps, your feet might still be in the air leaving your punches un-grounded and without power.
Don't worry about power! Some sequences that have double-lefts or double-rights are going to feel weak. Again, you are just working on speed, not power. Just let your hands flow and get some rhythm into there. Have a few pauses here and there in between your combinations and then pick up the speed again.
Last note, please watch the Manny Pacquiao shadowboxing video below. What he's doing is a perfect example of speed shadowboxing. Sharp breathing, very tiny steps, fast focus on punches. He doesn't focus on single punches, he's focusing on entire combinations. And for the 923084723th time, RELAX!
Fast Punching On the Heavy Bag (Speed Endurance)
Fast punching isn't always about speed. Sometimes it's about endurance. Moving a weight faster will always take more energy. So it's pretty hard to throw fast punches, or even practice fast punches, if you don't have the endurance for it.
Throwing flurries of fast punches can wear anybody out. You don't realize it at first but once you get tired, your slower opponent suddenly becomes faster than you. The even bigger danger of getting tired is that your punches become too slow to hit your opponent. So let's work on speed endurance so you can throw fast punches throughout the entire fight–and not just the first round.
Punch Interval Drills:
Get a partner and stand on opposite sides of the bag. One boxer holds the bag steady while the other one punches non-stop for 15-20 seconds. Then switch. Keep doing this until the 3-minute round is over and then take your 1-minute break. 2 to 3 rounds of this is a great way to finish off heavy bag workouts.
Some thoughts on this fast-punching drill:
Don't waste your time getting somebody to time you 15-20 seconds. Instead just count it in your head or out loud as you punch. When you finish, just stop and the other boxer should know instinctively to begin punching.
You can do variations against the bag. On the first interval, do regular punches aimed high (palm facing the ground, aimed a spot of the bag that's 6-8 inches above your head). On the second interval, do vertical punches aimed straight at shoulder level into the bag. By "vertical punches", I mean with the palm facing sideways, like a "standing fist". On the third interval, do SMALL quick uppercuts into the bag at body level. Keep repeating until the round ends.
Punch interval drills develop your arm and shoulder endurance. Which is VERY important in your performance during the later rounds. It doesn't matter if your body is not tired overall…
Once your arms and shoulders get too tired,
your punches become too slow to hit your opponent.
Sure you might still have your power in the late rounds but if you don't have the speed, that power won't make any difference! So work to make sure you build that arm and shoulder endurance. In case you haven't noticed, this fast-punching drill is a boxing's rendition of Tabata drills (in case you want to know more about the science behind this method of training).
The crucial reminder is that you don't get too ambitious and try to hit the bag like that for 3 minutes straight. The rest periods allow your arms to regain the energy to punch at max speed. You should always train at your true top speed (going 100% when you're exhausted is not "true top speed"). Think about it, sprinters don't train for speed by running 2 miles all at once. Instead, they sprint short distances, take a break and repeat (aka Sprint Intervals). The break allows their legs to regain the energy to sprint at full speed again. Likewise, you want to have breaks to regain the energy to punch at full speed again. This way, you're spending more of your time training at full speed and not half-speed, which is what happens when over-ambitious beginners go 30 minutes non-stop without a break!
The other part about not skipping the break is that you might have a better workout when you constantly have to stop and start again. Throwing punches non-stop is easy to do when you're already in motion. But having to stop and start again, like in a real fight, is much harder to do when you have to keep starting up your rhythm. So please, don't skip the breaks. 15-20 seconds for each boxer, then switch!
Forced Speed Training (Speedbag & Double-End Bag)
The speedbag and double-end bag are great equipment for building speed. Aside from improving your accuracy, timing, reflex, and coordination, they are great for "forced hand speed" exercises. Punching fast is quite easy if you're only punching when you feel like it. Unfortunately, this is never the case in real fights. In real fights, you're always being FORCED to punch even when you don't want to. Because you're throwing these punches as a panic reaction rather than an action of your own intention, these "forced punches" tire you out faster. So back to the speedbag and double-end bag, they force you to punch even when you don't feel like it. No matter how tired you are, you HAVE to throw punches at the bag.
The speedbag and double-end bag also come with their own unique qualities. The speedbag does build arm endurance and shoulder endurance. The double-end bag helps improve your accuracy and timing. This bag forces you always to react fast and think fast. Learning how to work the double-end bag is an art in itself. So I've save that long explanation for another day. For now, just keep in mind that those will improve your hand speed. Do 2-3 rounds each on the speedbag and double-end bag.
Resistance Training to Build Speed Muscles
Push-ups (Explosive Speed)
Push-ups, when perform with speed-specific technique, can help you add speed to your punches. Because everyone's arms are different, you have to find the perfect variation on where to set your hands and how low to go. The focus is on speed, not power. You want to finish these sets FAST!
EXTENDED PUSH-UPS 
Because of my longer arms and thin frame, I prefer to do push-ups that only go 1/3rd of the way down. So this means I am only working out triceps in this "extended" phase of the push-up. I do about 10 quick sets of only 10-15 repetitions each. Again I'm only working out the top phase of the push-up to maximize quick speed and trying to explode on each one. Focus on going down fast and up fast (most people go down slow and up fast). When you pause, pause at the top of the push-up, and not at the bottom.
MEDICINE BALL PUSH-UPS
Get down into push-up position but with a medicine ball under one hand. As you do one push-up, quickly push your body over to the other side so that you land with the other arm on the medicine ball. Do these as fast as you can. 3 sets of 15 repetitions. Another variation you can do is to have 2 medicine balls spaced apart wider than your shoulder width. Have one hand on a medicine ball with the other hand planted on the ground right between. As you do a push-up, you will move your body sideways so that both hands constantly move between the side and the middle. (Please comment if you need a better explanation of this.) Again, 3 sets of 15 repetitions.
CLAPPING PUSH-UPS
Another plyometric-style push-up routine I like is the clapping push-ups. You can do 3 sets of 10 to 15 clapping push-ups at a time. The important thing is to spend as little time as possible at the bottom of the push-up. You don't necessarily have to come high off the ground but just make sure you don't spend too much time with your arms bent at the bottom of the push-up.
Resistance Training for Speed
Resistance Bands
You can also develop faster punches with resistance bands and isometric training. Resistance bands apply a constant force as you're throwing punches. This constant resistance allows you to build speed and explosive power throughout the whole movement. Regular weight training can't do this because the weight is only heavy at the beginning. Once you push the weight, your momentum makes the work easier as you extend your arm. Swimming can also be good for constant resistance training since the water is constantly working against you.
Isometric Training
Isometric training is a type of workout where you exert force but your body doesn't move at all. But how can you exert force without moving?! You can do isometric training with your arms by going up to a wall and posing yourself in a punching position as if you're punching the wall. Now push against the wall for 10-15 seconds for 3 sets at a time. Feel free to pose at different angles that mimic different punches and target different muscles (chest, shoulders, triceps).
The whole theory behind isometric training for speed is that you're training your arms as if they were rubber-bands. You're training your arm muscle to store energy so that once the hold is released…SNAP–your arm flies out like a charged up rubber-band.
Recovery Muscles
The punch recovery speed is one thing MANY boxers neglect in speed training. Everyone loves to work out the punch muscles such as the chest and triceps but rarely do they work on the recovery muscles such as the back, lats, and rear shoulder muscles. What many boxers don't realize is that the recovery phase is half the motion of a punch, so being able to pull your arms back faster allows you to punch again much sooner!
I've also noticed many beginners doing nothing more than hitting the heavy bag in training. The heavy bag is a solid object so if you punch the bag, it will always bounce your hand back at you which doesn't train your punch recovery muscles. Sure you can go 10 rounds easy on the heavy bag but what happens when you try to spar? After missing only a few punches in the ring, your arms are completely tired and you're not sure why. It's because you're not used to missing and you're not used to punching air, so your recovery muscles (your back, rear shoulders, and rear lats) are developed to pull your hands back fast enough.
Best workouts for strengthening the punch-recovery muscles:
Shadowboxing
You're constantly punching the air while you're shadowboxing which forces you to use your muscles to pull your arms back. Try shadowboxing at 100% speed with gloves on and you'll realize how weak your recovery muscles are. You don't have to add weights or do anything fancy. Even regular shadowboxing will help balance your rear upper-body muscles out with your front upper-body muscles.
Pull-ups
Pull-ups are an awesome exercise for the back and lats. Do 3 sets of 6, or 8, or 12. Whatever you can do, just do it. Now your upper-body won't look so hunched over to the front any more.
Pulling Exercises
I got too lazy to go chasing down exercise names. Any exercise that mimics a pulling motion will be good. We have the TRX Suspension band at my gym and it works great for this, but cable pull-downs or pulling at resistance bands will also work.
Stretching
Loose, relaxed muscles have the potential to move faster. Don't fight with soreness in your shoulders and in your body. Make sure you have good stretching sessions and take your time in warming up your muscles. Even on days that you're not training, try to stretch. Many of the fastest fighters I have ever met also happened to be the most flexible people I know. (I wrote an article on the importance of flexibility for boxing.) For the record, you should be stretching a MINIMUM of 30-45 minutes before each workout and then also another 10-20 minutes at the end of the day. Professional boxers, and perhaps all elite athletes, typically do at least double that.
Final Thoughts on Hand Speed Exercises
Speed begins first in the mind and THEN in the body…
If you can't think fast, you will never be able to move fast.
… after all, your body can't box on auto-pilot. Relax the mind, concentrate and stay focused, but be aware of everything around you. Don't focus each punch one by one. Try to focus on the entire combination or the entire flurry. Each punch combo has it's purpose, whether it's to come inside, land some hooks to the body, or just put your opponent on the defensive to make room for you to escape.
Oh and one more thing. Don't try to do every single drill up above all in one day and on everyday of training. Have some variation and focus on one thing each day and not everything everyday.