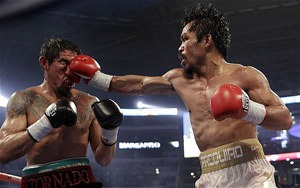 I highlight 10 of Manny Pacquiao's best boxing tricks, offensive and defensive skills from his fight against Antonio Margarito. INCLUDES VIDEO!
I've been watching Manny Pacquiao since 2003, and it took a long time for me to realize the full range of his skill set. What seemed at first to be an undersized brawler looked more like a magician full of tricks up his sleeves. I've actually used some of these techniques myself with great success. After witnessing Pacquiao do all of these same tricks countless of times against Antonio Margarito, I figured it would make a great write-up as well as a video.
Here they are: 10 of Manny Pacquiao's awesome boxing tricks. Don't forget to watch the video I made!
1. Tap Block, Tap Jab
Pacquiao moves around making his opponents think that he won't engage. As soon as they throw a light feeler jab, he'll block it lightly followed by an instant counter-jab.
2. Right Hook Over Left Jab
How he does this is pretty amazing since many of his opponents enjoy a size advantage over him. You'd imagine that a long left jab beats a short right hook everytime but not when the right hook is Manny Pacquiao's.
What he does is lean his head on the inside of their jab as he throws the right hook over the top of an orthodox jab. The average southpaw shouldn't do this because it leaves his head in the way of the opponent's right hand. Pacquiao usually prepares for this by moving his head further back, if the right hand comes, or beating it with a quicker left cross.
3. One-Legged Lead Left
This is probably Pacquiao's equivalent of the Superman punch. It's very subtle if you don't look for it but I see Pacquiao doing this ALL the time! It keeps his opponents on their toes at all times and helps to tame the aggressive ones as well. He'll start off moving around the ring and at some point, he'll quickly lean forward at the waist and throw a straight left lead as one of his feet is still off the ground. It's kind of like a surprise Superman-punch except that he has one feet planted to the ground ground. Sometimes it's the left that's planted, sometimes it's the right.
I doubt that he gets much power on it but it's still enough to stun his opponents and he'll quickly follow it up if they're caught off guard. This trick works so well because his opponents don't expect him to throw an un-planted punch while his feeting is moving around.
4. The Double-Left Sneak
Pacquiao throws 2 left hands as he sneaks forward behind his orthodox opponent's front leg. This is one of those most underrated boxing tricks. Just a few months ago I saw Jean Pascal beating the favorite Chad Dawson with this exact same trick. Pacquiao however, has been doing this for years.
I've done this 100 times and I must tell you that the trick is in the footwork. Pacquiao gets away with it by stepping his right foot to the outside of his opponent's front left foot. He'll usually wait for them to jab when he does this trick. That way, as he's sliding up along their left side, their left arm is blocking them from throwing their right hand. Pacquiao's left hand however is wide open as he throws 2 left crosses or 2 left hooks. If they shell up, he'll typically follow up with a right hook to the body.
This trick can also be used as a defensive trick since the double-left hand often forces the opponent to cover up while Pacquiao sneaks away without taking any damage.
This is a great trick once you understand how it works. You don't have to throw with much power. With proper footwork, your opponent will be wide open and have no choice but to completely cover themselves up making them vulnerable to body hooks they can't see. The other option is that the opponent has to give up ground and move backwards in order to see you in front again.
5. The Triangle Guard
This one is pretty interesting. I've never seen anybody else do it. What Pacquiao does is brace his fists against his head and point his elbows almost straight out towards his opponent. This is very unorthodox because most boxers are taught to leave their elbows down to cover the body. In contrast, Pacquiao lifts his elbows forming the triangle and lifts his elbows to slip or push punches off his forearms.
I don't know for sure but I'm guessing the reason why he does this is because his opponents are too big for him. If he used a traditional defense and simply put his glove in front of his face, his opponent's punches would still be able to punch through his gloves. With his triangle forearm defense, he can deflect punches entirely by tilting his forearms around. Not surprisingly, this is also the same guard that Muay Thai kickboxers use, which can be effective for blocking head kicks. So ahhhhh, the guard is more effective at stopping heavier blows. The only weakness to this defense is that his body is open when he lifts his elbows.
6. Left Step, Left Cross
This is a textbook counter that EVERY SOUTHPAW should know when fighting an orthodox opponent (as well as vice versa). Manny Pacquiao does it exceptionally well against his right-handed opponents and everyone ought to study how he does it. Lucky for me, I noticed it because I use this trick myself.
As a left-hander, Pacquiao will wait for his opponent's right cross to come. As soon as it does, he steps to his left with his left foot and leans his head left of the right cross. As soon as the right cross passes over, he'll quickly pivot back in with a hard left cross counter. You never really see this movement on TV because the feet is often cut out when the fighters are fighting up close.
In some cases, Pacquiao will counter with a light jab first with his right hand or he'll leave his right hand outstretched pushing his opponent's head to the side before throwing his big left cross. Either way, this counter is devastating every time!
7. Vertical Jab
Southpaws normally carry the advantage of being able to jab without having to worry about being counter-jabbed. Because of this, many southpaws can easily finish their punch combinations with a jab as they retreat safely. (Finishing with a left cross can sometimes leave the southpaw open to counter-punches or retaliation combinations.)
Pacquiao takes it one step further. Instead of just finishing with a right jab, he uses a vertical jab. By vertical, I mean that his fist is standing straight up so it's more likely to split through his opponent's guard and score.
8. Forearm Defense
Pacquiao is pretty clever at using his forearms. If you pay close attention to how he moves his forearms, you'll see him guiding his opponents around the ring with subtle motions. His forearms are often used as a shield to keep his opponents from counter or as an evasive manevuer allowing him to escape without taking punches.
9. Rear Overhand Left
I call this the rear overhand left because Pacquiao loves to throw that big left hand from way back. His overhand left looks like a catapult because it starts so far behind him. Pacquiao will lean his head forward to the right baiting with his head. As his opponent's are too busy looking down at his head, they don't see his big left coming over the top from way back. If you look at Pacquiao's rematch against Juan-Manuel Marquez, you'll see that it was the rear overhand left that dropped Marquez.
If think back to the Ricky Hatton fight, you'll remember that Pacquiao's big overhand left was practically behind him when it landed Hatton's chin. It's a bit of a blind punch but deadly effective nonetheless. Sergio Martinez actually did the exact same thing when he knocked out the iron-chinned Paul Williams in a shocking upset.
10. Left-High, Left-Low
This is the same old advice your trainer will always tell you, "Remember to go high and low!" Pacquiao throws a 1-2-1-4 which is basically a JAB, followed by a LEFT CROSS to the head, followed by another JAB, and then finished with a LEFT HOOK to the body. His opponents were expecting the regular 1-2-1-2, which is a left-right-left-right and so they block high exposing their body.
These tips are for your enjoyment. I wouldn't recommend anybody to try and become the next Pacquiao without first learning some conventional boxing skills. Manny Pacquiao can get away with some of these tricks because he's insanely fast, insanely skilled, and uses perfect timing.
Remember: it's not what you do, it's how you do it.
If you enjoyed this video, check out: 10 Floyd Mayweather Boxing Tricks