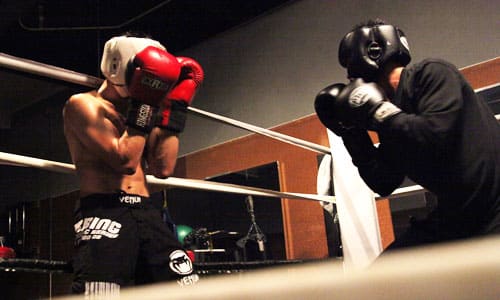 Counter-punchers can be the hardest AND MOST ANNOYING type of fighters to beat!
They're so much faster. Sometimes even taller and longer.
They move a lot.
And they hit you every time you try to come in on them.
Like I said, counter-punchers are ANNOYING! But don't worry…there are many tactics you can use to put pressure on them, make them uncomfortable, and eventually break them down.
Here's how you counter the counter-puncher!
What is a Counter Puncher?
A counter-puncher is the fighter that waits for you to move first. The counter puncher attacks only after you attack. He doesn't want to do anything until he sees your first move. Fighting a beginner boxer that likes to wait is easy; all you have to do is throw punches and never give him a chance to return fire. Beating a skilled counter-puncher is a totally different story.
Counter-punchers can make you feel
like everything you do is a mistake.
He is the patient boxer that simply stands there waiting for you to make the first move. For every punch that you throw, he has the perfect answer. For every move that you make, he seemingly knows the perfect counter-move. To beat any type of opponent, you must first understand him.
Understanding the Counter Puncher
Before you can beat the counter puncher, or any fighter, you must first learn why he uses his style. So why is your opponent waiting for your first move? Is it because he's faster than you or more skilled than you? Being a counter-puncher myself, I like to wait because it feels safe. I like waiting for my opponent to open himself up first before I open myself up. And if I'm opening myself only to attack his openings, then it becomes a fool-proof strategy!
This is how I like to think as a counter-puncher….
Why should I attack or use energy first when he's not yet open?

Why should I open myself up when I can just wait to use my perfected combos?

Why should I punch first when I'm fast enough to catch him on the recovery?

Why should I throw a jab and risk getting countered by bigger shots?

Why should I go first if waiting is absolutely safer and effective?

Why should I go first if I'm trying to save energy?
Whether or not the counter puncher is truly more skilled than you is not the point…it's that he is PREPARED for you. He's prepared to defend, and prepared to counter-attack. And he doesn't want to give up his advantage of preparation by throwing the feeler punches. The trickiest fighters are often counter-punchers because they know how to set dangerous traps for you. He's not only waiting for you but also urging you (baiting you) to make the first move. I like to call this guy the "AGGRESSIVE COUNTER-PUNCHER".
The other kind of counter puncher is just a guy in a defensive situation. For whatever reason, he doesn't want to trade punches. He doesn't want to fight, he doesn't even want to be in the ring! He might be hurt, or he's tired, or he's weaker than you. Whether or not you see it, he's carrying a physical or psychological disadvantage…and he's probably SCARED OF YOU!
Just because he's waiting on you doesn't mean he's a counter puncher.
He's only counter-punching because he's forced into the situation. I call this guy the "PASSIVE COUNTER-PUNCHER". (Note: passive counter punchers aren't always less-skilled. Sometimes they have good boxing skills but just lack confidence in themselves. Still, they are "counter-punchers"!)
AGGRESSIVE Counter Puncher vs PASSIVE Counter Puncher
Aggressive Counter Puncher:
Likes to test you with lighter punches.
He waits calmly, sometimes standing still, sometimes moving laterally (you're following him yet you feel like he's waiting on you).
He's sometimes stalking you to force YOU into making a panic move.
He doesn't look scared when he's standing perfectly still (he seems almost cocky).
Always targeting specific areas.
He's does very little, but still feels aggressive.
Passive Counter Puncher:
He only throws one counter and then runs.
Always throwing hard counters (like he's afraid of not hitting hard enough).
Will swing at anything that comes too close.
Very panicky look in his eyes, doesn't seem comfortable/relaxed.
He seems overly defensive even when you're throwing lighter punches.
Lacking confidence.
How to Beat a Counter Puncher
Avoid His Counter
The counters are all he's got! If it misses, he's got nothing! All you have to do is beat his counter! Land the first punch, avoid his counter, and land your finishing punch. His strategy falls apart if he can't count on his counter-punches!
Throw a Feint
This guy is going to be overly reactive to anything you do. Fake a jab, hit him with a counter. Make a foot fake, quickly step forwards at him to see if he jerks his arms up. Hit him to the body or just attack him if he jumps away from you. While he's busy blocking, you're busy attacking! Make sure you get out (after 2-3 punches) before his counter comes. When you feint, be confident and be sudden! Be scary!
Get Out Quick
Throw a jab, back up. Throw a 1-2, slip under his left hand. Whatever you throw, keep it fast and short and then get out before he can return fire. The best way to be quick is to use small movements. Instead of taking one giant step, take a small one but at an angle. Instead of pulling your head all the way out, try sliding your head a tiny bit to the left and then again to the right. Smaller movements are faster than big movements.
Make Him Take Forced Shots
The counter puncher prepares his defense when he waits on you. This gives you all the time in the world to prepare your offense!
Force the blocked shot
Many counter punchers like to be cute and slip everything you throw. You can frustrate him by throwing punches he can't slip. Instead of throwing the first punch to his head, aim it at his chest, where he has no choice but to block it. Now that you've glued him there, aim your follow up shots anywhere you want. If you see that he likes to stand in one spot waiting for you, go ahead and set your feet up nice and perfect. Now throw a perfectly straight right in a way that he can't slip. Again, he's forced to block and probably doesn't have any hands to counter you with.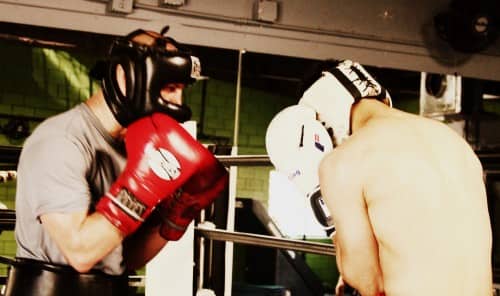 If you see him covered up like this. That's a free punch. 
Throw a hard right straight into his glove so he feels the impact on the other side. You can also aim for the wrist, power can leak through there as well.
If you're smart, you will find new ways to punch that force him to block instead of going for a counter. Little by little, you will find ways to make him block entire combos giving you a better chance of getting punches through the openings. Even if the punches don't hurt him, they can push him off balance into more vulnerable positions.
Counter his Counter
You can control what he throws
based on what you throw!
This is much easier to do than you think! All you have to do is pay attention! If he's countering your jab with the right hand every time, just counter his right hand! It's that simple.
If he likes to counter with a jab, try this: jump in with a jab, lean back (away from his counter jab), then come back in with a 1-2.
If he to throw his right: throw a jab, slip his right hand, throw a left hook.
Suppose he throws a left hook counter a lot, try a quick 1-2, step back outside of his hook, step in with a 2-3-2.
When you're trying to bait his counter, make sure your first punches are light(and not hard). This allows you to get out faster.
Just remember that what he throws is almost entirely dependent on what you throw! All counter-punchers fall apart once you start countering their counters.
Finish with the Jab
The jab is a great defensive tool against many punches.
Finishing your combo with the jab is one of the most essential rules of a fighting a counter puncher. If you know he's going to counter with a right hand, make sure you end your combo with a jab to intercept his right hand.
Instead of throwing 1-2, try 1-2-1. (Great short combo that annoys counter-punchers.)
Instead of 1-2-1-2, try 1-2-1-2-1, or 1-2-3-2-1.
Or set up with a long exit, try a 1-2-1-1.
The final jab will return your body back to a normal stance and leave you less vulnerable than if you finished with a right hand.
Use His Style Against Him
Apply Constant Pressure
Counter punchers don't like constant pressure.
It's not that they don't have the skills or ability to handle pressure, it's that their style does not like constant pressure. Counter punchers like to make clean exchanges. They don't like getting touched, even by small punches. They don't like getting pushed. They especially don't like trading punches. They don't like messy exchanges.
All you have to do is stay in front of the counter puncher and keep applying pressure using a mixture of hard punches, light punches, and even body contact! Don't just aim at his head, aim everywhere (arms, shoulders, gloves). Here's an example: try soft punches to his arms (pinning them down), hard punches to his body (forcing his to ground and defend), now push his head or shoulders to knock him off balance. Go in and repeat again! Don't give him any room to move or breathe.
Constant pressure means constantly trying to unsettle your opponent!
Don't just throw constant punches from one position. Imagine yourself pushing him from all angles. You don't have to use perfect form, just keep moving. Attack from any stance, squared up, southpaw, whatever. Anywhere that you can extend your arm and make contact, just do it. Just keep punching and pushing and pouring through every gap.
If you do not have good enough reflexes, try an automatic defense. An automatic defense is like slipping or stepping back once after every 3 punches. After a while, you'll discover a perfect automatic-slipping rhythm to upset his counter-punching.
If you do have the stamina to apply constant punching, then keep walking and leaning on him and apply constant pushing. If he pushes you, then you grab him and tilt to one side to spin him off you.
When you apply constant pressure, be ready to take some hard counter punches! Be ready to slip, deflect, or roll off some hard shots. The counter puncher will do anything to get you off him!
Use your pressure to hurt him (punch) or off balance him (push).
Go Off Rhythm
Fighting off-rhythm can frustrate your opponent's attack/defense cycles, and tire him out.
Beating the aggressive counter-punchers
Counter punchers are often found waiting around on their opponents, and letting their opponents dictate the pace. You can tire them out easily if you keep pressuring them with a weird rhythm. Suppose he's a pot-shotter and only throws one punch at a time, you can try throwing a punch, avoid his punch, then throw 3 more. Try mixing up some other rhythms: 2 punches, pull back, 3 more. Or how about: 1 punch, pull back, 3 quick punches, pull back, 2 hard punches. Try experimenting with off-rhythm attacks until you find one that wears him out easily. You will be surprised at how much energy counter-punchers use for setting up their counters.
Beating the passive counter-punchers
If he's the type of counter puncher that doesn't punch until you stop punching (usually beginners), then you just have to keep punching him non-stop. You don't even have to throw hard punches, just keep mixing hard punches and light punches so you can pressure him constantly without getting tired.
He'll never start punching if you don't stop punching!
Your opponent is the perfect victim for this when his trainer's always yelling "LET YOUR HANDS GO!" Keep throwing punches until you knock him out or until the ref stops the fight.
*** Side note: Haven't you ever noticed that punching non-stop at the heavy bag is easier than sparring an opponent? It's because you control the rhythm when you hit the heavy bag. Fighting an opponent is more tiring because your opponent controls the rhythm somewhat. If you're a counter puncher, you're giving your opponent 100% control over the fight rhythm. ***
Make Him Move his Feet
Many counter punchers like to be "set" both physically and mentally. They like having their feet in the right place and their stance and everything prepared. If you can get him to move his feet, you will disturb his preparation and make him less ready to counter you.
Every time the counter puncher moves his feet,
he has to reset his plans.
You can do this by standing just SLIGHTLY outside of range. The moment he takes half a step to get closer to you, bum rush him. Or just walk away from him, he might even follow you. Another way to get him to move his feet is to throw a really hard punch to the body and push him when he blocks it. (Instead of pushing, you can also use that opportunity to walk into him with your body.) Even if he counters you, his feet will be lifted which removes some of his power. Any time you want to attack but feel that he's especially set, bounce in and then out, and then in again with an attack this time.
Do know that this plan isn't foolproof. There are a rare breed of counter punchers that I like to call "moving counter punchers". These guys are DANGEROUS! If you ever see one, good luck buddy!
Fighting Counter Punchers
Successful counter-punchers typically have 2 things in common—SPEED & SKILLS.
Their skills allow them to sit around closed up and attack only when they're most comfortable.
Their speed allows them catch opponents even from the seemingly non-offensive positions.
Overcoming the Counter-Puncher's Skill
It's hard to beat someone with more skill than you. And it's often that the guy with more skill will seem faster and more powerful and completely superior to you physically when he really might only have better technique and average conditioning. In moments like this, even though you can't win, it's important to reflect on your own skills and to focus on your skill development rather than to get sucked into the lure of speed and power.
Overcoming the Counter-Puncher's Speed
Negating your opponent's superior speed will always be one of boxing's greatest challenges. While you can't take his speed away, there are always many things you can do. You can wear him down. You can make him miss. You can feint multiple times. Break him down with intelligent pressure and make him spend his energy while conserving yours.
Try to tire him out with constant fakes and light punches. Make him commit to a counter when you haven't really committed to an attack. Many pressure fighters will break their opponents using pure aggression but do know that pure aggression doesn't always have to mean brute force.
Brute force works in Rocky movies, not in real life.
Don't waste energy
If you're wasting energy and he's in shape, you're the one that loses in the end. The moment you get reckless is the moment you find out how dangerous your opponent truly is! It's OK to be slower or less skilled than your opponent, but do your best to fight more intelligently!
Counter punchers beat you
not only with their speed & skills,
but also your impatience!