Kind words and compliments from fans around the world. Tell your inspirational story in text, pictures, videos, etc…and I'll share it with the world here.
Email your story to me expertboxing [[[at]]] gmail [[[dot]]] com
Hey Johnny,
I've been following your blog/youtube since my first day in boxing. This past april I won the Sr. Novice Heavyweight Golden Gloves in Chicago. I just want to say your vids have been helpful and inspirational along the way. I've had to learn the techniques you talk about the hard way in the gym. But you've always been another great rescource for knowledge.
I've attached a picture from the Golden Gloves. That's me with just two of the several coaches who've influence me.
Thanks
Jordan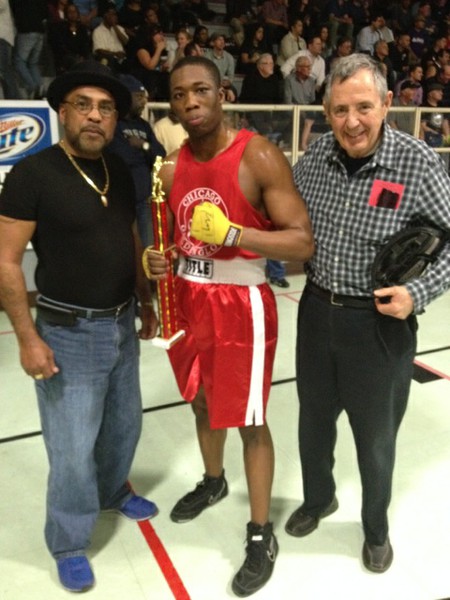 Johnny,
FYI ive been watching your videos on you Tube for about six months. Im finding them a great help. I would just like to say your technique is brilliant and you ability to to articulate what happens is in various boxing scenario's is great.
Ive only been boxing for two years, im 42, ive gone from being a 96kg couch potatoe, to being a 78kg dedicated boxer.
Here in Ireland a phenomenon of people getting into fitness has been sweeping the country. Boxing has become very popular due to the brilliant example of people like Katie Taylor. My trainer, too is a technical Ametuer boxer and expects nothing but perfection from both us and himself. But still ! what ive learned from your videos has given me an edge in a high performing class.
Just want to say keep up the good work the world really needs people like you.
– J Thomas
Hey Johnny, how are you man?
I just wanted to say a huge, huge thank you for making ExpertBoxing and posting so many helpful tips! I'm a seventeen year old that trained in boxing when I was younger, but had to quit, and I started back up a few months ago, I'm going as often as I can and as hard, I've completely changed the way I eat and I always read your articles and watch your videos and they help me so much!
I've got the goal of starting amateur boxing at the start of next year and pursuing boxing as a career, as it's the only thing I've ever done, that I've actually been good at. Sorry for the huge paragraph, I just wanted to say a huge thank you man, it means a lot what you do!!
Thank you!
Bramb
Johnny,
I really love your methodical teaching, breaking down movements to their basics, etc. I am a retired violinist turned boxer and have been a bit frustrated at the general "sink or swim" attitudes of boxing coaches. You either figure it out or you don't based on general demonstrations and repetition. You bring a refreshing approach to teaching the sport that is prevalent in both music and dance but seems to be missing in boxing otherwise. Your articles and, especially the foot movement video, have helped me address aspects of the sport that I wasn't able to figure out.
Boxing has always been a dream of mine, not just to go through the motions but to participate at a reasonably high level. I am 47 and have survived 2 heart attacks so this path has not been easy. God willing, I will have my first fight at the end of August and, win, lose or draw, you will have been a big part of helping me get there. Thanks!
– Andrew Wilson
This is the best stuff I've ever found on the internet for boxing training! The best videos and breakdowns anywhere!
I've been a boxing/kickboxing and MMA coach for 20 years and I am always trying to improve my skills as a coach. This is exactly what I've been looking for.
– Coach Toby
– Carlson Gracie MMA
– Maple Ridge BC, Canada
Toby McEachern
Hi Johnny,
Just a quick message to say thanks for all your hard work – you're an inspiration, and your articles and videos are the best out there. You're a gift from God to all us aspiring fighters. If you ever get the time to come to the UK, hit me up and come check out our gym (www.titanskickboxing.com)! Keep up the good work man and best of luck with everything
Cheers,
Dan C
Hi Johnny,
Thanks so much for your generosity sharing your time and expertise. I'm wondering if you know of any trainers here in NYC who might have a perspective similar to yours, AND be willing to work with a recreational/amateur client. My experience so far has been that the guys will demonstrate things, but not explain them much, let alone go into any detail about the mechanics of technique/form. I'm a pianist, so I really REALLY need to avoid any injury that could be prevented with good technique.
I know, crazy, right?
Part of the reason I'm learning boxing (other than boxing just being awesome) is to experience being a student in a completely foreign medium. It makes me a better (piano) teacher. And I know from becoming a professional musician that even one lesson with a truly masterful teacher (not just a coach per se) can give you enough to work with and extrapolate from for a very long time. Forever, even. I'm actually going to be in Cali in September, if you have any interest in a session or two I would be super excited to work with you. You're in LA, right?
In my favor as a beginning/intermediate client, I'm probably the only piano teacher who writes about boxing. You may find yourself immortalized in a pedagogy conference 🙂
Thanks again Johnny,
Alison.
hy once again i read your books and lot of articles. i'm boxing fo r seven years – about 50 am. figths, but after reading your work i see i'm a f***ing begginer, i was just mindlessly fighting. after using your advices my game changed 80% i see more, get less, hit more! i don't know if our trainers don't know hot to teach or what. maybe they have model of what's right but they don't know how to teach… tnx
Mitja
Hey ive wanted to thank you bcos ive read a couple of ur articles nd it improved me abit. From jab guides to fighting styles (being ur own). I sparred alot but not enough got lots to learn till i met better counterpunchers and fighters. I was a counterpuncher at first very passive one and there were counterpunchers better than me. So i adapted till i got used to my high guard my style changed and i landed more… i know im between counter nd pressure most of the time i pressure to counter. When i read ur brawl guide it helped me alot aswell. I just like reading ur guides its like a boxing library thank you very much that site i come back to. – Mervyn
Been watching your channel for long time! Great coaching & information!
I've trained Muay Thai on & off sense 93. I wish I had access to your coaching earlier! I've used techniques learned from you that should have been in my foundation, but no one explained or taught it. Keep up the great work! Always something to learn & keep motivated! – Scott R.
Hi,
I really enjoy your YouTube videos. I'm learning a lot from them. Your videos are the best out there. I'm probably going to get your power punching videos. I boxed when I was in high school and college. I'm middle aged now but want to get back into it for self defense and to stay in shape. I live in the Redwood City CA which is on the peninsula in the San Francisco Bay Area. Keep up the good work!
– Michael B.
hi coach johnny,
just want to say to you that you are a true source of motivation for me and a lot of others boxers I think, and I want to thank you for all your work!
keep doing what you do cause you re doing it very good. I started boxing 6 month ago, a big part thanks to your website. I've never felt better than today =)
thanks you again, and i wish you a lot of good things in your life, and in the ring.
Adrien
Thanks champ! I've read til page 20 of ur website. What u r doing is great! – Albie
"Boxing is a Thinking Man's Game"
September 25, 2017 / Jersey Boy Boxing Team
There are a ton of articles on the web on boxing training methods, techniques, exercise, etc… Quite often, a very important facet of the game is overlooked. I recently came across an article by Johnny N. "Expert Boxing" that really nailed it because it talks about one of the MOST important aspects of boxing. To become a champion, you have to think like a champion! All the greatest pugilists in history, whether professional or amateur, all have something in common. They have the mindset and an attitude of a winner! It's easy to tell someone to think like a winner. It's not as easy to show someone how to think like a winner. One of the best lines that I picked up from this article is, "Boxing is 100% mental, and 100% physical." I highly recommend that you read and apply the strategies in this article. Indeed, these can be applied to winning at every aspect of life. Our goal at Jersey Boy Boxing is to develop leaders and role models, not just boxers.
"5 Mental Strength Tips to Make you a Champion" by Johnny N.
– The Jersey Boy Boxing Team!
ExpertBoxing your videos have been a real resource in my self training, today I felt I entered the matrix for the first time, I have been studying the top level fighters, Rigo, Roy, Loma, Conor, Floyd and have implemented my own stuff but postural distortions, and missaligments on my body were limiting my movement, now, after 1 year of focusing more on mobility and mindfulness work, I can express a lot more. I will share with you because your chanel was a real knowledge base to start my path of discovering and implementation of my own striking. Thanks ! – Ernesto
Hi ! I'm Josef from Czech Republic (You might recognize me from the ExpertBoxing group here on facebook) and i just wanted to tell you something ! When I was reading the articles on the Eb website, I came across the Jump Rope guide and it pretty much changed my entire performance ! ? I always hated jumping rope, because I tripped over like all the time ! ? But then, I saw a video of Muhammad Ali jumping rope, and I just said to myself : "Man, I should give it a chance!" and I started jumping rope for 15 minutes every single day (I know I should jump rope for 30 minutes, but I will get there). It has been 14 days and I feel just perfect ! ? ? ? Today, m training session lasted 60 minutes and with the correct breathing combined with jumping rope every day, I just didn't run out of breath !! ? ? ? We jumped rope in training for 6 minutes , and i didn't tripped over even once ! Not once ! ? ? It was funny seeing my sparring partners gassed out and me jumping around and dancing like it was 1. round ! I still don't know if I will win my fisrt fight, but one thing is for sure ! With stable breathing and jumping rope like this, I won't run out of breath ! I know my story is really long, but I just wanted to say one thing. Thank You ! ? This one advice really changed it all for me. i'm really grateful for it ! Thanks again ! ?
– Josef