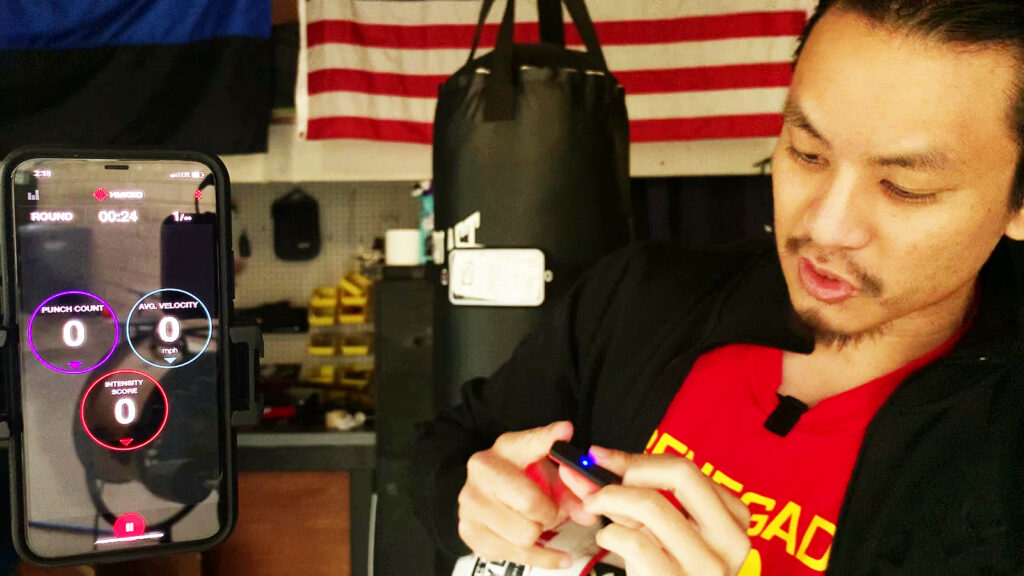 My detailed comparison (and personal bias) of the best boxing punch trackers/sensors…by PunchLab, FightCamp/Hykso, Everlast PIQ, Punchlab, StrikeTec, and more.
They're all promising to be revolutionary technology in boxing training, designed to increase your performance and training improvements (giving you helpful feedback about your training)…all at the cost of a couple hundred bucks…hmmm.
So the question is…are they worth it? And if so, which one is the best for you! It's time you get an opinion from a real boxer who's had them for 2+ years.
What are boxing punch trackers?
…and what do boxing punch trackers do?
"Boxing punch trackers" or "boxing performance trackers" or "boxing fitness trackers" are essentially like the Fitbit, but for your hands. Just like how the Fitbit tracks the number of steps you take, the boxing performance trackers will track the number of punches you throw.
Now, the Fitbit also tracks things like your sleep, heartrate and also sync with a scale to track your BMI and some other things…but the boxing punch trackers only track how many punches you throw and how fast you throw them (if even that). Some may be able to differentiate between straight and curved (hooks/uppercuts) punches. Others may try to add a "G-force" or "power" metric but it doesn't do it accurately by any means. It's just an extra metric for you to feel like it's does more things.
What (some) people like about boxing fitness trackers
To be honest, I don't even know. I think the companies want us to believe the trackers are totally cool and helpful to your training workouts. That "pros" use them for their helpful stats beginners love them for the "gamification" excitement that they'd bring to otherwise mundane training sessions.
I suppose if you're a pro, punch trackers could be theoretically useful for tracking punch count. And it's common that diehard pros are willing to do anything–and I do mean ANYTHING—to improve their game. If someone tells you of a new workout or new training tool, you can bet a professional would be absolutely curious to try it. Whatever gives you an edge, right?! The only issue is that the trackers don't always track punches accurately. It might miss your shorter punches or the 2nd jab in a double-jab. Or certain inside short hooks and uppercuts. It's still better than nothing if you don't have someone counting punches but still…I really don't care much for the counting punches function.
For the beginners or non-boxers, the idea of "boxing technology" is indeed cool. You don't have any drills or anybody to train with. So it's probably gonna seem cool to strap on some high-tech toys and connect with that one device you probably can't live without—that mobile phone! I find little fitness gadgets like this especially fun for the person training without any real purpose or goal in mind. It's another shiny new toy.
My bias against boxing trackers
I don't like or use any boxing punch trackers.
THERE! I said it. I feel like I can breathe now. Like I'm being honest to the world and not having to lie to my readers. I was able to review all of these fun products for free and I love the passionate people behind these companies but deep down inside, I think they offer very little value to the serious boxer. I sincerely hope that because I'm honest and speaking from the heart, that these companies can use my feedback to improve their product and win me over. I may be biased but I'm willing to swallow my words and recommend these products if I honestly feel they're worth recommending!
Let's go over my personal bias about their flaws…
1. They measure quantity, not quality.
When was the last time you had a trainer pay attention to how many punches you were throwing? I'm willing to bet never! He was probably busy looking to see how often you dropped your hands. Whether you pivoted the back foot on the right cross. Whether you lifted your elbow for the left hook.
I can state emphatically that these trackers will not improve your boxing skills whatsoever. Your technique will not improve one bit. Not a single iota. That's because these trackers can't track technique or even strategy whatsoever. They simply track frequency, and maybe speed. Some of them will even combine both to give you an "intensity" rating. Basically, they're trying to present you as many bits of information using what limited data they have.
The worst part of all, is that I think using these trackers can actually make your boxing technique WORSE! Hear me out. The more you use them, the more you feel inclined to improve your numbers and "beat your high score". This is easily done by cheating on your technique and focusing more just punching faster instead of punching with better technique. Sure, some of you may argue that it's just one metric and that technique is still most important. Ok fine, disregard my comment then.
If you're just trying to improve your cardio and knowing how many punches you're throwing really matters to you, these trackers are great for you. But if you're a serious fighter trying to reach the next level of competition, I sincerely doubt these trackers will take you there. Of all the million things you're worried about in your boxing abilities, your number of punches thrown on the heavy bag will definitely rank among the least important ones.
2. The trackers are only meant for the heavy bag (and maybe shadowboxing)
You can tell these trackers are made specifically for bagwork. They're aimed at people who don't have friends and stimulating environments to train in. The heavy bag is the quintessential 'hermit-boxer' training tool.
Why not for sparring or mittwork? Because nobody would bother tracking punches in those two. When you're sparring, you're busy adapting to your opponent. Sometimes fast, sometimes slow, sometimes this angle or that angle. Sometimes a faster-paced brawling match, other times a calmer boxing match. Same goes for mittwork. Sometimes it's high intensity non-stop combinations. Other times it's drilling new combinations and fighting tactics. It would be great if the trackers could track your progress on the speedbag but this isn't possible since they aren't designed to count those small hammer-fisted motions.
If you really hit the heavy bag all that much and that often every week, that's the only way you'll get any regular mileage out of these. But if you only use the heavy bag for a small part of your workout…you'll find these aren't worth the hassle to put on just to track a few rounds of your workout.
3. The trackers are inconvenient
Almost all of them are annoying to put on. I don't enjoy the process. It's not like putting on boxing gloves and handwraps where I feel like I'm transforming into a super-hero. They always feel like an extra (unnecessary) step that you have to do before training. (Imagine having an extra set of laces to tie on your gloves and shoes.) Cumbersome and I think you'll be tempted to skip it. But maybe that's just me.
First you gotta figure out how to strap the device to you. Most of them, you have to wiggle into your handwraps somehow and make sure they stay oriented in the right direction and don't move around during training. Everlast PIQ and Corner comes with nice straps that sit solidly on the outside of the glove–SMART! Punchlab goes right on the heavy bag itself (clever).
The second part is figuring out how to work the app with gloves on. It is extremely annoying to have to take my hand in and out of the glove to touch the phone with my sweaty fingers. (I think it's so unhygienic!) It's also not feasible if your glove is lace-up. So now, we're in the realm of having to use someone else to operate the phone. It's funny because I even noticed people doing video reviews and asking a friend to hold up the phone. Hahahaha. And then imagine in the gym when you're trying to workout but there's no place nearby the heavy bag to put your phone. Sure, you can put it in your pants and hope that it doesn't flop around in your pockets and hit you in the balls during a combination.
Most of the reason why these trackers look appealing is because you don't have anybody to train with. Otherwise if you're in a real gym, you'll have so much environmental stimulation that you wont need these to make your workout "fun".
Let's just face it, these are not "boxing performance trackers", they are "boxing fitness trackers" at best. And like most fitness devices, I think they'll be abandoned with time because you'll eventually move on to a new toy.
What I DO like about boxing trackers
Time for some positivity…
I love high-tech stuff – I do love innovation and companies trying to bring something new to this sport. Things may seem a bit crude and unimpressive in the early stages but I do think they'll get better in the long run.
They come with video guides/drills – some come with instruction videos, little fun games and drills/workouts. These are great for people who don't know their own drills and don't have a coach to make new routines for them. The instructional aspect of it is what I feel is the biggest benefit of opening up the app and best correlates to the "training alone" demographic.
They're somewhat cool – some people just like cool gadgets even if they may not seem so substantial, people love accessories. Why not?
Their app improvements – these app tracking companies soon figured out their app has greater impact on their user experience than the trackers themselves. The thing is the trackers don't really track all that much…so the only thing left is to keep improving the app to make it more fun and engaging and make up for the tracker's limitations.
Evolved for TV training – it seems these apps are designed more for training at home in front of your TV. And that does make a lot of sense. Instead of staring into a tiny mobile screen, you can beam it to your TV (using Apple TV).
The best boxing punch trackers (best-to-worst)
1. PunchLab (FREE for app & basic workouts, $49/yearly for belt tracking & premium workouts)
OVERALL EXPERIENCE
Clever app/tracker that gets the job done simply and with the best user experience. This may come as shocking to many people who are carried away by the more popular gadget-ey trackers like "Hykso", but this Punchlab is the best to me because it's the only one I could see myself using over the long run. It's easy to use, takes 10 seconds to setup and also that I get visual feedback of my progress.
PunchLab is the simplest and yet my favorite punch tracker by far. It's just a belt that straps your phone to the heavy bag. Some people might complain it limits you to only training on a heavy bag or that it's not as fun as tracking exact punches from your hand (straights vs curved). But on the other hand, I love that there's no annoying trackers punch trackers to buy or strap to your hands. You simply download the app to your phone and then attach your phone to the heavy bag. The app gives you different drills and workouts, and then counts your punches based on the number of times you hit the bag.
But aside from the technical "tracking" aspect, the PunchLab app is what really makes it the superior tracker app for boxers. It has real boxing coaches on there (myself included) among other notable boxing trainers. And works on teaching you good technique from a purist boxer POV. This last point alone makes it the best for me.
It's my absolute favorite if you love "punch tracking". If you want something with more "features" (which I assume is most people), my #2 pick will be for you!
TRACKER PERFORMANCE
So cheap to start off, clever and easy to use. There's no "tracker" to buy; you just use your phone! Phone easily straps to the heavy bag in 2 seconds, and you now have a nice feedback screen to look at while you're hitting the heavy bag. Thanks to this design, you can use it in a noisy gym where you can't turn on (or can't hear) the sound. In a way, this simple "tracker" is the most interactive compared to all the other trackers since you can see your visual progress (instant feedback) right as you're training. Honestly, all of them should adopt this idea and allow you to the strap the phone to the heavy bag.
Tracks punches based on your impact to the surface (where phone is strapped)
Obviously it can't differentiate between rights/lefts or straights/curved. But the tracker tells you which punches to throw so that's how it knows.
Can't track your punch speed or power either…but that's really a gimmicky metric IMO anyway.
Ok, so it does measure "power" but it does this based on how much your phone shakes during your impact. Which isn't accurate from a physics POV but may be useful for comparative purpose in context against your other punches.
Since there's no tracker for your hand, I think this app would be able to track kicks as well.
The belt comes free if you subscribe to the paid plans.
Mounting the phone to the bag can be super annoying if the bag spins when you punch. I suggest PunchLab also sending you a strap that can go around the heavy bag and then attached to a floor weight (or heavy object) to prevent the bag from spinning so much.
APP FUNCTIONALITY
Simple design and easy to understand. The design doesn't look as polished and full of goodies as the one by Corner but it gets the job done perfectly.
There are 3 modes:
FREESTYLE – do whatever you want
TRAINING – follow along a workout (guided instruction) by one of the coaches on the system (again you can find me "ExpertBoxing" on there)
HISTORY – see your results from past workouts. Shows the time spent, punches thrown, calories burned, and power exerted.
IMPROVEMENT SUGGESTIONS
The app design could be redesigned better (ease-of-use and also feel more "premium"). Make it easier to filter for certain boxing trainers. I think would be cool if the app could record or livestream video footage of your workouts; that would be fun since the phone is already mounted to your face. It might also be cool if the app could show a virtual sparring opponent on the screen for you to "fight" against. Really, i think there are so many opportunities here because of the screen.
2. Fightcamp aka Hykso ($400-500 for trackers, $40/month for app workouts)
OVERALL EXPERIENCE
The easy 2nd choice for me and for many people, this would be their #1 choice. FightCamp (formerly known as Hykso) is the most established brand in the "boxing performance tracker" space. This is the company everyone knows and think of first when they think of punch trackers. I even have non-boxing friends sharing their social media stuff with me and asking me if I've heard of it before. Their marketing is great…excellent social media videos with lots of viral content being shared, sexy website, beautifully-designed trackers in neat little boxes. Feels like a truly high-tech brand rather than just another gimmicky "innovative fight product".
I like that FightCamp/Hykso has real boxing people behind it…but the original Hykso trackers and app were underwhelming for the high price you paid. It didn't do anything other than counting punches like a simple fitness tracker counting your steps. Look past the fancy branding and social media hype and you feel like it's kinda gimmicky. There's nothing much to it. It doesn't feel high-tech at all. You feel like somebody added bluetooth capability to an old school tally counter and that's it. I seriously think you'll be bored of it within a week (month tops).
Hykso itself has already dropped further support for their trackers and now rebranding everything under the new FightCamp label. So what's the difference? Hykso was focused purely on the trackers whereas FightCamp is not only trackers but also adds the full workouts-from-the-app like Corner is doing. Basically…everybody is learning that it's more about the boxing-workout-from-home experience that matters more than the boxing-tracker experience itself.
TRACKER PERFORMANCE
I like the slim and simple use of the FightCamp/Hykso trackers. There's a clear distinction between LEFT (blue light) vs RIGHT (red light) and super easy process of connecting them to your phone…just double-tap and that's it. You have to align them pointing forward and they don't really track anything except how many straight punches you throw and how fast you throw them. They couldn't read some hooks, uppercuts, hayemakers. The devices are truly meant to track only going FORWARD! So weird small punches may not track.
Tracks mostly only straight punches. Some curved or small/short punches don't register. But still more accurate than Corner IMO.
The charging unit is compact and holds both trackers. Nice.
The trackers can be annoying to secure in place. FightCamp does sell the easy-wrap slip on gloves that hold these trackers in place….but I'm not sure how purist boxers would feel about those over real handwraps.
I like the double-tap functionality to enable the trackers…it feels like they aren't sitting around wasting battery.
APP FUNCTIONALITY
The original Hykso app looked kinda plain and simple. You can go straight to training (which is a boxing timer and tells you what punches to throw), drills (where you make up your own workout intervals), or feed & activity which show you stats from previous workouts. There's no training videos or workout guides, or 3rd-party drills like the other apps. It looks like a very simple unfinished beta-app…and once you really look past its design, you realize it doesn't do anything except track your punch count and average punch speed.
The FightCamp app however is much more polished, very sexy, with sleek modern UI and feels premium. Definitely the best tracker app. Great workout videos and caters to both diehard boxers as well as regular fitness users. And yes, there's stats and also leaderboards where you can compare your stats with other people as well. I like that the design feels more mature and not like such a high school game like Everlast PIQ app. The workouts have nice stats and great instruction…you'll probably want to use an iPad or AppleTV so you can see everything going on.
There are some nice extra touches…the FightCamp app lets you choose what type of music to listen to during your workouts. And the recorded videos looks premium and more boxer-ish (with the dark backgrounds). Whereas Corner videos can feel more fitness studio (with the wood floors). While FightCamp doesn't have 3rd-party instructors on there, the core FightCamp instructors (like Tommy Duquette, former USA national team) have solid technique…unlike the ones on Corner who don't have solid technique IMO.
I'm disgusted that the FightCamp app won't work with the Hykso trackers. Honestly, it feels like the same darn trackers. It's a shame that they would abandon their early users so quickly like that.
IMPROVEMENT SUGGESTIONS
Trackers need to be improved to track more curved punches, also track softer punches thrown by females (and ones with bad technique).
Design a wrist-strap for the trackers instead of relying on the easy-wrap-gloves that real boxers won't like.
The app should have 3rd-party instructors like other apps. Or at least more instructors in general.
While the app is nicest and with high video production quality, the FC membership price of $40/month feels too high. Sure, I'm aware the membership allows up to 5 users but it's really unlikely that I'm using this with anybody else.
The FightCamp app should have allowed you to use the original Hykso trackers.
I wish the FightCamp app let you skip back and forth through the workouts in case you wanted to skip some parts, or rewind because you didn't hear something.
3. Corner ($139 for trackers, free basic workouts, premium workouts $9-14/month)
OVERALL EXPERIENCE
Corner was the easy 2nd place (among all hand-trackers) until the new-and-improved FightCamp came along. What I initially disliked about Corner is for being a general boxing tracker for the overall fitness market. You'll see even yoga stuff on there. But when you think about it in the longrun…their app will have the widest variety of workouts to choose from and it's also nice they have non-boxing workouts on there as well.
You can think of Corner as being a home fitness app experience that happens to have boxing trackers. And on top of it, their boxing trackers are actually well-designed and easy to use! The other thing I like is the low pricing and simple tracker straps. Corner is a cheap place to start if you're not even sure you're into boxing trackers.
TRACKER PERFORMANCE
Corner has the best hand tracker design all around. I don't even know where to begin.
Nice slim-design black straps that the trackers slide into. You can even see their "corner" lights showing through the strap. The straps look great and easy to use (unless the annoyingly fussy Everlast PIQ straps or Hykso which doesn't even have straps).
Corner trackers are also the easiest to charge. Each tracker has a micro-usb port. Much more convenient than others (like Hykso, Everlast PIQ) which have to be plugged into a charger which is then plugged into USB port. It's basically fewer parts to carry around, fewer things to lose.
Also very nice you can charge the Corner trackers from their straps (the charge port is accessible). This is helpful so you can leave them in their straps and don't lose the tiny trackers.
Like other trackers, Corner tracks straights vs curved punches. It doesn't differentiate between hooks & uppercuts.
The Corner trackers however were less sensitive to me than say the Hykso trackers. The Corner ones would miss double jabs, some hooks (as most trackers do).
APP FUNCTIONALITY
The app is based around home virtual fitness classes off your phone. Like you following along fitness instructors off your phone. And it's built very nicely and designed in a sexy sleek way…I can't decide which app is sexier (FightCamp vs Corner). There is however, nearly zero mention of your trackers or tracker stats (punch count, speed, etc). It really doesn't even feel like a boxing app.
I think the whole fitness thing is better for it by focusing on the workouts and not so much on the trackers. But it almost makes you wonder why even bother with the trackers in the first place? If you're a diehard boxer wanting to use cool punch trackers…Corner will make you feel like A) this ain't really a boxing product, B) this ain't really a boxing app, C) the whole Corner experience isn't designed for boxers.
I really like how the app integrates with Spotify music. Once again, you can choose your workout music and this is key thing for many gym rats. I've literally had friends spend more time making their workout playlist than actually working out.
IMPROVEMENT SUGGESTIONS
Only basic tutorial videos were free. It seemed all workouts were paid through their "Corner On Demand" membership. They should have some free workout videos.
Have some real boxing instructors on there. The ones I saw really didn't look very experienced (technically) and therefore I can't recommend this at all to serious boxers.
4. Everlast PIQ ($99 per tracker, all app workouts free)
OVERALL EXPERIENCE
I didn't know this but Everlast & PIQ (2 separate companies working together) have already been making trackers successfully for numerous sports. They have lots of experience and brand presence in this fitness mobile app space.
They present the standard boxing tracker experience here (2 trackers + mobile app). The trackers are strapped on by some elastic straps that go on the outside of your gloves. The trackers are also sold in single boxes (I don't get this). So you have to buy 2 of them. I guess it's good since if you lose one, you only have to buy one replacement instead of a whole set. Right off the bat, I didn't take Everlast seriously and thought their trackers would be generic and lame just like (most of) their boxing products…but I was wrong.
The trackers were fun to use (once you get them working) and the app is full of stats and gamified charts and scores. However…the pros don't offset the awful battery life and fidgety trackers (and their issues). The lack of workouts will probably make this tracker boring sooner than later for most people. But honestly…the battery issue alone makes it virtually unusable for me. They better fix that ASAP.
TRACKER PERFORMANCE
Everlast PIQ probably has the most high tech trackers, has more capabilities and can track more metrics (and with more accuracy) than any other punch tracker out there. Clearly, you can see they are actually backed by a development company with actual tracking experience. Whereas the other brands seem to be using cheaper sensors with less tracking capabilities. Honestly, it's no surprise considering that the Everlast trackers are double the size of Hykso and Corner. I imagine it has more chips and things in there.
I love that they can also track hooks and uppercuts and also distinguish between straight vs curved punches whereas Hykso can mostly only track straight punches (some hooks, uppercuts, and haymakers are not counted).
Everlast PIQ can also track your retraction time (time it takes to pull the hands back). Other brands seem to track only punches and punch speed. But then again…how accurate is this retraction metric? And will it affect if I move my hands in a certain way? Some styles don't retract so straight like other styles.
Now let's cover the horrible issues with the trackers.
The first one is the awful battery life. All my other trackers worked just fine even after being left alone for months. The Everlast PIQ batteries seemed to have died very quickly during storage. They now refuse to hold a charge, or only very little if at all.
Pairing them with your phone is a hassle. It searches and takes forever for you to know what's ON, what's CONNECTED, and which one (left or right) is which.
The straps are annoying as well. You might like the bulkiness and substantialness as feeling more "premium" but will soon get annoyed with all the moving parts to adjust. There's 2 velcro straps; one for the wrist, the other for the tracker holder. And putting the trackers into the holder takes more time than other trackers.
I do love that the chargers have a magnetic backing to help them stick to a nearby metal surface. But I prefer being able to connect a cable directly to the tracker or at least having a combined charger (like Hykso). It's annoying that each tracker has its own charger…so many pieces to carry around.
Being that setting up trackers is the biggest hassle of using them…I think you'll just end up not using these. Sure, it's all just an extra few seconds each time you use them but you will be annoyed!
APP FUNCTIONALITY
The app is very comprehensive in stats and charts. And feels the most like a sports game stat-board compared to the other apps which feel more fitness-training focused. Has drills, workouts, reports, instruction guides. Also a leaderboard to compare you against friends or other people. The whole app has lots of graphics, and getting close to the point of being too much.
At first, you may like that the app has so much numbers. But then after a while…it gets boring. You realize your numbers don't engage you much. It's like comparing how many punches you threw last week vs this week. Ultimately…who cares?
So you get bored and look for new workouts or training routines to try and that's where Everlast PIQ fails. There aren't many options as they haven't built out this part of their app much. The training lab has like 10 videos to watch and then when you click on "Access more inspiring content…", it hits an error page on the Everlast website. LAME!
The other part of my app complaints it the UI design. It's not clear how to start a quick training session. I had to click around before finding it inside "Drills". There should be a clear button immediately to "quick start" or "start training". Honestly, the labelling of the different sections could be done better to reduce ambiguity. It's not clear which sections are for training and which sections are for reports.
IMPROVEMENT SUGGESTIONS
The trackers were really finicky to connect to my iPhone. I later figured out they were related to battery issues. The whole strap need and tracker unit needs to be redesigned to be less hassle. I'd try to get rid of the charging base if possible. The app itself needs to have more training videos. And the app UI need to be cleaned up better so I'm not just pressing around random areas. Basically…everything needs to be improved even those these are the best trackers (from technical POV).
5. StrikeTec ($300)
OVERALL EXPERIENCE
I think StrikeTec intended to be first to the boxing tracker market but was slow to deliver a polished solution. Due to time lost in R&D and whatever other business snags they had, Hykso became the first brand to really break out in the market. To this day Hykso still remains the most recognized brand for boxing trackers. I see their ads and videos all over social media.
I was lucky enough to try StrikeTec for only a brief moment. Its founder sent me a set of sensors and also Android phone with the app installed to test. (I got it before it was publicly launched.)
I am frustrated as heck that they don't even have an iOS app. For this reason only, I've written them off completely. I don't know how it is in this day and age that a serious business can have an app for Android before they have one for iOS. I'm not biased against Android phones or their users, but I think it's really poor business oversight. I also didn't even get to try the trackers. They just didn't work.
It doesn't even matter as it seems StrikeTec has given up on this business. Their website home page was hacked when I checked in DEC 2020.
TRACKER PERFORMANCE
What comes to mind at first glance is their bulkiness. On one hand, I feel that makes them more annoying and potentially painful inside your gloves. On other hand, maybe the bulkiness helps keep them secure them in place. That's all I have to say as I didn't even get to try the trackers in actual use.
APP FUNCTIONALITY
I couldn't even run it. By the time I was able to start testing…the app had to be reupdated with new code or something. And by then, StrikeTec wanted their sensor and phone returned.
IMPROVEMENT SUGGESTIONS
Next time, you send out review copies…give the reviewer time to get to it. A busy person like me gets hundreds of products offered every year. Make an iOS app before Android, otherwise your brand doesn't feel as premium.
5. Generic boxing trackers (~$100)
Hahaha, why am I even reviewing this crap? If you haven't already noticed. There are plenty of generic boxing tracker sensors on Amazon. I haven't tried any of them personally but will leave the general thoughts I've read from the reviews for you:
Looks cheap. (Seriously, look at the pictures for yourself).
App doesn't work or doesn't exist. (And from my own eyes, the apps look like they're still in beta mode.)
Just don't buy them, ok?!
The quest for the perfect boxing tracker
I enjoy what I see but think we still have a long ways to go from creating the perfect boxing tracker. There's plenty of room for innovation and improvements to make these tools truly useful for serious boxers. And more importantly to make this whole home virtual-training boxing experience more fun.
I'll toss out some random ideas below:
3rd-party instructors – if they could allow more instructors to build workouts on their app platform would be great. Outside instructors bring their fanbase and also give much more variety of training styles.
Technique videos – instead of workout videos. I'd like to see more technical instruction to actually help people learn new things. And then afterwards, they can go do a workout.
TV integration – I think the future of virtual training will be like those TV's over all the treadmills. We'll see TV's over punching bags as well. And it's nice that many of the apps are already incorporating video workouts that are meant for a television.
TRACKER DESIGN – they should all use the direct charge cable design like Corner has. I'd rather have a bigger tracker than to carry around charging pods. And yes, please use straps that allow charging access and not a glove to hold the trackers.
METRICS RECORDED – punch count, soft vs hard punches, straights vs hooks vs uppercuts, speed and acceleration, also reaction time (from when punches are called out on the app).
MULTIPLAYER – how about a multiplayer game feature where you go head-to-head against a friend or "fighting" against another person live. And they always match you up against someone on your level.
GAME OPPONENT – how about making you fight a live on-screen opponent. And you're being coached how to fight that character.
HEAD & CHEST TRACKERS – to track head movement and also when your hands are back up on defense. This would also be useful in game modes or virtual-sparring modes. Hell at this point, you can practice multiplayer-fight another live person. Add foot trackers and now you can track foot movement! (And telling users to move back and forth, etc.) How cool?!