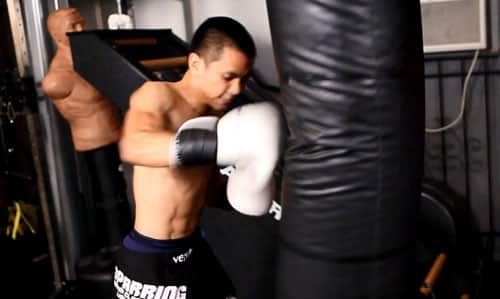 Your joints play a tremendous role in generating and delivering power.
It has come to my attention in the recent years of the tremendous role that your joints play in delivering power. Unfortunately, the importance of the joints is commonly neglected in favor of the more popular focus on muscles.
Typically, most people I know are all about the muscles. How the muscles look, how big they are. How to develop powerful muscles. How to train the right muscles. How to get the right kind of "fighter's muscles". Etc and etc.
But very seldom do we ever talk about joints.
How do your joints affect your punching power?
Joints transfer the power, NOT muscles
When you think about it…because it's the joints that do the hitting. It's the joints that take the impact and the stress of power punching, not the muscles. Sure, you could say that the muscles are generating the power but it is really your bones (and joints) that transfer the power.
Let's put it this way: your bones and joints are your body (they are the frame and presence of your body). And your muscles are the engines that move your body. But once your body moves and makes contact, it is your bones and joints that take the impact or rather…MAKE THE IMPACT. It is your bones and joints that are responsible for transferring the energy to your opponent.
You are not hitting your opponent with your muscles,
you are hitting him with your bones.
And to be more precise, it is really your joints that take the most damage. The bones you don't worry about because they are fixed and cannot be moved. The joints, however, are movable and need to be placed into a stable position in order to handle the impact well.
Technique is really about BONES & JOINTS, not muscles
Movement techniques are about moving your bones,
not about using your muscles.
When you analyze punching technique, it's really not so much about figuring out the right muscles to use but more-so how to get your joints into position to deliver the most power. Your bones and joints represent points of leverage. And your muscles are simply a means of getting your bones into the best position possible.
For example…notice how your body is most comfortable when you stand straight up. This allows your bones—spine and leg bones—to comfortably stack on top of each other. Of course, you need a little bit of muscle to maintain this straight position but you'll notice the position puts less stress on not only your muscles but ALSO YOUR BONES.
This theory could also be applied to punching power. Instead of thinking only about how to move your muscles and which muscles, etc, etc…you could also think about how to get your joints into the right position at the moment of the truth—THE IMPACT!
THE REAL PROBLEM WITH JOINTS
The real problem that fighters face when they don't understand the importance of joints is that they can lose great amounts of power off their movements. I would dare say they lose more than 50% of their maximum power potential simply because their joints are not in place!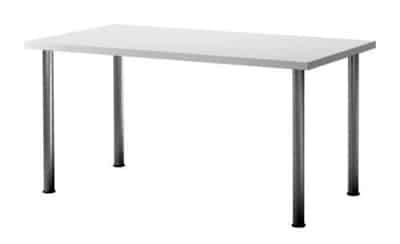 Think of a table with 4 legs. Now if you wanted to place heavy objects on top of this table, the legs need to be absolutely straight. If the legs are angled or otherwise bent in some way, the table's maximum strength would be considerably less. Straighter legs would more easily transfer the stress onto the ground whereas bent or angled legs would place the stress on the joints.
The same ideas applies to your bones. Remember, your bones are your leverage. It is of utmost importance that you put your bones into the perfect position that they need to be in if you want to transfer as much power as possible. Imagine trying to have a friend stand on your shoulders. It would be nearly impossible unless you were standing absolutely straight!
Your power transfer suffers greatly
when your bones (and joints) are not in place.
Position your BONES & JOINTS for maximum power
Goal #1 – put your bones in the right position for maximum power transfer
Your first goal of any body movement needs to be to get your BONES into the right place to transfer power. It is more than simply being balanced, it is more than using the right muscles. It is a matter of effectiveness and efficiency. You need to be in the perfect place if you want to transfer maximum power!
In fact, I would dare say that if you are even a few degrees off, you can possibly lose up to half your power. That's right, half of the power you generate through your muscle effort will be wasted simply because your bones and joints aren't in position to take the load!
I see this problem all the time in punching technique, footwork technique, and many other boxing movements. The fighters are not in the right position and their bodies cannot move well, cannot move naturally, and cannot transfer the power well. They spend lots of energy to throw punches and move but their punches are still weak and their footwork is still subpar. They're getting tired exerting a lot of force because of such low energy efficiency.
Sure, improving your conditioning does make you stronger but it won't improve your efficiency. Suppose you had a muscle capacity of 100lbs but only had a 30% efficiency in technique, you would only output 30lbs of force. Even if you doubled that muscle capacity to 200lbs but didn't improve your technique, your 30% efficiency would still only output to 60lbs of force—which is still much less than your original (untrained) capacity!
This is why understanding movement technique is key. The pros and masters of the game know the technique very well. It's not only about having strong and fast muscles for them. They know exactly the perfect degree to which to move their body to produce maximum force. Knowing the exact details and intricacies of every movement allows them to generate AND DELIVER maximum power without any waste of energy.
Goal #2 – control your joints to maintain position during the power transfer
It's important to know that your joints are stressed (transferring power) during two positions in every movement:
1. THE BEGINNING – your joints are stressed at the beginning of every movement when you make that initial burst of energy through your muscles to generate momentum.
2. THE END – your joints are stressed again at the end of every movement when you come to a stop and make impact.
The beginning of every movement is usually very easy to deal with. Everyone is naturally taught how to stand correctly and everyone usually has a crystal clear picture of what their stance should be. The standard boxing stance is typically the same for everyone with only slight variations. You also spend more time in this position and stance so it's natural for you to quickly find the right position from which to punch or move from.
The greatest difficulty in controlling your joints,
comes at the end of the movement, not the beginning.
The end of the movement is the hardest point for everybody. This is what I like to call "the moment of truth", it is when your joints are stressed by the sudden impact.
I can think of 2 reasons why the moment of truth is so hard for everyone:
1. Fighters do not understand the movement.
2. Fighters are not trained to maintain integrity during impact.
What happens to your joints at the moment of impact?
Think of your body as a ball striking a wall. It will bounce back because the amount of energy transferred and returned during the impact.
Now, your body will not respond like a ball because it isn't structured as one piece (like a plate). It's more like a unit made of multiple pieces (imagine a building). Instead of "bouncing", it will try to "collapse" from it's weakest and most move-able parts…which are the joints.
And if you can successfully keep your joints from collapsing during this moment of impact, you will be able to transfer more energy to your opponent. But of course, this is all very hard to do if you don't understand the movement and how your joints are stressed during these movements.
….AND….
Fighters do not understand the movement because there are so many possible movements. When it comes to punching, there are virtually a limitless combination of angles, ranges, distances, and directions to which a punch can be aimed and thrown. Yes, you are taught the standard punches such as the jab, cross, hook, and uppercut…but the reality is that during a fight, there will be many punches that are something in between. And there will be many moments where you have to throw punches you were never taught, at angles you never trained for.
These unlimited ways of throwing a punch means there are unlimited ways for you to position your body to maximize your bone leverage for maximum power. And you have to learn the absolute perfect degree and angle for every type of movement. Yes, it will take forever to learn and even forever to master. This is something that only comes with experience!
Fighters are more focused on training their muscles,
than training their bones and joints.
Fighters are not trained to maintain integrity of impact because training is usually based on the muscle aspect. It's more common to see fighters practice the MOVEMENT of the punch rather than the IMPACT of the punch. It did take me some time to realize the practicality of why many fighters in boxing, and also martial arts, will do push-ups on their knuckles or do isometric exercises and other kinds of static "position-holding" type of exercises. There is truth and great benefits to these exercises if you understand why!
For a punch, this "moment of truth" is at the very end when your hand hits your opponent. For a footwork type of movement, this "moment of truth" is when your body has moved to a new position and your legs are taking the impact of the ground.
As I've said before, being in position to move is easy. Getting in position to take the impact is hard. It's also harder since your body is MOVING while you're trying to get to that perfect position.
And it's imperative that you make it to the perfect position or else you will suffer great energy inefficiency. I've seen many fighters generate tremendous power only to have half of it leak at impact. You can lose power off a punch simply because your bones aren't in place. Your legs can get tired easily while during footwork simply because your feet didn't land on the ground with your leg bones in the right position.
How do you stabilize the joint during impact?
The first thing you need is awareness.
Do you know if your joints are absorbing the impact rather than transferring the impact? If your joints are hurting, then maybe your joints are out of position and unable to absorb the force.
Are you even aware of your position collapsing? Just because your muscles are still holding the position doesn't mean your joints are holding the position. Even if your joints "give out" only a tiny bit, that's a collapse right there. A movement might still look like good technique even when in fact there is a collapse during the most critical moment.
The second thing you need is technique.
Do you know the right technique to apply force from that position? There's a good chance your body might be in a position that you haven't learned how to maximize yet. Again, there are limitless positions and types of movements in boxing. It takes time to really feel comfortable and learn how to deliver power through ALL of them.
I don't go around labeling "good technique" and "bad technique" because they all have their place and function. You either know how and when to you use it or you don't.
The third thing you need is effort.
Yes, you have to make a conscious effort to maintain joint integrity when your joints are stressed at the moment of impact. While your bones can be disregarded for now because they don't have moveable parts, your joints must be HELD in place, because it is your joints that allow your bones to move around. If the joints give out, the bones will move, and the power transfer will be lost.
Failing to maintain joint integrity at impact
will allow power leaks through your joints.
WHAT KIND of effort are you making during the impact?
Are you trying to PUSH your punches through? (Like a PUSH PUNCH?)
If so, it's probably not the right idea. During this movement, you have force coming back so it's probably better to focus on resisting. And your muscles are MUCH STRONGER by not moving (isometric strength) rather than trying to move (concentric strength).
Are you trying to hold your hand in place?
Well it's not exactly that either. Maintaining integrity isn't about "staying still" so much as it is about reversing the stress load. So in other words, you have to be sensitive to the stress coming into your joints and find a way to move AGAINST that. This would be more effective than wasting energy being stiff.
Also…becoming sensitive and learning the direction of which the stress comes in allows you to be more efficient because you'll know from which angles to maintain your joints at the moment of impact. The hardest part about resisting is figuring out what direction to resist in. This is because the direction of resistance isn't always in the reverse direction of the movement! (For example: exerting downwards force to resist something that is coming forwards at you. How confusing, I know.)
Are you pulling your hand back too early?
This isn't good either. If you never maintained any integrity in the first place, then very little energy was transferred to your opponent. Some people will mistakenly reference this problem as the reason why snapping punches are so weak but they fail to understand this isn't a snapping punch. A snapping punch is when you snap back AFTER the power is transferred.
If anything, it is the power transfer that snaps your hand back…not you contracting your bicep and shoulder muscles.
Are you focused on maintaining a bone position at impact?
Or are you more focused on maintaining a muscle contraction at impact? Try it and see.
How to Increase Your Joint Strength
One thing you may have started to wonder about by now was how to increase your joint strength. Your joints are comprised of bones, cartilage, tendons, ligaments, and muscles that support it. There are also fluids in the body that help to lubricate and cushion these joints. Diet, exercise, good technique, as well as genetics all play a role in the health of your joints.
Important nutrients for bones and joints:
Calcium & Vitamin D – calcium is needed for bone formation. Vitamin D is needed to absorb calcium.
Fatty acids – Omega-3 and fish oil can reduce inflammation (common joint problem)
Antioxidants – Vitamin A, Vitamin C, Vitamin E, and selenium help in fighting free radicals which can damage joints or contribute to joint discomfort
Glucosamine supplements – glucosamine is needed for maintaining joint cartilage
Great exercises for improving joint strength:
Weightlifting and resistance training – to help to strengthen muscle around the joints
Isometric exercises – are great for developing strong muscles and tendons allowing them to maintain static positions during high stress. You may have heard of rock climbers with incredible grip strength because of all the static positions they hold.
Stretching and yoga – increase joint flexibility and joint strength. Improve range of motion, strength and power, while decreasing stress on the joints.
Stretching & foam roller – especially important for relaxing tight muscles and ligaments to relieve strain off your joints
Cardio & aerobics – great for improving range of motion while increasing your endurance.
Core exercises – it goes without saying but core exercises help to support your body through a wide range of movement. You'll find core exercises to be especially helpful with stabilizing the major joints in your body.
Proper technique/habits for joint movements:
Posture – good posture means efficient posture. Any position that uses your muscle to hold you up will only get you tired and make it harder for you to move. Try to use your bones, this makes it easier to relax.
Extend the joints – joints are typically stronger when straighter and spread out, not curled or bunched up. Expand your frame when possible.
Don't stress a joint – don't bend or twist or move in a way that hurts your bones.
don't go against a joint.
Warm up – move around and get the blood flowing throw your body before putting force on your joints. And when I say "warm up", I do mean to literally raise your body temperature…get hot, break a sweat, GET WARM.
Joint genetics and guys with "natural power"
TIGHT JOINTS vs LOOSE JOINTS
There is also the factor of genetics that I learned from an orthopedic specialist—someone who specializes on the health, injury, and disease of the body's musculo-skeletal system. I came into her office to diagnose what I thought was a problem with my knee. I was worried about having a meniscal tear when I was actually suffering from patellofemoral pain syndrome.
She had me lay down as she started feeling around my knee for a moment. Then she exclaims, "Wow! You have really tight joints!" To which I wondered, "Is that a good thing?"
"I bet you've never had an injury, or broken bone, or joint pains, or those kind of injuries, have you?" she grinned.
I thought back to my whole life and said, "You know what? Yeah…you're right." It was true. Through all the crazy sports I've done over the years…soccer, basketball, football, track & field, skateboarding and a million other things…I've never really had an injury.
I mean sure, there was this one time I got a sprained ankle, but that was because I jumped off the stairs and landed on a bent ankle. But I was pretty ok, considering how high I fell from. I was still able to walk around and skate just fine—no hospital visit or doctor needed. She explained that I was born lucky as these things are for the most part genetics. I was surprised to learn about this distinction between different types of joints.
Anyways, she continued to explain the difference between "tight joints" and "loose joints"…
TIGHT JOINTS are better for strength & endurance.
LOOSE JOINTS are better for flexibility & range-of-motion.
TIGHT joints are better for strength and endurance.
Tight joints can stay in place better under stress, making them less likely to get out of position, get bent, get twisted, or otherwise stressed to the point of injury.
People with tight joints can handle higher forces on their joints putting them at an advantage in movements that require strength or endurance, which are basically found in many sports. Their tighter joints allow them to take the constant pounding from all the hard training they do over the years.
LOOSE joints are better for flexibility and range of motion.
Although, it is not uncommon for people with loose joints to participate in sports, they are not as durable as the others. Because their joints are more flexible, it's easier for their joints to get stretched, bent, and twisted out of place and become injured. It's common for people with loose joints to sprain their ankles, twist their knees, have their shoulders pop out of the socket, or get all sorts of other force-related injuries.
On the flip side, people with loose joints can benefit from greater flexibility and range of motion. These qualities are especially useful for more expressive movements such as dance.
From an athletic standpoint, people with loose joints can benefit from having more agility, speed, and power that comes with the flexibility. As long as they are moving comfortably within their flexibility and not being stressed, they will be fine.
TIGHT joints need stretching, LOOSE joints need strength & conditioning.
Continuing on with this extremely insightful examination, the orthopaedic specialist explained to me that people with different kinds of joints should train differently. She taught me that a person like me, with really tight joints, needed to spend far more time in the day stretching and moving around rather than doing strength-and-conditioning and other types of resistance exercises.
It made a lot of sense because I've always had great speed, strength, and power. Those were things that always felt natural to me but flexibility and range of motion were not. It wasn't until I learned how to do many different types of stretches and also did some yoga that my body really started to balance itself and become more functional.
On the flip side, people with loose joints needed to do more strength and conditioning. Having stronger muscles would help to keep their joints in place and prevent injury. This is especially important for athletes with loose joints because they need to have stronger muscles to help secure the joints during impact.
TIGHT joints need stretching,
LOOSE joints need strength & conditioning.
This difference in training required has to do with how your joints are stressed.
Tight joints are stressed by muscle movement. An athlete with tight joints would get much of his joint stress from his tighter muscles. And these tight muscles can contribute to injury because they limit him from moving into proper positions during moments of stress.
Tighter muscles can also contribute to wasted energy because of his joints, muscles and opposing muscles all working against each other. For this reason, a person with tighter joints needs more stretching to maximize his body's athletic capacity.
Loose joints are stressed by impact. An athlete with loose joints would get much of his joint stress from handling heavy forces. While he can more easily get into the proper positions because of his flexibility, his joints cannot handle as much force during the impact because they are made for mobility.
Developing stronger muscles would help the athlete stabilize his loose joints, increasing energy throughput and also preventing injury during moments of stress. For this reason, a person with looser joints needs more strength & conditioning to maximize his body's athletic capacity.
Fighters with "NATURAL POWER"
Are strong joints the secret link to natural power?
It wasn't long after my joint examination that I started to wonder about how some fighters simply had that God-given ability to hit hard, even if they didn't look the part. And I'm starting to feel like it has to do with their natural joint strength.
I mean…think about it.
bones are for leverage, muscles are for strength
bones are what actually connect and transfer the power, the muscles can only generate power
bone structure plays a great role in your body's ability to generate and transfer power (efficiency)
if your bones are not built to transfer that power, you will not only have LESS power but also have to use more muscle (energy) to overcome an opponent with a superior (more efficient) bone structure
Bone structure provides leverage (efficiency)
Muscles provide strength (effort)
I can remember many instances of guys in the gym who were strong and had an impressive muscular physique but for some reason, didn't hit that hard. Sure, they were strong in the sense that they could lift a lot of weights or push very hard but when it came to delivering force in an instantaneous impact, their punches simply didn't hit as hard. Even the ones with good technique and good speed still lacked the power somehow.
And then there were guys who were the total opposite: relatively skinny, thin build, flabby or otherwise not as muscular but for some reason when they touch you, you feel a STIFF *SMACK!* at the end of their punches. They might not be as strong but their punches hurt so much more.
And the more I thought about it, the more I was convinced the missing link had to do with their joint strength.
How to Increase Your Joint Control
1. Find out if you have tight joints or loose joints
I'm no expert but I imagine the obvious indicators would be:
Flexibility – are you a naturally flexible person? Do your joints hyper-extend? Can your joints bend beyond the normal limit or bend backwards or twist at angles that other people can't do? Do you feel helpless in yoga classes?
History of joint injuries – do you have a history of joint problems? Sprained ankle? Sprained wrist? Twisted knee? Torn ligaments?
Warm-up time – does it take you a long time to get loose and warmed up?
2. Do the right kind of exercise for your joints
As explained earlier. People with tighter joints need more stretching to loosen up the muscle. People with looser joints need more strength and conditioning.
In addition to your specialized joint exercises, I highly recommend for everyone to do more isometric exercises. This was something I neglected in my early years but came to appreciate later on. Being able to apply force in static positions does make you stronger. It feels silly to stand there and push into a wall because there's no reward of seeing a weight being moved but I do believe it helps a lot!
3. Analyze your movements
Here's the really hard part. You've got to study your own body and become aware of your movements. This goes for ALL movements, whether punching the heavy bag, or slipping, or footwork, or any other kind of body movement.
I would suggest moving around slowly with a relaxed body and trying to discover these 2 important things:
a) how your body needs to be positioned to effectively apply force through muscle effort and bone leverage (remember: there are endless variations of punch angles and body movements)
b) which joints in your body are stressed or out of position at impact (when the punch lands, or when your body finishes the movement)
This task can actually be extremely hard for beginners to do because they're usually taught how to do movements in terms of how it LOOKS rather than how it FEELS. Sure, they know what a good left hook LOOKS like but they probably don't know what a good left hook FEELS like.
The other problem with beginners is that they're so focused on power and speed that they don't take the time to listen to their body to know if the way they're doing a move is natural or not. They tend to force their way through moves and actually enjoy using as much energy as possible instead of going for efficiency.
Fighters of all levels can improve their joint control.
I would say everyone should do this. If you're a beginner, you can do this to improve your basic moves. If you're an advanced fighter, you can do it to improve your power output during more advanced moves.
There are still many fighters out there with incredibly strong muscles but poor joint control. And as powerful as they might be, they have no idea how much power they're giving up and how much energy is lost through the joints.
Common breaks in joint control (during impact) in typical boxing movements:
Poor hip position/stability
This is a MAJOR PROBLEM for many people and they don't even realize it. Their hip bends, bulges, tilts, or wobbles when their punch lands. Even a tiny degree of hip instability will significantly affect your punching power. Do not let your hips break at "the moment of truth"! Please pay attention to this!
Poor shoulder position/stability
Tremendous power is lost when the shoulder is too loose or out of position when the punch lands. It's common for the shoulder to be out of position when fighters throw with poor technique or because they're simply reaching too far or trying to angle their arm for a punch when the rest of their body is out of position. It's also common for the shoulder to be too loose when fighters over-exaggerate the "snapping punch technique" and neglect the critical split-second moment of tension required to deliver the power.
Of course, having tense shoulders or trying to "push" your punches through doesn't help either. That only makes you tired and slows your arm recovery.
Poor wrist position/stability during hooks
Big decrease in power and also causes wrist pain. Poor punching technique and punching from out of position can cause this.
Knees are too bent
There's nothing wrong with using your knees. But you shouldn't bend them any more than you need to. If you're throwing punches or moving from a standing position, it's better to have your knees closer to straight than bent. The problem with bent knees is that the bones are not in position to transfer power effectively, and so much of the power is absorbed and lost through your leg muscles. This loss of power dramatically affects both your punching power and footwork agility.
Feet are not grounded
This is more of a balance issue than an actual joint position problem. But it helps to see your feet as "joints" between the ground and your body. Your body needs to be powerfully connected to your ground to transfer power.
4. HOLD at the moment of impact!
If you did your job correctly and completely in step 3, you would have become far more aware of your body by now.
You should know all of these:
what joints are out of position
what joints are collapsing at the moment of impact
what joints need more muscle effort applied
what movements are easier or harder for you to apply force
And the only thing left to do is to HOLD! Watch your balance and watch those hips! Keep the knees straighter (not locked) and put a snap in that shoulder. Right when that punch lands, HOLD YOUR BODY together! Control those joints and you should feel a definite increase in power output!
HOLD AT THE MOMENT OF TRUTH!