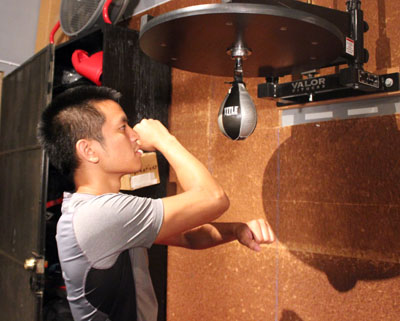 If you're like me, you may have gotten along just fine without the speed bag. My excuse was because I was always in a busy gym and didn't like waiting my turn to use the speed bag. My REAL excuse was that I didn't really know how and my trainer never bothered to teach me. It was embarassing to admit that I trained for a year before ever learning how to hit it.
Lucky for you, I eventually did figure out how to hit the speedbag and I even figured out an easy way to help any beginner learn how to hit the speed bag. This is the EASIEST way to learn how to hit the speed bag. Great for beginners or anyone to use one of boxing's most useful piece of training equipment. It doesn't matter if you don't have any natural rhythm, coordination, or just suck at hitting moving targets. As long as you follow these tips, I promise you WILL be able to hit the speed bag!
Excited? Probably not, but anyways let's give it a shot…
Learning How to Hit a Speed Bag

Here's a video I made to help you learn faster.
Speed Bag Rhythm
The first step to hitting the speed is knowing the rhythm. Just know that the speed bag will rebound 3 times for every hit. So if it you hit it once, it will go FORWARD-BACK-FORWARD, and then come at you to be hit again. *HIT!*, wait 3 bounces, *HIT!*, wait 3 bounces, repeat for an entire round.
Tips to Hit the Speed Bag
1. Open your hands
Don't make a fist. Don't hit with your knuckles, at least not for beginners. Beginners hitting with their knuckles will quickly lose control and end up hitting the bag too hard or too fast. Hitting with the fingers will help beginners slow down the pace and get use to the rhythm. This is probably my best discovery for helping others learn how to hit the speed bag.
2. Hold both hands close to the bag
Keep your hands close to the bag. Keeping your hands close will allow you to hit the bag without having to race your hands to it. If you let your hands get too far from the bag, you'll end up moving it too fast to hit the bag which makes you hit the bag too hard. Keep your hands close! When one hand is hitting, the other hand should be waiting right under the bag.
3. Hit in small circles
Your hand should travel in make small circles in the air when you hit the speed bag. You're not swinging your fists back and forth, you are making small circles in the air. You can even practice making small circles in the air to get use to the motion before trying it on the speed bag. Just remember to make circles.
4. RIGHT-RIGHT-LEFT-LEFT rhythm
The best rhythm for beginners is to go right-right-left-left. This means hitting twice with your right hand, then twice with your left hand, and repeat. On the first hit, you use the front of your fist. On the second hit, you use the bottom of your fist. It should feel like a natural setup for when you switch to the other hand.
Some trainers will recommend going 3 times for each hand. It's up to you.
5. Stand square
You are not in your boxing stance. You should be standing square in front of the bag with both feet at equal distance from the speed bag. Stand a little closer than arm's length from the bag. You can move closer or farther until it feels comfortable. Your eye should be level with the bottom of the speed bag, but a little lower or higher would also be ok.
Working the Speed Bag
I am pretty confident anyone can learn how to hit the speed bag in 10 minutes or less using the tips I put above. Once you get the hang of hitting the bag with your hands open, try closing your hands and hitting it with your fist. You will use the same right-right-left-left rhythm, but with a slight difference. This time you will hit with the front of your fist on the first hit, and then the bottom of your fist on the next hit. So it should go right-forward, right-down, left-forward, left-down. The speed bag is a great (fun) workout, improves your punch endurance, timing, speed, and accuracy. Nobody should be missing out on this!
Try teaching everyone this method and let me know how it works. I never let anyone tell me they can't hit the speed bag.
Have fun and look up youtube videos to see more creative ways to hit the speed bag. It's a fun and useful exercise for boxing.
What boxing speed bag to buy?
I recommend the speedbag below as well as any other smaller sized Title speed bag. I recommend the smaller size even for beginners because you're likely to outgrow the big ones very quickly when you get better at hitting it. I also recommend the higher quality swivel for a much smoother swing. It's optional as you don't have to get the fancy swivel makes a HUGE difference (much quieter, smoother rhythm, longer-lasting, less annoying).