Basic fighter training advice on mentality, training, sparring and fighting attitude. Highly recommend for beginner boxers.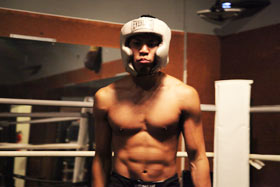 Mentality
Boxing VS Fighting
You're not here to seek revenge against the bully at school. You can do that more efficiently by using a weapon (I'm not suggesting this), using strength in numbers, of notifying school staff.
Boxing requires many of the same traits using in fighting. While boxing will ultimately help you channel aggression into something positive, it's important that you understand that at the end of the day, boxing will be a sport. Although it can be raw and violent, it also requires dedication and hard work.
The best reward in boxing is that it makes you a better person, not a better fighter.
At some point sooner or later, you'll have to realize that boxing isn't about fighting and that it just becomes a game–albeit a really hard challenging game, but still just a game nonetheless.
To always approach boxing with the mentality of "fighting" would make you a victim of the sport. Sooner or later, that mentality gets you hurt physically, and mentally.
Passion VS Achievement
Make sure that you love boxing. Don't just come into the ring everyday looking to prove something. Being tough proves nothing other than that you're tough. It's cool for a while and then it becomes meaningless after you've already established it.
Being tough doesn't make you a great fighter.
Enjoy your struggles, and then enjoy your victories. This is better than constantly worrying about why you're not good enough or why you lost your last sparring session. Just enjoy fighting!
Punching
Balance Your Punches
Every punch should be relaxed, hard, fast, and accurate. If you put too much focus on any one area, the other areas suffer. Relax too much and your lazy punches leave you open to counters. Hard punches waste energy leaving you tired later. Speed punches may be deficient power and accuracy. Accurate punches require too much focus on offense leaving your defense open, they might also influence your style to be overly passive.
Not All Punches Are Equal!
Your jab should be used 75% of the time. Right cross 20% of the time. Left hook 4% of the time. Uppercuts 1% of the time. I'm dead serious on this one.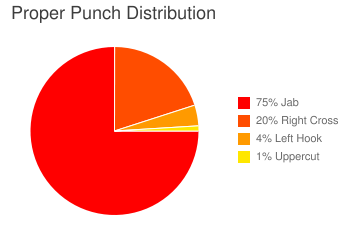 This should be your punchcount distribution when you're training your punches on the heavybag and sparring in the ring. The jab is the most important punch. Without a good jab, your right hand matters very little, your left hook matters even less, and your uppercuts will never matter. A boxer with a great jab can keep his opponents from ever using any of their other punches. Go on youtube to see Muhammad Ali and Oscar De La Hoya do it all day long.
Defending
Real Boxing Defense
Defense is not about NOT getting hit. Anybody can do this just by not getting in the ring in the first place.
Remember the rule of boxing? It's "To hit and not get hit."
Defense is about not getting hit while you move into position to hit. Defense is also about not getting hit AFTER you already hit. So don't sit there with an unbreakable defense or try to slip 20 punches in a row. All that defense means nothing if you can't follow it up with some offense. [I will admit: slipping 20 punches is pretty cool though.]
Working on Defense
The best way to practice your defense is during sparring (preferably slow) and when your trainer is working the mitts with you. You need to have your defense tested while you are throwing punches.
Having your little brother punch at you for 20 minutes while you hold your hands up will do nothing. Remembering to keep your hands up while you work the heavybag will also do nothing. Your defense skills are needed most while you are punching.
Endurance
Everybody Gets Tired
There are 2 ways to overcome this. One is to work on your conditioning and cardio. The other way is to become a more efficient fighter–in other words, STOP WASTING ENERGY! Don't overcommit to punches, don't miss, and don't try too hard to impose yourself on the other guy. Let the fight unfold naturally and do your best to respond to it. Think of it as swimming. If you move with the water, you will go far without spending any energy. If you fight the water, you will get tired and go nowhere. The same rule applies in boxing, and in life as well. GO WITH THE FLOW!
Work on your breathing
The best athletes have the best breathing. Proper breathing is vital to efficient movement. You need oxygen to power your body. Learn how to inhale gracefully and exhale powerfully as you channel the energy through your body. Breathing keeps you relaxed, keeps you in rhythm, and regulates your movement. Exhale sharply on every movement that you make.
Sparring Drills
Just as how you should do punching drills before you start punching, you should do sparring drills before you start sparring. What a concept!
The 2 biggest sparring drills I recommend to boxers are the "5 Jab Drill" and the "3 Rounds, 3 Punches Drill". Those aren't real official names. I made them up just right now but here we go:
The 5 Jab Drill
You take turns moving around the ring taking turns throwing 5 jabs. The first boxer throws 5 jabs, then the next boxer throws 5 jabs. Repeat. You can throw the 5 jabs however you want; one at a time, two at a time, or even all 5 at a time. Just remember to stop as soon as you finish throwing 5. Then step back and let your opponent do the same to you.
Keep it SLOW!!! Light jabs. Work on moving around the ring, being aware of your balance at all times and trying to catch each jab cleanly. Keep your eyes on your opponent and look at his body reaction.
The point is to throw 5 jabs and 5 catches. You are not trying to outscore each other. You should both be working on 5 jabs and 5 catches. When you first learn this drill, you should throw 5 textbook jabs and catch it 5 times exactly as how your trainer taught you to catch the jab.
Once you get use to this, feel free to pivot your body around and catch jabs differently from how you were told to catch the jab. Start getting creative. Aim the jab at different areas at the body and mix in some feints. You don't always have to go for the head; aim for the shoulder or elbow, or chest, or ear. You can also get creative with your defense, mixing in some slips or just step back and let your opponent hit the air. Again, the point is to be creative, not to outscore each other.
The 3 Rounds, 3 Punches Drill
You start the first round sparring as you normally would but both fighters can only use their jabs. Move around and work on jabbing, not hurting each other. Try to box.
The second round you get to use the right hand. Now you can move around the ring throwing 1-2's or any other combinations you want as long as you're only using the jab and cross.
The third round, both fighters get to use their jab, right hand, left hook. By now it's practically a real sparring session. The only difference is that this is JUST A DRILL and you're both working on how to throw and defend against these 3 basic punches. Keep it light and slow it down. Nobody should be getting tired during these drills. (And if you ARE getting tired, then you're definitely not ready for real sparring.)
Sparring Focus
Work on Skills, Not Tricks
Leave the tricks for when you go to competitions and want to surprise your opponents. In the gym, try to focus on building skills. Skills are the true substance of any fighter. If you have a better jab than somebody, you can impose yourself on him all day long and even if he knows your jab is coming, he won't be able to stop it.
If you're busy learning tricks, they all fall apart the moment he catches on to your "tricks".