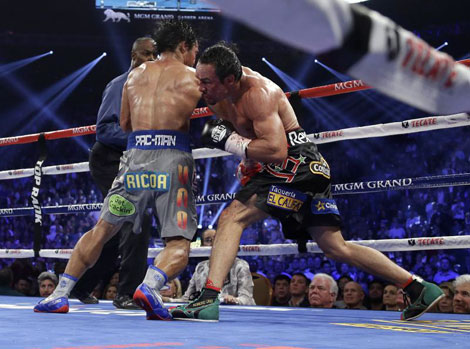 Knockouts are the most beautiful surprises in boxing.
Punches go back and forth, and then *BOOM*, it's over. It's part of what truly makes it "the sweet science". The perfect combination of physical power combined with mental brilliance. The greatest knockouts of all, are the ones that touch you. Some are so incredible you replay it over and over again, others are so painful you don't ever want to see again.
As a fighter, I empathize with the pain of losing in the most embarrassing way possible. It's sad to see a man give it his best and come up short. Every time I see a knockout, it still feels like it's my first time. And the more connected you are in a fighter, the more emotional it becomes. As common as they are in boxing, I still get chills down my down my spine when a fighter gets knocked out. Sometimes they're easy to take; a guy gets dazed and then counted out. Other times, it's serious; it looks like a guy getting killed. It looks like your superhero just died. It feels like your invincible God had become mortal.
As a fight fan, knockouts can be the most satisfying thing in the world. Sometimes seeing your favorite fighter knockout his "enemy" can be the best feeling you've ever had. It's that one thing you've been waiting for all year long. It's like an early Christmas present. You sleep so happy that night, almost as if YOU had just become champion. You can die happy now. All your dreams have come true.
Here are my 10 greatest knockouts in boxing:
What makes a GREAT knockout?
If it's gotta be a great knockout, we have to set some standards. I don't care to see a "guided" prospect beating up tomato cans. I don't need to see a guy knocked out for the 15th time. Read on below to see my criteria for what constitutes a truly GREAT knockout.
1. MAGNITUDE
It has to be an fight. I'm not interested in seeing sacrificial lambs. I want to see two champions battling it out. Or up and coming challengers aiming for the title. Or a changing of the guard from one champion to another. Or 2 knockout punchers in their prime. The knockout has to come in a significant fight. It has to be a defining moment in boxing history. Something EPIC!
What was the pre-fight build-up? What was the aftermath? Did somebody's big mouth get silenced? Did somebody's career get ruined? How sweet was the victory? How unexpected was the victory? Was there a crazy upset? What was the back story?
I'm looking for historical significance.
2. POWER
How devastating was the punch? How nasty was it? Did the head snap? Was the guy out before he hit the ground? Did somebody look like he died? Did the ref even bother to count?
I'm looking for raw brutality!
3. SKILL
Timing, precision, accuracy. Nothing beats the beauty of a perfectly-executed trap. It's not always fun to see an all-out brawl. You want to see movement, intelligence, and then…BAM!
I'm looking for technical genius.
4. CHIN HISTORY
Had this guy ever been knocked out before? Was he known for being invincible or having a granite chin? How shocking was the knockout? Did the oddsmakers have it all wrong?
I'm looking for the unexpected.
***NOTE: the knockouts are not listed in any particular order.
1. Manny Pacquiao vs Ricky Hatton (KO 2)
Manny "Pacman" Pacquiao (48-3, 36 KO), the speedy unorthodox southpaw was challenging the once-beaten Ricky "The Hitman" Hatton (45-1, 32 KO), for his 140lb title. Ricky Hatton was the #1 junior welterweight, known for his aggressive mauling pressure style, and only beaten once in his career 3 fights ago to undefeated welterweight hall-of-famer Floyd Mayweather Jr. This was no embarrassment as Hatton accounted very well for himself while being outboxed, potshotted, and ultimately TKO'ed late in round 10 by the naturally bigger man. Since the loss, Hatton successfully reestablished his old form at his natural weight in the 140lb division, winning two fights, successfully TKO'ing the respectable Paul Malignaggi (25-1) who had never been stopped before.
Manny Pacquiao, established as the Ring Magazine's #1 pound-for-pound fighter in the world, was continuing his dominance in the higher weight classes looking to add Ricky Hatton's belt to his collection. In the previous year, Pacquiao had already won titles in the super featherweight division (130lbs), lightweight division (136lbs), and also in a catchweight fight with Oscar De La Hoya at 145lbs.
Pacquiao carried the momentum of having beaten all challengers impressively (except for Marquez, who always had Pacquiao's number). Hatton, with his new trainer Floyd Mayweather Sr (the father of the guy who beat him), was still unbeaten at 140lbs and naturally the bigger man over Pacquiao. Both were forward-moving fighters with lots of aggression. Would Pacquiao's southpaw speed and power prevail? Or would Hatton's natural size and recent improvements in boxing skill maintain his standing at 140lb?
The fight ended in a knockout as expected. Pacquiao's speed and awkwardness caught Hatton with many punches in the first round. Hatton seemed to have lost his cool in wanting to fight fire with fire and ended up getting put down on the canvas twice. In the second round, Hatton landed a couple hard shots and seemed to have regained control until Pacquiao landed the perfect overhand left at the end of the round. Hatton collapsed lifelessly onto to his back as the ref waived off the fight immediately.
2. Kostya Tszyu vs Zab Judah (KO 2)
The brash talking undefeated American superstar Zab Judah (27-0, 21 KO) came into the ring with the reputation of an super-fast, super-skilled, talented, power-punching southpaw. He talked a big game and so far had backed it up.
Kostya Tszyu (27-1, 22 KO) with was a boxing prodigy from the Soviet Union boxing program. He had an impressive amateur career of 200+ wins and only 5 losses, winning bronze at the 1988 seoul olympic games, an also beating future world champion Vernon Forrest at the 1991 World Championships in Sydney, Australia.
Tsyzu was known for having fearsome power and proven pedigree. The only reason he was the underdog was because he was previously stopped by Vince Phillips. That was however 4 years ago and almost forgotten as he stayed undefeated since and practically knocked out everyone he fought since.
Judah was the favorite but Tszyu was very much a live and dangerous underdog. The first round had Judah landing a big shot to stun Tszyu but he maintained control to finish the round. In the second round Tszyu stalked Judah carefully before landing one perfectly placed right hand that dropped Judah to the ground immediately. It has been one of the fastest falls I had ever seen. The cross-eyed Judah gets up immediately but falls down again…and again…and again. One punch, 3 knockdowns, the fight was over.
3. Thomas Hearns vs Roberto Duran (KO 2)
Thomas Hearns (38-1, 32 KO) was an imposing junior middleweight with freakish height and reach advantages. Known for blindingly fast hand speed and incredible punching power delivered from long range, he was quite possibly seen as the scariest fighter in the welterweight and junior middleweight division…except for his not-yet-exposed glass chin.
Roberto Duran (77-5, 58 KO) was a blown-up former lightweight champion who's incredible skills, punching power, iron chin, and overall manliness allowed him to fatten his way up the weight classes while still taking belts (and scalps) along the way. Only 7 months ago in his previous fight, he had performed exceptionally well against a bigger and HALL-OF-FAME middleweight Marvin Hagler losing a razor close decision. Duran was winning on all scorecards going into the 14th round, and the only man to go the distance with Hagler in his championship reign. Despite being naturally much smaller, Duran was very much considered a respectable opponent for Hearns.
The first round was full of excitement with both men measuring and then trading and landing shots on each other. It was very much a competitive brawl with Hearns making use of his reach advantage. Competitive, that is…until Duran gets cut and dropped near the end of the first round. Hearns jumps on him and unloads a barrage sending Duran down for the second time in the first round.
Duran opened the second round throwing back but wasn't fully recovered yet. Bcked up along the ropes, Hearns "The Hitman" unloads dozens of punches before finally landing the perfect sweeping right hand to drop Duran face first. Amazingly enough, Duran regain consciousness and back up on his feet only seconds later but the fight had already been stopped. Hearns became the first man to knockout the iron-chinned Duran.
4. Julian Jackson vs Herol Graham (KO 4)
Julian Jackson (40-1, 38 KO) one of the hardest punchers ever to lace up a pair of gloves took on Herol Graham (43-2, 26 KO), a elusive tricky defensive southpaw from the United Kingdom for the vacant WBC world middleweight title.
Graham had done everything perfectly the first three rounds, hurting Jackson several times while avoiding Jackson's famous knockout shots. In the corner before round 4, the doctor offered to give Jackson, with swollen eyes and behind on points, one more round before the bout was stopped.
Graham started round 4 dominating the Jackson the same way he did the past 3 rounds. With Jackson stunned in the corner, Graham went in for the kill only to get hit by a devastating counter right hook. Jackson's punch landed right on the chin and Graham was out long before he hit the canvas, falling like a statue and remaining motionless for some time.
5. Buster Douglas vs Mike Tyson (KO 10)
James "Buster" Douglas (29-4, 19 KO), a disregarded contender, was thought to be just another opponent for the seemingly invincible "Iron" Mike Tyson (37-0, 33 KO), famous for destroying all his opponents in senseless fashion. Tyson-mania had hit the 90's creating a frenzy and fan-cult like no other boxer before. He was a heavyweight with brutal power, speed, skills, and a menacing personality like no other fighter. The odds-makers had Douglas a 42:1 underdog, the biggest mismatch on the books ever for a heavyweight title fight.
Unfortunately for Tyson, his name would serve as one of the most stunning upsets in history. Tyson, guided by the sneaky Don King, had lost his trainer and manager and was no longer training like he used to be. Douglas on the other hand, had been recently motivated and inspired by the recent death of his mother.
Tyson was met with a capable and willing Douglas in the first half of the fight, with Douglas establishing his long reach advantage with a thudding jab. Although Tyson seemed to have lost his aura, taking more punishment than usual, he managed to knock down Douglas in round 8. Douglas however was not going to be denied; he got up from the knockdown and used his 13-inch reach advantage to out-jab and out-punch a weary Mike Tyson.
The unthinkable finally happened when Douglas stunned Tyson with a huge right uppercut and then put in left hook, right cross, left hook combination to send Tyson down for the count. History was made and Tyson never recaptured his original form again.
6. Juan Manuel Marquez vs Manny Pacquiao IV (KO 6)
Manny Pacquiao (54-4, 38 KO) up until only very recently, after losing a highly controversial decision to Timothy Bradley and winning a controversial decision against Marques in their 3rd fight, was boxing's OTHER pound-4-pound great, along with the undefeated Floyd Mayweather. Pacquiao was a great fighter and man of the people. A former featherweight who had won titles in 8 weight classes (the only man in boxing history to have done so), was known for his blazing fast hand speed, knockout punching-power, high volume, aggressive, and unorthodox southpaw fighting style.
Juan Manuel Marquez (54-6, 39 KO) had already been established as one of Mexico's greatest champions, an incredible feat considering the country's tradition of producing hall-of-fame fighters. Trained by the great Nacho Beristain, one of boxing's finest trainers, Marquez was known for his great boxing skill and counter-punching ability. While not known for power, he was certainly able to hurt and knockout opponents if they dared to engage him.
On paper, Pacquiao would be considered to be the more accomplished and more capable of the two, considering his superhuman power and speed. But in reality, Marquez possessed the stylistic advantage as shown in previous fights where he definitely held Pacquiao's number and landed great counters.
Pacquiao had drawn in the first match, and won the 2nd and 3rd fights by slim margins, creating a great resent in Marquez as well as many in the boxing community who believed Pacquiao was the benefactor of rotten decisions. Without other more exciting fights to be made and their 3rd fight considered inconclusive of capping off the trilogy, the two decided to meet up in the ring again to determine yet again once and for all who was the better fighter. With hardcore fans in Mexico and Philippines to cheer on their countrymen, the fight produced yet even more drama and excitement before ending with a clear result.
After 6 even rounds with both fighters trading heavy blows and each scoring one knockdown, Pacquiao lunged in at Marquez at the end of round 6 to get the last say. Marquez dipped his head out of the way and threw the same counter right he had throwing all fight long. The punch landed flush on Pacquiao's sending him face first to the canvas and OUT COLD! It was a shocking sight to see Pacquiao who had never before been vulnerable since he became the pay-per-view star and seemingly steamrolled through all the weight classes and opponents.
7. Sergio Martinez vs Paul Williams II (KO 2)
Sergio Martinez (45-2, 24 KO), a flashy southpaw from Argentina was set for a rematch with another southpaw from Georgia, USA in Paul Williams (39-1, 27 KO). At the time, both fighters were considered highly regarded prospects who were ducked and kept out of title belt contention because they were too big of a threat to the existing middleweight titleholders. Both were southpaw, tall, long, and skilled…too many dangerous intangibles and without the pay-per-view draw to back up the risk.
The first fight was a 12-round classic with both fighters landing and taking incredible punches. Martinez fought using power, speed, and movement as he landed flashy punches and potshots using his crowd-pleasing unorthodox style. Williams fought using pressure and volume, throwing many punches while slipping and defending with subtlety. After 12 rounds, Williams had won a close decision some people felt should have been given to Martinez.
The second fight started out like the first fight with lots of action. Both fighters punched and moved aggressively, trading punches from the opening bell. Williams pressured with volume punches while Martinez was content with running and throwing big counters.
1 minute into the second round, Martinez landed a picture-perfect overhand left on William's chin with a HUGE *THUD* as the crowd went wild. The normally iron-chinned Williams was out before he fell, eyes open and crumbled face first onto the canvas.
8. Ray Mercer vs Tommy Morrison (KO 5)
Undefeated heavyweight Ray "Merciless" Mercer (17-0, 12 KO) was making his first defense of the WBO title against another undefeated heavyweight Tommy "The Duke" Morrison (28-0, 24 KO), a fast and powerful heavyweight not yet known for a weak chin.
Both were good boxers and had previously met in the amateurs where Morrison lost a split decision to Ray Mercer at the Olympic Trials, who would later go on to win the heavyweight gold medal at the Seoul Olympics.
Morrison did well the first three rounds, outboxing and leading on all the scorecards. Morrison's crisper combinations and constant head movement had successfully confused Ray Mercer. In the 4th, Mercer landed several hard shots wobbling Morrison multiple times and started the fight into a brawl.
At the beginning of the 5th round, Mercer landed several hard punches that froze Morrison along the ropes before unloading over a dozen unanswered punches as Morrison's lifeless body took unnecessary punishment unable to fall down because of the ropes holding him up. It is one of the most brutal KO's in boxing history.
9. Rocky Marciano vs Jersey Joe Walcott (KO 13)
At the old age of 38, Jersey Joe Walcott (51-16, 32 KO) was making the first defense of his heavyweight title against a man a decade younger than him, the up-and-coming Rocky Marciano (42-0, 37 KO). Walcott was a true veteran of the sport, with smooth, slick boxing skills. He was (at his time) the oldest man to fight for a heavyweight title at 33 years of age, knocking Joe Louis down three in 2 unsuccessful bids at his title. Many observers Walcott deserved the win in the first fight against Louis.
In 1951, Walcott finally beat the legendary Ezzard Charles in their rematch and successfully won the heavyweight title on his fifth try. With this victory, he became the oldest man ever to win the world heavyweight crown (holding this distinction until George Foreman won the title at age 45 in 1994).
The undefeated Rocky "The Brockton Buster" Marciano, was every bit the opposite of his opponent. Young, small, awkward, and possibly the shortest-armed champion in boxing history. While Marciano wasn't known for finesse or slick boxing skills, he did have an awkward style, unrelenting stamina, a hall-of-fame chin, and truly incredible punching power. We're talking about the kind of power that breaks jaws, teeth, arms, and leaves opponents in a coma. The odds-makers established Marciano as the clear favorite.
In the first round, Rocky was knocked down for the first time in his career. Walcott then proceeded to outbox him and prove all the oddsmakers and fight predictions wrong about him being too old. Midway through the fight something had gotten into Marciano's eyes (perhaps the solution used to stem blood-flow in cuts), making it hard for him to see the man in front of him.
After 12 rounds, Walcott was in total control and ahead on all scorecards. Marciano had been knocked down, cut, blinded, and only three rounds away from losing his first fight. 30 seconds into the thirteenth round, Walcott backed into the ropes and tried to walk Marciano into a deadly right hand counter. The only problem was Marciano's right hand got there first. Walcott slumped forward immediately, unconscious. His body kneeled lifelessly against the ropes and then tipped over as his head smashed into the canvas. Rocky Marciano became the new heavyweight champion and would remain undefeated forever.
10. Mike Tyson vs Michael Spinks (KO 1)
The young undefeated heavyweight champion "Iron" Mike Tyson (34-0, 30 KO), deep in his prime, was taking on another undefeated heavyweight champion Michael Spinks (31-0, 21 KO). The fight was billed as, "Once and For All" to establish who the ultimate heavyweight champion. Each man possessing a legitimate claim to the title.
Michael Spinks, a gold medalist in the 1976 Olympics, was previously an undefeated light heavyweight champion who had moved up into the heavyweight ranks with success, beating the hall-of-famer Larry Holmes for the title and defending it three times. He had never been knocked down and up until this fight was dominant every time he entered the ring. Spinks was rated among the greatest light-heavyweights of all time and was the first reigning light-heavyweight champion to win the heavyweight title.
Mike Tyson was a physically-gifted prodigy with an aura of invincibility, known for his intimidating array of speed, power, and fighting prowess. Despite being shorter than his opponents, he fought with an explosive style, stalking down opponents before knocking out with sheer speed and power.
The highly-anticipated fight was compared to the first fight between Joe Frazier and Muhammad Ali when both men were undefeated. Most people picked Tyson to win by knockout because of his "speed and devastating power". A few people, such as Muhammad Ali, had picked Spinks to out-box Tyson.
The fight was anything but a fight. Tyson attacked Spinks from the opening bell throwing hard hooks as Spinks ran and hid behind a high guard, too scared to engage. Cleverly, Tyson threw a right hand to the body that put Spinks down. Spinks got up quickly and right as the referee put them together, Tyson walked in and landed a right hand that put Spinks down for good. It took Mike Tyson only 91 seconds to become the undisputed heavyweight champion.
What are YOUR favorite boxing knockouts?
I was really torn putting together this list. There were so many fantastic masterpieces of the sweet science that for whatever reason didn't get included. It's humbling to be part of a sport with so much genius in brutality.
Many of the knockouts I put here are the ones I lived through. They featured fighters I was personally invested in which made the knockouts all the more shocking. There were so many other great ones, especially on the part of historical significance, but I wasn't as connected to their back stories.
This is where I urge you to share your favorite boxing knockouts (or FIGHTING knockouts). Post it in the comments below, and tell me why it stuck out so much in your head. Who knows…I might make a part 2 of this list. 🙂