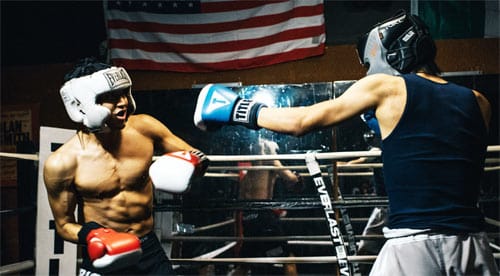 Establishing your range is crucial in boxing.
Finding the range is often talked about in the art of boxing. You hear people comment all the time on how someone "has great range" or "knows how to get in and out of range" or "controls the fight".
But what does controlling the range or finding the range really mean? Some people see it as using the jab and having great footwork. But I think it's more than that. Controlling the range also has to do with controlling the pace. It's more than having great endurance and great footwork. It's about finding an interval that fits best with your fighting rhythm.
There are a few more things you have to understand to [hopefully] make it your fight…
Controlling the Range & Rhythm
Range and rhythm.
Range and rhythm to me are like the same thing, because they're so connected that they're practically two sides of the same coin. Because typically, the closer you are to your opponent, the more energy you will expend. From far away, both of you will walk around circling each other. From 3 feet away, it's a tense in-and-out footwork game. From arms distance, it's a wild exchange. And from the inside, it can go either way—either two guys trading and sliding on the inside, or two guys wrestling and stalling on the inside. Controlling the pace has to do with establishing where I want to be.
Different range strategies depending on the opponent
From long range (outside of range):
great for fighting with powerful guys – distance gives me safety and time to set them up
great for fighting with tall guys – safety for when I have the energy and plans to come into range
great for fighting aggressive guys – I use range to stay away and potshot rather than exchange
From 3 feet away (just outside of range):
great for fighting shorter guys – harass them with my longer reach
great for fighting slower guys – my speed wins the exchanges
great for fighting lesser skilled guys – use this distance to outbox and evade easily
good for fighting powerful guys – outbox and evade
From arms distance (in range):
great for landing my most powerful shots
great for exchanging punches
great for pressuring or wearing down opponents
From close range (inside fighting):
great for controlling/wrestling an opponent
great for tiring out opponents with weaker muscles, less endurance, nervousness
landing flashy shoeshine combinations
great for stalling a fight, getting a rest
Training Your Range & Rhythm
It's funny to see fighters that haven't yet found their ideal range and rhythm. My guess is it happens because they're busy trying to copy combinations and styles that they saw on TV rather than take the time to develop their own pace.
*Remember how you developed your running pace? You just either ran faster or slower. Or you were breathing faster or slower. Or you reached farther and shorter with your legs. Or you swung arms more or less. But somehow someway, you found a natural rhythm for your entire body. It's kind of the same when you establish your fighting rhythm.*
The best way to develop your own range & rhythm? Spar a lot. Practice at all ranges and paces. Go forwards, backwards. Go faster, slower. Don't worry so much about getting hit, or losing, or running out of energy. The point is to try different things and get exposed to new ways of fighting. It won't be long before you start developing new layers of fighting strategy to complement all the different possible scenarios.
The key thing to remember is that range and rhythm are always connected. It doesn't make sense to use a slower fighting rhythm when you're close inside. Likewise, it doesn't make sense to use a long combination when you're barely at the in-&-out range. You have to fit your strategy to the range. Or rather…fit your range to the strategy. You may realize in your training that you're inadequate at certain ranges or rhythms. Maybe you lack the ability to throw 3-shot burst combinations. Or maybe you lack the endurance to fight up close. Or maybe you lack the mental calmness to relax when you're out of range.
Maintaining YOUR Range
Now comes how to maintain the desired range.
To maintain the long range – lots of walking/running footwork and/or punching power. Pick one or both. Or if you're lucky, you're both of the non-engaging cautious type.
To maintain a 3-feet-away range – lots of fast in-and-out footwork, fast punching, and punching power.
To maintain an arms distance – cut off the ring, move forward, be willing to engage
To maintain a close range – cut off the ring, move forward, have good clinching skills if you need, hopefully the ref doesn't break you up too much.
Controlling the pace and distance has a lot to do with your endurance, footwork, punching power, and of course, your overall boxing skills. You need a combination of all this if you want to absolutely control the distance. If you don't have good legs or endurance, then you'll need to have a solid defense and enough firepower to exchange. If you lack skills, you'll have to make up for it somehow.
Those with the advantage in endurance have a better chance at establishing the range they want.
Those with the advantage in skill have a better chance at being comfortable from any range.
Those with the advantage in power have a better chance at keeping opponents away.
Those with the advantage in footwork have a better chance at changing the distance.
Controlling the range and pace
takes endurance, footwork, punching power, and boxing skills.
Advanced Range Control
Range is psychological.
The perceived range is never even between two fighters. The shorter guy always feels like he's too far away, while the taller guy feels like he's always in range. The tired guy always feels like can't find enough space. The slower guys feels like he can't find the opening. The one losing the fight always feels like the fight is at a faster pace than what he wants. Range and intensity are FEELINGS. And feelings are a matter of comfort.
Part of controlling the range and rhythm has to do with knowing how your opponent feels. It also has to do with knowing how to adjust your strategy. With the right adjustments, you can make your opponent feel whatever you want. You can make him FEEL like you are too far, or too close, too aggressive, or too elusive. It has to do with changing the way you move, attack, and defend. I can give you some examples of what I do but know that there is so much that I will not and cannot explain. I can teach moves but feelings..not so much (at least not through the internet).
If I want my opponent to feel…:
that I'm far away – I try to keep my body and head out of range and keep parrying his punches with my hands further out from my face rather than right next to it. It makes him feel like he has to overcome a barrier between us before he can get to me.
that I'm in range – I try to make constant contact. I reach out and keep touching his gloves, arms, or shoulders. It's a subtle way of saying, "I can touch you, I can reach you."
that I'm very aggressive/increasing intensity – I throw or feint more right hands and left hooks. Or even when he blocks, I still hit his guard with a lot of force.
that I'm passive – I move out of range a lot or defend in a lazy way.
that I'm tricky – I act passive sometimes and aggressive other times. For example, blocking his jabs in a lazy way and then countering violently when he lets go of a right cross.
that I'm fast – I use a lot of head movement and feints. I fidget a lot and exhale faster when I do move. This not only scares slower opponents but also helps to slow down fast opponents when I put a little doubt in their own speed.
You can control the fight
by controlling the way your opponent feels.