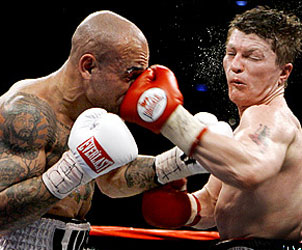 Seven easy ways to counter your opponents moves. Must-learn boxing reactions for all beginner boxers.
Most people who are just learning how to box or just beginning to spar in the ring are often suprised by their inability to create openings in the ring. Hitting a live opponent is not like hitting a heavy bag or focus mitts. Assuming your opponent is trained, he will always have his guard up. You will have no choice but to either create openings or to look for counter-punching opportunities. Counter-punching is one of the hardest and most important skills to learn because the best time to hit your opponent is when he's throwing a punch at you. As his arm is extended, he essentially leaves himself open at some angle for you to take advantage IF you are able to do so without getting hit in return. Below are ten easy counters for the most common punches. I highly recommend all beginning boxers to master each counter and to use them when the opportunity arises.
When your opponent throws a…
JAB – You block his jab with your right glove and throw a counter jab straight back into his face. Make sure you keep your jab shoulder high and chin tucked in case he's throwing a 1-2 (jab-right cross) combination. If your jab shoulder is high, it'll protect you from a right hand if he does throw one. Make sure your jab lands accurately on his face or chin!
JAB – You bend your knees, lowering your body and throw a counter jab straight into his body. You can aim for the solar plexus or his left ribs. Follow it up with a right cross to his head if you're fast enough.
JAB – You parry down his left glove with your right glove, and then immediately throw a straight right over his parried arm and into his face.
JAB – You lean your head slightly inside of his left jab and throw a SLIGHTLY ARCHED right cross into his face. This is a deadly counter-punch and the angle is perfect for a knockout! (Your head will go inside and somewhat under his jab and your overhand right will come over on the outside of his jab.)
RIGHT CROSS – You intercept it with a left jab straight to his head. Make sure you hold your left shoulder high to protect your head from his right cross.
RIGHT CROSS – You block it with your left glove and throw a right hand immediately after the block. The way you're doing this, it's as though you're blocking his right cross and throwing your own counter right hand punch right after before he can retract his right arm.
WIDE RIGHT HOOK – You throw a smaller left hook on the inside when his right glove leaves his chin. Your body should pivot clockwise as you throw the left hook and will turn your head away from his right hook and minimize the damage if it ever lands. Your left hook should land perfectly. You can keep doing this as long as he keeps throwing wild right hooks.