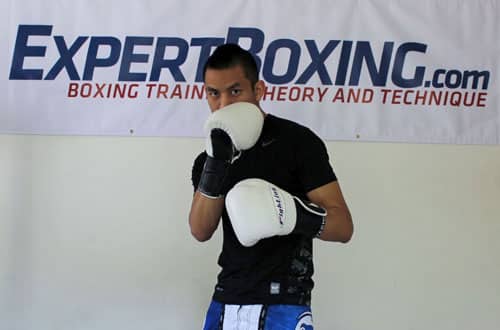 We've all been under pressure before. We take the most punches when we're out of energy, out of room to move, and out of position to fight back. I can barely stand let alone defend myself!
That's the problem with most defensive techniques–they rely on some kind of "perfect position" that just isn't possible when you're getting beat up!
Well that's all going to change today (in my sarcastic professional salesman voice). I'll show you a trick the pros use to defend against combinations, WITHOUT THINKING, simply by moving your back hand.
This little defensive technique can protect you even when you're unable to fight back…
What's the back hand guard?
*** Disclaimer: I have no idea what this defensive technique is really called. I'm pretty sure the old-timers have a name for it but I don't know what it is.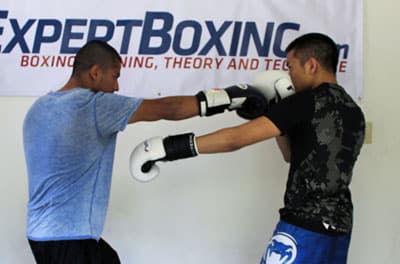 The "back hand guard", as I call it, is a defensive technique of using your back hand to block both sides of your face. The technique is useful (if not crucial) when you only have one arm available and need to block punches from both your left and right side.
Although you won't see it too often in the amateurs, the pros will use this move often at close range to block right crosses and left hooks while using their front arm to fire back counters. Watch any inside fighter and you will see the back hand guard in use quite often.
The idea is simple in theory: move your back hand to the left side of your cheek to block right hands, and then return it to the right side of your cheek to block left hooks. In reality, the technique can get you into a lot of trouble when used incorrectly. It can develop lazy punching habits and an over-reliance on blocking (and covering the eyes) as defense. You don't see many trainers teaching this move to beginners because it easily develops bad habits.
How to Use the Back Hand Guard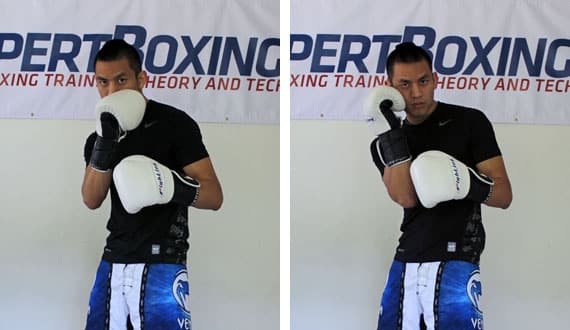 the first position blocks right crosses to the face
the second position blocks left hooks to the face
immediately bring your glove to the other side after blocking
The back hand guard technique is simple. You simply repeat the 2 positions above over and over. I use this guard technique only when absolutely needed, which is when I'm stuck against the corner. I'll cover my body with my front arm and then use my back hand along with shoulder rolls to deflect all the head punches. It's a fun move to do and defends well without having to rely on such fast reflexes!
The back hand guard is a great defense,
when you don't have the reflexes or ability to fight back.
For good examples of this technique, I would recommend for you to watch pro fighters. The long-range boxers will use the back hand guard to block long right hands. They simply put their back glove in front of their face to deflect the right hands. The close-range inside fighters will use the back hand guard more actively to block both rights and lefts from close range. Watch a pro fighter and see what he does when he's stuck against the ropes. All pros are generally pretty good at this move.
Some examples of good back hand guard movement:
Miguel Cotto vs Antonio Margarito – look at what Cotto does along the ropes, he'll use his back glove to block both lefts and rights from time to time
Joe Frazier – watch how Frazier wades into distance by using the back hand guard
Julio Cesar Chavez – watch how he slaps right hands away with his right glove when walking forward
Let's See the Back Hand Guard in Action
Watch my video demonstration of the back hand defense!
Long-range Defense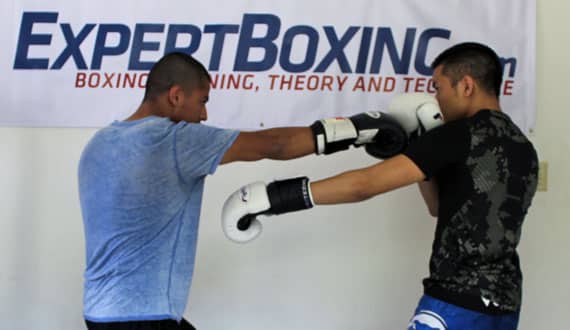 This right here is the essence of the back hand guard technique! Move your back glove to the front of your face to block right hands when your left arm is not in position to do it. This position is useful when your opponent throws counters while you're busy jabbing. Or maybe you're busy doing other things with your left hand and your opponent comes in with a right. Whatever the case may be, cover the hole with your right glove.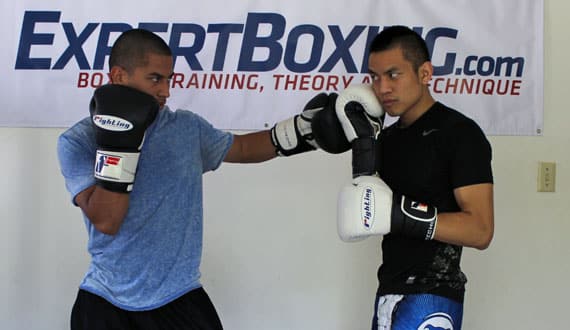 And then move the glove back to your neutral position to block the follow-up left hook! By the way, there's no rule saying you have to block the follow-up left hook. If you know a counter for it, go straight into your counter!
Close-range Defense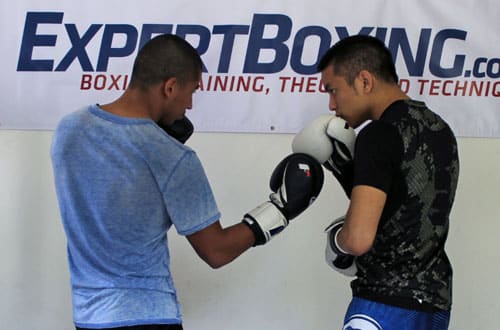 The back hand guard is especially useful at close range! You're bound to get into situations where you have no idea what's coming. Your opponent's throwing left-right-left-right and hitting you everywhere. All you gotta do is stop a right hand by putting the glove in front of you.
*** Notice how I used the back hand guard to stop an uppercut at close range. ***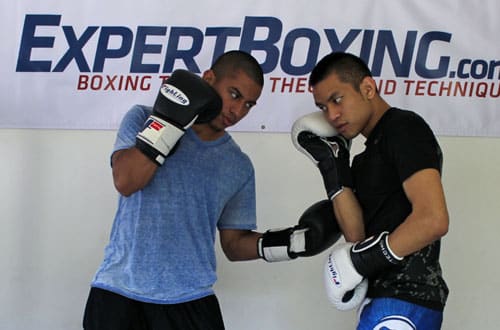 Now immediately move the glove back to neutral position to block the follow-up hook. It's all easy from this point, keep moving the glove back and forth across both sides of your face to cut down all his punching opportunities. Once you regain your senses, fire back immediately or get the hell out of there!
The slickest fighters have this defensive technique down perfect. You can trap them and they're still incredibly hard to hit even with only one hand. Many of them will use that free hand to throw a deadly counter hook.
Tips for the Back Hand Guard
Move your hand immediately after blocking
Move your back hand to the other side immediately after blocking. Fast punches will typically come in left-right-left-right patterns. This is especially true when you're being bombarded. I'm sure a lot of people are going to argue with me and say, "But what if he throws two rights or two lefts in a row?" I have an answer to this…
The back hand guard is often used as an automatic defense. By automatic I mean that it's what you should be doing automatically when you're not prepared to actively defend. Sure you might get tricked by some double rights or double lefts but statistically it's safer to be moving around and doing something than to sit around and look for actual punches. Once you've got your defensive pattern figured out, you can then look for more opportunities. If you're unable to see or unable to think, moving the back hand automatically will help.
Use shoulder roll deflection technique
The trick to the back hand guard,
is to move the head to the opposite side of the hand,
not vice versa.
The trick to using the back hand guard is not to rely only on the hand movement. If anything, you want to rely on simultaneous body movement to roll off the punches. Instead of only moving your hand from side to side, see if you can move your head (and body) to the other side of the hand. Imagine the hand is a wall and your head is moving around the hand (using shoulder roll technique), instead of moving your hand around your head.
Use shoulder roll counters
When you get comfortable with this back hand defense technique, fire back! The easiest counters to throw are the ones you would do using the shoulder roll technique. If you rolled away from a right, come back with your own right. Or if you rolled away from a left, come back with your own left. Or if you have long enough arms, try reaching forward with your free left hand and throw a jab or push your opponent away.
Throw jabs with the back hand guard
I'm sure you've seen this before. Many fighters will step in with long jabs while placing their back hand in front of their face in anticipation of right cross counters. It's not a bad idea but make sure you watch out for counter hooks. I usually catch on to my opponents by jumping in with lead left hooks because I figure he wasn't planning to punch with that right hand anyway.
Fighting from the back hand guard position (OPTIONAL)
Some fighters (NOT ME) will stand with their right hand positioned by default in front of their chin. And then they move the back hand to the side only after they block a right hand. Doing this can help you avoid quick right hands but it might leave vulnerable to tricky left hands–which is why I don't do it. But at least you know the option is there. (It can be a useful technique if you're a taller/longer fighter and your shorter opponent can't reach you with left hooks.)
Potential risks of the back hand guard
One-armed Fighting
This is probably the number one risk of getting good at the back hand guard. You start fighting like a swordsman–using your front hand to throw long jabs and the back hand to block like a shield. One arm only attacks while the other one only defends. If you don't fire with your powerful back hand, it's only a matter of time before your opponent walks in with power punches from both his hands.
Lazy jab recovery
Another big problem of relying on a back hand guard is that you start throwing lazy jabs. You're no longer worried about recovering the jab arm quickly because your back hand is ready to catch the counter-cross. Personally, I would say this is a bad style unless you're a really long armed puncher. Smart opponents will find new ways to capitalize on your slow recovery and you won't have the recovery muscles to out punch them.