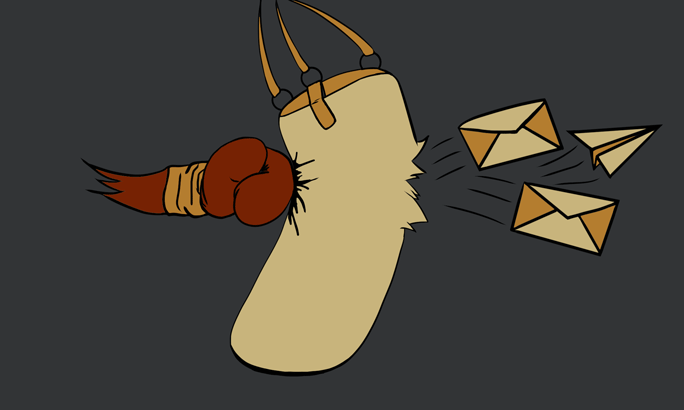 A common question by many beginners:
Will shadowboxing with weights increase handspeed and punching power?
A: Not really. (It depends on your technique, and also existing strength.)
1. At best, shadowboxing with weights is only a conditioning exercise.
It can strengthen your shoulders and that extra strength in itself may give you a little more power and speed. But to what degree will it really improve your punching power and handspeed?…this depends on many things.
Is your physical conditioning really poor? If so, then yes…doing anything physical like running or punching with weights or push-ups, can strengthen you and make you stronger and faster. But what if your physical conditioning is already great? Well, in that case…I don't believe throwing punches with weights will do much for you.
2. What punching technique do you have?
If you're an arm-puncher (inferior punching technique), then it makes sense that increasing your arm/shoulder strength would increase your punching power. But if you're a core-puncher (superior punching technique), and punching with relaxed arms, then increasing your arm/shoulder strength wouldn't do as much for your punching power. Honestly, most of your punching power will come from the legs and core anyway! If anything, the arms are only for speed and endurance. Do you really want to be building "punching strength" with your arms when you should be developing speed and endurance with them?!
3. Shadowboxing with LIGHT weights vs HEAVY weights?
If you're shadowboxing with such light weights that it doesn't stress your arms or shoulders at all, then it probably won't do much for you. On the other hand…if you're shadowboxing with such heavy weights that it physically challenges your muscles but wrecks your punching coordination, timing, and technique…are you sure that's really a good idea?
4. Shadowboxing with weights will mess up your punching coordination/timing.
This current era of athletic training seems more obsessed than ever with the idea of adding weights to everything. Old school athletes [I think] didn't rely on them as much. Please don't misinterpret my words. I'm not against RESISTANCE TRAINING, nor am I against weight training. I'm simply against the default mentality that adding weights to exercises is the only way to increase their functional capacity.
Punching is a complex movement. It's not as simple as laying down and bench-pressing a bar straight up (although that's "complex", too). A punching movement is a chain of many movements throughout your body. There's a special weight distribution of all your body parts, and then a special timing in how all of them coordinate together to deliver maximum power. I truly believe adding weights will certainly impact up your overall punch timing and coordination.
Don't believe me? Try running with a 60lb backpack on. Do you see how weird it feels? To have a weight stressing your body at odd and unrealistic angles? Sure, it might make your run more "challenging" but will it really make you a better runner? (I'll let you answer that one.)
You know what I think is the funniest logic of adding weights to shadowboxing? It's that the weights don't even provide resistance in the direction of your punch. All your punching and arm-retracting motions are horizontal (parallel along the ground)…but the weight adds only resistance going DOWN in a vertical direction towards the ground. Let me flip the logic on you. Imagine you were training to jump higher by have your brother pull STRAIGHT BACK on your shirt while you jumped. You see how silly it is? The weights aren't even adding resistance in the right vector to properly "resist" your punching motion anyway!
5. Shadowboxing is for coordination, speed, and endurance…NOT STRENGTH TRAINING!
You still want to do weight training with punching motions somehow? That's totally fine, do that in a separate exercise! Let your shadowboxing training be the one "RAW TRAINING" exercise where you use nothing but your "naked" (unweighted) body. Doing it like this lets your practice punching at maximum speed. Why is this good? So you can get used to punching at maximum speed; heck, maybe push your maxmium punching speed to be even faster. Even better, it forces you to stay coordinated and also think faster while punching at high speed.
6. Don't combine exercises.
I think punching drills and resistance training should be completely separate exercises. There is little point in putting them together into one ugly ineffective Frankenstein exercise. You want to strengthen your arms? That's fantastic! Do it with dumbbells, push-ups, cables, bands, and any other exercises that challenge the arms. You want to work on your boxing technique and coordination? Do it with exercises that use realistic boxing movements.
I understand the logic of trying to make things harder and more challenging for yourself, but I don't think you should make it more challenging by putting conflicting goals. Try doing separate resistance exercises with more resistance, speed, or reps…and then doing separate punching drills with more speed, angles, and movement. Let one set of exercises focus on conditioning while another one focuses on coordination/timing.
7. Alternate ways to add resistance to your punching movements.
FINE! You still want to add resistance somehow? You still think you absolutely need to have it or else you won't punch stronger/faster?
I'll list common ideas below and how I feel about them:
Shadowboxing with 1-3lb weights like the pros – they do it with SLOW movements, or very small circular movements like they're throwing uppercuts. They don't throw them at max-speed. Not only do I think it messes with your punch timing but can potentially injure your wrist, elbows, and shoulders.
Hitting the bag with heavier gloves – I'm ok with this as long as you keep your volume up. If you normally hit the bag with 16oz gloves (throwing 100 punches per round) and you move up to only 18oz gloves and throw the same amount of punches, I'm ok with that. But if you put on 20lb gloves and throw only half as many punches, I think you're doing it wrong and defeating the purpose. The idea of adding weight is to make things harder, not change what the exercise entirely.
Barbell punching exercise – the one where you have the barbell standing up and one hand "punches" it out. I'm think it's not a bad exercise. Do it!
Elastic-band punching – basically you stand with your back to the elastic band attachment and "punch" the other end out (stretching the elastic). I think it's a dumb exercise. Extending your hand is only half the motion of a punch. The other half, and the much harder half IMO, is the retraction of the punch. If anything, I think most people get more tired from missing punches than throwing punches that land because they don't have enough retraction muscle. IMO, punching with elastic bands would fail you because they make it a tiny bit harder to punch but then make it so much easier to retract your hand. And also still, I think they mess with your timing and coordination. Besides, most of your punches aren't even such perfectly-straight punches anyway.
Punching underwater – I think this is more of a gimmick than anything. And I also think it messes with your timing.