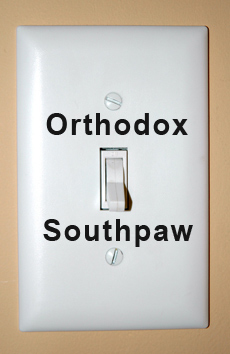 After correcting so many beginners, I write the official guide on why the strong hand belongs in the back and not the front.
Just about every month, I see a new fighter standing with his strong arm in front. He'll give me endless reasons about why he hits harder that way or fights better as a southpaw. Like the rest of them, they all base their reasons on their favorite fighter or their experience in back yard fights. To settle the debate once and for all, I break down all the known discussion points for advantages and disadvantages from fighting with your dominant hand in back or in front.
Everyone wants to know:
Should I stand with my strong arm in the back like all other traditional boxers?

Or should I convert into a right-handed southpaw or left-handed orthodox fighter for some tactical advantages in having a strong front arm?
Do the advantages really make you a force to reckon with? Or are you giving up your natural advantages for just a silly trick?
Why shouldn't a boxer fight with his dominant hand in front?
You Become a One-armed Fighter
In the traditional stance, a boxer has his weak hand in front as the rangefinder that sets up the strong cross from the rear. In this scenario, the boxer has 2 effective hands: one to open the opponent, the other to inflict massive damage on the opponent.
Putting your strong hand in front makes you a one-handed fighter.
If you place your strong hand in front, this means your back hand will become useless because it doesn't have true power which is its main purpose. You will be tempted to fight purely on the front hand which diminishes the purpose of the back hand since it is weaker and farther away from the target. It won't be long before you become a one-armed fighter which makes it very easy for your opponents to beat you if they have 2 effective hands.
If anything, the front arm is used to distract and open your opponent while the back hand is waiting for the perfect opportunity to strike. You want your opponent to expend mental and physical energy to get past your front arm only to walk right into your power hand. If your power hand is in front, your opponent only has to worry about getting past your front arm. Once he does that, he win the exchanges on the inside because his more powerful rear hand is in range and your rear isn't strong enough to win the exchange.
At long range, you could say the boxer with the stronger arm in front has the advantage. At mid-range, the boxer with the stronger cross easily holds the advantage. At close-range, the front hook comes into play but the fighter with the stronger cross still holds the most powerful weapon.
Or maybe YOU ARE a one-armed fighter
It's very common for beginners to stand with their strong arm in front because they're still only one-armed fighters. (The jab is the most important punch and if you only have one arm, you'll find that you need a jabbing arm over a strong arm.) Having 2 functional arms is something that only comes with training. Once you develop coordination in both arms, you will definitely feel better with the weak arm in front. Which is why you should be training with the weak arm in front in the first place. Eventually, that weak arm will develop coordination and become functional.
Hands Are Improperly Tasked For Offense AND Defense
Offensively and defensively, the front hand does the less powerful work. The front arm throws the weaker jabs and is responsible for left hooks when in range. Defensively, the front arm is not as versatile and sometimes not even used at the higher levels of boxing.
Offensive and defensively, the back hand does the more powerful work. The back hand should be dominant because it needs to be accurate within the first shot. Your jab has to be accurate too but you have more chances to pry your opponent with the jab. Once your opponent is open, your right hand needs to be fast and accurate within the first shot to be truly effective. Defensively, the back hand is far more important than the front; it can block both hooks and crosses and often becomes the only defensive shield in higher level fights.
Strong Hand Weakened by Multi-tasking
Placing the strong hand in front weakens the strength of that arm. First off, your strong arm is in the front which means you don't have the maximum leverage in power of throwing it from the rear. The next problem is that the strong hand now has to do many things. It has to throw jabs and also block punches. All this extra responsibility takes away from the power of your dominant hand. So now you don't have a dedicated strong hand. You're fighting with 2 weak hands.
You want to use your strong hand for strong punches,
not jabbing and blocking.
Your Strong Hand Wasted in the First Shot
Having the dominant hand in front means you don't get to throw many power punches with that strong hand. This is because the first punch in any combination is usually the jab. It's the faster jab that sets up the big punches, not hooks or upppercuts or crosses. Your strong hand is always throwing the first shot, which is then most likely followed by a cross from your weaker hand. Which then means your strong hand doesn't get to throw a power punch until the 3RD PUNCH of your combination. This actually really sucks because you now have to throw 3 punches just to throw one power punch from your strong hand. What sucks even more is that your strong hand will get tired throwing jabs and your weak hand has to be fast and effective to give you a chance to throw that powerful front hook.
Because you can't lead with power shots,
it's more effective to position your strong hand for the second shot.
You Lose Your True Power Punch
You know what's worse then having only one strong arm? It's having no strong punches. Your absolute strongest punch is the rear cross. The punch is thrown from the rear allowing for the most rotation and shifting of the body weight to generate the maximum power possible.
If your strong hand is in front,
you will not be able to throw your most powerful punch possible.
Weak Hand + Weak Leg + Weak Eye = Weak Cross
Some people falsely believe that the weak hand will become a power punch just because it's in the back. If you switch around your stance, you'll soon realize that your weak hand in the rear is powered by the weak leg in the rear. True power comes from the leg which means you've got a weaker less-coordinated hand in the rear powered by a weaker less-coordinated leg in the rear.
This situation actually gets much worse. Your rear hand will also be lined up with your weak eye! Many people don't understand this severe disadvantage. Try standing by a speedbag as you normally would and then CLOSE your dominant eye and try to hit the speedbag. You will notice that your accuracy goes way down! Better yet, try to imagine yourself lining up your dominant eye behind a gun, and then CLOSING the dominant eye and trying to shoot a target. It's almost impossible to shoot without your eye lined up.
Dominant Eye Test
You can even take a test to find out which is your dominant eye. Look around for a small object in the distance; it can be a lightbulb, a spot on the wall, or a car in the distance. While looking at that object, quickly hold up a finger to cover the object. Now, take turns closing one eye while leaving the other opened. The eye that has your finger lined up with the object is your dominant eye.
Here's a fun example to see how awkward it is to throw a rear cross with your dominant eye in front. Try throwing a left cross (from southpaw position) with your left eye closed. Now switch sides and try throwing a right cross (from orthodox position) with your right eye closed. See how weird that feels? Sure your punch might land but the power is never truly lined up. It's bad enough your cross doesn't have any power, but now it's got no accuracy either. Put the weak eye with your weak hand and weak leg in the back and you've got the perfect formula for a really shitty cross.
Weak hand, weak leg, and weak eye in the back
means you lose your rear power punches!
Crappy Defense
If your converted stance leaves you more open than your normal stance, then you REALLY shouldn't be switching stances. Switching stances shouldn't just be for offensive advantages, it should be for defensive advantages, too. The most obvious indicator of a new stance being a bad idea is when you can't even defend from that stance. Why switch stances just to leave yourself completely open?
Some guys have this crazy theory that the more punches you take, the less they hurt. But I disagree…every punch you take hurts more than the last.
Taking 10 shots is much worse than twice the damage of taking 5 shots, because every time you're hit, you're more hurt which means the next punch does even more damage.
If converted stances are so bad, then why are people doing it? There must be SOME advantages to converting from your natural-born stance. I'll analyze the top reasons for switching stances and try to explain why you might be overlooking bigger advantages to pick up small ones.
Switch Stance Advantages That Aren't Worth It:
Having a Powerful Jab
The jab is not for power. The jab is for speed and accuracy and setting up bigger punches. Nobody ever knocks out anybody with a power jab; it's not just improbable, it's unrealistic. Some fighters think adding power to their jab has a cumulative damage effect overall but I actually it's taking away from the true purpose of the jab–which is to be accurate and set up the bigger punches! I would much rather have a faster jab or multiple weak jabs than one powerful jab. If I want to be a more powerful fighter, I'd put that strong hand in the back where it becomes even more powerful.
Don't have too much ego in your jab. Some guys get an big ego because they feel even their weakest punches (their jabs) have power. Even if you land that power jab, you don't have a strong cross to follow it up.
The jab's purpose is not power, but speed and accuracy.
The Southpaw Advantage
Oh what joy it is to be a southpaw in a right-hander's world. Yes, you've totally confused everyone and been king of the hill for a week. But then what? Sooner or later the truth comes…
If you're not a true left-hander,
you won't benefit from the true southpaw advantages.
If you're not a true southpaw, you won't benefit from all of the southpaw's style and natural southpaw movement. You are only training yourself to be a southpaw. Can it be done? Yes. Will you improve as quickly as if you stood in your natural stance? Probably not. What happens if you fight someone that understands southpaws or even another southpaw? You could be in big trouble. Don't forget that there are not very many truly experienced southpaw trainers…so you lose out there, too.
The bottom line is: You are basically training yourself to do what southpaws do naturally. Can you imagine if you were an offensive minded fighter yet someone told you to fight defensively? Or if you were a slow fighter and your trainer told you to fight like a fast fighter? Imagine how dangerous it would be for you to use a style that isn't naturally suited to you. Imagine how much dangerous it would be to use an inferior style BUT THINK it was actually an advantage. But yes, if you insist, I imagine you would "get use to it" at some point. But that isn't the point of boxing, you're not there to "get use to it". You're there to be amazing.
Natural born tigers don't grow up to be great lions.
Having a Great Hook
It's easy to get caught up in having a great hook. You've seen so many knockouts on Youtube you jump off your chair thinking, "I need a great hook to be a great boxer!" Having a great hook shouldn't come at the expensive of having a great cross. The rear cross is a bread and butter punch. It may not always get you the killer knockout but it will always be your most powerful punch. You need that power to keep your opponents away as well as soften them up for that hook. The reason why the hooks land is because opponents are worried about that rear cross. Without a strong rear cross to threaten your opponent, your opponent doesn't have to shift his attention off your jab hand which takes away your front hook's element of surprise.
Even if your rear cross never lands,
the threat of it must be strong enough to keep your opponent away.
Don't worry so much about having absolute power on the hook. The front hook comes at such a perfect blind side angle that it's devastating even when it doesn't land with full power. The rear cross however requires 100% raw power! Besides, hooks are typically thrown less often than crosses and require you to be at a closer (and more dangerous) range than crosses. If I had to choose where to put the power, I'd put it in the rear…just sayin'.
"My other hand is stronger."
Every now and then I see a fighter switch stances to put his stronger (but less coordinated) hand in the back. This is one of the most legitimate excuses for switching stances. Unfortunately, it's not full proof. There could be a large number of reasons why the other hand hits harder. Maybe you lean more towards your right or left side. Or maybe the hand is weaker and so it FEELS like you're hitting harder because your hand feels more impact. In some rare cases, a boxer will have such bad technique that he hits harder when he throws with less technique from the weaker hand. In any case…
Just because the hand is stronger
doesn't mean it's your dominant hand.
The dominant hand is the one that delivers more damage. To deliver the most damage, it helps to have power but most importantly speed and accuracy. The dominant hand is the one you have the most confidence in throwing if you had to punch a moving target. The dominant hand is the one that hits the hardest at the end of a 2-hour training session. The dominant always has something about it that makes it superior to your other hand. You trust it more. Your dominant hand is also almost always the hand that you write with.
"I move better when I switch stances."
This is actually a bad excuse for switching stances. The reason why your footwork is better when you switch stances is because you stand off-balanced. Off-balanced fighters will always move better when they lean over their strong leg. An off-balanced fighter that leans to the rear will move better with his strong leg in the back whereas a fighter that leans forward will move better with his strong leg in front. Whatever the case may be, it doesn't take away from the fact that he's off-balanced. Unless you plan on fighting off-balanced forever, fixing your balance (and weight distribution) will do more for your boxing than switching your stance.
Poor mobility is the result of bad balance,
not bad stance.
The Game of Boxing Prefers The Natural Stance
I can go on and on about why your strong hand belongs in the back but I think you get the point. The more you think about it, switching stances doesn't put your strong hand in front… it leaves you without any strong hands. It takes away from your body's natural ability to move, attack, and defend and gives you temporary advantages that can be easily taken away. I didn't make up these facts, the sport of boxing did.
Boxing favors 2-handed fighters.
Just as racing favors the faster runners, boxing prefers fighters that are efficiently adept at fighting with both hands. It's simply a fact of the sport. Nobody questions why two legs are better than one for running.
Too many fighters are looking for shortcuts in this day and age. They don't believe in hard work and boring repetition. They keep thinking there's an easy way, a secret to success. They'll take any advantage even if it means giving up their natural qualities. The truth is:
The only real advantages you have
are the ones you worked long and hard for in the gym.
Converting your stance one afternoon is not going to give you insane boxing skills and make you king of the gym overnight. Too often the switch stance becomes a gimmick and gets exposed sooner or later. You may have fun landing potshots but your opponents will figure you out, and when they do…you won't have your natural advantages to fight back.
Should You NEVER Switch Stances?
Is it impossible for anyone to be successful in a switch stance? No, it's not impossible. Oscar De La Hoya fought with his strong hand in front. But he also came from a background of fencing where you fight with only one weapon which is held by the front hand. Boxing's an art as much as it is a sport. You do whatever you want. It's your health, your time, your performance. My job is to share all that I know and help you make the best choice for you.
Can there be an advantage to having your strong arm in front? Of course there are but I'd say most people will have more disadvantages than advantages in that position. You would have to spend at least twice the time to be equally as effective from your natural fighting stance. If you've considered everything above and STILL want to switch up your stance, go for it.
How would I have done it? Learn the regular stance first, then learn the switch stance. Switch them up during fights and see what new things you can pick out from your opponent. Work hard and develop everything. I have a new guide coming out in the future on how to temporarily switch stances during fights.
In the meanwhile, I suggest you watch highlight footage of Roy Jones Jr, Shane Mosley, Pernell Whitaker, and Dmitry Pirog to see how these champions switch stances temporarily during fights to their advantage.
Have fun but be careful. If you get hurt bad and your new trainer has to change your stance 2 years down the line, just remember that I told you so. =)
See my other guides on boxing stance: