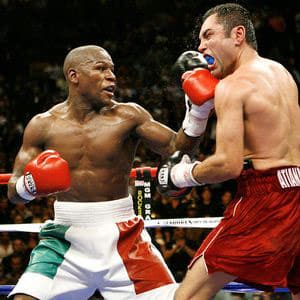 A series of combos and boxing techniques to help you setup your left hook. Many boxers know how to throw a great left hook but for some reason never learned how to set it up. Read on to learn how throw dangerous left hooks without getting countered.

Below are a list of boxing tricks and punch combinations for you to try. They're all ring-tested for maximum assurance. Practice on the bag to get the rhythm and then slow-spar in the ring to get use to throwing them in an effective rhythm. Some fighters like to throw on a perfect beat while other boxers like to fight on an offbeat to catch their opponent when they least expect it. Either way try everything below and let me know what worked for you! Good luck!
Boxing Combinations
Jab first, then slip left outside of the opponent's right hand counter, and throw a hard left hook to the body or the head.
If you're being chased, just reverse the last combo: do a retreating jab (like a jab with a backstep instead of a frontstep), and then step and slip left, and then throw a counter left hook to his head or body.
Throw a left hook after any right uppercut. The right uppercut picks up his head, the left hook knocks it sideways.
 If someone lunges at you, pivot clockwise as you slam the left hook towards the middle. Your left hook will catch him hard, you pivot so that his punch won't hit you. (Floyd Mayweather Jr. did this during his first knockdown of Ricky Hatton)
Throw 2 left hooks. Throw a quick light one to the body, and then throw a big one upstairs. The first one could even be just a fake or just barely touch his elbow. Or you can also try a left hook and then do the 1st combo listed above.
When you are being overwhelmed along the ropes or your opponent is overly aggressive, you can bend at the waist and lean down so that your head is pointed somewhat in his direction and then using your back as a spring, you quickly pop up and throwing a lunging left hook. This is a great knockout counter. Be careful that you don't get countered yourself.
More Left Hook Punching Tips
Use angles. A left hook doesn't always have to be parallel to the ground. Throw it at a weird diagonal angle so it's kind of a left hook but also kind of an uppercut.
Don't always aim for the head and ribs, try the solar plexus or the chest. If your opponent moves a lot, aim for his shoulders or his fist if he likes to duck forward a lot.
Aim for the other boxer's gloves. A left hook is dangerous and the damage can be felt through the gloves. You might even be able to make him stab himself in the eye with his own glove and give you more time to punch him.
Keep a close eye on the other boxer and throw that left hook as soon as you see him reeling back his hand to throw a right punch at you. (This is what Mayweather did to Ricky Hatton!)
Staying Safe While Throwing The Left Hook
Many people don't throw the left hook because they are afraid of getting countered by the right hand. If you ever want to become a great boxer, you must be able to do what I like to call "Overcoming the Left-Hook Right-Cross Stalemate". There are several ways to throw a left hook without getting countered.
The easiest way to throw a left hook without getting countered is to throw it shorter to stop it from over-rotating. Too many boxers like to throw a left hook that goes "through" their opponent. What happens is that if they miss, they over-rotate their body and leave themselves open to a counter. What you do instead is just stop the hook at where it would have stopped anyway. This also makes for snappier left hooks but we'll leave that for another article.
The next way to throw a left hook without getting countered is to learn how to throwing a pivoting left hook. In other words, your feet do not stay in one place when you throw that left hook. Instead, your body turns clockwise as your spin on your left foot. Your right foot is sweeping behind you as your whole body turns with the hook. What this does is allow you to left hook your opponent but if he throws the right hand at you, it will pass right through you. What many fighters will do is throw a hard left hook to the body and then throw a pivoting left hook to the head so that they're safe from their opponent's counters.
Best way to throw the left hook is to do it with perfect timing. You need to learn how to throw an offbeat left hook. Basically, you have to throw it when your opponent is least expecting it. You might mean throwing when he's pulling away from or ending his combo. Or maybe you throw 2 punches and then pause when he's expecting a punch, and then left hook him right there. Learn how to throw the left hook during awkward times will allow you to get away with many left hooks without getting countered. (Study Erik Morales and Bernard Hopkins for this!)
Watch Miguel Cotto! Study his fights and see how he manages to get away throwing multiple left hooks without getting countered! Copy his foot movement, timing, and overall body movement.