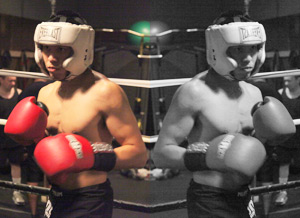 Q: Why shouldn't boxers train equally in both stances? Being able to fight in both stances equally well would seem to be a major advantage. – Schalk
A: Boxers shouldn't train in both stances because it means you will have spent half your training time taking away from your most effective, most efficient stance to work on your weaker, less effective, less efficient stance.
Think of it like using a computer mouse. Why would you bother learning how to use the mouse with your left hand when your right hand is so much more efficient? Boxing stances can be the same in that your switch stance will never be as good as your dominant stance. And if you ever reach that point, you would have been better off spending the time to develop more skills from your dominant stance.
I suggest that you keep your strong hand in the rear where it can deliver the most damage, and then keep your weak hand as the range finder hand that sets up the strong hand. To reverse the two can definitely trip up your opponent but wouldn't be using your hands for their intended purpose. Worst of all, if your opponent is the superior boxer, he only has to switch his stance and apply the same techniques and his switch stance theoretically will defeat your switch stance.
Another problem with the fighting in your switch stance is that your dominant eye is not lined up with the backhand. While your weaker hand might be equally strong, it will never have the same accuracy and precision. Suppose you are right eye dominant but choose to stand southpaw. That means you're going to be aiming your left cross using your right eye–which is HARD and also awkward. If you don't know what I mean, try throwing a hard southpaw left cross while closing your left eye (also try it vice versa). If you're right eye dominant, you should definitely leave your right hand in the back so your dominant hand is lined up with your dominant eye.
Trying to aim the back hand punch with the opposite eye
is like trying to aim a sniper rifle from your waist!
Suppose you're an orthodox fighter, I do agree that you should learn a few basics on the southpaw stance so that you know how it feels to fight from that angle and to think in the mindset of a southpaw. Other than learning some basics from your switch-stance, I would always recommend focusing on taking your original stance to the next level. One good stance beats two bad stances.
I think most people want to master both stances because they want to feel adaptable and versatile in the boxing ring. Instead of learning 2 stances, why don't you use 2 styles? Learning 2 entirely different styles from your normal stance would improve your style-adaptability and still take advantage of your natural dominant stance.
Lastly, I'm sure there are going to be hundreds of people who will read this and completely disregard what I just said because they don't agree. If that's you, I suggest that you quickly put yourself into a competitive sparring match and see how well your switch stance works.
…ultimately, who do you think has the advantage—the guy in his natural stance or the guy in his switch stance?
See my other guides on boxing stance: