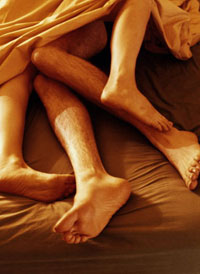 "No sex in training!" Does that sound familiar? Is your trainer claiming sex makes you weak? If so, then why are studies showing that sex doesn't make you tired? I can tell you why it's not a giant myth…
It all started with a question a reader sent me a while back:

Hey Johnny,I just finished reading your mailbag and noticed you didn't believe in sex or masturbation before a fight. I don't mean to undermine you or anyone else, but I read on Wikipedia a while back that sex before a fight might actually make you perform even better!

"Another popular myth is that having sex in the days leading up to a sporting event or contest is detrimental to performance. Numerous studies have shown that there is no physiological basis to this myth. Additionally, it has been demonstrated that sex during the 24 hours prior to sports activity can elevate the levels of testosterone in males, which potentially could enhance their performance."
Also, wouldn't a … satisfied fighter be a more relaxed fighter? If you could give me your thoughts on the matter at some point that'd be great too, clear up some of the confusion.
Thanks,
J
Many people don't know why sex will hurts your performance, because there are weak arguments in support of abstinence…
Sex before a fight:
weakens your energy, leaves you tired
weakens your legs
drains your inner energy
decreases aggression
reduces your testosterone
…and then there's confusing arguments in support of sex…
Sex before a fight:
relaxes the athlete
releases tension, increases focus
release more testosterone (potentially increasing performance)
can boost your performance psychologically
it's only a psychological effect if at all, there's no real performance loss
And then of course, there's all the confusing reports like these that don't offer any real conclusion other than to dance around the subject.
So who's right and who's wrong? 
…they're all potentially right. How confusing, right? Don't worry, all the arguments don't matter at all. There's something more important.
Now I'll explain to you the REAL reason why elite athletes abstain from sex. The crazy thing is they all know to avoid sex but not many know why. Well here's your answer…
Why You Should Avoid Sex Before a Fight
Having sex decreases your competitive motivation.
We have to look back to the evolution of mankind. Actually, think of life in general. What is the NUMBER ONE FUNCTION of all living organisms? It's not to create art, sing songs, get rich, or become heavyweight champion of the world.
…are you ready for this?
The #1 function of any living organism is to reproduce!
It may seem crass but that's really our number one responsibility in life, to have sex. Without the need for sex, and without having sex, our species will fail to exist. That's probably why our bodies are hardwired to enjoy sex more than anything else.
There are theories of success, that believe having too much sex makes it hard for any guy to be successful at anything (let alone boxing). Males are driven to have sex; that is their #1 motivation to succeed at anything. The theories further explain that that if males had no desire to have sex (attract females), males would not have become amazing musicians, artists, businessman, athletes, etc, etc. Therefore, by having sex, you lose the desire to have sex, and therefore lose your inner desire succeed…because you already "succeeded" (and achieved the male's #1 goal).
Scientifically and physiologically, the effect of having sex doesn't matter. Boxing trainers will say it makes you weak or less aggressive. Researchers might say it helps you. Experts on kung-fu or spiritualism, might say that having sex drains your inner energy. The inner chi, spiritual energy, it's called different things in different arts and different cultures. Again, the arguments go back and forth. Whether sex helps you physically is not the point. The point is: having sex takes away your motivation to succeed, it weakens your competitive spirit. By already having the REAL reward of success, you lose the desire to fight for it.
Having sex before a fight,
takes away your motivation to succeed.
And it is for that specific reason that professional fighters avoid sex months before the fight. Even before I learned about this theory, I have never heard any trainer say that having sex helps performance. All of them, and I do mean 100% all of them, preach "no sex in training!"
From my own experience, it's much better not to have sex. I can even feel the difference during my training days with sex and without sex. But of course, there will always be guys who insist on doing things their own way. To them, I say experiment on 2 fights… and see which one works out better for you.