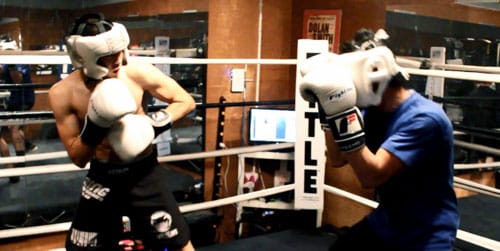 Slipping a punch can be the riskiest proposition in the world, even if you already know how to slip. Sure, you only to move your head a few inches but when you're not absolutely sure of your opponent's timing, angle, and intention, there are too many variables to guarantee your safety.
Nonetheless, it's totally possible to slip…without getting caught…and (most interestingly) without being afraid of getting caught.
Slipping Strategies
Wait from the side
Move your head off to one side
Stretch your opponent
Never bait for a punch with your head at the center. What happens is his punches take up the center and your head is forced off to the sides until you're eventually crushed, out of room, and get hit anyway. All slips should be baited with your head off to the side. Even if your head is at center, you want your head to appear like it's to one side or you want your opponent to commit to one side. It's best that he doesn't throw his punch straight down the center. Ok, so first off: don't position your head at the center, bring it slightly to the side. What this does is force your opponent to stretch a little more to hit you. And as he commits more (because you a tiny bit off to one side), it will take him slightly more off balance to reach for you. At the same time he's reaching more, his body will also be exposed more and his arm will also take longer to recover.
Make your opponent stretch,
to give yourself more room/time to slip and counter.
Once you're waiting on one side, you don't switch to the other side until you see your opponent commit a punch to the side that you're on. Once you know he's committing to one side, then your goal is really just to get to the other side. Another way to think of it…is to "cut across the middle". This can help you to slip tighter and tighter while still maintaining your evasive angles.
Bait with movement (not stillness)
Yes, set up your slip using movement. But what kind of movement? I will explain. I don't want you to stand still and wait for him to fire first. But I also don't want you to use predictable head movement ahead of time and make it easy for him to learn your movements and time you. The 'movement' I'm taking about are little movements that pressure him to throw a punch at you. Here are some examples
Some punches or touching jabs – keep jerking that hand around and he'll eventually fire at you in irritation.
FAKE head movement – jiggle your head around from side to side to make him think you're already slipping. But in reality, you're just waiting in place and already prepared for that punch that's going to come.
Other body movements – lift and drops your hands (alternating), twist your body back and forth a little, pull your head in and out. Be creative. Try to come up with movements that get a reaction out of him.
Use movement
to pressure your opponent into punching at you.
Match your opponent's rhythm
When I say to move your opponent's rhythm, it means to slip with the same timing of his punches. Don't try to go too fast. Try to feel his rhythm. You can try starting with a block to evade his first shot and then start slipping from there once you feel his rhythm. And once you're able to feel his rhythm, you'll be able to RELAX more because you're not pressured to race his punch anymore since you know when it's coming.
Counter
You'll need to hit your opponent if you want him to stop punching at you. If all you do is keep on slipping, you'll eventually get caught at some point. Countering also helps to keep him from learning your movement. It'll occupy his mind as he thinks more about how to avoid your counter than how to time your head movement. And if you can't counter, then at least stick a hand out and touch him, push him. Make contact somehow and use it to disrupt his rhythm (or his thoughts).
Got some slipping tricks of your own? Share them in the comment box below.