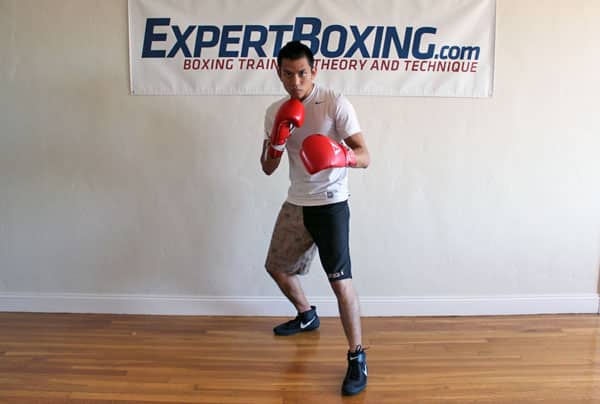 The average fighter has terrible footwork. And I'm not talking about the guy in the corner that's only been boxing for 2 months, I'm talking about the AVERAGE AMATEUR-LEVEL COMPETING BOXER. Unfortunately, this might mean you.
And it's NOT your fault. It's not because you didn't train hard enough. It's simply a lack of understanding basic human anatomy. I'd love to write guides on fancy footwork one day, but right now 99% of you don't even know these:
10 HUGE fighting footwork tips!
Watch my video for better demonstrations of boxing footwork technique.
 1. Wear Boxing Shoes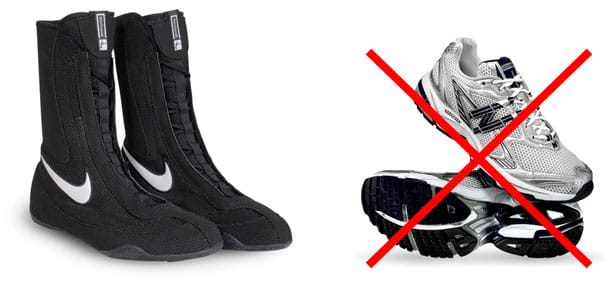 C'mon now, guys. This is boxing! You shouldn't be complaining about having bad footwork in the ring if you're wearing tennis shoes in there. It's like wearing a sweater into the swimming pool and complaining that you can't move your arms. Really…it's the same thing.
Boxing shoes are thinner allowing for more power transfer.
If you've ever put on a pair of boxing shoes, you'll be amazed at how they feel more like a sock than a shoe. (A very durable sock, if you will.) Assuming you got a quality brand and not a $25 pair of boxing shoes, you'll feel like a ninja in the ring. The thin soles allow your feet to feel and grip the ground like a panther pushing, pulling, and changing directions all over the canvas.
The problem with NON-boxing shoes, even other athletic shoes, is that their sole is too thick. This is because they're built for shock absorption which means they DECREASE the amount of power transferred from the ground. The sole is so thick  sometimes even so curved, that you can't plant your feet firmly into the ground.
Even without a single footwork drill, you will feel much more slick and agile in the ring simply by buying a pair of shoes. This is boxing, so please get the proper gear. Having the right equipment is the bare minimum for achieving higher performance.
Your boxing footwork will be instantly better,
simply by wearing boxing shoes.
Boxing shoes prevent sliding BUT allow pivoting.
That's the beauty of boxing shoes. They don't let your feet slide BUT THEY DO let your feet pivot easily. You need the non-sliding feature to keep your body anchored to the ground, and then you need to be able to pivot so you can throw deadly punches with full body rotation.
The problem with NON-boxing shoes is that they either have too much grip or too little grip. If they have TOO LITTLE GRIP, you slide all over the place and can't ground yourself. If they have TOO MUCH GRIP, you won't slide but now you can't pivot either without decreasing weight on the pivoting foot (which affects your punching power and ability to change directions).
Boxing shoes can exert more force to the ground WITHOUT SLIPPING,
resulting in better balance, footwork, and punching power!
Want to buy the same boxing shoes as me?
I use the Nike Lo Pro Boxing shoe. Some of you may prefer the hi-top version for more ankle support. I like the low ankle for more agility and also because I feel I already have strong ankles. I prefer Nike because of better comfort and feels. If I had to use any other brand, it would only be Adidas and probably nothing else.
2. Jump Rope More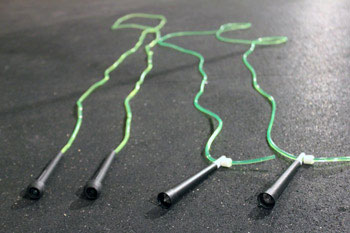 For those of you that don't even jump rope in the first place, this would be a good time to start. Jumping rope is one of the greatest exercises for boxing. It improves your balance, footwork, punching power (YES, THIS), muscle endurance, breathing efficiency, muscle conditioning, and several more things. Basically, it's a GREAT EXERCISE FOR BOXING! It's like an all-in-one exercise that works out several things simultaneously and is pretty fun once you learn some tricks.
Jumping rope improves your leg conditioning.
If I had to choose an exercise that best mimics leg use in boxing, it's the jump rope. The reason is because your legs are always contracting in tiny bursts–not only when you bounce in the ring but also when you punch. Jumping rope builds that leg muscle so you can have that powerful leg burst throughout an entire fight. Doing squats will never be as good because squats aren't done fast enough and never get to hundreds of repetitions. The jump rope is fast and constant which is very similar to how you would use your legs during a fight.
Most importantly, the jump rope teaches you how to use your legs EFFICIENTLY. Many fighters don't do the jump rope because it's too tiring. Well if you keep it up, you will learn how to relax (using technique and breathing) so you can do hundreds of jumps without getting tired. This ability will allow you to throw hundreds of powerful punches without getting tired. This is something other leg exercises can NEVER teach you.
The jump rope will make you
a more powerful AND energy-efficient fighter!
I can actually watch fighters in the ring and based on how they move, I can tell if they jump rope or not. The guys that do jump rope have a nice relaxed bounce and move with a calm slickness. The guys that DON'T jump rope are never as graceful and typically move with big heavy energy-wasting steps. Spend some time watching fighters in your gym and you will see what I mean.
Jumping rope improves your foot coordination.
Unlike running or squats and other similar exercises, the jump rope improves your foot coordination. You have to pay attention to the rope and clear the rope with your feet. You can't just drop your feet all over the place like a lazy running step, you have to have sharp feet when you're jumping rope. This results in improved quickness and footwork agility!
3. Straighten Your Spine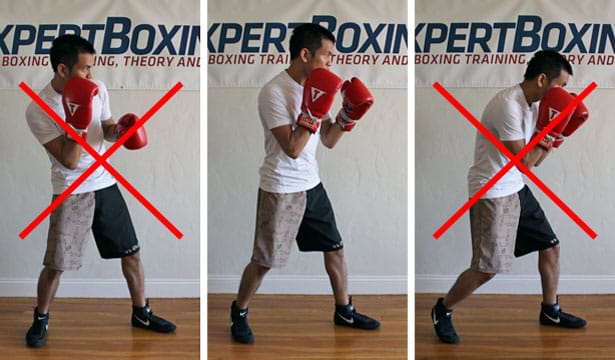 The spine was made to hold you straight up.
This is actually a very basic observation about human anatomy that many people still don't understand. Your spine is what holds you upright to make you stand tall and balanced on 2 legs. A straight spine is our body's MOST NATURAL and MOST EFFICIENT POSITION! Once you understand your body's natural position, your ability to move it will improve.
The straighter spine has better balance.
Having a straight spine is the easiest way to be perfectly balanced. This is because your body is perfectly stacked requiring minimal energy to stand. Your body is divided in half perfectly down the center, easily distributing your weight between both feet. The moment you tilt your spine in any direction, you will naturally be more inclined to fall in that direction and less able to move in the opposite direction. Even if you DO manage to balance yourself with a tilted spine, this is not a "true balance" because it requires you to offset more of your body to one side and easily comes off balance as you move even the slightest amount.
Having a straight spine is the easiest way to have your body perfectly balanced from top to bottom, allowing you to move or spin effortlessly without having to re-balance yourself!
A straighter spine moves and pivots easier,
WITHOUT losing balance after movement.
The straighter spine is easier to move/pivot.
One thing I like to teach to my fighters is "spine awareness". You have to be aware of your spine because it's your axis of movement. If you want to move, you have to move the spine. If you want to pivot, you have to pivot the spine. This doesn't mean the spine generates movement; I mean that the spine is your POINT OF MOVEMENT or AXIS OF MOVEMENT.
Suppose I want to throw a powerful punch. If I maintain a spine awareness and focus on rotating from my spine, the punch will be well-balanced and easily powerful. If I put too much focus on my punching hand, I will naturally have more weight on that side of the body and end up being off-balanced.
Suppose I want to move around the ring like Muhammad Ali. Watch footage of him and you'll see that he has a very straight and tall spine when he bounces around the ring. This is what allows him to jump around and throw deadly punches. Many fighters with good footwork will have a straight spine when they move.
Now this doesn't mean my spine ALWAYS has to be straight.
Not at all, look at Pernell Whitaker. When he grounds his feet his spine tilts all over the place. The important thing is to understand the relationship between your spine and your ability to move. You might straighten your spine to move into range, then plant your feet and tilt your spine for punches/slipping, and then straighten again to move away.
A straight spine is for foot movement.
A (minimally) tilted spine is for head movement.
4. Relax Your Upper Body
There is no such thing as "lower body movement",
there is only "body movement".
Your upper body and lower body (should not) move independently.
This is another one of those things that people don't understand. The lower body is not a separate entity from your upper body. These can be EXPLAINED and DESCRIBED as two separate things…but it has to be moved as one. Once you understand how body movement works, you will see why there is no "upper body" or "lower body"—there is simply one "body".
All (powerful) movement is generated from the core. Let's say I wanted to type a comment on a YouTube video or scratch my nose; well, no power needed therefore no core is needed (meaning I can do these things without disturbing my lower body). Now what if I wanted to run fast or throw a punch? Well NOW my core is needed. I cannot run without using my arms, and I cannot punch without using my legs.
The core is required in all powerful movements because powerful movements are usually a PUSHING or PULLING force generated from your body. And the core is needed to "ground" your body (usually against the ground) to give you a foundation to push or pull from.
This then makes all your extremities (arms & hands, legs & feet) AN EXTENSION OF YOUR CORE. Which then means…that you cannot move one without the other! Get it? You cannot move your legs POWERFULLY without moving your arms. And vice versa, you cannot move your arms POWERFULLY without moving your legs. Likewise, you cannot GENERATE POWER with one and not the other and you cannot RELAX one without relaxing the other. This is why having good footwork WILL INCREASE YOUR PUNCHING POWER.
You cannot (POWERFULLY) move one part of your body
without moving the rest.
A stiff upper body restricts lower body movement.
This might be a big "AHA" moment for some of you. For everyone else, try this:
Try walking a couple steps just as you normally would. (Notice how your arms naturally sway to counter-balance your lower body.)
Now try doing the same thing BUT HOLD YOUR ARMS in a rigid position like down by your side, as if your upper body was stuck in a frame. (See how stiff and awkward you feel?)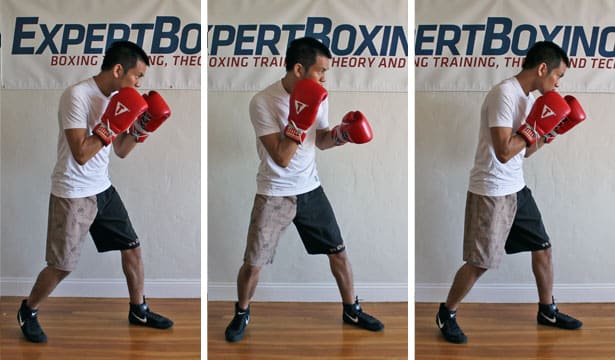 I can use the same principle with boxing footwork! Here I relax my upper body as I move, allowing my upper body to "move" with my lower body (letting my arms swing slightly as though I'm walking). It's not about dropping the hands, it's about letting your upper body move and counter-balance naturally with your lower body movement.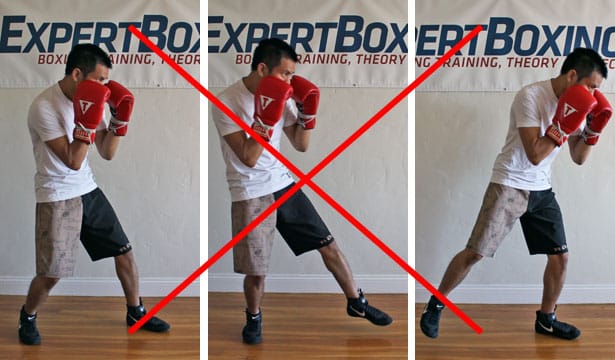 Or you can do it like this. See how when I make a stiff upper body, my body wobbles awkwardly off balance. Holding tension only makes you tired and waste energy; and you won't move very well either. Many of you look like this, maybe not to the degree of my exaggerated demonstration above, but you do. It makes me laugh to see fighters wobble around like this.
Imagine trying to be agile when you're carrying a 20-pound bag of groceries. It's the same way with your upper body tension. It's hard to move when your upper body is stiff.
Stop trying to hold a frame and let your WHOLE body move!
It's impossible (or very difficult) to move the upper body or lower body without moving the other. And it's impossible to hold tension in one while relaxing the other. Stop worrying so much about keeping a perfect defensive position. (Besides, good defense comes from defensive movement, not "defensive position".)
Boxing is about movement first,
position second.
5. The BALLS OF YOUR FEET are the FIRST ON and OFF the ground
Always land or push off
using the balls of your feet.
When going forward, land the BALL OF YOUR FOOT FIRST.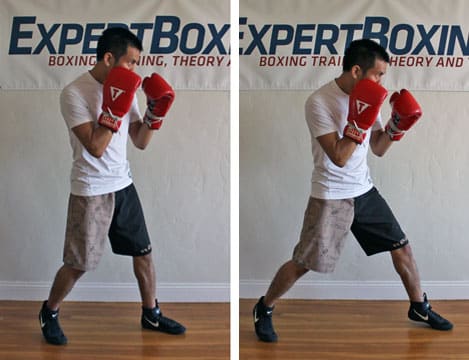 See how the ball of my foot touches the ground first? This is what looks slick. It allows me to quickly have 2 power points on the ground which can be used to push or pull me again, or ground me for punching. I can also use that front ball of the foot to return backwards for faster in-&-out type of footwork.
Do NOT step forward with your heel.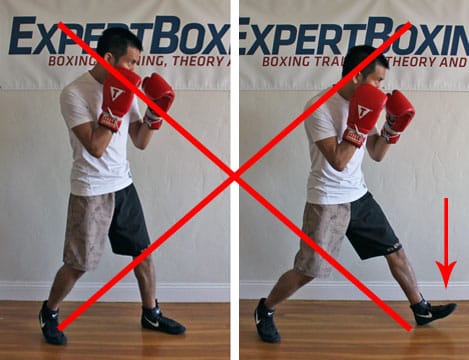 BADDDDDD! Terrible.Terrible.Terrible. Your footwork has the grace of a dictionary when you move like this. It's like your foot is a giant ugly book going *KA-LOMP!* all over the place. Stepping with the heel first has far less control because you can't ground or apply force in any direction until the ball of your foot hits the ground.
Naturally, heel-stepping makes you a slower mover because your forward step has 2 sequences of movement (heel step & toe step) compared to someone who steps with the ball first (toe step). You also pay a price for being less grounded; you fall off balance when pushed and can't throw punches as powerfully when your heel plants first.
When going backward, PUSH OFF THE BALL of your foot.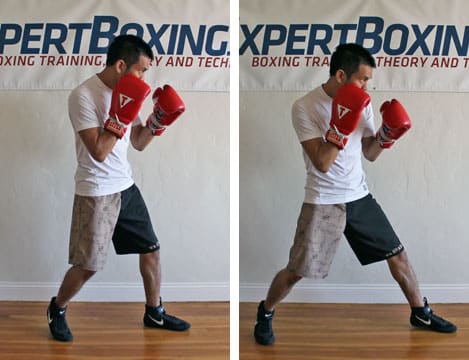 Reverse the rule when you foot leaves the ground. When your foot is leaving the ground, PUSH yourself using the ball of your foot. This makes the ball of the foot the last to break contact with the ground, AND MORE IMPORTANTLY, moves your body away more powerfully from its original position.
Do NOT fall back off your heel.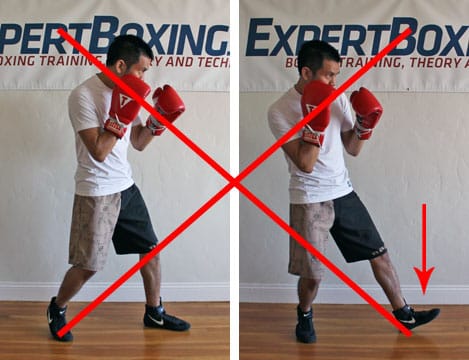 This is SO BAD! SOOOOO UGLY! I hate seeing this. The reason why this happens is usually either A) you were running scared and forgot about technique or B) you don't know how to move correctly. The reason why fighters step off with the heel is because they were falling towards the other leg, instead of pushing themselves towards the other leg. When you want to go backwards powerfully and with more control, push off with the ball of your foot.
Toe-stepping means you're stepping properly.
Heel-stepping means you're falling.
Stepping ON and OFF the metatarsals increases control, power, agility.
You have to remember this rule when you shadowbox and do footwork drills. When you leave the ground, push with the ball of the foot. When you land on the ground, reach with the ball of the foot first.
It's not about being on the balls of your feet all the time,
it's about USING the balls of your feet all the time.
The reason why we avoid using the heels is because the heels have no muscle so it can't give you any control. The more you use the balls of your feet, the more balance, control, and power you will have. Even when your feet are flat on the ground, you should still have your weight on the ball of the foot!
Footwork is one of those things that looks plain ugly when you do it wrong. Stepping on and off your heels makes your footwork look amateurish and ungraceful. Watch how cats move so powerfully and gracefully; they step with the FRONT of their feet for grip and control, not the back.
6. Narrow Your Stance
Narrow stances can take bigger steps and pivot easier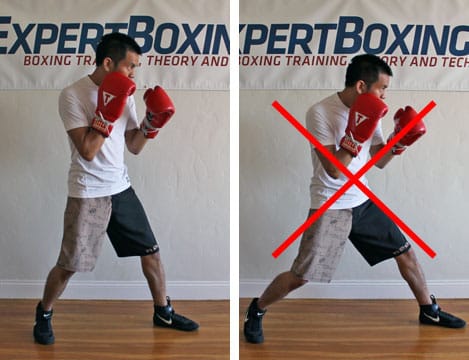 Try standing in a both narrow and wide stance and see which stance steps farther and pivots wider. See how easy it is for a narrow stance to take bigger steps and make big pivots? Having your feet closer together gives you more room to move and makes it easier to pivot.
Wide stances uses more energy and offers less range of motion.
If you've read my other guides on boxing stance, then you know: the wide stance is definitely harder to take long steps and pivot. Sure you CAN take long steps but you'll most likely end up jumping which uses more energy. You CAN do a wide pivot but that requires you to have more weight on the front leg and be off-balance.
Aside from making it harder for you to move, a wide stance will make it harder for you to stand. A wide stance will have your legs splayed out to the side which requires you to spend more energy just to hold yourself up (because the legs are exerting some horizontal force against each other). So if you ever want to take a break, put your feet closer under you and see hip much more relaxing it is on your thighs and hip muscles. This is why tired fighters end up walking, but the narrower position allows them to rest their legs.
You KNOW your stance is too wide
when it's tiring to stand still.
Develop your boxing footwork using a narrower stance.
This isn't a rule to tell you that wide stances are bad or that you can never fight with a wide stance. This isn't true at all. Many pros and olympic amateurs will use a wide stance from time to time. But for a beginner, using a narrower stance will help you do certain things easier (like pivoting and taking big steps).
It's not about whether a narrow stance is better than a wide stance. It's about WHY you use a wide stance. Many beginners ARE FORCED to use a wide stance because they don't know how to ground their weight properly. You don't use a narrow stance because they don't know how. In their case, having a wider stance won't improve their balance, it only prevents them from falling—BUT THEY ARE STILL OFF-BALANCE!
A wide stance doesn't improve bad balance,
it only hides it.
Remember my tip up above about the straighter spine? Many fighters stand with a tilted spine when they use a wide stance (especially when they mimic Floyd Mayweather's shoulder roll). Some of them argue with me and say, "What do you mean I'm not balanced?! Look at me, I'm not falling over!" Well just because you're not falling over doesn't mean you're balanced.
LEARNING how to fight with a narrower stance teaches you, or better yet, FORCES YOU to develop your balance awareness. It's like taking the training wheels off your bicycle and forcing yourself to stay up using good balance as opposed to having your feet so wide that you can't fall.
*** QUICK TIP: some of the slickest footwork is easiest from a narrower stance. Watch Muhammad Ali, Pernell Whitaker, etc.
7. Smaller Steps
This is another of those things I have to keep yelling at beginners. Just about EVERY BEGINNER is guilty of taking over-sized steps. Actually, I would even say that you are NO LONGER A BEGINNER the moment you learn how to take smaller steps.
A typical beginner is overly anxious to cause damage so he'll jump far deeper into range than he needs to be. Then he'll realize the danger he's in and jump FAR outside of range in panic. Now using anxiousness as excitement, he jumps back into range again and repeats. Beginners have no concept of reach and think of footwork as nothing more than IN-AND-OUT! (Watch my video above to see my demonstration of smaller steps.)
It's not about going IN AND OUT.
It's about going (barely) IN and (barely) OUT.
Great boxing footwork uses the SMALLEST distance possible.
The goal is not to cover as much distance as you can. Distance is a game you will never win. In fact, you CAN'T win the game of distance. Because the game of boxing is punching for points, not running for distance. The more time you spend moving your feet, the less time you spend moving your hands.
Stay within the edge of range, instead of wasting energy to go unnecessarily far beyond the line. Use your entire reach! Extending your arm an extra inch requires much less energy than moving your body an inch.
Bigger steps always requires more energy and more time. It doesn't matter how athletic you are, you will NEVER be as quick as your opponent if he is taking smaller steps than you are! This isn't a matter of skill or conditioning, it's simply a matter of who is doing more work. Smaller steps require less energy and will be easier to control. You can make many directional changes and tricky cuts and pivots with small steps. A bigger step will only leave you vulnerable to punches. Better opponents fight very well at range and will counter you easily if you jump in too far. In fact: the better your opponent, the smaller and quicker controlled steps you will need.
You will never be quick enough
if your goal is to step farther.
8. Learn to Walk
I know many boxing coaches will yell at their fighters to "STOP WALKING! Do the step-drag!" but I think it's important for non-beginners to grow beyond that. Walking is one of the body's most natural forms of movement. When done properly in the ring, walking is one of the most skillful ways to stalk an opponent or even evade an opponent. The greatest benefit of walking is that it uses very little energy.
Here, I pretend to "walk" around an imaginary opponent (away from his power hand).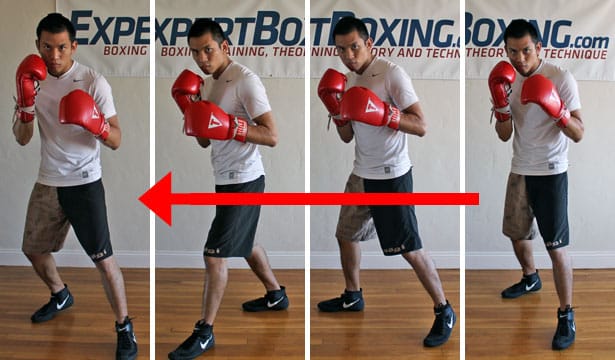 Notice how this isn't the same walk we use on the sidewalk (with our arms down by the side). It's simply me walking around with my legs AND relaxing my upperbody to counter-balance with the lower body as I "walk" around the ring. Many pro fighters will use the same move to escape out the side when they don't feel like using side-steps. (Please watch my video for a better demonstration.)
Walking saves energy!
The first benefit of walking is that it saves energy. By having your hips more under you and not jumping around, you can move and twist and turn in all sorts of ways quickly using very little energy. No more jumping around on one-leg or two-legs, just go for a walk. When you're out of range, walk. Or lets say an opponent as attacking you; there's no need to jump backwards, you can simply walk backwards which takes the steam off his punches because you're not giving him a solid target. Walking is a great way to save energy AND keep you relatively grounded for punching, defending, or pushing purposes (like in a clinch).
Walking is slick!
Yes, walking makes you really slick. Jumping around and darting back and forth looks impressive because it's so athletic but walking is one of those things the pros do really well. You KNOW you're facing a legit fighter when you see him walking you down and calmly slipping and rolling under your shots. It will be scary at first to try and fight without jumping but you will eventually develop these footwork skills without enough practice.
Watch the most slickest fighters and you'll see that they're usually walking and not jumping. I don't want to write a guide ont his awesome art of fighting footwork so you'll have to experiment and watch videos for yourself. The best walkers of the modern era are probably James Toney, Pernell Whitaker, those type of guys.
The fighters with the slickest footwork,
are incredibly skilled at walking!
9. Pivot Your Feet
The direction your feet are pointing
is the direction that is easiest for you to move.
Naturally, everyone's feet is usually pointing forward so moving forward is easy. The hard part comes when you try to move backward.
Moving backwards WITHOUT pivoting the feet.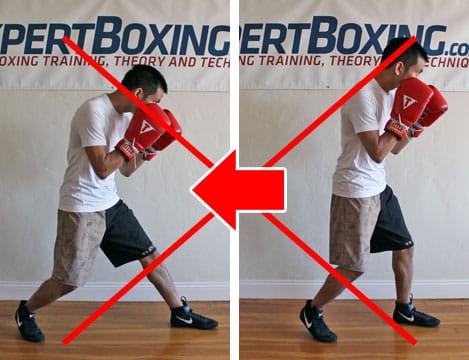 This is the most basic way to move. You simply push yourself back. It's not wrong but it's not the fastest way to move back.
Moving backwards WHILE pivoting the feet.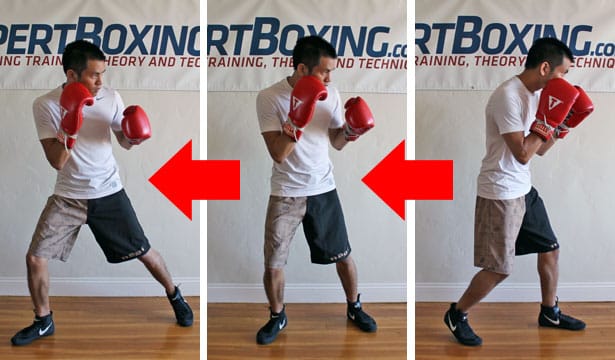 Now here instead of pushing myself straight back, I pivot my feet first. Now I know it seems like I'm adding an extra step and making it slower but actually this is much faster than trying to push myself backward. The reason is because the moment I pivot my feet, my body BEGINS to fall in the direction of the foot. And so even though it's 2 movements (pivot, then step) instead of a single push, it will actually take much less effort.
The body naturally falls in the direction of your feet.
This is why your feet are in FRONT of you, to prevent the fall.
Wherever your feet point, is where your body will go!
It's really a simple fact of human anatomy. The trick is to point your feet in the direction you want to go. And if you want to change directions, then simply pivot your feet in the new direction. Once you understand how your feet work, you will see that it's easier to go IN-AND-OUT movement simply by pointing your feet forwards and backwards and then "relaxing" in the direction you want to go. If you point the feet correctly, you no longer need to push yourself back and forth.
To go IN & OUT quickly,
simply pivot your feet back and forth and "release your body".
10. Lower Your Hands (ADVANCED TIP)
Here goes another pro tip. And this is NOT RECOMMEND FOR BEGINNERS! Read on…
You must lower your center of gravity to have better footwork.
The lower your center of gravity, the easier you can move around in all directions without losing balance. The real challenge in developing good footwork is actually managing the upper body! Developing the lower body is the easy part, you can do conditioning and drills and all that stuff but the problem is your upper body. The upper body makes you feel like a tower and always seems to fall over when you use fast footwork. Even if you manage to spread your feet out wide (to lower your center), your upper body might STILL be easily pushed off balance.
Keeping the upper body balanced
is what makes boxing footwork so difficult.
The trick to managing the upper body is to LOWER ITS CENTER.
The more tension and more energy you carry in your upper body, the easier you fall off balance. And the bigger your upper body, the easier you fall off balance. The reason is simple, the upper body is a "weight" that sits high above your center of gravity. The "heavier" your upper body weight, the harder it is for you to move without getting off-balance. So how can we lower the upper body without tilting the spine and coming off balance?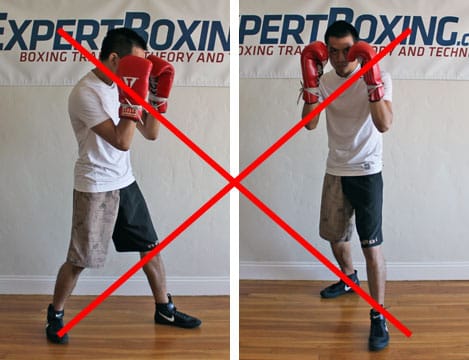 Instead of using a high guard which raises your center of gravity and makes your head & shoulders area really heavy. Having your hands really high also magnifies the tilted spine effect when you slip and makes it harder for you to slip without losing balance and wasting energy.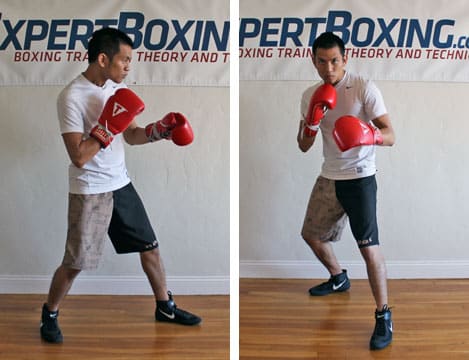 Try dropping the hands a little bit like this! Now you don't have to drop your hands all the way down, but maybe you can drop them to chin level instead of forehead level. This also makes it easier for you to protect your body since your elbows are down.
Lowering your hands lowers your body weight and allows you to move around easier. You may have seen pro fighters fight with their hands down at the sides especially when they're trying to dart around the ring. The reason is because they are using their hands to counter-balance their head movement and quick foot movements. You can use your arms for balance the same way a cat uses its tail for balance.
Lowering your hands helps you stay balanced,
so you can move your head and body more.
Other guides on boxing footwork:
Balance Secrets from a Dancer
If you're looking for more serious boxing footwork techniques and exercises, check out my: Dancer's Footwork for Fighters.