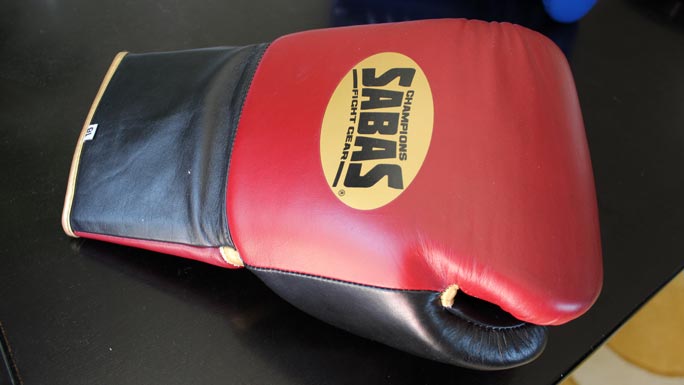 Are Sabas boxing gloves still the best deal around? (And are they even close to Winning?)
A year ago, I reviewed Sabas boxing gloves highly without having tried them personally. Street rumors and internet reviews compared them favorably alongside other top brands in boxing…even considered by some,
"the closest Winning clones!"
They were supposedly high-quality gloves "made in Mexico" with beautiful colors and customization available, all sold at a great price. It seemed fair to pass this hearsay along in my boxing gloves review as I ranked them [semi-]blindly at 5th place. While I wasn't totally familiar with Sabas, I was very familiar with the gloves they were being compared to.
But in the past 6 months, new comments surfaced suggesting their quality had fallen. The guys who once adored them no longer raved about them. Being that I sign my name on every product review I've ever written, it was my responsibility to seek the truth.
After ordering my own pair 2 months ago, I'd have to say the rumors are true. Sabas gloves will no longer be in my top 5 picks.
Let's go over some obvious flaws…
UPDATES:
DEC 2018

– I'm aware Sabas adjusted their manufacturing since my review. Many people shared my post and I heard some online debates/photos were deleted from Sabas social media. They've since updated their piping to "rolled piping" but many quality issues still remain.

I've heard through the grapevine that Sabas accused me of writing a bad review because they didn't give me free gear. You can read our exact email exchange to be the judge of that.
I'm not hating on a company but will be extremely critical and brutally honest if I see gear falling below standards. Sorry but not everyone is a winner.
2019 – Sabas commented on my site and Youtube asking me to try a newer model. They've admitted that their previous models were not the best and now claim they've improved. I'm jaded so I'm not gonna buy it again when I didn't like it the first time. If there's people out there who have the newer AND older models….do comment below what you feel has changed.
Sabas Boxing Gear – COMPANY HISTORY
Who are they and where are they from?
Pedro Heredia, former USA Veteran and I'm guessing a former boxer himself started the business with his wife and maybe contacts within Mexico somewhere.
They saw a need in the market for quality gloves at reasonable prices and tackled it successfully, going from unknown to being used all over the world within a few years. I can't say they're mainstream but many boxers have heard of them. That's no easy feat for a small company competing against decades-old industry brands like Everlast, Ringside, Title, and Reyes.
Their website and branding are also like their gloves—no nonsense, no fluff or gimmicks…just a solid product at a reasonable price. The bonus is the fun colors and customization options. They hit the market at the perfect time—right when everyone was sick of cheap Pakistan-made gloves, expensive Grant/Winning gloves, or hard-to-find Mexican gloves.
Previously with Mexican-made gloves, you had to wait weeks for them to make and weeks for them to ship. And Mexican glove makers didn't have fancy websites or product images for you to look at. The most presale info you ever got was a word-of-mouth contact email, maybe a Facebook account, delayed email exchanges in broken English, and some blurry pictures taken from an old mobile phone.
Well now with Sabas, Mexican-made gloves no longer seemed so difficult to buy. Fighters from anywhere in the world could visit a nice site (in English) with tons of color options, fast shipping and great customer service from this boutique glove shop. It's no surprise at all that they grew so quick.
Previous raving reviews
Sabas started off by imitating the three most prestigious brands on the market: Winning, Grant, and Reyes.
They built a "SuperSoft" model to imitate the pillowy-cushioned Winning gloves.
"ProSeries" to imitate stiff-compact Reyes 'puncher's gloves' but with more hand protection.
And the "ProSeries Prime" to imitate the balanced power-AND-protection of Grant gloves.
And the fans loved it. Many raving reviews came out claiming the Sabas SuperSoft as the absolute closest Winning clones ever made. An impressive feat considering that every company had been trying to clone the Winning gloves. Look carefully at boxing glove design evolution and you can see many gloves copying Winning starting from 15 years ago (probably even before that but I wasn't boxing yet).
I would guess the reviews were mostly favorable for a good 2 years until about 6-8 months ago when I started hearing quality control complaints. Users who bought the gloves based on my review would send me pictures of their barely-used Sabas gloves tearing apart.
Aside from the gloves falling apart, there was also the controversy over where they were made. Sabas used to be marketed as "Mexican-made" but then became "made in USA/Texas with Mexican materials". Of course, you always have users asking a ton of questions and trying to figure things out for themselves. In light of all this controversy, I had no choice but to see the gloves for myself.
Great custom service & fast shipping!
Pedro was courteous and friendly in my email exchanges with him. Picking a glove model, size and color was painless. The payment process was quick and easy and my gloves arrived so much faster than I expected. It felt like I just ordered the gloves, did my laundry and the gloves were there already. (Ok ok, it took 2 days and shipped from only 100 miles away from San Diego to Los Angeles.)
On to the review!
CONSTRUCTION QUALITY
First impression – NOT "Made in Mexico"
I hate to say it as Pedro was especially nice to me during the order process but I have to be truthful. My first impression of these gloves were bad. They looked and felt cheap. The first thought in my head right away was,
"Hell no…these are not made in Mexico,
they are made in Pakistan."

Appearances are everything and if what I saw could tell a story, I'd probably be assassinated for saying it. Here's the first obvious giveaway that they're definitely NOT "Made in Mexico"…there's no "Hecho en Mexico" label anywhere.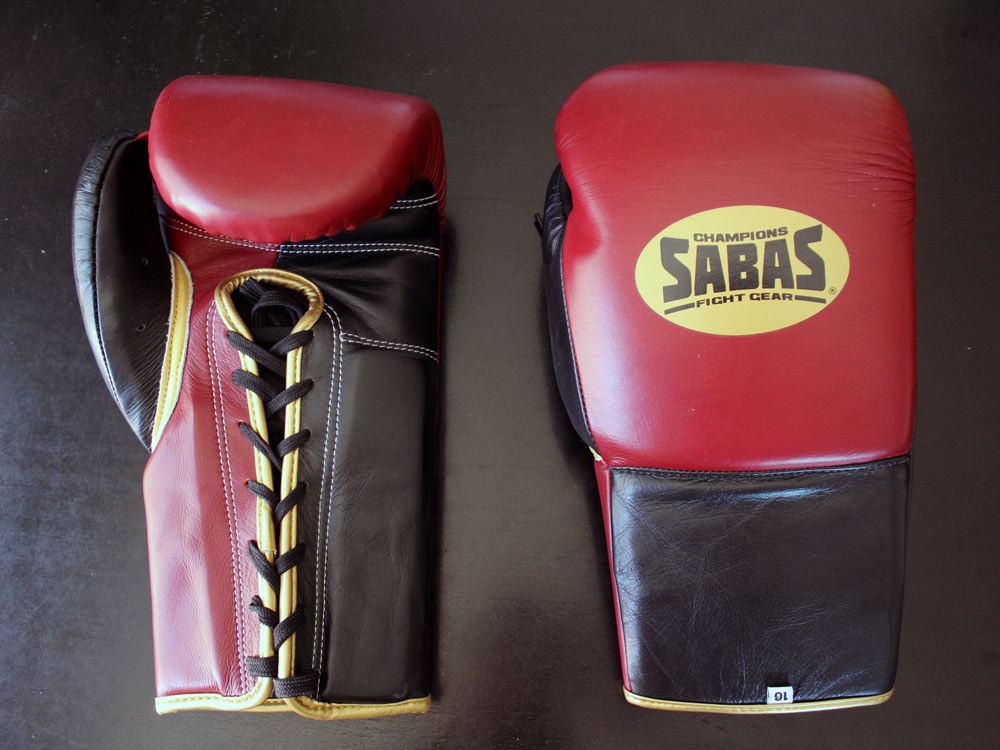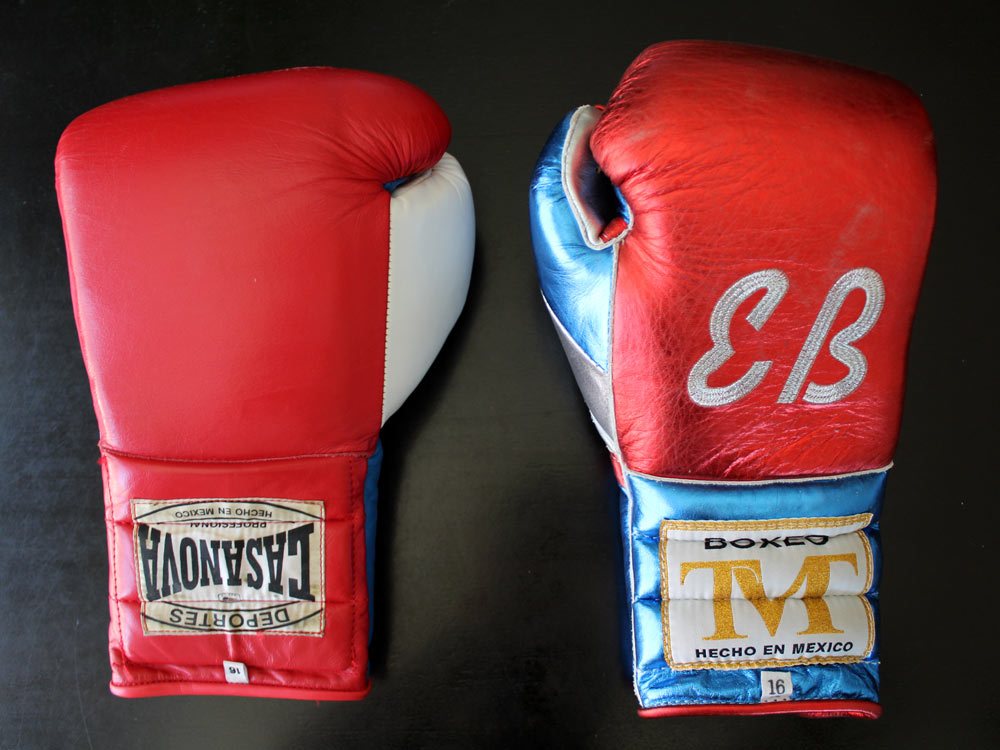 All Mexican-made gloves have an "Hecho en Mexico" label. It's their national symbol of pride. And in fact, it's the bare minimum you should expect as even the cheapest crappiest Italian leather jackets say "Vero Cuoio" (Made in Italy). But Sabas don't put that on their gloves because it's not made in Mexico—why else?
But here's the other thing: I also don't think they're made in the US either. Because if it was, they would have proudly showcased that just as they did with their "US Veterans" label at the bottom of the site and on the order form. "Made in USA" is a common symbol of pride many companies used to promote their brand.
I also doubt they're made with Mexican materials as I don't think Mexicans have such an organized system for sending materials elsewhere (they often run out of supplies themselves). Anyway, I wouldn't have even conjured up these conspiracies if I hadn't noticed so many peculiarities.
Emphasis on "Mexican" – they're trying to brand themselves as "Mexican" any way they can but it seems contrived. They say Mexican parts and American labor…why even bother saying "Mexican materials?" What Mexican material out there offers any advantage? The leather? The foam? The stitching? Probably "Mexican leather" is the only acclaimed material I know about Mexican gloves.
Lots of stock – all the Mexican brands I know (outside of Reyes) cannot produce so many gloves so quickly and they're almost always backlogged on orders, whereas Sabas seems to have tons of stock on hand (mass-produced??). Business wise, I feel Western companies tend to gamble on high-volume and idle staff, whereas Central/South America prefers to have low staff, low stock, and be late at times.)
No images of production facility – glove manufacturers like to show off their factories and how they make gloves. Sabas has none of this. All their pictures are warehouse/showroom pictures (like a typical retailer). They obviously don't have their own factory, and whoever they're using is probably not in Mexico. I doubt small Mexican glove manufacturers can produce as many as Sabas sells. I also don't believe it's possible to contract multiple shops and keep a consistent look.
Sabas also sells golf gloves and t-shirts – this is such an obvious tip-off if you know the Pakistan export industry. Many Pakistan leather manufacturers that make boxing gloves also make golf gloves. Also, Pakistan is one of the world's biggest cotton producers and t-shirt makers.
Bottom line – way too many inconsistencies compared with other Mexican glove brands. Sabas just doesn't seem like Mexican gloves. Period.
Moving on…
Cheap leather – looks and feels like Pakistan-made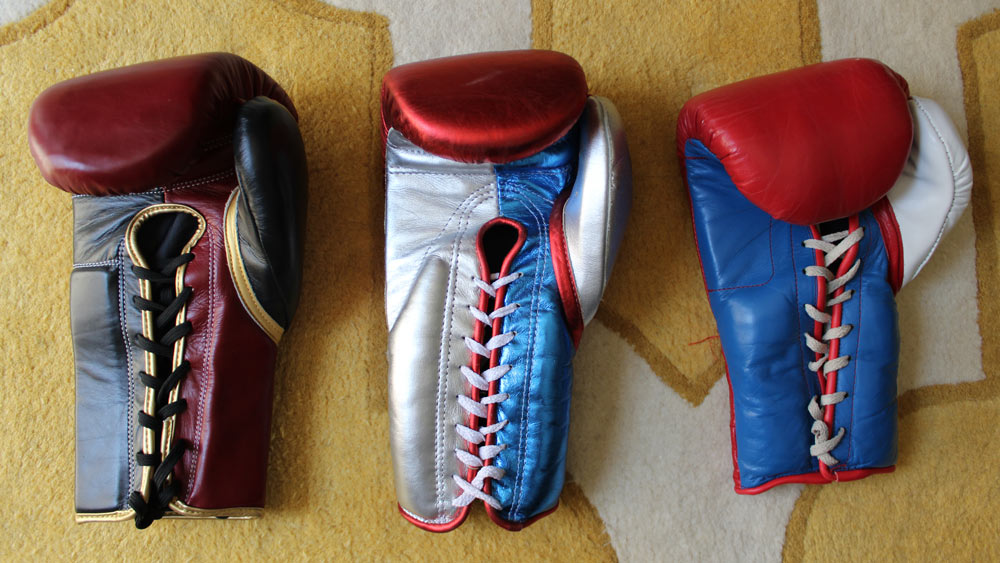 I was born and raised on Pakistan gloves and can recognize them easily! They have that uniform manufactured look (think "mass-produced"), and toyish/plastic-ey leather appearance. The leather is probably chemically-tanned the Pakistan way which is why it looks smooth and shiny, like a plastic toy. This characteristic is unmistakable with all Pakistan gloves you see from Title, Ringside, and many other brands.
Mexican gloves on the other hand, have a more rugged hand-crafted look.
Typically very boxy, stiff, rough imperfect appearance, and with a distinct "ugliness" about them.
Their leather always has a strong smell as well.
You can see the Mexican leather shows it's texture/character through the paint whereas Sabas leather is hidden behind the paint like most Pakistan-made gloves.
What does leather texture (smooth or rough) have to do with a glove's quality? The leather texture has to do with what part of the animal was used and how it was tanned. Soft smooth leather can be a result of either high quality leather and a really expensive tanning process or low-quality leather and cheap tanning process. Judging by the appearance, smell and durability, as well as the rest of the glove, this is definitely cheap Pakistan leather and cheap tanning process.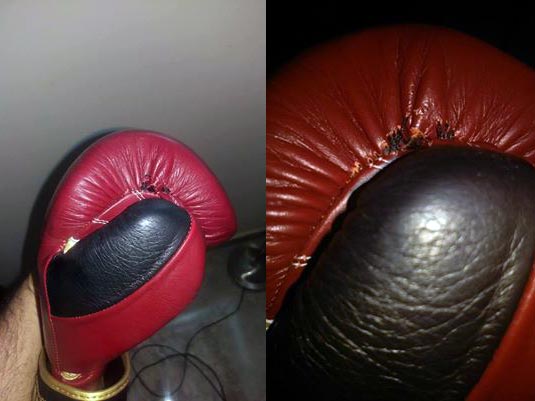 As you can see, Sabas leather is really weak and tears easily at the seams. When I inspected my brand new pair up close, I can see the way they make the thumb attachment makes it easy for it to stress the leather and eventually tear from there. I think it's a combination of bad design, poor materials, and low quality control.
Soft padding – like PAKISTAN gloves
Sabas padding is also different from Mexican padding, it's very soft instead of the typical stiff padding used in Mexican gloves. Of course, they sell it to you like it's an improvement on Mexican gloves but my suspicion is that they don't even have access to that kind of padding. If you know Mexican gloves, they always do stiff padding. (If you like Sabas padding…don't let my review stop you.) For me, it's too soft and not enough knuckle protection. Feels maybe ok when new but will wear out quickly.
One glovemaker explained to me Mexican gloves are always stiff because of the kind of latex padding they have in their country. And on the other hand, Pakistan gloves are always big/puffy and soft because of the type of injection-mold padding they have in their country. But that's a whole other can of worms, anyway. NOTE: injection-mold foam is commonly referred to as IMF.
If I could add my own opinion, I would say it's because of their difference in production volume. Pakistan deals with high volume where one factory makes gloves for many different companies. Therefore, they use machines and have the kind of padding that is done by machines.
Mexico on the other hand usually deals with low volume. Instead of big factories, they have small manufacturing shops (called "maquiladoras") which do low volume and everything by hand. Therefore, they use the kind of padding that's easier to cut by hand (which lends to their ugly box-shape). If you've ever tried to hand-cut a soft piece of padding (like a memory foam pillow), you'll know how hard it is to not make it tear in an ugly way. —BUT HEY, this is just my theory. I'm no expert glove-maker.
Nice Stitching – perfect machine work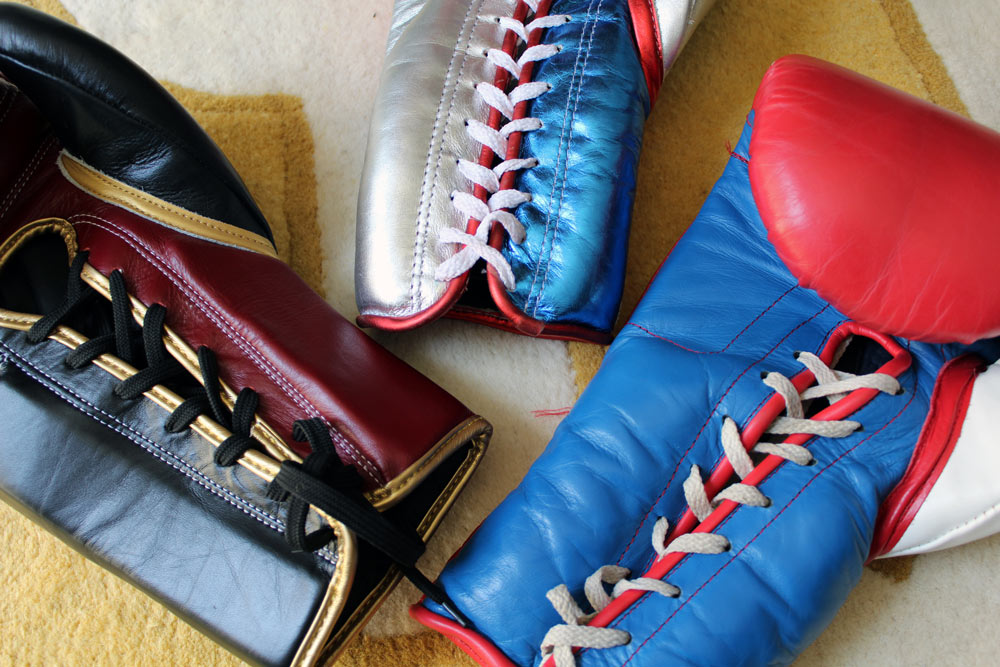 Sabas stitching looks perfect, which should normally be seen as a positive…but unfortunately in this case, it only further highlights the proof that they're made in Pakistan for me. There's a machine-like uniformity in the stitching.
The real Mexican brands have a slight imperfectness about their stitching.
Some loose threads.
The double-stitching is also wider in some parts than others
Sometimes they do only single stitching to save time
Threads knotted in the middle (as they ran out of thread unexpectedly).
And other imperfections if you look carefully. (I wish I took better pictures!)
Maybe both are made by hand or both are made by machine, I wouldn't know. But for sure, I feel like Pakistan gloves have cleaner and more uniform stitching whereas Mexican gloves are typically known for stitching imperfections.
Piping – pretty, but soft and cheap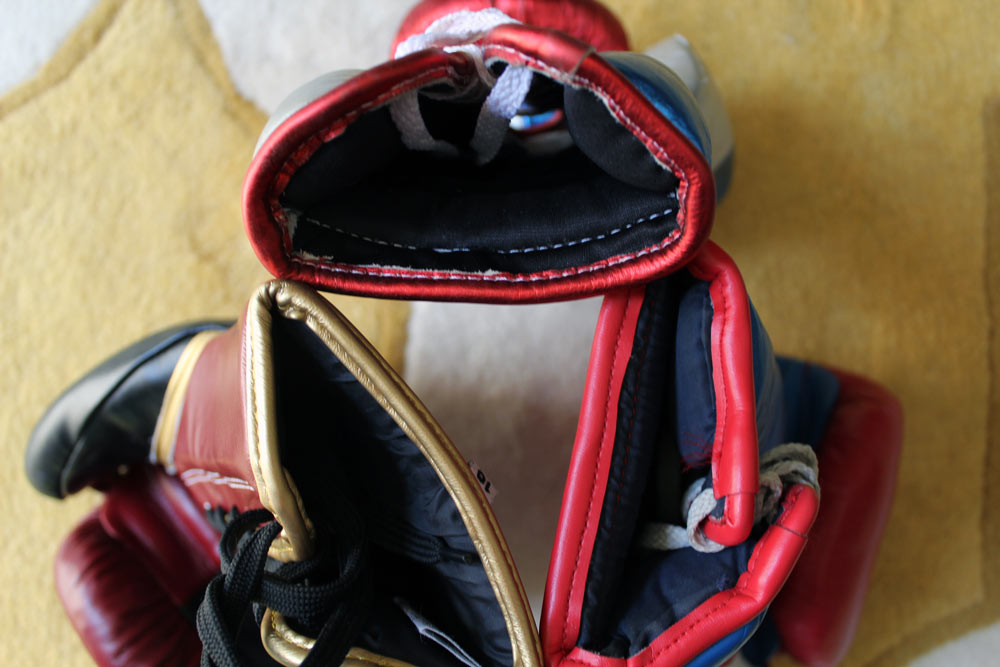 Here's another dead givewaway: Sabas has the typical soft piping that you usually see in Pakistan manufacturers. It's a very soft material, that I think is chosen because it's easier to work with (easier to cut and color) and looks better but will tear apart quickly with use. Notice how the Sabas piping is really neat-looking. If you see it in person, the material is really thin and folded inward for a much cleaner appearance.
The real Mexican gloves on the other hand use a thicker material for the piping that is more durable but harder to work with and harder to cut cleanly. They simply roll in the edges (further reducing the number of seam edges that can cut sparring opponents). Notice the ugly uneven edges on the inside whereas Sabas tucked away neatly on the inside as well. (You can scroll to the other images above for different angles of the piping.) I feel like I shouldn't even be teaching them how to copy these details.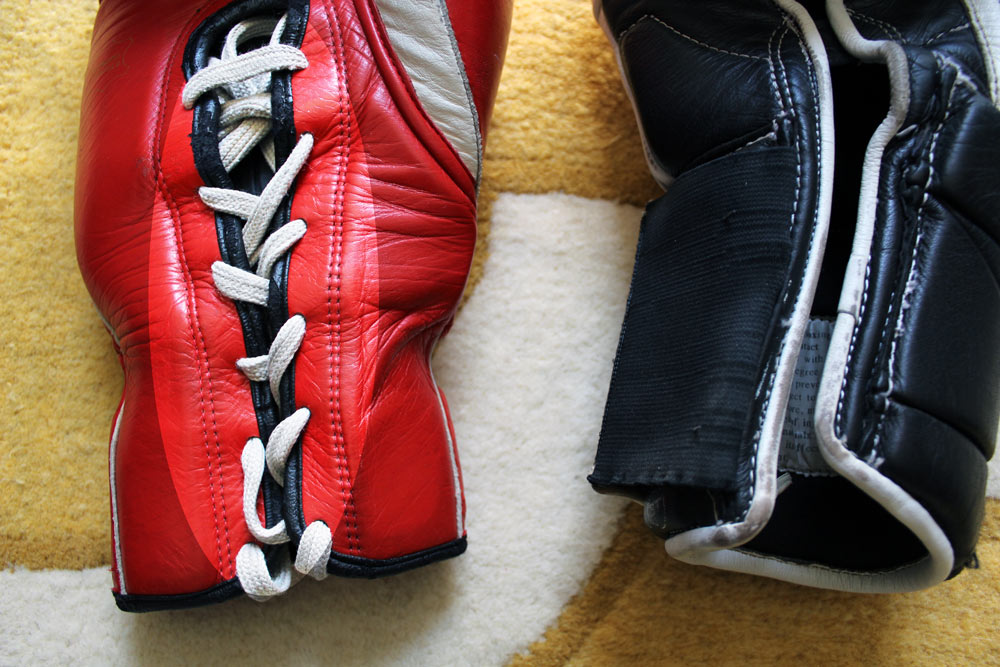 Here we see 2 Pakistan-made gloves, one by Title Boxing and the other by "Fighting Sports" (which is still a Title brand). Notice how the thick rolled-piping on the right has some scuff marks but holds up beautifully whereas the cheap soft one on the left is completely torn apart. You may not know this but the glove on the left was only used lightly for a couple years before being saved as my official "Youtube" demonstration gloves, whereas the ones on the right were my heavy training gloves for many years.
Bubbling under the surface – COMMON COMPLAINT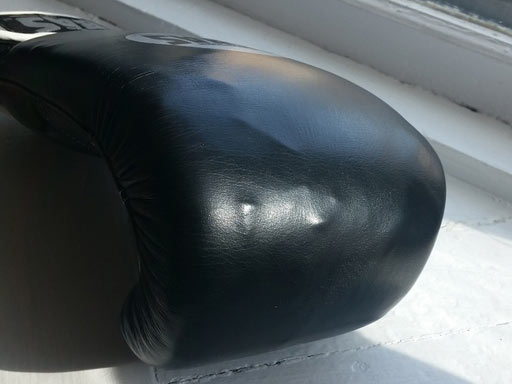 I have yet to see this issue with any other glove brand and upon inspecting my pair, I understood right away why it was happening. The bubbling is due to a thin layer of plastic around the padding inside the glove. I'm guessing their original intention was to seal the inside cushion in plastic to prevent sweat from breaking it down prematurely. The problem is this plastic is so thin (like a grocery store produce bag) that it moves around, getting wrinkled easily and bunching up under the leather…causing unsightly lumps on the outside. It even makes noise inside the glove (literally sounds like a plastic bag in there).
I seriously wonder who the genius was behind this flawed idea. Maybe the inside-lining wasn't waterproof enough that they felt the need to seal off the foam? Maybe it's to keep the foam in place or to hold its form? Or maybe it was a well-intended extra effort to make the gloves more durable? We'll never know.
Style – very stylish and custom colors
Sabas gloves are very stylish with many different color options and also customization. They're a lot of fun to wear and match with the rest of your outfit if you like. They also do custom headgear and groin protectors as well.
PERFORMANCE (rated from 1 to 10)
Knuckle Protection – 4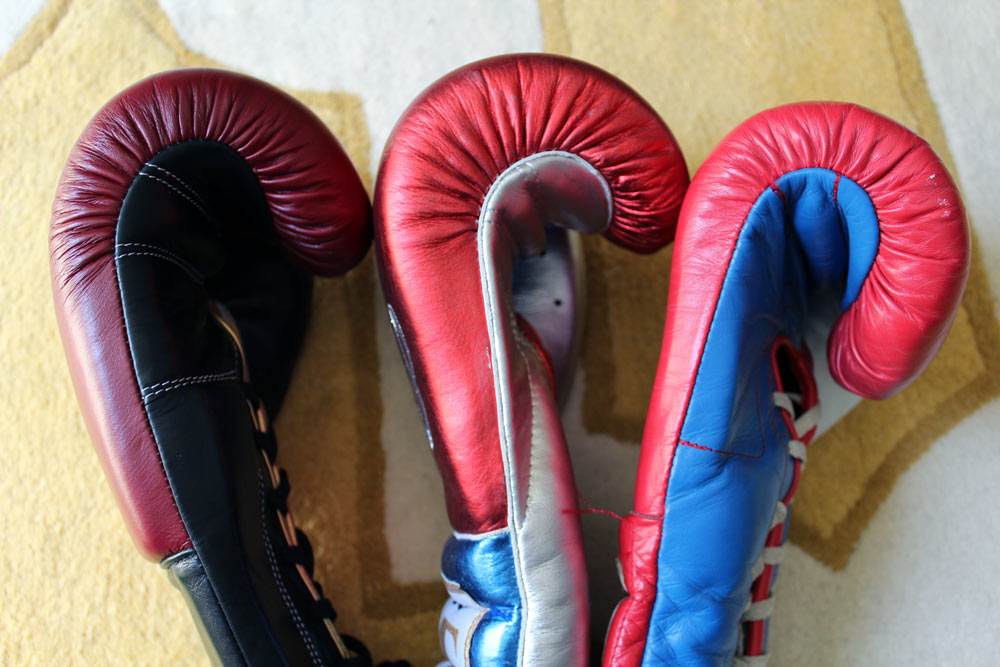 Observations from this angle:
TM has the thickest and densest padding – notice the padding thickness and squarish edges of the padding.
TM has the thickest/stiffest leather – notice how Sabas leather has more wrinkles because it's softer/thinner.
Casanova makes a tighter fist – you may prefer that if you like your hand in a fist position more than open position.
TM has old-school welted seams – pretty cool! That piece of leather in between the seams helps with its durability.
Overall, Sabas padding is too soft for me. I think any serious competing fighter will punch right through it within a matter of 2 months if not immediately. Get it if you like soft gloves and/or using it for sparring. For bagwork or mitts, I wouldn't recommend them. By the 5th day that I've used these, I could feel my knuckles punching right through them. It's not only the soft padding but the knuckle angle that makes it impact your fist in a painful way (at the middle knuckles instead of top knuckles). I started hating my Sabas gloves almost the very moment I started throwing hard punches.
Sabas does have other models that don't have such soft padding. Many people have expressed those are better for longterm use.
Comfort – 7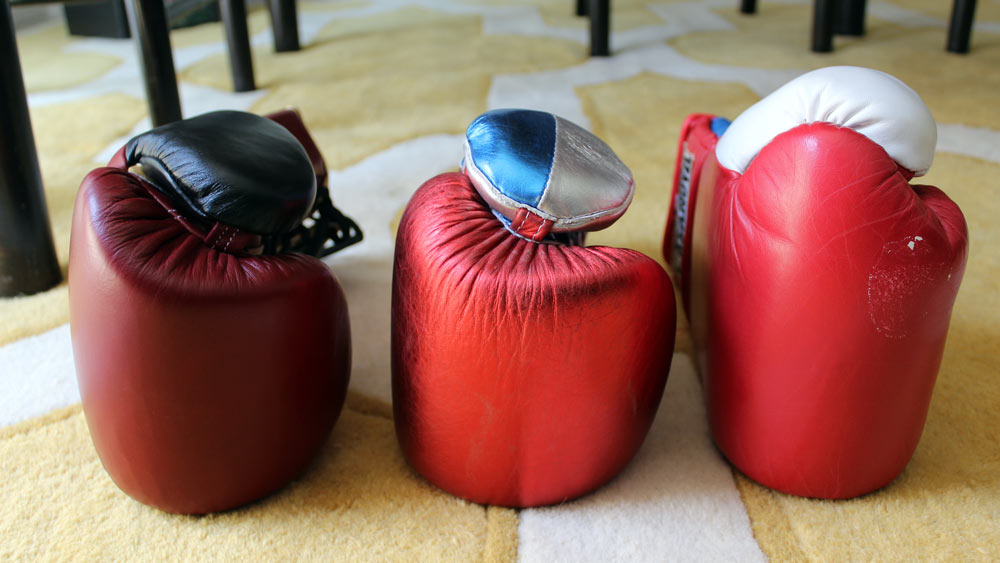 Sabas gloves have good thumb design, very comfortable! Other interesting observations from this angle:
Sabas has a normal (slightly-curved) thumb – other thumbs may be straighter or even more curved.
Sabas has the softest padding – you can see this by how round the edges are. TM has the denser padding and thus, the more squared-edge.
Casanova's knuckle padding covers the thumb – whereas the thumb appears more exposed with Sabas and TM. TM's stiff foam will prevent the thumb from being reached but with Sabas' soft padding, you'll eventually hit the thumb for sure if you're not careful.
Casanova has a really wide pocket – but thin profile. It's built like a pancake, good for both blocking as well as slipping shots through opponent guards.
TM has the stiffest thumb by far – it doesn't look as curved as Casanova or Sabas. This doesn't mean it's uncomfortable!…I much prefer the TM thumb over Sabas in terms of protection.
Sure, Sabas gloves are somewhat comfortable as expected with soft-padded gloves but is it just as comfortable as the higher-end brands and can it fool me into thinking it might be Winning? Hell no.
In terms of comfort in softness, Sabas could be seen as 8 or 9 if you like softness. But in terms of comfort in structure, Sabas is more like a 5 or 6. I don't feel like it would support my knuckles and wrist under heavy pressure. Maybe it DOES support well, but it doesn't feel that secure and that's why I dock it for comfort. I much prefer a stiffer glove that requires some break-in time but feels like my hand is protected in a cast. A glove that doesn't feel as supportive can definitely affect your punching power and make you hold back.
Wrist Support – 4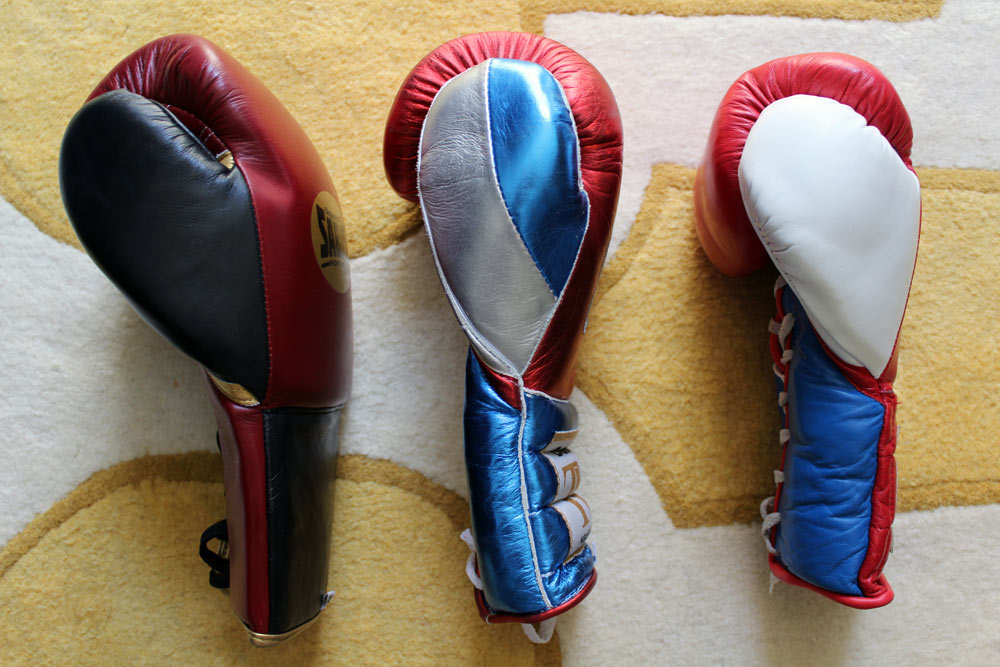 Observations from the thumb angle:
Sabas knuckle padding doesn't cover the top knuckles well – it covers more like your middle knuckle. TM and Casanova both focus the padding over your top knuckles better.
TM & Casanova have beefier wrist padding – it's expected as Sabas is copying Winning with this model whereas TM/Casanova are using the traditional Mexican design with thick cotton-padding in wrist area.
Sabas back of the hand is more curved (lengthwise & widthwise) – it's an annoying feeling for me compared to the straighter back of TM/Casanova. Look at your hand and it makes more sense for the glove to be straight in the back and curved in the palm area. Interestingly, Winning is curved in the back as well but feels better than Sabas.
TM has straight-thumb position – Sabas thumb is more curved, Casanova even more curved (shows better from other angles).
The biggest issue with Sabas is that it feels too soft and floppy at the wrist area, whereas other gloves have stiffer/stronger wrist support. For me, boxing gloves should give comfort not only through its pliability but also through it's structural support. Sabas does the first one well but not so much the second one. Sabas gloves are indeed comfy but I'm not looking for comfort to go to sleep…I want comfort to go to war!!!
Another big issue I have with the knuckle padding (besides its softness) is the roundness of the knuckle surface. I feel like it's easier to hit something at a slight off-angle and injure your wrist. I like when gloves have more of that flat-surface feeling in front of the knuckles. (The next image will demonstrate better what I mean.)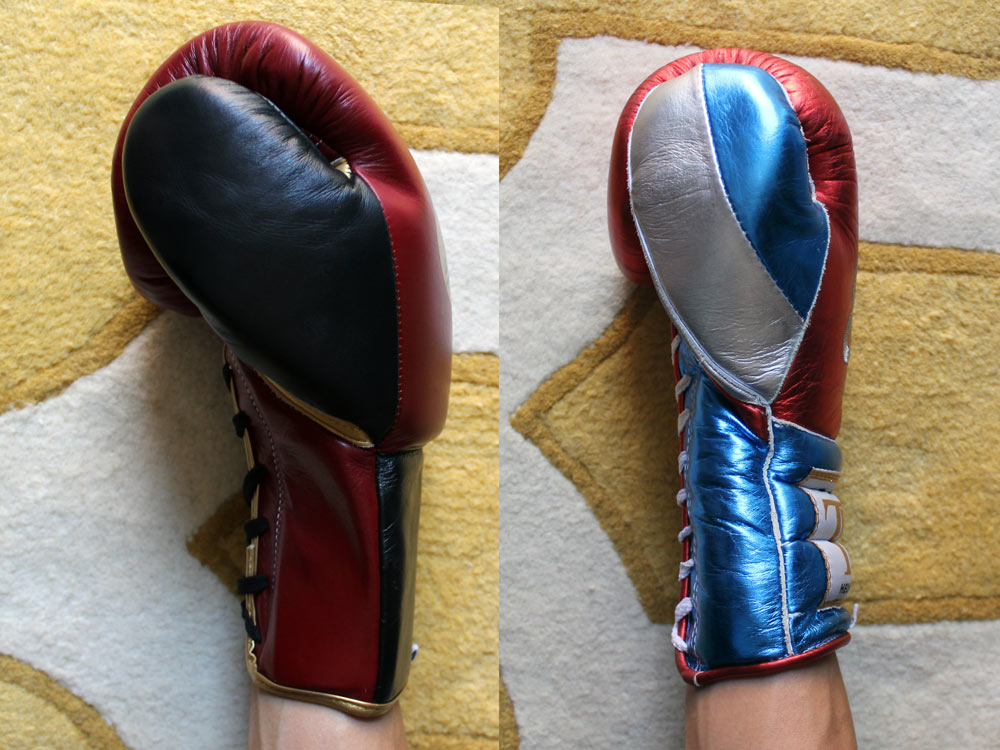 This is how bad it is with your hand inside! I swear, I am making the exact same fist shape and wrist position in both gloves. The Sabas glove just bends itself out of position. Horrible design.
AWFUL WRIST BEND – notice how the Sabas glove keeps trying to bend my wrist out of the proper straight position. I suppose Sabas might be nice if you want to throw hooks but it sure as hell isn't good for straight punches.
OFF-PLACED KNUCKLE PADDING – see how the TM padding is shaped so that you impact with the top knuckles? The Sabas padding is curved in a weird way where your fist impacts with the middle knuckles—OUCH!
I did spend some time trying to figure out why Sabas curves like that. The back piece has some kind of structural layer in there that makes the glove bend that way. Also, the gloves feel really flat which makes it more likely to bend. You have to buy a pair and stick your hand in to see what I mean.
I absolutely hate the way the gloves bends my wrist and when combined with the roundness of the knuckle surface, you definitely feel like these gloves make it easier for you to land punches with your wrist bent. With that said, they aren't unuseable by any means—I was ok throwing a few weak punches at the wall without handwraps. But I can guarantee you will not be able to throw your hardest punches in this glove.
Annoying gripbar – TOO SOFT!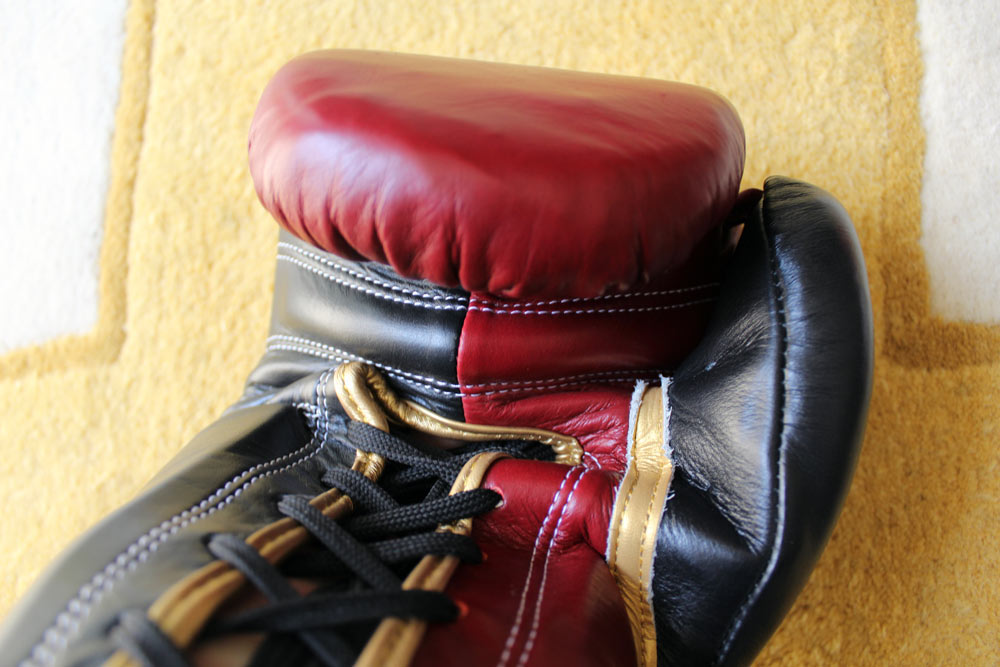 Sabas gripbar is way too soft; feels like there's no gripbar!
I will never understand how this issue can happen. I never noticed it before in any gloves until I tried Sabas. Most other gloves will have a stiff gripbar in there (feels like hard stiff plastic) and some brands will be a little softer but it's still rigid enough to support your fist!
The Sabas gripbar feels totally soft like they stuffed it with a cleaning sponge, really strange sensation. Sure, it LOOKS like a gripbar from the outside but totally bends when your fingers try to grip it. I'm not sure if it actually affects my punches in a bad way but its definitely missing the roll-of-quarters feeling, and does make the glove feel less supportive overall.
Are Sabas gloves comparable to Winning gloves? (NO)
Are Sabas anything like Winning gloves?
Sabas gloves are absolutely not at all like Winning gloves. Winning is way more comfortable, more protective, feels more secure, feels way more luxurious, higher quality all around and just completely better in every way.
Winning LOOKS & FEELS like a $400 glove.
Sabas LOOKS like a $70 glove, and FEELS like a $50 glove.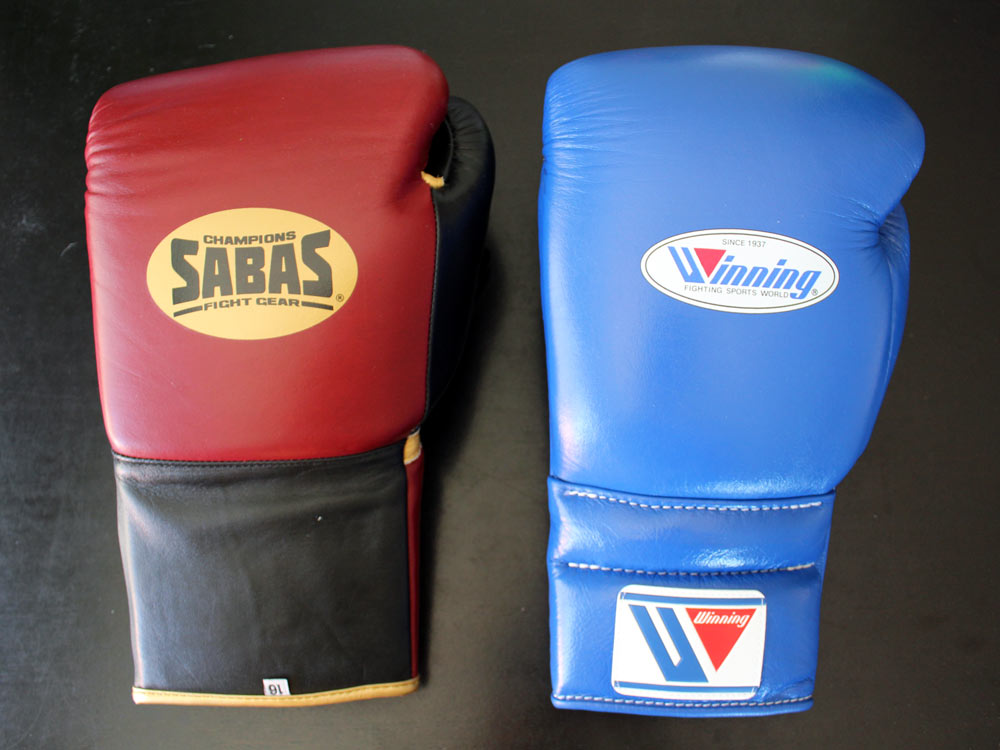 Winning has better craftsmanship – Winning leather fits more exact around the knuckle bend, and Sabas leather a bit loose.
Winning knuckle padding extends over the thumb – giving more protection, more like Mexican gloves. Sabas has thumb more exposed, like usual Pakistan gloves.
Winning has better construction at the thumb seam – also hard to show unless I take really close-up pictures. Sabas seam looks stressed at the thumb area, like either the stitching or the leather will tear (it already has micro tears). Winning looks neat and relaxed.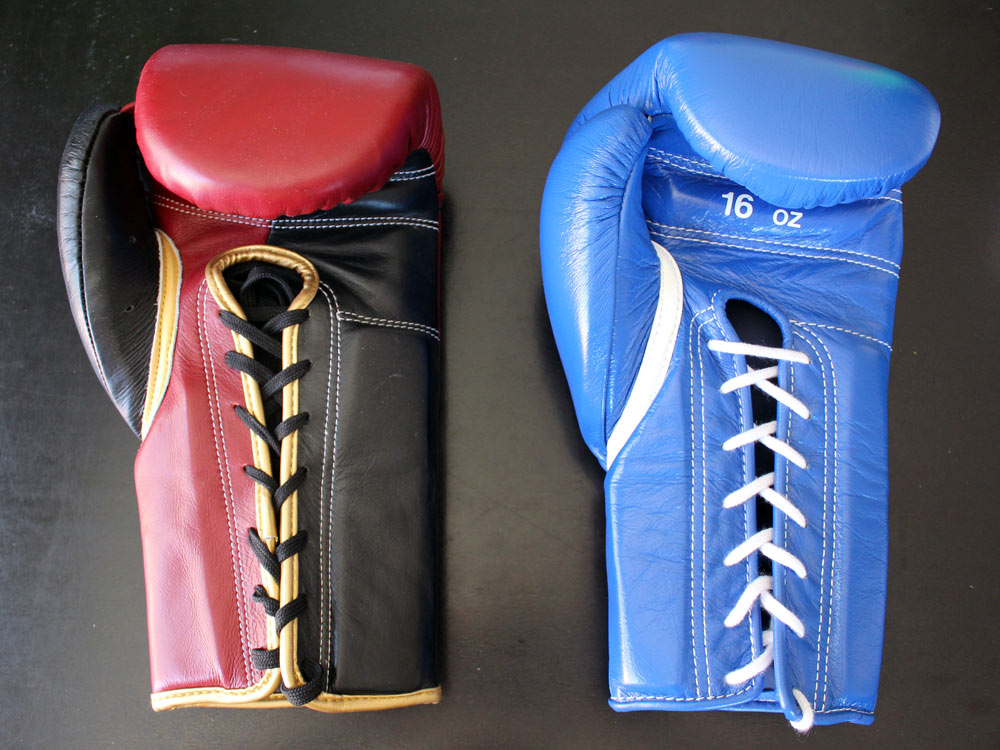 Winning leather is much higher quality – you can see Winning leather is so much richer, nice grain and more luxurious texture (click for higher-resolution). Sabas leather is just thin, soft, and looks more like plastic. Not much texture because it's probably the weak part of the leather and processed in the cheapest way. The difference is night and day when you feel it in person.
Winning thumb is much more comfortable – Winning thumb is far more ergonomically-shaped, requires much more work to construct (leather wrinkles because of the shaping). Sabas thumb is also comfortable but chokes a little around where the thumb connects to the palm. Sabas thumb is a clean straight cut (easy work). Winning thumb is far more comfortable because of its design whereas Sabas thumb is only comfortable because the padding is soft.
Winning piping is better – high-quality material, neatly constructed and tightly rolled in. Sabas uses cheap soft material and leaves a small flap on the outside. Sabas piping may look fancier at first but will tear apart and look ugly very quickly.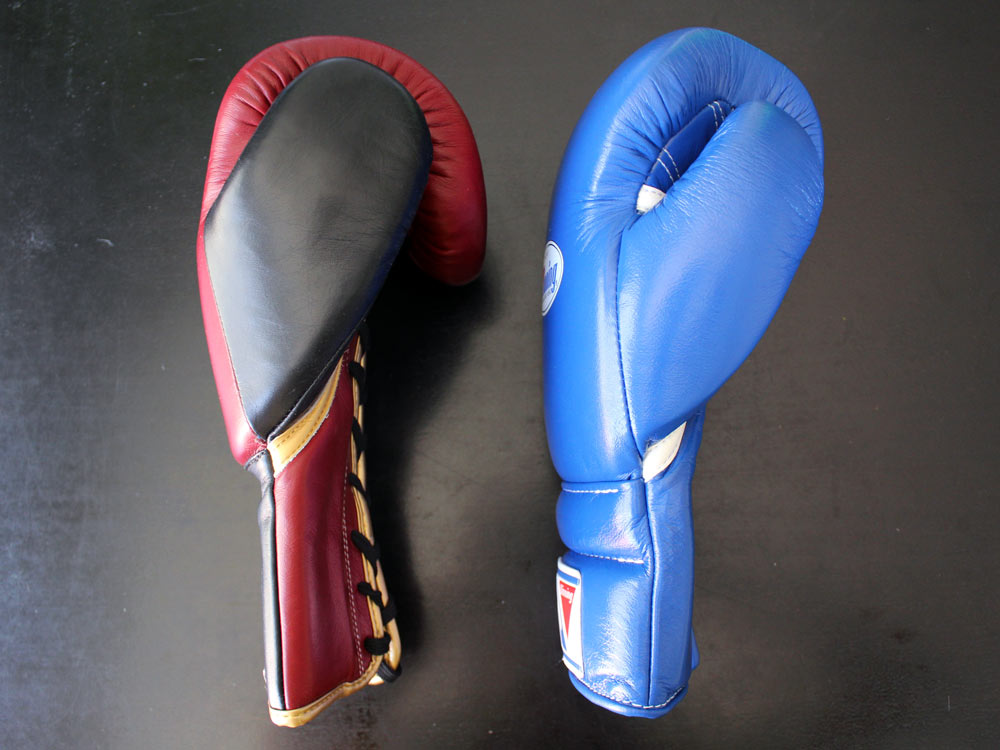 Winning has better thumb design – see the difference in thumb design from another angle. Winning's skinny shape is clever; curving the padding closer around the thumb feels more secure AND more free. Sabas thumb is like most brands, a big fat flap. Most Mexican gloves use dense padding here making your thumb feel caught in a stiff sandwich; it feels "secured" but not in the most comfortable way.
Winning has more wrist padding – Sabas isn't bad or lesser by any means; they have other models with more wrist padding, too. It's a matter of preference how much wrist padding you like.
Winning more comfortable around the wrist area – nicer padding and more luxurious feel.
Winning has longer back-hand padding – this is a big one, and I only notice it because I've worn so many gloves. The padding behind the hand in Winning extends further down to the wrist, whereas Sabas cuts shorter. I think this is common for manufacturers trying to save on padding and you do feel the difference. Extending the padding lower down the wrist area feels more secure, comfortable, and supported.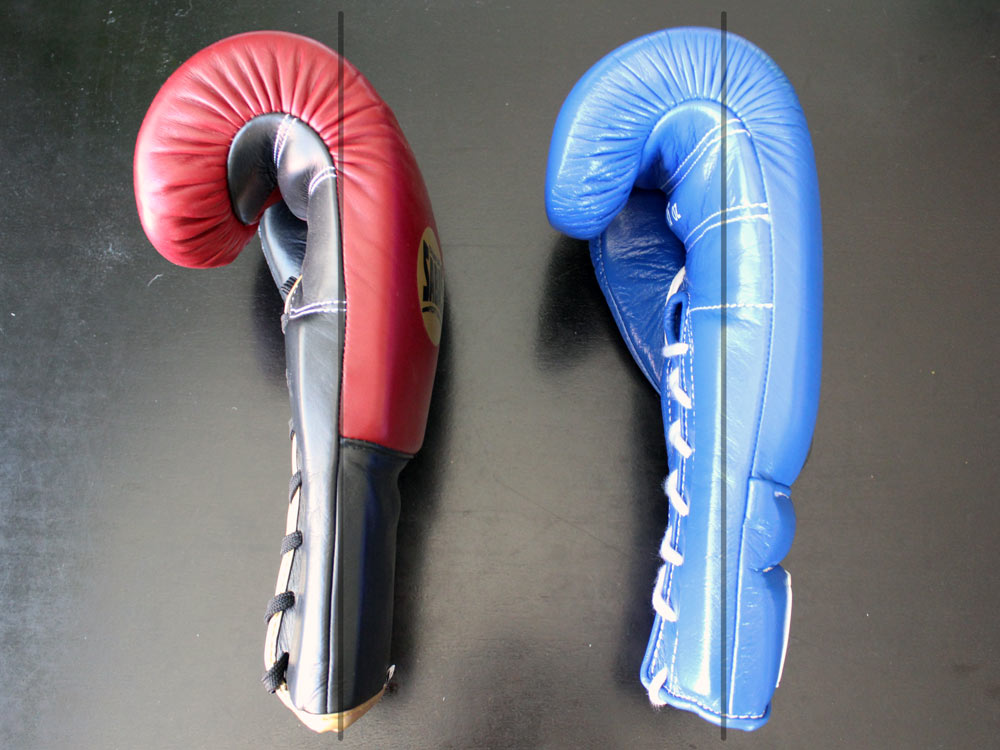 Winning has better knuckle padding placement – HUGE DIFFERENCE HERE! Notice how with the Winning padding stays more in front of your top knuckles. This feels so much better to punch with, providing much more support. The sabas gloves have the awkward curve where the padding impacts more at middle knuckles. I have a feeling the Sabas gloves go out of position for two reasons: 1) the shorter backhand padding gets bent over when you make a fist, 2) the Sabas thumb attachment's placement to the fingers is causing it to angle that way.
Again, Winning has better leather – Winning leather has grain. Sabas leather is smooth and plastic-looking.
Winning has more wrist padding – feels nicer and better around that whole area. Sabas wrist area feels naked and with some thin stiff EVA padding.
Winning boxing gloves vs Sabas boxing gloves:
Winning has much better leather (you can totally see and feel the difference).
Winning has better stitching and craftsmanship.
Winning has better padding, soft but you won't punch through it (like Sabas).
Winning is more comfortable everywhere; wrist, hand, fingers, thumb.
Winning gloves don't bend the back of your hand or have the weird gripbar issues.
Winning feels better to punch with, has more knuckle and wrist protection.
Winning feels much more expensive.
I think anybody would have to be foolish to compare Sabas to Winning. Maybe an earlier Sabas model was more comparable but certainly not the ones I have. They are worlds apart in every area. If you want closer Winning clones, the Ring to Cage's C17 Japanese 2.0 training model might be ok (although I haven't tried)…they definitely look more like Winning gloves (wrist design, rolled piping).
Should you buy Sabas gloves?
At the price of $109-129…they are NOT WORTH IT for me!
I would have to say these are not a good buy at $110. $90 is probably more of a fair price for them. If you love the design and don't mind paying extra for an average glove, sure why not? But in terms of serious use and longevity, I don't recommend these at all.
They aren't a ripoff by any means. I would judge 99% of the gloves on the market just as harshly if not more so. Sabas gloves are still nicely designed and stylishly-constructed while still being functional. I just can't recommend them when much better gloves exist around that price point.
Sorry to say this but Sabas gloves have been officially dropped from my top 5 boxing gloves. With that said, I think their business is still small enough to adapt to the market and improve with time. I'll be happy to make a new review if their quality improves.