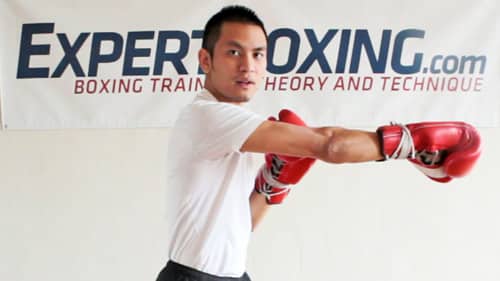 WHAT is the corkscrew punch?
HOW do you throw a corkscrew punch?
WHY should you corkscrew punch?
…and WHEN should you throw the corkscrew punch?
The corkscrew punch is no secret amongst trained boxers. If anything, it's standard punching technique. But for everyone else from untrained fighters to even martial artists, it's been built up to be some kind of magical secret weapon.
Here's my explanation to demystify, once and for all, the "secret" behind the corkscrew punch technique.
What is a Corkscrew Punch?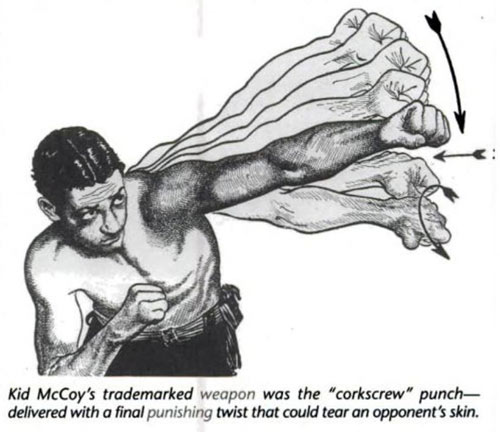 *** Image from BoxRec.com
A "corkscrew punch" is a punch delivered with a twisting of the wrist.
The fist rotates inwards as the arm extends so that the palm is facing down when the fist lands.
This punch was said to be invented by a famous boxer named Charles "Kid" McCoy who (fought from 1891-1916) learned the punch by watching a cat strike at a ball of string.
McCoy imitated this corkscrew motion to add power to the punch and cut the opponent's skin (boxers had very little hand protection back in the days). Being that he was wildly successful and known to be one of the great punchers in boxing, you can see why his punching technique became famous over time.
Over the years, many other fighters and practitioners of different martial arts have made similar discoveries resulting in many more variations of the "corkscrew punch". What remains the same is that a corkscrew punch is a punch thrown with a wrist rotation.
CLAIMED BENEFITS of the corkscrew punch
I don't agree with many of these but here are the popular reasons I've heard over the years regarding the corkscrew punch. I also listed my brief thoughts regarding their validity.
increased power – POSSIBLE, but it depends on how you do it
increased speed – POSSIBLE, but it depends on your fighting stance
cuts the skin – NO, we have better hand protection now and cutting the skin has to do with angle and timing of the punch
better wrist protection – YES, a punch thrown with a sideways wrist is less likely to get injured
helps the punch get around a guard – YES, it can be easier to throw overhands with a horizontal fist than a vertical fist
protects your chin – YES, a great benefit especially while trading punches
Why do boxers use a corkscrew punch?
1. Increased power & wrist protection – a sideways wrist is more stable allowing for more power transfer
2. Faster reaction time – to go from a defensive stance to a strike
3. Overhand punching angle – boxers throw many overhand punches unlike other fighting arts that focus more on straight punches
As I've already said before, the corkscrew punch is standard punching technique for boxers. They've been doing it since day one whether they knew it or not. You can always hear old school boxing trainer in the gym referencing the corkscrew punch technique by yelling:
"Turn your punches over!"
or "turn your hands over!"
Like I said, if you're a boxer, you probably already learned how to throw a corkscrew punch. But if you'd like some more tidbits for extra punching power, keep reading! 🙂
How to Throw a Corkscrew Punch
Corkscrew punch technique for straight punches – (JAB or STRAIGHT RIGHT)
Rotate the entire arm (shoulder, elbow, fist) as you extend your fist, so that the punch lands with the palm facing down.
Corkscrew punch technique for head hooks – (left hook or overhand right)
Rotate your entire arm (shoulder, elbow, fist) as you swing the hook, so that your punch lands with the elbow at the same level of the fist (hooks) or higher than the fist (overhand).
Corkscrew punch technique for uppercuts – (left uppercut or right uppercut)
Use the reverse motion of the corkscrew. Rotate your entire arm inwards as you dig the uppercut, so that your punch lands with the elbow down inside to support the uppercut.
This type of corkscrew technique isn't necessary for all uppercuts (especially for strategic reasons) but very powerful for tight uppercuts on the inside.
Principles of the corkscrew punch technique
1. The fist needs forearm support to deliver a powerful punch.
Every punch must be supported by the forearm! This is why the elbow always follows the line of the fist. Try throwing any punch without the elbow (and forearm) behind it and you will feel that it's far less powerful and may even hurt your wrist. This is why your wrist hurts when you throw punches with a bent wrist (where the forearm is not directly behind the punch).
When you throw a straight punch, the elbow must shoot forward (not out sideways).
When you throw a left hook, the elbow must swing across at the same level (notdrop at a lazy angle).
When you throw an uppercut, the elbow must be low in for the forearm to support the fist at an upwards angle.
The corkscrew isn't so much of a technique anymore once you see that it's natural movement. Wherever the fist goes, the elbow must follow it in order to support the punch. And the palm will face in whatever direction that feels more natural (downwards for straights or hooks, sideways or upwards for low hooks and uppercuts).
2. The corkscrew motion is to rotate the entire arm and lift the ELBOW quickly.
The point of the corkscrew punch technique
is to bring the elbow up quickly.
Try these motions from your boxing stance — with your elbows pointing down.
Hold your fist at a vertical angle (palm facing sideways) and punch straight out. You will see that your elbow points down and the forearm does not support your punch until your arm is fully extended.
Now hold your fist at a horizontal angle (palm facing down) and punch straight out, you will see that it's more natural for the arm to rotate and the elbow points out sideways much sooner.
If you compare these 2 methods (horizontal fist vs vertical fist), you will notice that the horizontal fist causes the entire arm to corkscrew and that the elbow comes up quicker. And because the elbow comes up quicker, your punch will be stronger and have more power especially even if it's not fully extended. This is the main difference between horizontal-fisted punches and vertical-fisted punches.
Some people like to argue about "boxing punches vs karate punches" or "horizontal-fist punches vs vertical-fist punches" and the answer is THEY ARE DIFFERENT PUNCHES. I don't care so much about which one is better and why and how, etc. The most important thing is that I use the right punch to fit my strategy. And for most boxing-specific purposes, the corkscrew punch is more applicable (which is why it's the standard). Boxers are by far the most powerful, most skilled, and most versatile punchers of any fighting art.
3. The corkscrew technique is a motion, not a position.
Why is it that boxers corkscrew their punches? Can't we just position our fists and elbows already sideways to be in position to punch? The obvious answer is no because turning your fist palm down will likely force out your elbows sideways and make it hard to defend your body from your boxing stance.
REMEMBER: the basic boxing stance has your elbows down to cover your body. And if the elbows are down, this means it's more natural to have your palms either facing sideways or even facing inwards towards your face.
And so the corkscrew punching technique is the motion that allows you to punch from your defensive position. The corkscrew punch will allow your elbow to go from being point downwards (for defense) to quickly lift upwards and rotate into your punch for maximum power.
NOTE: another benefit of the corkscrew punch is that it activates your shoulder and rotates to protect your chin as you punch. Try throwing a vertical-fist punch vs a corkscrew punch and you will see that your shoulder covers more of your chin with the corkscrew punch (well, it should). The exposed chin from vertical-fisted punches are another reason why vertical-fisted punches aren't thrown in boxing.
4. Some punching angles can only be reached with a high elbow.
Aside from the increased power and chin protection, corkscrew punches are sometimes the only way to get around an opponent's guard. Take for example, the typical overhand right. If you're used to throwing only vertical-fisted punches with the elbow pointing down, you'll see it's impossible to bend your elbow to loop over your opponent's defense. In these cases, using a corkscrew punching technique allows you to bend your elbow up sideways at an angle which then allows your fist to come around the guard and downwards at his face.
In boxing, we throw all kinds of punches – straight, over, under, and around. Whichever way the elbow needs to bend, we let it bend. And in many cases, letting the elbow bend out sideways gives us the necessary punching angles.
Secrets of the corkscrew punch technique
Corkscrew Punch Secret #1:
Corkscrew the entire arm! Shoulder, elbow, fist!
Don't think about the fist! Think about the entire arm, especially the elbow and the shoulder. Try to feel the snap and quick rotation in your elbow and shoulder. This will require a relaxed arm which then SNAPS into place with the corkscrew motion.
When you do it right, you will feel your elbow flick up quickly as the entire arm supports the punch. I recommend practicing your corkscrew punches with straight punches first. A big tip: you need a very relaxed arm to corkscrew right.
If you're a PUSH-PUNCHER or someone who likes to drive through every punch, the corkscrew motion will slow you down and make you feel like you're using a lot of energy. Instead you should feel like the corkscrew is a fast, easy way to snap your elbow from defense position to punching position.
Corkscrew Punch Secret #2:
Snap your lats and shoulders to rotate the fist.
Again, don't focus on your fist. Try to initiate the corkscrew effect from the most powerful muscles farther back in the arm—mainly the shoulders and lat muscles. All you have to do is rotate the forearm and elbow and the fist will turn with it.
Relax your entire arm and then just snap with your lat and shoulder muscles. Once you get the snap right, all it takes is a little squeeze from the fist and forearm and you will feel a VERY POWERFUL SNAPPING CORKSCREW PUNCH!