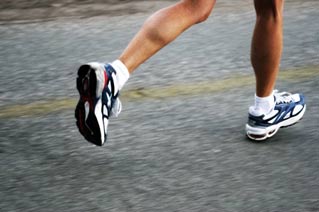 A definitive guide to increasing your endurance for boxing! Get educated, get conditioned, and never get tired in the ring again!
One of my biggest weaknesses in all sports was not because I wasn't good enough. It was almost always because I just didn't have the energy to consistently compete. In the boxing ring, I was always getting tired almost immediately after the bell sounded to START the round. Nothing pissed me off more than seeing openings in the other guy's defense and then not having the energy to throw punches. I was often found at the end of the rounds cowardly hiding behind my defensive shell because I just didn't have any energy to throw back. Eventually, I just got tired of losing fights when I knew deep down inside that I was the better fighter.
After getting more experience, I finally realized boxers get tired for two basic reasons: One reason is that the boxer is not conditioned well enough (simple fix). The other reason is that the boxer is panicking under pressure and beating himself down mentally (not-so-simple fix). Unfortunately for me, I was suffering for both reasons and now I'll tell you how to overcome them.
For this article, I'll focus on just the physical conditioning. I'll leave the mental conditioning to another article.
Physical Conditioning
This part is real simple. You need to do nothing more than these basic tips to increase your overall physical endurance for boxing.
Run 5 miles a day AT LEAST 3-5 days out of the week.
Don't run less than five miles and don't burn yourself out by running everyday of the week.
Save 2 days out of the week to allow your body to rest and heal.
Running is among the BEST ways to raise your cardio and is recommended by just about anybody.
There is are very few if any substitutes for it – swimming, jumping rope.
Fast hands and quick feet during the last 30 seconds on the heavy bag.
When you do your rounds on the heavy bag, listen for the bell that tells you there's only 30 seconds left. Right when you hear the 30-second bell start punching the heavy bag non-stop with nothing but fast and straight punches.
They don't need to be powerful or big punches. You just need to throw non-stop punches at a very fast pace.
Aim your punches at EYE LEVEL. (Many people tend to punch down as they fall into the bag when they do this exercise.)
At the same time, you can OPTIONALLY lift your feet up and down off the ground as if you're running in place as you non-stop punches at the bag.
This will quickly raise your arm endurance and overall cardio as well.
Again, the focus is SPEED and non-stop punches.
Throw an endless combo until the round is over!
Don't forget to keep breathing!
Start Jumping Rope
Jumping rope is one of the best cardio exercises.
It's fun and keeps your mind sharp.
It forces you to learn how to relax while performing complex footwork manuevers.
Way more challenging than running.
Do it all the time! Use a few rounds on the jumprope to warm-up and warm-down on your workout days.
Start Hitting the Speedbag
Working the speedbag will increase your arm endurance.
Do at least 3 rounds on your workout days.
Don't get carried away and try to go too fast.
Just a slow but steady pace without a break makes the bigger difference.
Conclusion
Physically, you're just going to have to put in the work. There is no way around hard conditioning when you're training to be a serious athlete. Boxing is not an leisure sport that you can do twice a year when the season comes around. It requires a bit of dedication and if you put that effort in, you'll reap the benefits. Get to training and thanks for reading!