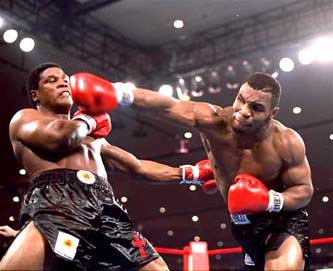 Boxing offense is more than just throwing punches. Learn to box offensively beginning with the jab and ending with the knockout!
I just realized this article was long overdue. Thanks to you loyal readers and your endless emails asking how to attack an opponent, I was brought back to my beginner days in the ring. I remember my trainer yelling at me to "be more offensive!" When I asked specifically what he was asking for, he simply yelled back, "More jabs, more right hands, more hooks, more punches!" Everytime I tried to ask a specific question, he answered with a general, "More punches." Being a good soldier, I went back out into the ring and just threw meaningless punches only to get beat up even worse than I did fighting defensively.
So the question is… In boxing, how do you fight more offensively?
To box offensively is beyond just being more aggressive, throwing more punches, or putting more power. Mounting an attack in the ring requires an understanding of the types and levels of offense available to you during a fight. To be effective while boxing offensively is to use the right type of offense according to the situation. Below are a series of offensive situations typically presented to you during a boxing match (although not always in that order). Ideally, you would complete a step before going on to the next but it's common for you to mix up your offense just as your opponent mixes up his.
1. AGGRESSIVE DEFENSE
Defense comes before offense. If protecting yourself wasn't important, boxing quickly becomes a "power punching competition" which we know it isn't. Before you learn how to attack anyone, you need to learn how to defend yourself keeping your body out of harm and preserving it for future battles.
The first step to fighting offensively is not just a regular defense, but an AGGRESSIVE DEFENSE. Instead of just blocking, slipping, and then running away, you should make sure to be aggressive with your defense. Move towards him, stare him down, and let him know you're not just a punching bag. Avoid his punches but stay within range. Let him know you're going to hit him as soon as his defense slips. Your opponent will become cautious and slow down his combinations if he feels that you might fire back viciously at any moment. Put on some offensive pressure by using an AGGRESSIVE DEFENSE.
2. COUNTERING
Now that you've kept yourself in punching range and the counter-punching opportunities open up, start COUNTERING. Counter his lazy jabs, telegraphed right hands, and wide hooks. When he throws a punch out of place or loses his footing, start hitting him! If you don't know any counter-punches, it's time to learn some. Counter-punches will stop his momentum and make him cautious of throwing punches at you. The only way to go from defense to offense is to start COUNTERING.
3. JAB
Now the fight is in a neutral position. You're both probably eyeing each other tentatively; each man defending his ground and waiting for the other to make a mistake. Assuming the fight is in a neutral position, it's time for you to start feeling around and testing him with a JAB. Unfortunately I'm going to be the 98783th person to tell you, "the JAB is the MOST important punch in boxing" and it's true. If you can't hit the guy with the jab, you're probably not going to be able to set him up to be hit by any other punches. The JAB is the longest, fastest, and safest punch you have at your disposal so it's easily the best method to pry your opponent's guard open. So go ahead, and start your offense with a JAB!
4. JAB-CROSS
If you're able to reach your opponent with the jab, it's time to throw in the JAB-CROSS. You don't want to get comfortable winning a jabbing fest. He'll get use to your jab, ignore its light power, and begin throwing harder counter-punches against you. You want him to respect your power. It's time you follow things up with the JAB-CROSS and put some power into things. You'll hurt him a little, confuse his defense a bit, and make him wary of your power. Again, don't just touch him with jabs, hit him with the JAB-CROSS!
5. COMBINATIONS
The guy's open to your jab-cross 1-2 combinations now. It's time to elevate the fight by following it up with more punches. Come back with a hook, or uppercut, or more crosses. Don't just throw 1-2 and then step back; follow up your 1-2's with COMBINATIONS. Sometimes your opponent's defense fails on the first punch, other times it's open on the 3rd punch and on. The only way to take advantage of this is to throw COMBINATIONS. Sooner or later, your opponent's defense will slip if you throw COMBINATIONS.
6. MIXING
It's time to mix things up. Don't just run in throwing bunches of punches. Start with a jab to the body followed by a cross to the head. Or vice versa, jab to the head, and then a hard shot to the body. Start with some lead crosses or lead hooks or maybe you want to double up some right crosses, left hooks or left uppercuts. You can start MIXING things up by stepping or breathing off-rhythm. MIXING things up can be about being tricky or about having variety. All it takes to confuse your opponent and tear his defense apart is some clever MIXING.
7. REFLEXES
At this point, you've probably been punching your opponent non-stop. It's time to be wary of your opponent's counter-punches. He's probably experiencing step 1, and is looking for counter-punching opportunities. This is where the fancy padwork comes into play. Start punching him like you normally would but use your REFLEXES to move your head or body out of danger the moment he tries to counter-punch. At this point, you're already winning the fight and just need to protect yourself when in range by using your REFLEXES.
8. POWER
If you made it this far, congratulations. Your opponent is on the defensive, constantly hit by your combinations, and unable to reach you with his counter-punches. He's physically beaten, mentally beaten, and ready to be knocked out. Either you knock him out or he gets desperate and lands a lucky knockout punch on you. All you've gotta do is commit to your punches and knock him out with your POWER!
All the steps above in a nutshell: 1) Stay close, 2) counter-punch, 3) touch with the jab, 4) show some rear hand power, 5) follow-up with combinations, 6) confuse him with tricks & variety, 7) avoid his counter-punches, 8) knock him out.
It's important to remember that the fight may not always happen in that order. If your opponent rushes you wildly at the beginning of a match to intimidate you, you may want to abandon the jab and just knock him out. Another thing to note is that you may have to move on to the next offensive step because your opponent is too good. In other words: if your opponent is blocking your jabs too easily, then move on to the jab-cross; if 1-2's don't work, throw combos, and so forth and so forth. Be sure to mix things up and elevate your game to a level where you are superior. Do what it takes to win and then go back to the gym and focus on things you weren't able to impose on your opponent..
Knowing how to box offensively is very important. Without a smart calculated offense, you won't penetrate a good defense. Floyd Mayweather Jr, one of today's best defensive fighters still has a great offense. You can't win a fight without offense!
Figuring when to use a certain offensive strategy is critical. It's common for the offensive stages of combat to get mixed up and go back and forth in the ring as you and your opponent are constantly adjusting to each other's offenses and defenses. Ultimately, you may end in up a brawl and forget everything as you find yourself in the ring forced to match the other guy punch-for-punch as vying to be the "better man". If you can control yourself physically, mentally, and emotionally, and fight to a higher thinking of the sweet science you will be that much superior to your opponent.
With the general steps above, I hope that you step into the ring next time with a smarter and more scientific approach to boxing offense. As always, thanks for reading and good luck!