Learn the ABC's of combination punching. Calling out punches with numbers is so yesterday. It's time you learn how to throw combinations using letters.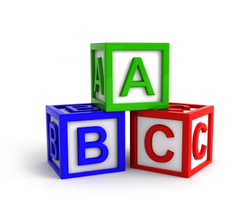 Throwing effective combinations is not about just throwing perfect punches or throwing lots of punches. You have to throw punches with an overall purpose, a theme. Then, you'll have to constantly shift the purpose of your punches. Throwing just one punch to the head and one to the body won't work against the better fighters.
Try aiming 3 at the head, 3 at the body, and then maybe another 3 as you move in and out of range. It's not hard to understand why putting together series of combinations is far superior than putting together series of individual punches.
The concept of themed combinations is easy enough to understand. The problem is learning how to express these combinations in a fast and easy way.
There is no time in combat for complicated attack systems.
The ABC Punching System
There's something I like to call the ABC's. The concept behind the ABC system is to throw combinations as COMBINATIONS, and not as a chain of single punches. To do this, you start by naming your combinations. Some people have obvious names like "head", "body", "inside", "outside". I have another system I like to call the ABC combo system. It's similar to your trainer's method of using labelling punches with numbers, but now we label entire combinations with letters. Best of all, it's very easy to learn. Just follow along.
A – (head combo) – punches at the head
B – (body combo) – punches at the body
C – (cut combo) – cutting around the opponent while punching
D – (distance combo) – punches at long range
E – (escape combo) – a combo where you step out of range
You create whatever combo you want using whatever punches you want. Whatever you do, don't sit down with a pen and paper, and try to remember a series of punches for each letter. Just go out there and use the letters as a general guidance.
Suppose my trainer yells A-B-C! A-B-C! That means he wants me to attack to the head (raising my opponent's guard), then go down to the body (forcing my opponent to anchor down and protect his body), then cut around my opponent to his blind side, and REPEAT! There it is…the ABC all day everyday.
Now you know your A-B-C's!
Practicing Your ABC's
Heavy Bag
To practice your ABC combos, have a trainer yell out a pattern as you hit the heavy bag. If he yells A-B-E, you throw a head combo (1-1-2), slip to the side, throw a body combo (3-2-3), pivot out and throw an escape combo (2-3-2-1-1-pivot).
This is JUST AN EXAMPLE. Please do not write down the combos I used.
Heavy Bag Race
Have fighters paired up on the heavy bags. The moment the trainer yells out a letter, every fighter has to immediately respond with the right combo. If the trainer yells out several letters, every fighter has to immediately respond with several combos in order of the letters. The trick is to respond and punch as fast as possible. Make sure the fighters are being creative; don't let them reuse the same combos over and over.
Use in Sparring
Try using the letters in real combat. No more yelling numbers. Give fighters some letters and let them deal with it. If you want the fighter to use a specific punch, let them know which one to mix in a bit more.
Throwing ABC Combos
Eventually the fighters will learn the ABC system just as well as they know the numbered punches. They will learn how to respond automatically with entire combinations and put purpose into every combination. The important of this system is not about learning a new way of expressing combinations but a new way approaching combination punching. Like everything else, after a while, you don't need to know this system anymore because it becomes automatic.
Try watching your favorite boxers again and see what patterns they like to use. So far I've got:
Manny Pacquiao – ABABC
Bernard Hopkins – DAE or DBE
Floyd Mayweather – ADE
Miguel Cotto – ABE or ACE
Oscar De La Hoya – AEDE
James Toney – ACA or ACAE
Mike Tyson – ACBA or ACA
Muhammad Ali – ACD or ACE
Sugar Ray Leonard – ACDE or ACE
Notice how the taller or longer armed fighters use a lot of D combos. Shorter guys use more C combos. All the pure boxers and runners use E combos.
Learning the ABC punching system
is the first step to becoming a true combination puncher.
Make up your own combos to fit your style. Adjust it for different situations and different opponents. If a guy guards his head too much, mix in more hooks to the body. If the guy leans in a lot, put in more uppercuts. The point is to attack him with combinations, not single punches. Keep switching combinations and keep him guessing!
Opponents can defend against single punches,
but not entire combinations.
The beauty of the ABC system is that you don't have to remember dozens of specific punches. Your trainer doesn't have to yell "GO TO THE BODY" during fights where your opponent can hear. Now he can just say "B-A" and you'll know he wants you to go to the body and then the head. So there you go, call out letters for combinations just like you use numbers for punches. The combinations don't have to use specific punches; the combinations just have to fit the purpose.
You can also use the letters to represent another purpose, combo or target area of your choice. Maybe A/B/C could mean jabs/crosses/hooks. Or A/B/C could mean straights, hooks, uppercuts. Or A/B/C could mean far/near/inside.
It doesn't matter what punches you throw
as long as they're being thrown with a purpose.