A quick review for Rival's self-proclaimed "boxing's first and only correct punch mitt designed by (The Coach) Russ Anber".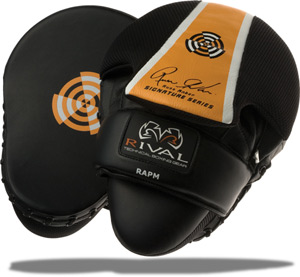 I bought these focus mitts from Titleboxing.com when their Gel series ran out of stock. Upon the first glance, these seemed to be very well built and also had a very nice style. The leather looks very clean and smooth and the pads looked stylish like a race car. The seems are all even and the mitts are crafted with great care and attention to detail. They look and feel great!
Price
The cost was very good when you buy them online. I've seen far less detailed focus mitts in stores sell for $129.99. In terms of pricing, these are a bargain at $84.95 and well worth the price!
Durability
These are serious punch mitts! The thing is heavily stitched and can take heavyweight punches without wearing down. The finger dividers are thick and the back of your hand is padded around completely so the backside doesn't rip out.
Comfort
My fingers fit nicely inside the glove. The finger dividers were made at a pretty good size to be comfortable for small hands or big hands. (I hate punch mitts that don't let your fingers curve all the way around the back!) The most important thing though is that you will NEVER feel a punch. There is a lot of padding at the wrist area so your wrist won't ache after you take numerous hooks. This thing can take the hardest punches without the wearer ever feeling a thing.
Weight
The weight of this thing is quite light for its ability to take punches. It's not so light that you feel every punch but also not so heavy that you can't move the mitts around to challenge the puncher. Overall, the weight of this thing is very considering its cushioning abilities.
The Verdict
Overall, this set is a great buy. If I had to make one small complaint, it would be that the punch mitts might actually hurt the puncher's hands. I don't know if it's the surface of these punch mitts or something else; ironically, the punch mitts are built so that the person wearing the mitts feels absolutely nothing and the person throwing the punches feels the force of his own punches. Either way, it's just a small note maybe it will get better over time. Again, these punch mitts are an awesome buy from a great boxing brand! You shouldn't overlook these for over-priced crude-looking punch mitts from other wannabe fighting brands.