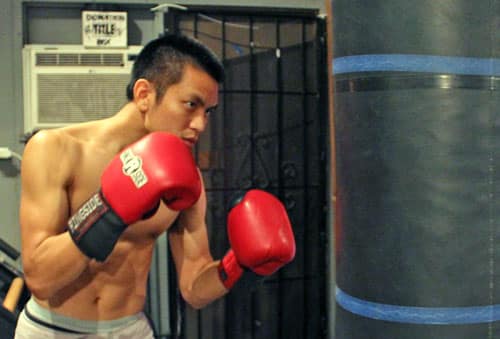 There's more to a heavy bag workout than just throwing punches until you get tired.
There are many heavy bag drills you can use and many possible ways to organize your rounds to develop different kinds of punches. If you're smart, you'll use different rounds to focus on different things instead of doing the same thing over and over.
Here's an easy 6-round heavy bag workout to help you develop different boxing skills.
Round 1 – WARM UP
Walk around the bag and test long shots, mainly jabs and 1-2's. Pay attention to your stance and your defense. Keep your eyes on the whole bag. Aim well without having to focus in on one tiny spot. You should feel like you can see any attack from any angle if the bag had arms. Keep the power down at 50% and move around a lot while you establish your range.
Round 1:
maintain your boxing stance
establish punching range
use your eyes
Round 2 & 3 – POWER AND MOVEMENT
Attack the bag with combinations as if it was a live opponent. Start putting in some power; increase your power output up to 80%. Every and now and then put in some really hard shots. If you're going in and out of range, move in quick with sharp hooks and uppercuts and then move out quickly. Remember to use good power (technique/breathing) and good footwork (slick movements/pivots, not jumping).
Round 2 & 3:
good technique
sharp breathing
slick movement
Round 4 & 5 – SPEED
Tabata drills are useful here. Start doing intervals where you're hitting the bag as fast as you can for 15-seconds, then break for 15-seconds, then repeat till the end of the round. All out speed, no power, no technique. Work speed and try to use as much of your body as possible to develop a fast coordinated contraction of arm and leg muscles.
Round 4 & 5:
fast breathing
fast contractions
no technique
Round 6 – ENDURANCE
The final round is all about conditioning. Get up to the bag and throw endless shots until the bell rings. Unload EVERYTHING you have. It's best to focus on smaller shorter punches instead of wild swinging shots. It may feel like you're throwing silly tiny punches but this is what develops muscle memory and increases your rate of muscle contractions. Throwing wild punches allows you to relax after the initial release where as small punches force you to keep activating your muscles. Resist the urge to get lazy and lose your balance or forget about breathing.
Round 6:
maximize number of contractions
maintain your balance
avoid going for power
Heavy Bag Workout Tips
Customize your workout
There's no rule saying you have to copy my workout. You can do whatever you want. Do 3 rounds if you don't have 6 rounds of time. Skip the power part if you only want to work speed and endurance or do different rounds on different days. Customize it to fit your needs. "Too much" or "Too little" depends on how you feel! I usually do 3-6 rounds on the heavy bag 5 days a week. Some weeks more, some weeks less.
The heavy bag is only one tool
The heavy bag can't substitute for a real boxing workout. If you're serious about learning how to fight, make sure you do all the other workouts (shadowboxing, sparring, speed bag, etc). Real power comes from skills, not muscle effort. So being able to hit a bag well doesn't necessarily guarantee you can hit an opponent like that. The best boxers probably spend only 10% of their time in the gym on a heavy bag.
Real power comes from skills,
not muscle effort.
Want to more tips for the heavy bag?