What if you could defend against punches without using your hands? How much faster would you be able to counter if your hands weren't so busy blocking punches? You don't need Floyd Mayweather's reflexes to do the shoulder roll. I'll show you the technique and teach you how to roll with the punches!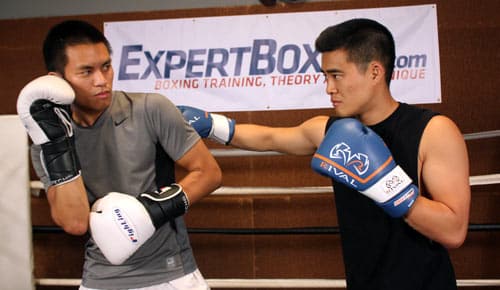 It's time you learned one of the oldest defensive techniques in boxing…
The Shoulder Roll
The shoulder roll is a defensive move where you deflect a punch by rolling your shoulders away from it. The punch lands harmlessly on your shoulders as your opponent shoulder is loaded to come back with a hard counter. When used in rapid succession, the shoulder roll is quite effective in neutralize entire combinations with little effort. It's a simple move to learn yet used by even the most skilled boxers.

One of my all-time defensive favorites! JAMES TONEY!
Why learn the shoulder roll?
Easier Than Blocking!
The shoulder roll is ridiculously easy to do. You can block entire combinations just by rolling your shoulders back and forth. No more worrying about perfect hand placement or seeing every punch that comes at you. As long as you know which side the punch is coming from, you can roll away from it easily. The shoulder roll takes all the complication out of boxing defense.
More Effective Than Blocking!
Here's a little secret: it's not really possible to block HARD punches with just your hand. Would you ever block a hammer with your hand? Neither would I. At some level in boxing, all punches become power punches; and just sticking your hand in front is not going to stop it. Rolling away from the punch effectively deflects the power! The shoulder roll will minimize the punch impact EVEN IF IT LANDS!
The shoulder roll if you think about it, is a natural progression from the parrying defense technique. With parrying, you learned how to deflect your opponent's punches with your hand and counter. The shoulder is a step up using your shoulders to parry so that your hands are free to counter. The shoulder roll, once you learn the timing, can be easier than parrying.
Have you ever blocked a punch only to have your own glove smash your face?
Deflected punches that land,
have less impact than
squared punches through the glove.
Frees Your Hands For Countering
Seriously, who blocks punches with their hands anymore? Only noobs do that! (kidding). But really…the shoulder roll will use your body rotation to deflect punches so you can use your hands for something more important, like punching back!
How to Shoulder Roll
Start in your basic stance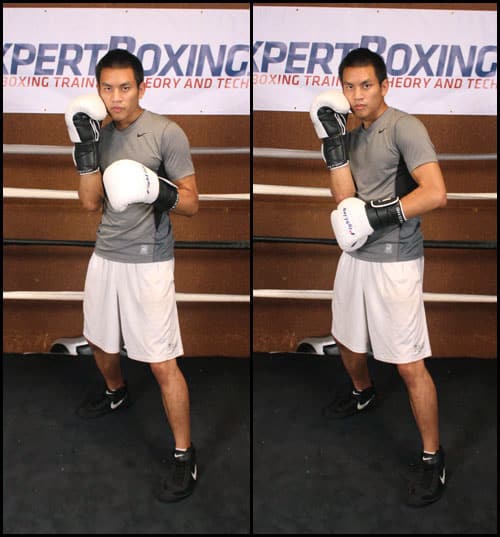 Stand in your regular boxing stance.
You don't have to drop your left hand to shoulder roll!
Shoulder Roll Away from Right Hands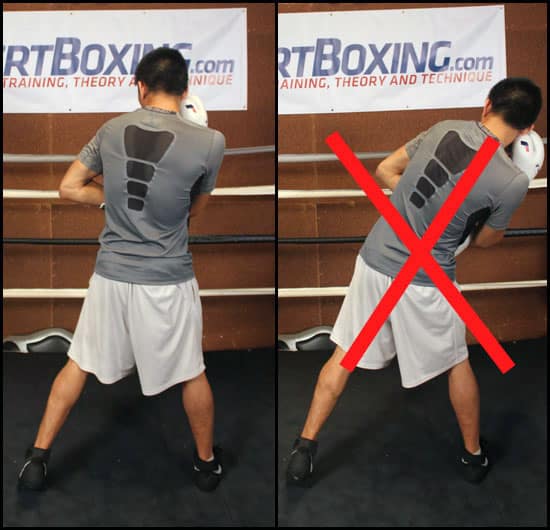 Rolling away from the right hand as I lift my shoulder to cover my chin.
Keep your back straight and don't lean backwards.
Roll just enough to avoid that right hand.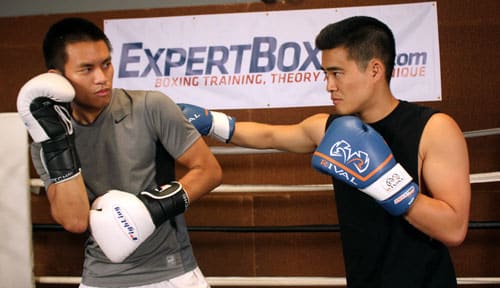 Sometimes the right hand is blocked from the outside…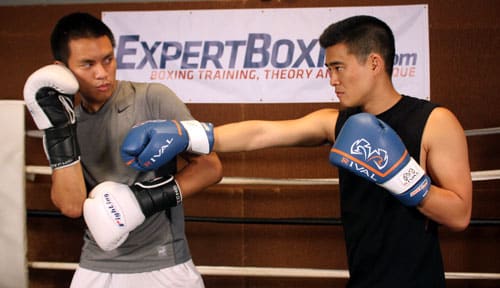 Sometimes the right hand is deflected to the inside.
Wide right hands are typically blocked from the outside.
Straight right hands are typically parried by your shoulder to the inside.
Just roll your shoulders, don't worry about where the right hand goes.
Countering the Right Hand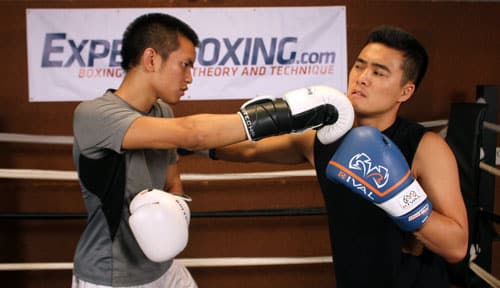 Counter #1 – STRAIGHT RIGHT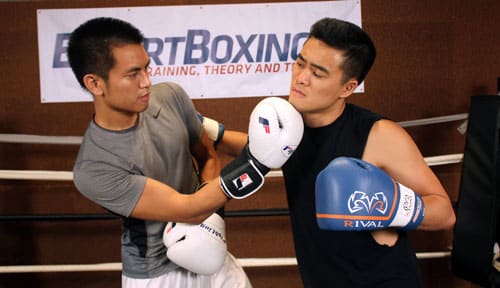 Counter #2 – RIGHT UPPERCUT
Shoulder Roll Away from Left Hooks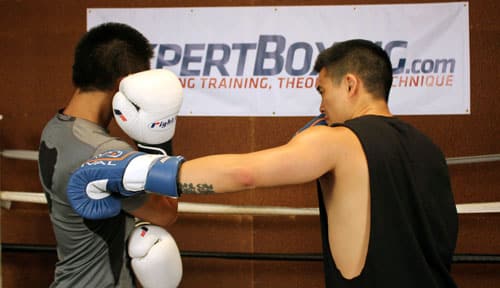 Roll AWAY from the left hook…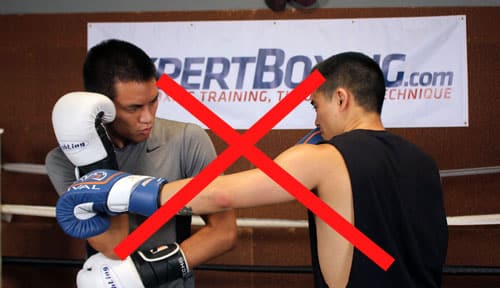 Don't roll into the left hook.
Roll AWAY from the left hook, not into it.
Don't roll away so much that you get hit in the back.
If you roll into the hook, you risk getting hit or pushed off balance.
Countering the Left Hook (after the shoulder roll)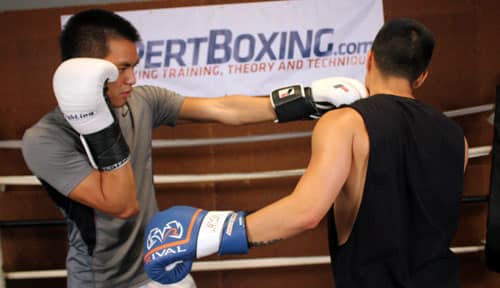 Counter #1 – JAB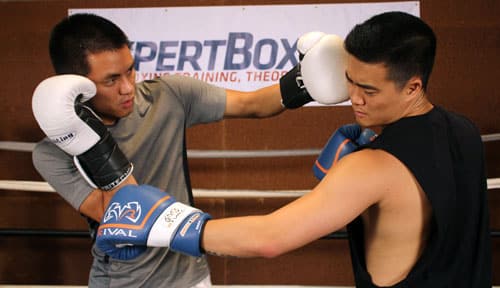 Counter #2 – LEFT HOOK
The Left Hand Can Be Up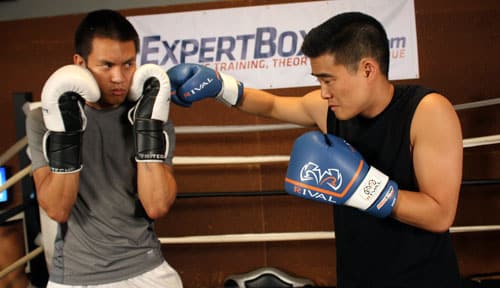 Shoulder roll with the left hand up, blocking from the outside.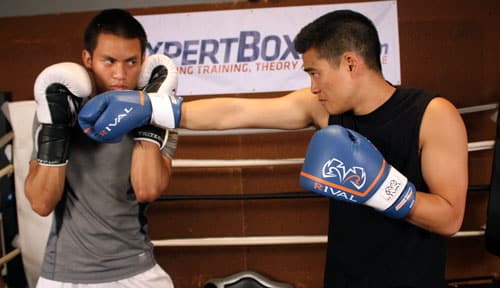 Shoulder roll with left hand up, deflecting the right hand inside.
You don't have to drop your left hand to do the shoulder roll.
Shoulder Roll Video
Helpful boxing instructional video demonstrating the shoulder roll technique and basic drills to help you learn this effective boxing defense technique.
Practicing the Shoulder Roll
Shoulder Roll Drill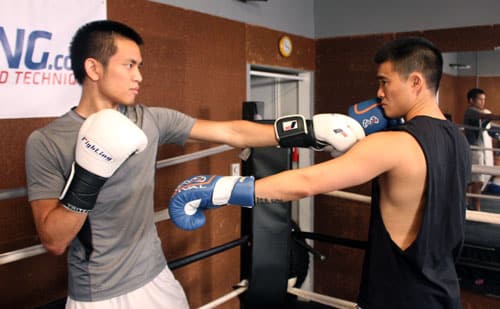 Stand at arm's length with a partner.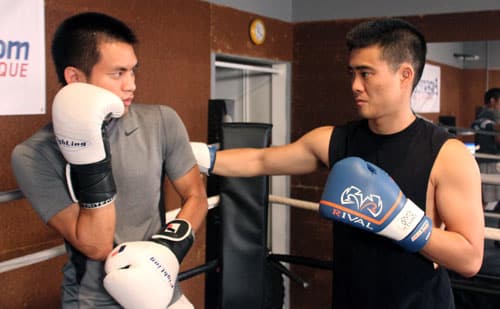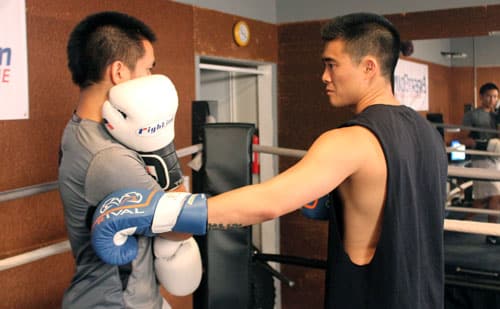 Partner throws lefts and rights non-stop as you keep rolling away.
Your partner shoulder be swinging at shoulder level.
Have your partner randomly mix up straight rights and wide rights.
Exaggerate the roll, rotate your shoulders all the way during this drill.
Put the hands down, so you focus on the RHYTHM instead of covering your face.
Keep it slow using NO POWER; you're just touching each other and learning the rhythm. Keep going LEFT-RIGHT-LEFT-RIGHT. Trade places after 1 round. Each fighter can do one round of this as a warm-up everyday. YES, I know the drill seems unrealistic because nobody's aiming for the head. The point of the drill is to focus on developing the rhythm, not on covering your face. Once you have the technique down, the application comes naturally.
Shoulder Roll & Counter Drill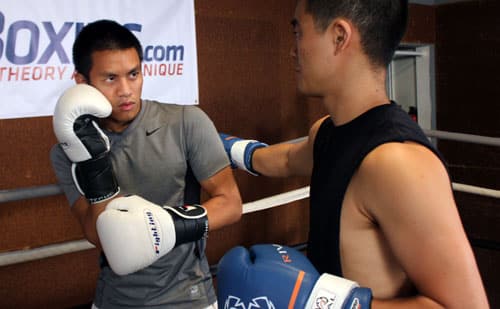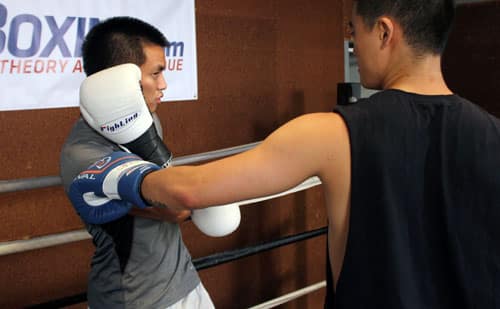 Same drill as before but this time, you throw counter-punches.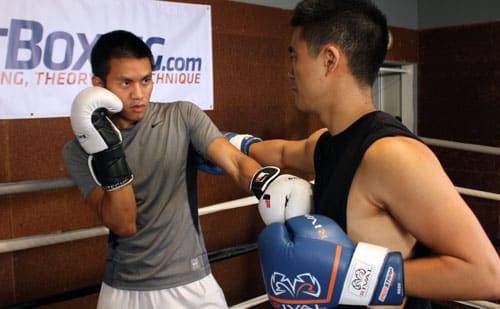 Shoulder roll with COUNTER LEFT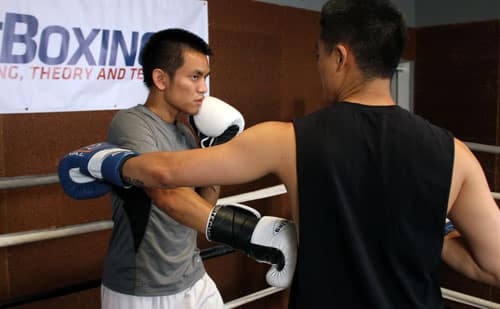 Shoulder roll with COUNTER RIGHT
Start off with the same LEFT-RIGHT-LEFT-RIGHT shoulder roll rhythm.
To punch during the shoulder roll, just release a punch from the shoulder going forward.
Don't focus on his punch or your punch, just feel the rhythm and release a punch anytime you want.
Aim at your partner's chest; don't hit hard. (This is just practice.)
Try countering several times in a row and return to just shoulder rolls without losing rhythm.
Take turns! Switch after each round.
Push & Shoulder Roll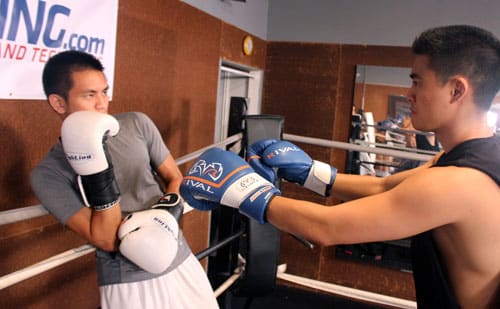 Have a trainer push you into the ropes during mitt work…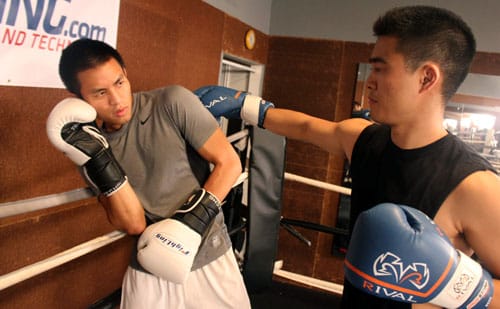 …and surprise you with 3-4 punches. You know what to do!
As long as you know what side the first punch is coming from, the rest is easy.
The shoulder roll's essence is IN THE ROLL!
Don't worry about the shoulder.
The secret is in the ROLL, not the shoulder! Don't focus on blocking the punch with your shoulder. Focus on deflecting the punch as you turn away from it. Even if the punch goes over your shoulder, a good roll will still deflect the power off your head.
The shoulder roll teaches you to move with your opponent. You learn read his movement and roll at just the right time to deflect his punch. Roll too late and you get hit; roll too early and you'll telegraph your movement or leave yourself vulnerable. Do the shoulder roll drills with a pure focus on rhythm. Keep it slow at first, and don't speed up until you both have the perfect rhythm.
You and your partner must match each other's rhythm.
Don't try to surprise each other.
When you practice the shoulder roll, try to be in sync with each other like a dance. Keep it slow. Once you match your opponent's punching rhythm, focus on other things. Calm your breathing, relax your body, pay attention to your feet, pay attention to your balance. Start looking around the room, try to have a conversation with other people in the room! What have you realized??? YOUR DEFENSE HAS BECOME AUTOMATIC!!! ((( HELL YEAH, CONGRATULATIONS! )))
You have mastered the shoulder roll when it becomes automatic. Try to feel your opponent's rhythm without having to look for his punches. Now take this time to study your opponent. Look at his feet, or his body. Is he leaning in? Does he throw punches with bad form? Where would you like to counter punch? When I do the shoulder roll drills, I don't worry about defense, I'm looking for openings!
Do not be discouraged if your shoulder roll does not come off smooth the first few times you try it in a fight. Like any move, the shoulder roll takes practice. Realistically, it's hard for the shoulder roll to be effective when you've only practiced it a few times compared to the hundreds of times your opponent practiced his punch.
Masters of the Shoulder Roll
Study some of my favorite boxing masters of the shoulder roll. I'm sure everybody has their own list but I highly recommend watching these guys.
James Toney – ultra-natural talented fighter, old school boxing skills, my favorite defensive fighter. (Have you ever seen anybody fight without getting in shape?)
Pernell Whitaker – he uses more slipping than rolling but so ridiculously talented! One of my all time favorites. If you thought Floyd Mayweather's defense was good, watch this guy fight with his hands down the entire time.
Joan Guzman – excellent defense, very flashy defensive fighter. You have to watch a full fight to appreciate.
Guillermo Rigondeaux – incredible defense, it's a shame he counters so well you never get to see him on the defensive much.
Floyd Mayweather – very effective, precision shoulder rolls.
Kevin Johnson – defensive heavyweight. (Proof that big guys can shoulder roll too!)
Using the Shoulder Roll
The shoulder roll is simple boxing skill that should have been taught to you from day one. It's not just a defensive move, it teaches you boxing rhythm to help you attack, counter-attack, as well as defend. Rolling the shoulders defends you against attacks while loading up your counter punch on your opponent's weak side. The moment you figure out your opponent's rhythm, just start rolling his punches!
The shoulder roll uses RHYTHM as your defense.
The real trick to using the shoulder roll is not to think about the shoulders. Think about it. It's not about blocking the punch with your shoulder or your arm or whatever. In a real fight, punches are going to get through. As long as you roll with the punches, you will be fine! Because you're using rhythm as your defense, your mind will be free to think about other things. Instead of focusing on blocking or slipping punches, you just let your body's natural rhythm run your automatic defense. The shoulder roll makes your defense automatic so you can focus on punching.
The shoulder roll is effective no matter what your opponent throws. You don't have to be balanced, you don't have to really use your eyes. The simple action of you turning away from the punch will deflect its full power off you. Rolling punches is more effective at defending power punches than just blocking. Many advanced boxers roll with every punch; they're not just blocking.
Try a slight shoulder roll with every block.
Last but not least…PLEASE throw counters! Do not sit there trying to roll everything. Quickly find your footing and come back immediately.
Even Floyd Mayweather, as great as he is, most also throw a counter or else he eventually gets hit by a punch. I saw a fight not too long ago where Jason Litzau did a good job of rolling Adrien Broner's punches. Unfortunately, he either didn't have the cognizance to come back with a counter or chose not to…he ultimately got caught and knocked out in the first round. The shoulder roll can avoid punches, but it won't avoid a fight.
Shoulder Roll Tips:
Don't over-rotate. Rotate just enough to avoid the punch.
Don't get faked out, your opponent might punch with the opposite hand as you roll into it!
Keep your eyes on your opponent the whole time.
Try to add a pivot when you roll the front shoulder.
The shoulder roll is ineffective against lighter punches.
…think you got the shoulder roll down?
How to Roll Under Punches (coming soon)