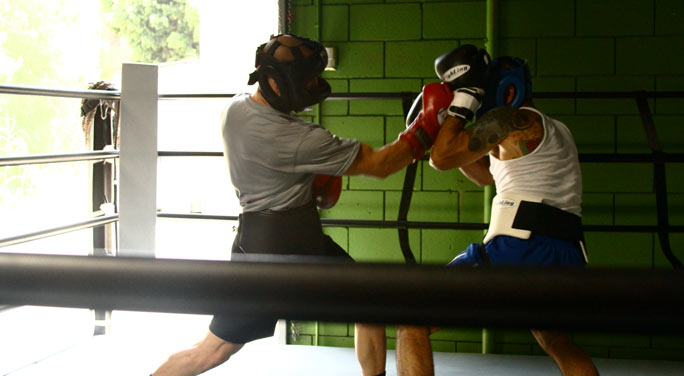 Beginner fighters (and even advanced fighters) will often ask me: how do I throw more combinations?
I feel like I'm always relying on the jab. Could you give me tips for increasing the amount of combinations thrown during sparring and training overall?
It's a common problem and you'll often hear trainers screaming at their fighters in sparring, "LET YOUR HANDS GO!" Which they never do. Hahaha.
Here are some good tips to remedy your gun-shy ways…
1. Stop standing sideways
You know who you are…I'm talking specifically to you three—MR. JAB EXPERT—MR. DEFENSE—and MR. COUNTER-PUNCHER. These are the three guys most likely to stand too sideways. They're either trying to get longer reach on their jabs, hide behind their front arm, or waiting all day for the perfect shot. Nothing wrong with these styles at all but they do make it awfully hard to throw combinations. Look at Floyd Mayweather even, he has a great jab, great defense, and great counter-punching. But he doesn't thrown combinations very often. But then what does he do when he DOES throw combinations?—HE SQUARES UP!
The explanation is simple. If you stand sideways, your right hand will be so far back that it'll never reach. It's like your jab has a crazy long reach but your right has only a short reach. Your jab makes contact from too far out that the distance takes away your confidence to throw the right. You'll never put combinations together because you can't even get to the second punch in the combination.
Square up a little. Make sure your right foot and right shoulder have a direct line of site to your opponent and that your feet aren't so wide that the right hand can't reach. If you're in close range, you should square-up even more to do more damage with both hands. If you're worried about defense, I suggest you learn how to defend by blocking and slipping rather than by taking the stronger half of your body out the fight.
Keep your right hand in range!
2. Start combos and counters with the right hand
Instead of starting all combinations with the jab, try to start some with the right hand. Or start some with the left hook. 2-3-2 is a great punch combination! By setting up your back hand as the first punch, there's a very good chance you'll be in range and position to land it again. Remember: you need both hands in range in order to throw more combinations. The right hand may be a little slower and require more set-up time but it does tremendous damage and sets up your deadly left hook.
Instead of always trying to jab to get away, try throwing a hard counter right. Or better yet, use the 2-3-2 as your counter-combination-punch! and follow it up. This works especially well against aggressive opponents as this counter will has more power to disrupt and hurt compared to your weaker jab.
Use the CROSS-HOOK-CROSS (2-3-2) combination more!
3. Prioritize speed over power
Instead of trying to always have maximum power on every punch, try focusing on speed more. This is especially the case for right hands. Many fighters think every right hand has to have 100% power and this isn't the case. Sometimes you need a fast lead right, or maybe a quick right to setup a big left hook. Faster right hands can set up many great trick combos and throw off your opponent's defensive rhythm.
Try throwing combinations faster instead of harder. Get yourself in the groove and find your punching rhythm before committing more power on your shots. You can also throw one-sided combos where all the left side punches have speed and right side punches have power. Or do the vice versa, where the right side has power and the left side has speed. Or you can throw a regular combination but speed up the first one or two punches to help the rest land.
Not all "power punches" have to be thrown with 100% power.
4. Stop waiting for opportunities
Here's a big psychological one. Way too many fighters waiting around for an opening. IT WILL NEVER HAPPEN! Nobody fighter is going to come at you with an open target. The more you wait, the more comfortable he gets; and the more comfortable he gets, the more effective he gets! Opportunities only come when you create them.
Create your opportunities by putting pressure on your opponent. Throw one punch to make him block, throw another to make him block elsewhere, throw another to make him duck under, and another to make him step back. PUNCH PUNCH PUNCH! The more pressure he gets, the more he loses his composure, eventually his defense will crack. But what if your combos don't work? That's why you gotta throw more so that you can eventually find one that works. What if he moves his head too much? Try aiming around the chest area and you're bound to get something.
Throw punches even when you don't see an opening!
Jabs will either help or hinder your combos
I think the biggest takeaway is that your jabs can either set-up or hinder your punch combinations. Many fighters can't throw their combinations because they put too much focus on their jab or throw their jab in a way that blocks the right hand. The jab is just the set up, a little formality, a step BEFORE the real step. The goal of the game is to cause some damage. The jab is simply a tool to open the door for your combinations, so don't pay too much attention for it. Use the jab as a set up, but keep your eyes on all the other punches that come after it.
The jab should HELP, not hinder your combinations!