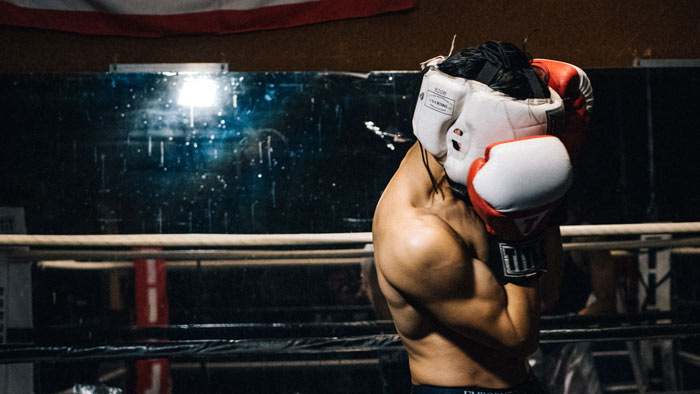 Defensive boxing strategies to keep you from getting knocked down or knocked out!
Yes, there are actually strategies to keep yourself from getting knocked out! And it's more than just common advice like keeping your hands up, doing neck exercises, or moving your head all the damn time.
We'll go over the most common knockout punches, what angles to look for, and the punch timings to be most cautious of.
Follow these simple steps and I promise you not only much higher chances of staying upright, but also a newfound confidence of knowing how to avoid knockout punches.
The FEAR of getting knocked out
I'm not gonna lie. It sucks to get knocked out! You can feel it. I've never really been knocked out and even still, I'm deathly afraid of it happening to me. Dare I say it, I think the fear of getting knocked out is probably worse than actually getting knocked out.
In fact, the fear of getting knocked out will change your style. It will definitely affect you as a fighter, especially if it's happened before. Part of me wonders whether that fear will help you or hurt you in the ring. Part of me wonders if that fear might make you even more susceptible to getting knocked out.
And for those who HAVE been knocked out…it's a number of things. Sometimes it's physical pain but it can also be psychological pain. The humiliation and embarrassment. Maybe the other fighter talked a lot of trash. Or maybe you got knocked out in front of all your friends and girlfriend/boyfriend…ARGHHH!!! SUCKS!!!!
The right amount of cautiousness
I believe there's a right amount of cautiousness your opponent's punches. The first step is to respect your opponent and keep yourself defensively-responsible. The second step is to learn how to see incoming knockout punches, to swim with them, even get comfortable with them. And the final step, is to use them to your advantage!…countering your opponent's knockout punches so you can knock them out!
Steps to overcoming your fear of getting knocked out:
Respect your opponent
Keep your defense
Detect knockout punches
Get comfortable with them
Counter them!
COMMON knockout punches (angles & timing)
https://www.youtube.com/watch?v=52oSIeR-fTY
Here's a good video of many knockout punches. What patterns do you see?
Now I know there's a ton of knockout punches out there but I really only want to cover the most common ones. I'm not gonna cover any flying uppercut knockouts or jab knockouts, or any of that other circus stuff.
1. RIGHT-CROSS over the jab
This is one of the most basic counter-punches and still causes many knockouts to this day. It is so incredibly simple and works at all levels of boxing (amateur vs pro) and at all points of the fight (early-rounds, mid-rounds, late-rounds).
One fighter throws the jab. The other one throws a big right hand over the jab. BOOM…knockout.
In case you need some clarification: the counter right hand is thrown at the SAME time as the jab (or can be slightly earlier when the jab is barely extending), not AFTER! Also, the head of the counter-puncher is slipping INSIDE the jab while landing his big counter right. This is not the same as a counter-puncher slipping OUTSIDE of the jab and then countering over the jab.
The counter right has even more even if the jabber is really stepping into his jab.
2. RIGHT-CROSS exchanges & LEFT-HOOK exchanges
These are BY FAR the #1 most common knockout punches. It is when two fighters exchange right hands or exchange left hooks, and one fighter gets caught hard. The combined momentum of both fighters turning their heads (and FISTS) into the punch magnifies the impact and almost guarantees a knockout! In fact, the ultra rare double-knockdowns and double-knockouts happen from these. That's how dangerous these exchanges are!
Right-hand exchange
There are several ways that this happens. Usually, it's because 2 fighters are throwing their right hands at the same during an exchange on the inside. Both are going wild and one catches the other as he's turning his head right into it. And then BOOM, his chin meets the incoming right hand. DEADLY!
Another way it happens is when one fighter slips the jab and then throws his right hand as the other guy is trying to follow up his missed jab with a right hand. The earlier-timed version of this is (the previous example) when the countering fighter is throwing his right hand over the jab, basically exchanging his right with the jab instead of exchange his right with his opponent's right. It's up to you (and your level of skill) to decide when to throw the counter-right. You can time it to land during his jab (a little early) or wait just a split second longer to land it during his right hand.
Left-hook exchange
Just like how you can get a deadly knockout while exchanging right hands, you can also get a deadly knockout exchanging left hooks. This can happen when two fighters are exchanging punches on the inside and one fighter lands his left hook first, or maybe they both land at the same time but one has better leverage or his chin is covered or tucked a little better.
Another way this left hook exchange happens is when the counter-puncher slips outside the right hand and then times his left hook to land right as his opponent is throwing the follow-up left hook. Keep in mind that for maximum effect, you want to throw this hook at the SAME TIME his hook is coming. Many fighters are anxious and try to hook immediately after slipping the right hand but it doesn't magnify the leverage and momentum. You want to wait just a split second longer to really get that POW at the right moment. Yes, I know it's scary since waiting a tiny bit longer means his hook has more time to get to you. For this reason, you gotta really keep your right hand up and chin tucked so his counter won't hurt you (as much).
There are some sneaky ways to really add ooomph to this counter. You can just throw it at the same time and keep your right glove up to protect your chin but a better tactic is how you slip his right hand. One tactic many fighters do is to slip DOWN or roll UNDER the opponent's right hand and then wait a split second from the crouched position. What you're doing here in this crouch is baiting your opponent's left hook to aim lower. And once his left hook aims lower, that is when you pop-up and hit him with your left hook. With this tactic not only adds power (since you're waiting longer for the right moment) but also keeps your safer since his hook will completely miss your head (since it's aiming low, and your head lifts up with your hook).
3. LEFT HOOKS to the body
Left hooks to the liver will do it for you! Yes, you can get body shots knockouts in many different ways (right hand to the solar plexus) or right hand to the stomach but for well-trained and well-conditioned fighters, the left hook to the liver is the deadliest one. You can hit the liver from the FRONT of the right side of the body (just under the ribcage), or from the SIDE or BACK. It all depends on what is available and where his right elbow is positioned.
Left hooks to the body are absolutely painful as hell. You're totally awake and conscious and feel like a bomb just exploded inside your organ. A well-placed one will leave you grimacing on the floor for a good couple minutes. It can also paralyze your legs so that you can't even get up even if you have the heart to resume fighting. It's commonly said that that body shots are far more painful than head shots. They're also often considered the only way to knock out fighters that have good chins.
Lifted right arm
This is when fighters are trading punches and the counter-puncher gets a direct shot to the liver because the other fighter's right arm is up and punching instead of down low and protecting.
Lowered right arm
This is when the opponent has his right elbow down and your left hook has to curve around it and hit the back of the liver rather than the front. In some cases the opponent's right elbow is down but more towards the back of the body and your left hook can still get a direct shot to the FRONT of the liver.
4. BLIND & FATIGUE shots
Blind shots
A blind shot for me is simply a shot that you didn't see. This is especially common early on in the fight when you aren't warmed up and haven't found your rhythm yet. You get caught with a lead right hand or left hook and you go down. Or can also be a surprise uppercut from down low that you just didn't see.
As the saying goes, "the ones you don't see are the ones that hurt the most". It also helps when the puncher is exception fast and powerful and the one getting punched is timid, totally cold and not warmed up. I've also noticed that even fighters that have their hands up can get hit by "blind shots". If anything, I feel them having their hands up may make them too comfortable and not cautious enough to watch for shots sneaking around their guard.
Another way you can get caught blind is if you get too over-anxious trying to land punches without first getting a feel for what kind of punches your opponent is throwing.
Fatigue shots
This is just like a "blind shot" but added that it happens in the later rounds when a fighter is so tired that even a half-powered punch can surprise him and knock him out. I feel like these kinds of shots were more common back in the days when fighters went for 15 rounds or even longer.
Nonetheless, it still happens. I'm sure you've seen it. Some tired guy is walking around and staying relaxed and then a quick little right hand or left hook gets in and he goes straight to sleep.
BASIC advice to avoid from getting knocked out
This advice is just common sense at best or counter-productive at the worst. I go over them because we hear them often and I want to address where I think they make sense and where I think they can leave you vulnerable. (I secretly want to call them "dumb advice" because they don't help you much against advanced fighters.)
As you read the basic advice below, you'll find they all fail in the same manner.
Basic defense advice doesn't help much because they don't focus on being able to see punches.
BASIC ADVICE #1 – keep your hands up
It's not bad advice. It's just that it won't help much at the higher level. If you have to rely on your hands for defense all time, you're not going to get very far in boxing. Why? Because you can't punch if your hands are always busy defending. And if you're not punching, then your opponent is punching! That's a shortcut to a loss if you ask me.
You should have the habit of keeping your hands up, but that shouldn't be your #1 focus. Instead, you should be focused on seeing incoming punches since that tells you exactly where to defend and where to counter-attack. In many ways, offense really is the best defense.
Another issue with keeping the hands up is that it can sometimes even blind you from seeing punches. Some fighters cover too much of their vision that wide hooks and uppercuts can get through the guard. If this happens, you're probably even more likely to get knocked out than lowering your hands a little so you can see your opponent better.
BASIC ADVICE #2 – box, don't brawl
Don't get reckless. Control your ego!!!
This is one basic advice that I actually agree with. It's just one of those stupid ego things that happens to many dudes. You feel super macho or WANT to feel super macho. You go in there to show how big your balls are and you get knocked out.
Maybe it's 2 fighters talking trash beforehand and they run at each other all too eager. Maybe it's one fighter who gets hit with a good shot who then wants to retaliate and leaves himself vulnerable in the process. Maybe it's a fighter who lands a good shot and now gets too eager to finish off his opponent that he leaves himself open in the process. Maybe the crowd getting excited can make you excited and over-aggressive.
Or maybe you're just so comfortable that you start showboating and dropping your hands. Or maybe you get bored (or frustrated) and start trying tricky shots that leave you wide open. Or maybe you keep doing the same predictable thing and your opponent finally figures you out.
Seriously, stay airtight. If anything, YOU can be the boring one. YOU can be the one lulling your opponent to sleep that he's one the tempted to take a risk. You stay chill. Let him try his luck! This is why many coaches tell you to "box him, don't brawl!"
I know some of you still can't help yourselves and you love to fight. Let me put it this way. You can be JUST as deadly by boxing. You can attack with the full power and aggression even by boxing. It's a matter of waiting and looking for the right moments instead of rushing them. Don't force your shots! Pay attention and you will notice tons of opportunities to shred your opponent apart (INTELLIGENTLY)!
BASIC ADVICE #3 – be cautious with your jab
The fastest knockouts I ever see are almost always when one fighter throws a knockout right hand over another fighter's jab. It usually happens early on in the fight when one fighter is being too relaxed and leaves his jab out there for just a second too long. Other times it's one when one fighter is just trying to set a casual rhythm that his jab becomes too predictable. And right as he's about to pump out another one at a predictable rhythm—BOOM!…he's out.
For the reasons above, you should always be a little cautious with the jab. Always know that many aggressive opponents are trained to counter your jab. First off, your jab should be sharp. Fast out and fast back in. Be careful with lazy jabs.
Another thing you should do is FEINT the jab. Don't be so predictable. Feint here and there just to see what your opponent was thinking to do. Honestly, the more I box the more I feel a feint is just as effective for setting up punches as a jab, and sometimes even more so if you have an opponent that's over-reactive to your movements.
BASIC ADVICE #4 – circle away from his power hand
I agree somewhat with this basic advice as well. If your opponent has one hand that's more powerful, you should always try to move away from his. If he's got a big right cross, circle to his left (away from his right hand). If he's got a big left hook, you circle to his right. The basic idea is that since you always going away from his power hand, he can't reach you as easily with it and he might not even throw it as much.
There are a few moments when I think you can go against this advice. One is when you want to counter-punch. It might be nice to go TOWARDS his strong arm so you can bait his power punch and then counter him.
Other times when you're on the defensive or trapped along the ropes, it might be easier to escape by sliding through and PAST his strong arm. The logic is that if he's throwing bigger punches with his strong arm, that gives you more room to squeeze through and evade while he's still recovering his punch and balance. Many fighters will escape out of the corner using this tactic. There are other moments where you might want to move towards his strong arm so you can clinch him on that side to prevent him from using it.
BASIC ADVICE #5 – move your head
Oh, here's another common "gem" [sarcasm] of defensive advice. Honestly, I think it's non-sensical. Any time I see a trainer yelling at a fighter to move their head, I want to yell straight back them!
The problem isn't that the fighter isn't moving his head. It's that he can't even see the incoming punches to know where or when to move his head.
Sure, you can keep moving your head automatically but it only burns energy, distracts your own focus, and won't do much since you STILL can't see the incoming punches.
Want to give truly actionable advice? Try saying things like:
Watch out for his left hook!
Pay attention to his shoulders/feet/etc. He sets them before throwing a big punch.
Watch out for habit of hooking after the jab.
He's trying to counter over your jab with his right hand!
BASIC ADVICE #6 – strengthen your neck
This is right up there with the crazy "strengthen your chin" ideas that some people have. You can strengthen your neck all you want. It still isn't going to help you see incoming punches. You're better off spending that time doing defensive drills on the mitts or light sparring in the ring.
Better yet, you won't have to strengthen your neck very much if you keep your head down and chin tucked in. Don't leave your head straight up in the air and your neck won't get tested. Simple as that. The more your neck is tucked, the less leverage punches will have on it.
Yes, you can still do some neck-strengthening exercises if you really have all that extra time but don't think that it actually helps at all if you don't have any defensive reflexes or awareness of incoming punches.
ADVANCED advice to avoid from getting knocked out
ADVANCED ADVICE #1 – train your eyes (and reflexes)
Fighters get usually knocked out because they don't know what punches to look for. It's not only the punches being thrown but the angles at which they are thrown. This reason alone is probably the cause for the majority of knockouts.
If you don't know what to look out for:
you don't know when to expect it
you won't see it coming
you won't be able to defend it
the punch will do more damage
Want to develop your eyes? Do more SLOW sparring and mittwork.
If you've read all my articles, you'll know that I'm a HUGE advocate of slow sparring. It really teaches you how to see punches because the punches are slower, allowing you to see punches earlier. You can detect punches before they're even extended and you learn the rhythm better. Best of all, your relaxed and not worried about defending so you have more chances to really pay attention to punches.
You should spar with all kinds of fighters as well. Tall guys, short guys, fast fast, slow, power punchers, volume punchers, aggressive, defensive, left-handers, etc. Really pick up on the nuances of all their movements. Get familiar with all kinds of movement!
You can also do tons of defensive coordination drills on the mitts. Practice avoiding numerous shots at a time. Practice avoiding counter punches after your combinations. Practice all angles and styles! Even have the mittholder standing from southpaw position as well.
Honestly, sparring and mitts is really the best defense for knockouts. The more punches and fighting styles you're exposed to, the more comfortable you will be in fights. You won't have to rely on "false confidence" or blindly following strategic advice. You'll know exactly what to do in the ring because you've been there before and already seen it before!
ADVANCED ADVICE #2 – keep your head forward
This a huge one for me. The position of your head greatly determines which angles your chin is vulnerable from. I'll start with 4 simple steps:
More weight on front foot. Either 55/45 (neutral) or 60/40 (aggressive).
Head slightly in front of your hips.
Chin down.
Head facing forward or mostly-forward!
If it isn't obvious, all of these steps make it so much easier for you to keep your chin down and head in a forward position. Why do these 2 details matter so much?
Having your chin down gives your opponent's punches less leverage when they land on your head. If your head was straight up, the punch would immediately transfer to the head and at a perfect angle to "snap" the neck.
But if your chin is down, that probably means your head is down as well. And if your head is down, then your neck is tilted…which means incoming punches don't snap the neck as much and the punch impact can actually disperse through your neck into your spine. Also, with a down-tilted head, incoming punches are more likely to land on the front and top of your head (the forehead is the densest part of your skull) vs the more vulnerable jaw and chin area.
Having your head in a forward position makes it less likely for frontal punches to knock you out. Having your head facing forward allows you to absorb straight rights and right crosses better than if your head was turned to the side. If you don't already know, punches to the side of your head can target your most vulnerable areas (e.g. temple, chin, or behind the ear). Taking punches from the side of your head is also more likely to spin your brain and cause a dizzying effect along with a possible knockout.
Sure, having your head forward will still leave you vulnerable to side-punches like left hooks… but we don't worry as much about those since you would be keeping the distance with your jab and have the right hand already up and protecting that area.
ADVANCED ADVICE #3 – don't turn your head
As I've already covered previously, taking punches to the side of your head will greatly increase your chance of getting knocked out. Now guess what's even worse than that? It's taking punches to the side of your head AS YOU'RE TURNING INTO THEM! [Yes, it really happens.]
So how do we avoid this?
We do it by not turning our heads so damn much!
And how do we not turn our heads so much?
Hehe, it has to do with how much you shift weight. I'm sure you've probably been taught before to shift weight on every punch. Maybe you were taught to shift weight alllllll the way from the back foot to front foot for right hands, and then from the front foot to the back foot for left hooks. And yes, it makes sense since shifting weight adds more power to the punch.
But honestly, you probably don't need to do that anymore. It's something coaches teach beginners to help them develop more coordination and engage their legs during punches. But once you already know how to coordinate your body into each punch, you don't have to shift so dramatically any more!
In fact, keeping your weight more in the middle and shifting less can actually make your punches more powerful! And also shifting less weight will make your punches and combinations faster. And even more, shifting less weight will make you less vulnerable to getting knocked out!
Here's why minimizing the weight shift minimizes your vulnerability:
If you're not shifting weight as dramatically, your head won't be carried back and forth so dramatically.
Your head also won't be turning from side-to-side so dramatically.
If you notice in many knockout punches:
The fighter turns his head away (probably during a jab or left cross), and then when he turns his head back to throw his right hand…that's when he's vulnerable to turning his head into a knockout right hand.
Or from the other side: the fighter gets knocked out when he turns his head into a knockout left hook as he's throwing his own hook.
Now the first one is totally avoidable. Just try not to turn your head away so that you don't have to turn it back to throw the right hand. Don't turn away during the jab (what many beginners do to add power to their "jab", essentially making it a "left cross"), also don't stand with your head already sideways (common with overly-defensive fighters standing too much sideways).
ADVANCED ADVICE #4 – fight IN-rhythm (not COUNTER-rhythm)
This can be the most basic or the most advanced advice of all in regards to avoid knockout punches. One of the best ways to avoid getting knocked out is to fight IN-RHYTHM. I know some of you don't even know what that means so I'll explain it below:
IN-RHYTHM – means to exchange punches from the mirror hand. You're punching from the right hand when he's punching from the left, and vice versa.
COUNTER-RHYTHM – means to exchange punches from the opposite hand. You're punching from the right hand when he's punching from the right hand, and vice versa.
OFF-RHYTHM – means you're not fighting in any rhythm whatsoever, your punches are landing at awkward intervals with your opponent's punches.
IN-RHYTHM punching is the absolute safest way to punch and defend during exchanges. I'm sure you've seen it before, 2 fighters trading punches on the inside and it seems like they're both rolling with the punches. In fact, if you've ever seen the shoulder roll…you'll see that it's very smooth and easily rolls off the punches because the body is moving IN-RHYTHM with your opponent's punches. You'll see that your left shoulder is coming forward "punching" as his right shoulder is "punching".
It's easy because you just keep your head on the INSIDE of punches and roll your shoulders to deflect them. You'll notice many old school, slick fighters, or inside-fighters do a lot of in-rhythm timing to conserve energy and stay safe without much effort.
COUNTER-RHYTHM punching is the most dangerous way to punch and defend during exchanges. If you think about it, it's basically 2 fighters trading right hands and left hooks until they knocked each other out. As you already know, the most dangerous exchange is the right-hand exchange and the left-hook exchange.
Defending with a COUNTER-RHYTHM is also the most dangerous and more difficult since it means that you're slipping to the OUTSIDE of punches. (Think about it: with slipping, your right shoulder is coming forward to slip when his right shoulder is "punching"). And slipping is risky since your head always has to cross the path of the punch. If you unluckily get caught, it's the perfect momentum to knock you out! In any case, you'll notice many fast fighters or power punchers love to use the counter-rhythm since it sets them up for devastating counter-punches.
OFF-RHYTHM punching is another dangerous way to punch and defend. Many tricky fighters or awkward fighters like to use a weird herky-jerky rhythm that's kind of spastic and doesn't follow any particular rhythm. Sometimes the off-time rhythm is used on purpose to confuse opponents; other times, it's just because a fighter is naturally awkward.
It's great since you can surprise your opponents by moving off rhythm and potentially knock them out but you might also get caught at an off-rhythm and get yourself knocked out.
ADVANCED ADVICE #5 – learn to fight inside
Honestly, I think inside fighters are the best at not getting knocked out. It takes a lot of skills and smoothness to be comfortable up close. You have to really be comfortable with evading punches and you'll quickly learn how to catch your opponent's rhythm on the inside to roll off all his punches. Inside-fighters are usually masters at blocking, rolling, slipping, clinching…basically all the skills you need to avoid punches!
It's such a useful instinct that many fighters don't even bother to learn. And it's ok. For some really fast or long-armed fighters, they can just stay out at range and box with constant speed and footwork. I guess there's no need to get close if you don't have to, right?
Oh, and there's a difference between being an "inside fighter" vs just some crazily-aggressive dude trying to go forward. An aggressive fighter is just someone who likes to get close and throw many punches. A true inside-fighter is someone who is truly comfortable in there. Can attack, clinch, or even just defend and roll around on the inside without throwing any punches.
I don't have time to explain it all in this guide but you can start here:
MAIN REASONS fighters get knocked out
It almost always boils down to fighters not knowing what to look for, constantly putting their head/body in vulnerable positions, getting reckless or getting tired. Any one of these things or a combination of them is usually what leads to them getting knocked out.
Some old adages:
Don't follow a puncher.
Don't throw lazy jabs.
Don't trade with a puncher.
Don't hook with a hooker.
Circle away from his strong hand.
Roll with the punches.
If you can train intelligently, fight smart, and resist your ego's urge to make risky decisions, you will be alright!
Want to learn how to GET the knockout?