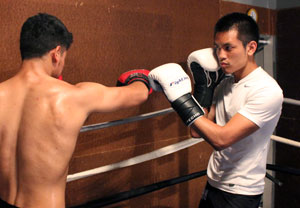 Learn how to deflect your opponent's attacks using his own momentum to leave him open to your counter-punches. Here is the ultimate guide to parrying punches!
What is a Parry?
parry – a defensive movement to deflect a thrusting attack
The word "parry" comes from fencing. To parry an attack meant to deflect the attack by using your sword to divert the opponent's sword in another direction.
Why Parry in Boxing?
In boxing, parrying is a beautiful defensive move that uses your opponent's momentum against him. Parrying is a superior defensive move to blocking because it offers more protection while creating better counter opportunities using your opponent's energy. The more your opponent overcommits into his punches, the more effective your parry will be. As you face stronger opponents, blocking becomes a less likely option. Blocking still absorbs partial damage whereas parrying can deflect the attack away entirely.
Parrying is superior to blocking, defensively AND offensively.
Parrying a punch allows you to defend against stronger punches, while setting you up for a better counter. Instead of absorbing your opponent's power into your arm, you're deflecting it elsewhere to make him off balanced and vulnerable. You're also leaving your hands free to counter. Covering your face to block punches would have occupied your hands AND your vision.
After you've learned how to block punches, parrying becomes the next level of defensive skill.
How to Parry a Punch
You may have seen the parry before or had your trainer try to explain it to you. In case you didn't, here it is in full color pictures and video. YAY!
Down Parry
The down parry is a simple downward slap of your palm over your opponent's glove. The punch is deflected downwards away from your face giving you a counter opportunity over the top.
Down parry against the left jab.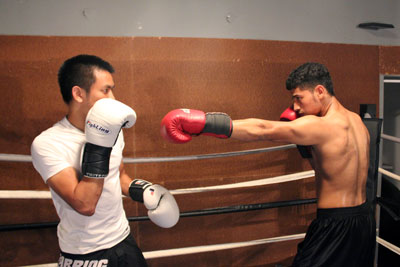 Richard throws a jab at me.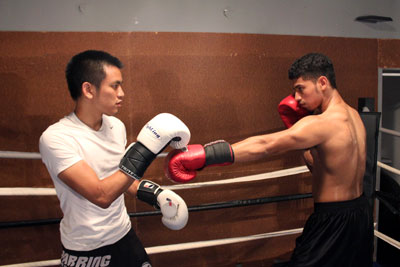 I parry the jab down with my right hand, opening my opponent for a counter jab, right, or 1-2.
(Keep your right hand as close as possible to your face.)
Using the Down Parry
The down parry is the easiest parry to learn. It's effective against many punches and requires little movement. After you parry down an opponent's punch, you can throw counters over the top. (Try this: If your opponent throws a 1-2, you can parry twice as you counter with a 2-1. Just slap his punches down and counter over the top!)
Side Parry
The side parry is a sideways push against your opponent's glove. Side parries will deflect punches to the side as you counter and/or escape from the outside.
Side parry against the right hand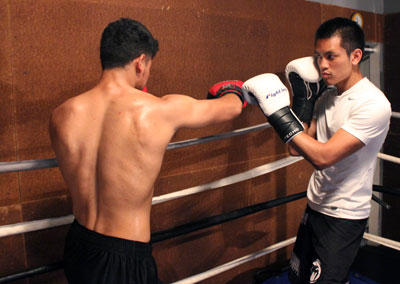 I parry the right hand to the side. I can counter with a left hook or pivot to the side to escape or get an angled counter.
Using the Side Parry
The side parry can be more effective than the down parry against stronger punches. Parrying down a hard punch might direct his punch to your body, still causing damage. By parrying the punch to the side, he will miss you entirely giving you more time to counter.
The side parry can be very tricky to use. The jab might be too fast to side parry whereas the right hand may be too risky to side parry (if you miss the glove, you take a big punch). Some fighters will prefer to deflect the right hand with their shoulder or their forearm instead of using the glove. I'm sure you've seen this "shoulder roll" technique used before by defensive wizards such as James Toney and Floyd Mayweather. Nonetheless the side parry is stil a beautiful defensive move to use once you have perfected it.
TIP: the side parry works beautifully against southpaws. Push the southpaw left to the side with your right hand, and follow up with a counter right or counter 1-2. (It also helps to slip your head to the right as you do the side parry.)
Forearm Parry
The forearm parry uses your forearms to deflect the punch upwards or to the side. A well-timed upwards bump of your forearms will send the punch up and over your shoulders. There are multiple variations for the left forearm and one variation for the right forearm.
Right Forearm Parry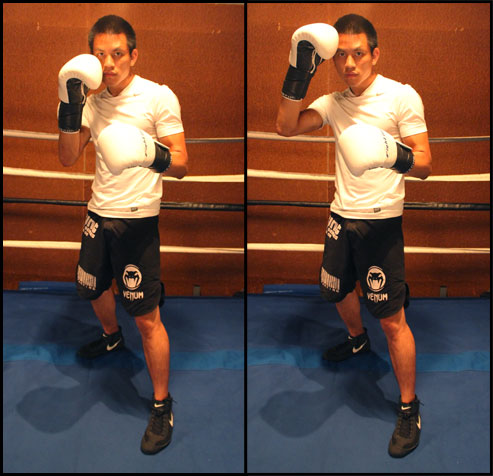 The right forearm moves up slightly to deflect punches upwards or to the side.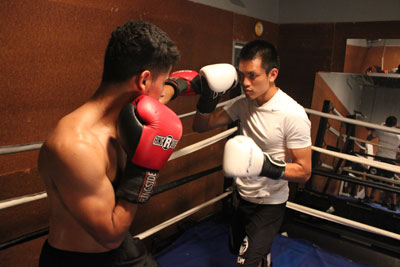 Deflect the jab off your forearm and counter with a jab, right, or counter 1-2.
Another way to use the Right Forearm Parry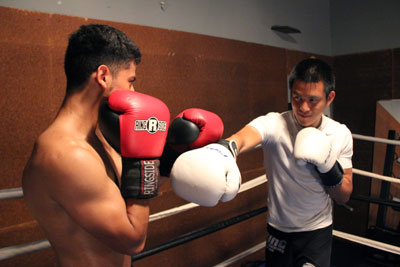 Sometimes when I miss a right cross…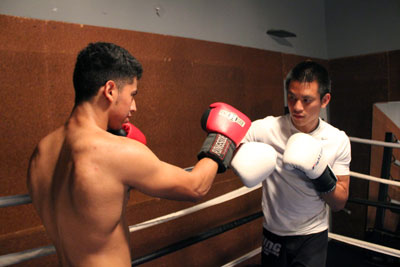 Oh crap! Here comes the counter right!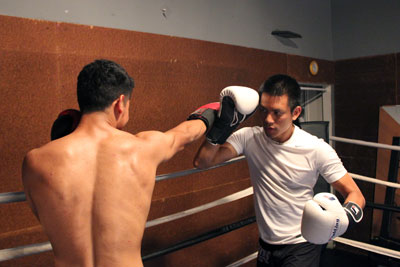 Instead of trying to cover my face, I pull my right hand upwards deflecting his counter as I attack with a left hook.
Left Forearm Parry – OUTSIDE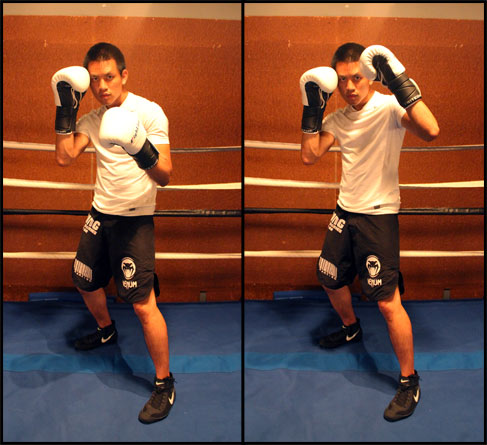 The left forearm moves up slightly to deflect right hands.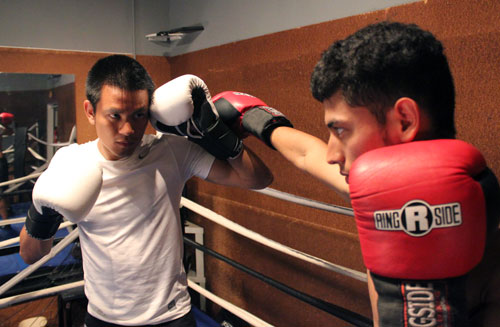 I deflect right hands to the outside opening the path for a counter jab, right hand, or 1-2.
Left Forearm Parry – INSIDE
For the inside forearm parry, roll away from the punch as you deflect it with the forearm.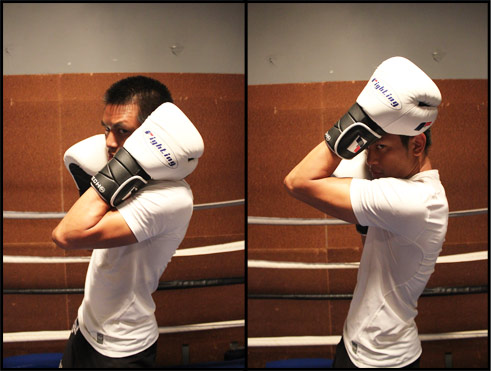 Notice the two variations to this. You can look OVER the forearm or UNDER the forearm.
As one of my trainers Rick said, "Touch your ear or touch your forehead."
(Thanks, Rick for showing me both of these!)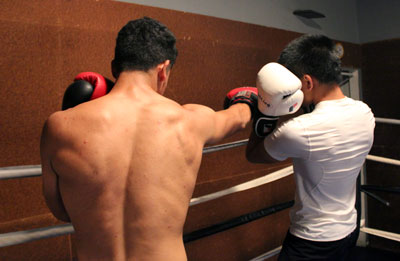 I roll to deflect the right hand to the side which sets up my counter right. I lean my body into my front foot to keep my opponent in range.
Using the Up Parry
You have to be careful for hooks that might come around your guard. The up parry works best for really straight punches. A friend of mine recommended to step in while parrying a right hand. He told me this shocked his opponents when he ended up inside their punch and landed devastating counters.
If you're doing the left forearm INSIDE parry, remember to roll away from the punch but move your weight to your front foot. The roll helps to deflect the strong force of the right. Keeping your weight on your front foot leaves you in range to counter instead of being knocked backwards. This parry is also very handy to keep in mind when you throw your right hands. If you sense a counter right after you throw your right, you can deflect his right with your inside parry.
Circle Parry (long parry)
The motion of the circle parry is taken almost literally from fencing. You use your forearm to wrap around your opponent's forearm deflecting his punch to the outside with a circular motion.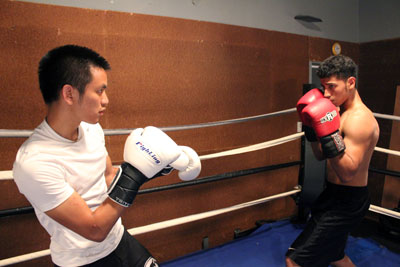 The circle parry is best used at long range.
I circle parry the jab down and out to the side. This peels his shoulder away from his chin, leaving a hole for my straight right hand on the inside.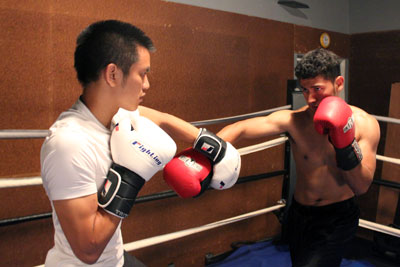 I circle parry the long right hand by deflecting his arm down to the outside. Notice the circular motion of my forearm around his (like two swords). I can easily circle parry all punches if he throws from too far.
Using the Circle Parry
The circle parry is easier to do if you float your hands in the air at long range, like a cat pawing the air. Try to counter with the same hand as the deflecting hand. Using the circle parry at long range can make it difficult for your opponent to get into range. At close range, you can use the circle parry to guide punches under your armpit and counter up the middle. Or you can also use the circle parry at close range to dig your parry arm into an under clinch.
Low Parry
To do a low parry, you swing your forearm down in a half-circle to deflect a low punch. It is commonly taught in many other martial arts and also quite effective for boxing.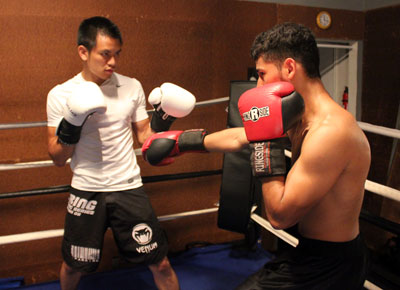 Richard throws a low punch to my body.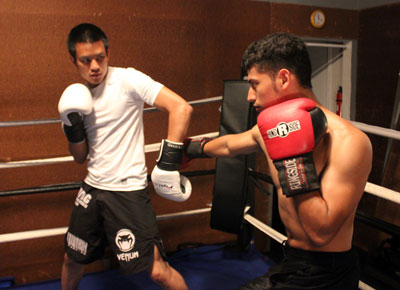 I swing my forearm down sweeping the punch safely to the side.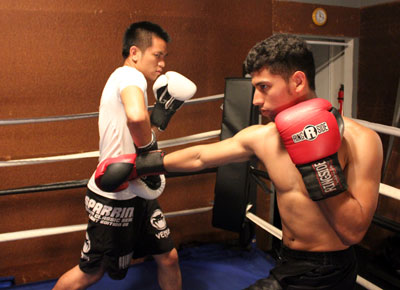 I can also deflect the punch with my other arm so I can move to the outside for a better counter or escape.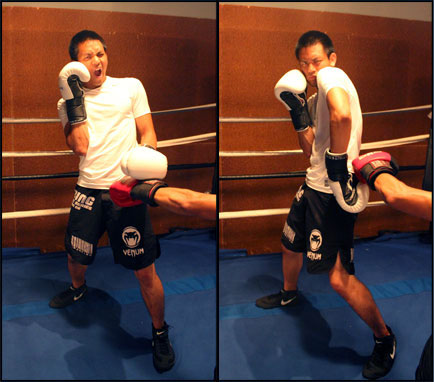 Down Parry vs Low Parry for low punches.
The down parry deflects the punch into my balls or 

leaves me open if I get faked.

The low parry completely sweeps the punch to the side.

The low parry can protect against low blows where the elbow can't reach.

The low parry swings my elbow and shoulder into a more defensive position, leaving me less vulnerable.

You can hit sweep the punch using your palm (like I did) or with the edge of your wrist (martial arts style), it doesn't matter.
Using the Low Parry
The low parry is effective against low blows, which are too low to deflect using the other parry methods. If you're taller than your opponent, you can use the low parry against all your opponent's straight punches.
Once you master the low parry, you can do same-hand parries which means to use your right hand to low parry your opponent's right hands and vice versa. Same-hand low parries will allow you to escape to the outside and counter with your free hand. It can take you a while to master this.
Parrying Tips for Boxing
Treat the Parry as a Shifting Guard
The best way to learn the parry is to treat it as an advanced block. Don't make too much arm movement, learn how to block punches first and slightly shift into the parry. As you get better at reading punches, you can make bigger motions and guide your opponent's punches further away from you. For beginners, I suggest keeping a tight defense and doing only SLIGHT parries.
Don't Chase the Punch
Don't chase the punch, let it come to you. Don't let your hand get too far from your face. You'll be vulnerable if your opponent throws a feint. Many beginners will slap down wildly and expose their head when I fake the jab.
Parry Straight Punches ONLY
Parry the STRAIGHT PUNCHES.
The parry technique is best used to deflect forward-thrusting attacks away from you. Parrying a looping punch like an uppercut or hook is very dangerous if it loops around your arm. Looping punches will always swing through; no parrying needed. Just get out of the way and counter after they pass through. Have a great counter that works off the parry? Open your gloves and show your face to bait the straight punch.
Don't Parry the Small Punches
Remember that parrying is more effective against the bigger punches. Don't try to chase down smaller punches unless you intend on countering. You don't want to leave yourself open for a big punch because you were busy swatting at small punches. I like to block small punches to bait my opponent into committing a big punch.
BLOCK the small punches; PARRY the big punches.
Don't Cross Parry
Don't parry your opponent's right with your right and vice versa. Cross parrying leaves you open on the side as your opponent attacks with his other hand. You should parry left-handed punches with your right hand, and parry right-handed punches with your left hand. You will also counter with the same hand that parries since your opponent is probably open on that side. (This rule can be broken once you get master parrying.)
Counter Immediately
Try to counter so fast that your opponent won't remember your parry. Your want your parry trick to work the entire fight. Imagine your parry as the first punch of your combo; like (parry-2-3-2). Some guys admire their parry too much. They'll ride the parry for too long and miss their counter opportunity.
Early Parry (advanced)
Once you get really comfortable with parrying you can relax a little more. You don't always have to be so sharp and wait for a punch to come to you.  The pros often hold their hands out to preemptively deflect punches as they move away.
You can parry before your opponent even throws a punch. Hold your hand out right in front of his to deflect his shot as soon as he throws it. It's a clever move to control your opponent at close quarters. Sometimes I slap his glove down and punch right over it.
Switch-Stance Parry (REALLY advanced)
This is going to look like a bunch of kung-fu but bear with me. I've seen it done by many experienced boxers. The switch-stance parry means for you to move backwards switching back and forth from orthodox to southpaw as you parry punches. It's a great way for you to combine footwork with parrying to give you better counter-punching angles as you back away elusively. (Plus, you'll look cool!)
Here's a quick demonstration of the switch-stance parry: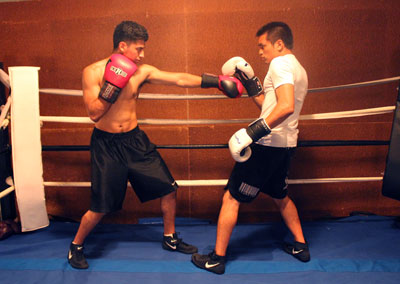 Richard attacks me with a high jab which I down parry.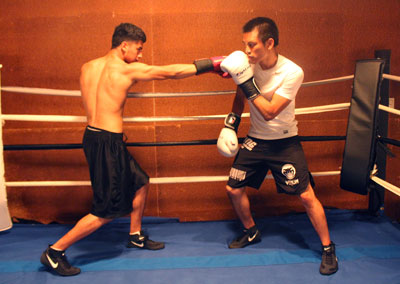 I step back into a southpaw stance deflecting the follow-up right hand with a side parry. I can counter with a southpaw left cross from here.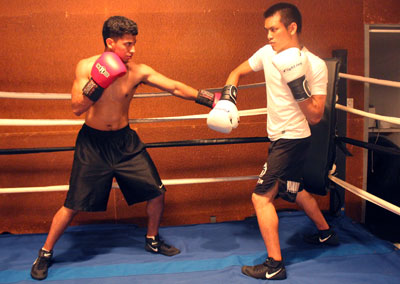 Or I can also back up again deflecting the next shot with a low parry.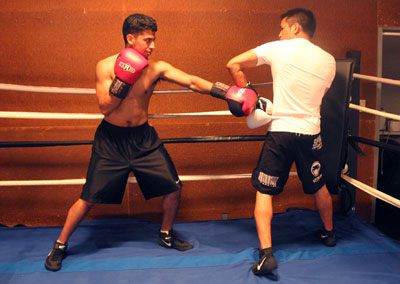 ALTERNATIVE: I low parry with my left hand instead of my right, which allows me to escape outside to the right.
Don't wait to parry several times in a row, counter as soon as you can. I've seen guys switch stance 3-4 times in a row parrying entire combinations like a Bruce Lee movie. It's insane. The examples above are just examples. You can parry any way you want. I recommend you not to try this until you're super good.
The Beauty of the Parry
The parry creates openings in your opponent
using his own momentum!
The more power your opponent commits to his punch, the more vulnerable he will be. You're taking advantage of his punches not by stopping them, but by guiding them off target. A quick wave off the hand deflects the punch and creates the opening all at once, while leaving your hand free to counter. It's clever boxing.
Great boxers don't block punches,
they avoid them entirely.
At the higher levels of boxing, it's just not possible to block punches. Could you ever imagine yourself blocking a hammer with your hand? I wouldn't either, and believe me, the top fighters punch just as hard as a hammer. Even when you see pros blocking punches on TV, they'll still slightly parrying or rolling the punch. It's crucial to learn how to deflect punches or avoid them entirely. Once you've mastered the art of parrying, you'll naturally move on to slipping.
Ready to learn how to slip?