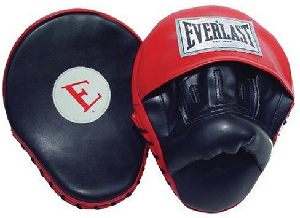 A quick review about why nobody should ever buy these punch mitts for any reason whatsoever.
To make things short. These mitts are easily the worst boxing products I have ever bought. They only further the myth in the boxing community that Everlast only makes crappy products. These mitts fail in two areas: 1) they suck at absorbing punches and, 2) they fall apart VERY QUICKLY.
I've only logged about a few hours on these mitts before the leather inside started tearing apart. In terms of durability, this is completely unacceptable. I can't believe they would actually release a product this bad into the market! It's not like any of my friends had previous boxing experience and it's not like anybody is hitting very hard. I was holding these up for GIRLS to hit. In terms of performance, they also failed because my wrist felt the impact of every left hook. 
I won't drag this on any further, just don't buy these ok? I wouldn't use these even if they were free, that's how bad they were. 
PS: For those curious enough, you can read more bad reviews here.