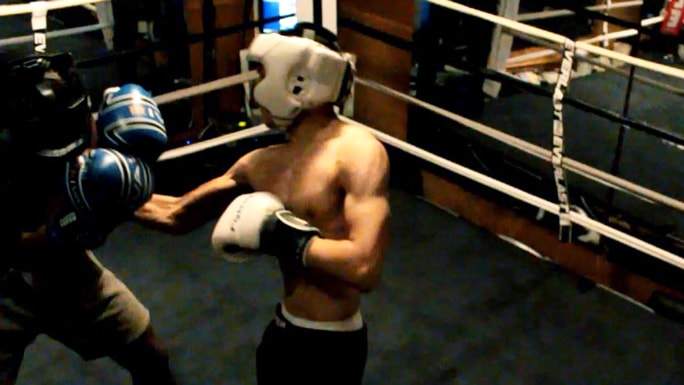 How to throw (AND LAND) body punches with devastating effect!
Body punches are one of the deadliest weapons in boxing, and yet they're still under-utilized by even top pros in the game today. You would think every fighter would add soul-snatching body punches into their game but very few ever do.
Why is that?
It's because body shots are tricky as hell to throw. You need incredible timing just to land the shot, and then there's all this stress about not getting hit in the face when you lower your hands. It always feels like a risky exchange and for that reason, most fighters just "play it safe" by sticking to head shots.
Today, we will focus on the timing you need to LAND crippling body shots!
Why throw body punches?
Growing up on head shots
Growing up, I never dreamt of body punching. I didn't see them glorified in movies and they weren't shown as much in boxing highlight reels either. Everything was about flashy knockouts off the head. Head shots seemed to be the one and only way to destroy an opponent quickly.
"The chin was the bullseye of the human body."
I'm sure I wasn't the only one. Most people aren't able to see body punches. They don't see the setup, they sometimes don't even see the shot. Unlike Tyson leaping across the ring with neck-snapping head shots, body shot knockouts just look like a guy getting stomach cramps.
Body shots are not easy and clear to see! Much of the time, the body shots you DO see are on a losing opponent getting battered along the ropes. These videos make body shots look more like finishing punches rather than strategic punches. It's no wonder so many fighters misunderstand body punches.
Starting out in a Mexican gym
My first gym was a rough-and-tough Mexican gym with all the trademark Mexican boxing qualities—hard sparring, fierce exchanges, and yes—LOTS of body punches!
The moment I actually started sparring, the allure of the head shot almost disappeared for me. In an actual gym against trained opponents, you'd have to land at least 20 solid head shots before there'd be any chance of a knockdown let alone a knockout. Whatever fantasy you had of being the next Mike Tyson quickly goes out the window in the real world.
Wearing headgear, head shots don't do the same damage like in the movies. Head shots also don't work so well on Mexicans. Mexicans have granite chins and fantastic head movement (despite what their stereotypes may claim). They fight more in the pocket than anybody else, and exchange punches willingly (almost addicted-ly).
Taking my first body shot
I got paired up with a fighter named Rigo one day. Some Mexican kid who looked like a nerd with his glasses on but transformed into a calculated killer when he took them off. As with many opponents I had to face in that gym, he was bigger and more trained. I had speed, power, and newb courage.
I went right at him in the first round landing a few flush head shots. It seemed my speed was overwhelming him as he backed slowly into the corner. Right when his back touched the ropes, the trap was set off. But it was HIS trap and not mine. As I ran in for the kill shot, he deftly leaned back and came back with a huge right hand counter to my face.
Oh, but I had a chin! I took the shot no problem. If anything, it only made me smarter and more emboldened to reach him on the next try. Nothing to fear, I thought. I feinted a few times and lunged in again. This time, he dipped under and threw a hard right into my stomach.
I took this shot ok, too. I didn't keel over or roll on the ground like I was on fire. I stayed standing, but the shot made me pause to think about my stomach. My mind started doubting itself and for just a split second, I was tamed. I stopped wanting to run in on him. I started giving him space and whenever he attacked, I got careful. By the 3rd round, I had completely lost control of the fight and eating dozens of shots to the head and body mostly because I was still cautious of that early body shot.
Body punches cripple the body and soul!
I didn't know it at the time but I was lucky to stay standing for my first hard body shot. Most of my friends recalled their first body shots as embarrassing knockouts. There's the impact, the loss of breath, massive internal pain, and the familiar 5-minute fire drill on the canvas.
That's the unseen magic of the body shot! They are demoralizing, crippling, and sometimes lead to easier knockouts than head punches.
And lastly, I learned to box in a predominantly Mexican gym, where you witness very quickly how important body punching is. Everybody knew body punching paid off in boxing. Even if you don't get the liver shot knockout, body punches still bring results. They cripple your opponent, slowing his legs, and taking power off his punches.
Advantages of Body Punches (over Head Punches)
Can distract or cause opponents to lower their guard, further setting up head shots.
Causes long term damage – the pain/soreness will last an entire fight; head punches recover faster in between rounds.
Reduce opponent mobility – shots hitting the organs or core muscles will sap a fighter's endurance and ability to breathe/move. Great for slowing down faster fighters.
Can hurt fighters that have great chins.
Can hurt taller fighters with long torsos.
Extremely painful – great for hurting opponents and making them fearful of you. Can back off stronger/aggressive fighters.
Permanent knockdowns – can paralyze strong/brave opponents that would normally get up from head shots.
Useful tactic against opponents with good head movement.
Critical skill for inside-fighting, where you don't have as much space for head punches.
You might randomly hit his head (if he ducks), or even his hips (causing more pain). Don't be a dirty fighter, now!
Can make opponents more defensive – they keep their arms pinned more, throwing less punches and giving you more freedom to move around.
"Chop the body and the head will fall!" – old saying in boxing
Are you inspired yet?! Let's get started!
HOW to Throw a Body Punch (technique)
Without going over entire punching techniques in this guide, I present you some key tips below…
Eyes Up 
Here's Body Punching 101—don't look down at his body! This is like the #1 most obvious noob mistake in the world. Looking down makes it so obvious what you're thinking about. Keep your eyes on his face or even chest area (if you like staring there). If you want real advice, don't look at his head either. Zoom your eyes out so you can see his entire upper body.
Stand Tall
The best body-punching position is more upright than you think. Unless you're throwing jabs to the body, just about any body punch you can throw will be much stronger AND have more reach if you stand upright like in your normal boxing stance. You'll also have better balance and be able to pivot or step away if you like.
"But what about leaning forward in the inside?"
I hate having to address this every time. YES, it's true that the pros and many inside-fighters lean forward for certain body punches (like the left hook to the body). There is a key detail—you still have to be relatively upright and your weight is more like 55/45. The way beginners typically do it is to lean over way too much off balance. Leaning over not only decreases power but also shortens their reach (aiming the upper-body down at the ground), makes them vulnerable to being pulled off balance or headlocked, and puts THEM in a position more vulnerable to body punches.
Last but not least, standing tall makes it harder for your opponent to know if you're going to the head or the body.
No Squatting or Ducking
Some fighters think ducking low helps set up body shots or reaches the body better. This is absolute nonsense; try it and see for yourself. The moment you squat or duck, most opponents' instincts are to immediately lower their guard (following your head). The moment you dip down, they'll focus even more on covering their body. Instead, you should stay high so the threat of head punches can create opportunity for your body punches.
Use the threat of head punches to land body punches!

Don't Reach
Don't reach! Bring him to you. Let HIM do the reaching. Whoever reaches will be the one stretching their body and providing the bigger target to counter. But here's the flip side, I don't want you to cower into a little ball either. The smaller you are, the more you'll feel like he's bigger than you, surrounding you from all angles. The idea here is to know your reach and not to extend yourself even an inch beyond that. Honestly, this advice goes for everything—head punches, too.
Loosen Up!
This is a HUGE ONE! You have to be loose, relaxed and willing to OPEN UP ON HIM. Throwing body punches requires you to split your arms, reaching around his guard as you expose your body up the middle. You cannot throw meaningful body punches while trying to block everything as a compact ball.
Some coaches are really gonna hate me for saying this…but stop trying to protect your chin! You cannot be curled up into a tiny ball; you have to let the arm out. Watch Mike Tyson or any pro you want and see how they look when they go to the body…their body is spread open with both arms swinging wide, with full leverage.
You have to OPEN UP, to throw body punches.
Confidence!
And this is the other huge tip. BE CONFIDENT! Try to think "CLEAN AND CONFIDENT", and NOT "speed and defense". This mentality has done wonders for me. You cannot be thinking defense when you attack. Just ATTACK and let the ferocity of your attack be your defense. (Your confidence and incoming KILL-ALL attitude should hopefully put your opponent on the defense so he doesn't try to counter you).
What we're trying to achieve here, if you ever had that feeling, is the "low-blow effect". Have you ever had an opponent try to punch below the belt? Most likely when it happened, you were only thinking about defense and not about countering him, right? I want you to have this same effect with your body punches. You should approach him with such intensity that he doesn't even want to counter—he instinctively only wants to protect his body.
How NOT to throw body punches
Funny but it needs to be discussed. The worst way ever is to follow your opponent around the ring, bobbing and weaving (in your best Jack Dempsey impression), and throwing non-stop punches at the body. Not only is it stupid and will make you eat a hundred punches to the face, you'll NEVER land a single body punch this way.
WHEN to Throw Boxing Punches (timing)
Let's cover the main body punches, how they're used, and the targets they're aimed at. Do understand there are many nuances to each punch and that every fighter has his/her own special way of throwing the same punch.
JAB to the body
Straight at the stomach with a down squat. 
Can hurt him, distract him (from head punches), or push him off balance (if he blocks it).
Can do it in place with a duck or step in with it.
Your head can be in the forward position or diagonal-forward position, but you'll probably get more power and pushing leverage if you turn your body more sideways (ducking your head down towards the side) while throwing this jab.
Best time to use this is when he throws a jab to your head. Other good times are when he's cautious and trying to duck head punches. Can also use when throws a left hook at you but be careful not to duck your head right into his hook!
Try not to look down at his stomach, keep your eyes on his eyes to disguise the level-change.
Straight at the solar plexus in between his guard. 
Can squat if you want or stay standing right up.
Can hurt him, bait him into lowering his guard, and also push him off balance.
Again, keep your eyes and energy up top like you're gonna punch him in the face.
Straight to his chest (splitting guard at center) or his heart (common opening in philly shell defense).
Can hurt him, knock his air out, or bait him to lowering his guard from his chin.
Can also confuse him whether it's a chin shot or high body shot. Mix it up and see how confused he gets.
If he's blocking with his hands at chest level, you can use this shot to distract him and then send the next one to his face.
Straight into his guard. 
Push him off balance, distract him, or pin his guard down (to create head openings).
Really helps to bend into your knees and push off with that left arm. Push him straight out. Try not to worry about the incoming counters and trust that your push will prevent him from getting leverage on the counter.
Into his shoulder. 
Not really my thing but I hear some pros do it against philly shell fighters. It can wear down the opponents arm and maybe even dislocate his shoulder.
I think it has more effect on heavyweights; for lighter weights, you're just asking to get shoulder-rolled and countered.
 Straight into his ribs (against southpaws). 
Go straight into his (right-side) ribs when he's in neutral position. Might help to throw or fake some jabs to his face first to occupy his right arm.
Or aim into his stomach/solar-plexus when he's throwing a left cross. This requires some timing and set-up of course.
LEFT HOOKS to the body
To his ribs or liver.
Throw it when he's guarding. Maybe try a few shots at his guard to keep him focused on blocking his face.
Or throw it as a counter against his right hand. This one requires a lot of timing and set-up to figure out where your head should be. (See my guide: How to Setup Hooks to the Body)
Also works incredibly well when he's ducking over. You just have to resist the urge to uppercut his head and instead, do a long reach around (almost hitting the BACK of his ribs). You can do this while leaning on his head, too—great tactic!
Stomach or solar plexus (during left hook exchanges). 
Can cause a lot of damage or push him off balance (even if he blocks).
You can also use it for catch-and-shoot tactics; quickly block his hook first and then return fire.
Again, don't be obvious by looking down at his stomach. Keep your eyes up top like you're going to hook him in the face.
Chest when he throws a left hook. 
Not as ideal as to the chin or lower on the body where it's more painful…but a nice consolation as you can knock the wind out of his chest or catch his chin if he tries to duck down.
STRAIGHT RIGHTS to the body
Straight right to the stomach or solar-plexus.
Incredibly painful! Can do it while he's guarding (if you make him block his face instead) but much better if he's throwing a right cross at your face at the same time (combining the momentum).
Dip into your knees a little if he's coming into you. Or you can stay straight up to get a little more reach if he's far-away. Slip your head to the side or tilt it down so you don't get hit in the chin.
Straight right to the ribs when he jabs.
Dip under and pop a sharp one to his ribs.
You CAN try a full power shot but if he reacts too quickly, you're better off shooting a right jab (more speed, and less power) to get there quicker.
This tactic works really well for the guys who stand sideways.
Straight right to the chest.
Doesn't cause as much damage as going to his solar plexus or stomach but can knock the wind out of him or catch his chin if he ducks/slips a lot.
You can sneak it through as he might be confused whether you're aiming at his chin or stomach. Mix it up to keep him guessing.
RIGHT HOOKS to the body
Right hook to his ribs when he jabs or blocks.
Dig a right hook to his ribs when he jabs or when he's shelling up.
There are interesting angles to get this shot through.
You can have your head at center, or leaning forward (making it feel more like a head shot), or leaning backward (becomes an uppercut).
Avoid squatting into your knees for right hooks to the body; it's not as powerful.
UPPERCUTS to the body
Dig into his solar plexus.
When he reaches into your space or leans on you in close, simply lean back or lift your head up and rip an uppercut up the middle.
Another way is to angle off to the side and then uppercut up the middle.
The key thing is you need him to lean on you…it brings him closer into your range, stretches out his torso making it a bigger target, and angles his body in a way where your uppercuts can do more damage.
Another tactic is to push back at him a bit to encourage him to push more into you…and once he does that, is when you make a little space and rip him with an uppercut.
These uppercuts work against either side with either hand. For example: if he reaches in with a long right cross, you can lean back to your right and try a right uppercut or lean back to your left with a left uppercut. There are many nuances to every punch so you'll have to test both sides to know which fits best for different situations.
Shovel hooks into his ribs.
Dig at his ribs when you get the chance.
This can be when you're trading punches on the inside or if he's shelling up for too long and giving you free shots.
Just watch out for his elbows! (You can easily break your hands hitting someone's elbows. OUCH!)
How to LAND Body Punches (strategy)
The #1 secret to body punching—TIMING!
Yeaup! Unlike any other punch, body punches have to be timed! This is because the arms naturally always cover the body. Fighters have to actively defend against head punches but not so much against body shots. Simply keep their elbows down and they're 85% safe already.
Sure, you could have power, speed, and accuracy…but all that makes no difference if you don't have timing. In fact, I probably didn't even have to tell you that. Some of you reading this already have incredible speed and power but still  somehow can't get your body shots in.
You cannot force your way to the body with speed and power. And unlike head punches, opponents can block your body shots with their elbows causing you lots of pain and even breaking your hands. You have to fire body shots at the right time for them to land. There is no other way!
INCORRECT timing for body punches
Most fighters throw their body punches too early or too late.
Most fighters throw their body shots too early or too late.
Body shots thrown TOO EARLY – the opponent hasn't engaged or punched yet, and body shots hit the arms.
Body shots thrown TOO LATE – opponent has already punched and retracted his arms. Again, your body shots will hit the arms here.
So which one are you?
Most aggressive or fast fighters tend to be too early.
They try to surprise opponents. They think throwing tons of punches or really fast punches will help squeeze some body shots past their opponent's defense.
The reality is they end up hitting the arms (even when the opponents aren't actively "defending").
Or they land the shot but the opponent's body and momentum isn't in the right place to cause maximize damage. And the moment they get tired, their shots have little effect without the proper timing.
Other issue is fast fighters sometimes move around a lot and fight at the longest distance possible, not planting long enough to dig body shots.
Most defensive fighters tend to be too late.
They like to block first and THEN counter. They think their evasive movements can set up body shot counters but the reality is they only get head shot counters at best.
Usually, they end up waiting forever and never get the opportunity. You must know that even the laziest defense has a pretty well-covered body. So what chance do you have waiting for openings? By the time you see the opening, it's too late (as the hole will close before you punch).
CORRECT timing for body punches
Imagine all body shots as exchanges!
You have to change your mentality. From now on, you have to think that ALL BODY PUNCHES ARE EXCHANGES! It's easier to land this way. Try not to think defense; keep thinking "trade" and with practice you will learn the perfect timing to land body shots without getting hit.
Here are the 6 different timings for body shots:
Shelled Sleeper
This is where your opponent is standing neutral and you pop him with a body shot before he notices your punch.
The key here is CALMNESS—not speed! So many guys try to race their shots around their opponent's shell thinking speed will get there before he notices but it never works.
The more anxiety you have, the more he feels it and responds defensively. Instead, just be calm and throw the shot with lowkey (calm) energy and you're much more likely to land. Notice how many body punchers are very calm, not fast! (Like Miguel Cotto.)
Beginners are almost NEVER be able to get this timing because they aren't calm enough to sneak one through. In my opinion, only pros are good enough to do this one.
Reactive Misdirection
This is where you use movement (like a feint) or even actual head punches to make him defend up top so you can go to the body.
Threaten him with a head shot and then dig to the body. Or just throw a bunch of head punches and then one or two to the body.
This is probably the only kind of body punch that beginners ever land, since it doesn't require much timing skill.
Even Trade (most important skill)
NOW we are talking about real body shot timing! This should be the first timing you master if you want to develop true body-punching skills.
The idea behind "even trade" is simple; you basically trade shot for shot. Of course, you try not to hit yourself but I find that focusing on defense hinders your ability to develop body shot timing. If you got the balls, ignore defense for now, OK?
When he jabs, either drop and jab to the body or fast lead right to his left ribs.
When he throws a right, either drop into a right cross to the body or slip and throw a left hook to his body.
When he hooks, hook with him and aim yours to his body.
Want to get crazy? See if you can time 2 body-shot counters perfectly with his timing. For example: when he throws 1-2-3 (jab-cross-hook), you let the first jab go (block or slip it), then drop and throw a counter right to his body during his cross, and then pop-up and dig a hard hook to his body when he throws his hook.
Early Trade (easiest to land)
Do this right and you'll terrorize all your opponents. Do it wrong and you'll get blocked and countered every single time. The idea is to punch at your opponent's body right before he punches. Theoretically, his body will be open if he lifts his arm to punch. Yes, it sounds crazy and requires a lot of faith but believe me it works.
The "early trade" tactic is very different from the "even trade" tactic in that you have to start punching first but then slow down your body shots to time it for the opening. Remember how I said earlier that most fighters are punching too fast to land body shots? So here's the crazy thing, you have to slow down your body punches just a tiny bit to time them right.
EXAMPLE #1 – (the old way) you would throw 1-2-3 as fast as you could and all punches went into his guard because you were punching so fast. Now with the new way, you throw a fast 1-2 but then slow down your hook to the body giving him a split second to try and counter you. Ideally what happens is he starts to lift his arm to throw a right cross counter and THAT is when your left hook smashes into his ribs. Sure, his right hand may still get off and hit you in the face but it won't have as much steam and even if it did, your hook probably interrupted his rhythm and gave you room for more follow-up punches.
EXAMPLE #2 – throw a 1-2-3 or just 1-2, and then hammer a right hand into his left side as you anticipate his left arm popping up.
There are so many ways to go about it. You can either throw quick head shots and then WITHOUT PAUSING throw a slow body shot. Or you can throw quick head shots then a QUICK PAUSE and then a fast body shot.
There's a lot of anticipation involved and you really have to figure out the timing that works best for each opponent. With practice, you'll learn to feel how much pause you need before your opponent reacts for his counter. Throw it too soon and he'll just block and won't open at all. Throw it too late and you'll score the body shot but eat a hard head shot. Throw it at the perfect time and you'll score a clean body shot AND take the steam out of his counter.
Late Trade (more defensive, but harder to land) 
This is like a catch-and-shoot tactic where you defend first before countering. It's the most defensive way to throw time body punches but hardest to land (since your opponent might close up by the time you punch). You have to be very reactive and clean to make it work!
You shell up (in defensive position), whatever side he hits you on is the side you counter from.
EXAMPLE #1 – you feel a punch on your left arm, then immediately counter with your left arm. The rhythm is "baBAM!" (immediately block-and-counter) and not "ba-BAM!" (block, then hit). The second one doesn't work because it's too slow and he's probably already pulled back his glove in time.
EXAMPLE #2 – other side now. You get in a blocking position and if right when you feel a punch on your right side this time, you immediately counter with your right arm.
EXAMPLE #3 – this time block several punches, then immediately counter with a hard body shot from the side he last touched. You don't always have to wait for his very last shot; you can interrupt him at any point in his combo.
Feinted Follow-up 
This is like the "reactive misdirect" tactic up above but you're using it right after a combination or punch exchange, when opponents are most reactive.
The idea is you guys exchange punches and on the exit, you lunge one more time at him. This causes him to defend, thinking you're going high but actually you go low.
EXAMPLE #1 – big punch exchange and as HE backs away, you jump at him with a big left hook or right hook to the body. You can see many many pro fighters doing this. Ricky Hatton will swing a body hook; Pacquiao does it as well. You can also see Morales doing it with a long straight right to the body. My general recommendation is to keep your head up (when you lunge in) and upper body upright so it looks more like you're going for the head. If you lunge in with your head low, opponents will naturally block their body (as their guard usually follows your head).
EXAMPLE #2 – big punch exchange and as YOU back away (assuming he chases you), you quickly turn back at him and fire a potshot to the body as he instinctively defends his head.
Important Skills for Body Punching
Head Movement for Body Punching
Head movement is absolutely critical for body-punching. Not surprisingly, many fighters can't throw body-punches because they don't know how to move their head.
Many fighters aren't good body-punchers because they don't have good head movement.
Think about it…
You can only hit an opponent's body is if his arms are lifted.
The only reason why an opponent would lift his arms is to punch.
Most punches are aimed at your head.
And if you're both punching at the same time, your head is most likely exposed.
Which means you have to defend your head when throwing body punches, WITHOUT using your arms.
Where does that leave us? Basically, you need some head movement to complement your body-punching. It's not only for defense but also for baiting punches (opening the door for countering opportunities). Otherwise, you'll get tagged to the head easily every time you try to go downstairs. I'll give you 8 head movement strategies to use…
Not moving the head at all.
I seriously hesitate whether you should learn this one first or last. I ultimately felt you need to learn it first because it sets up the confidence to do all the others.
You stand confident and stare at him straight in the eye, establishing your dominance while you hammer his body. If you do it right, he'll defend instead of going for the counter.
If you do it wrong, he takes the gamble and punches you right in the face.
Yes, it's difficult but you need to know when and how to stare him down. Maybe not chase him around the ring like a plodding madman. Instead, try some jabs or exchange some shots and then when the moment is right—you shoot him the "death-stare" and dig to his body as he instinctively blocks his face.
Ducking the head straight down.
This is actually more to do with your legs than with your head. Your head DOES dip a little bit but it's more like a slight chin drop. I don't want you to throw your head forward.
Basically, your head drops a level when you bend into the knees for the jab or right cross to the body.
Try if you can: don't stare at his body (telegraphing the shot), and don't over-bend. You really don't have to go that low, several inches is all you need. Your punch is more powerful if you don't drop that much.
Want to be clever? Or do you need more room to drop? Try to stand a little taller and bait him to punch higher at you first. This gives you room to evade without going too so low that your knees lose leverage (leaking power).
Head dip.
This may sound silly but I'm dead serious. Watch what what many inside-fighters do, they know how to dip their head forward (tucking their chin) and use their forehead as a shield on the inside.
ONE KEY TIP: learn to look through your eyebrows! This is the main difference from how the beginners do it vs how the pros do it. The beginners tuck their chin but end up looking at the floor and can't see their opponents' punches. The pros are dipping their heads but can see and react to incoming punches. Practice looking through your eyebrows when you shadowbox and hit the bags.
In case you don't know, the forehead is the strongest/densest part of your skull. You can much more safely take punches with it than with your chin. Watch how the inside fighters come in behind that forehead. It really works! Just a little dip of the head and you're pretty damn secure! (Beware, this tactic might be a risky idea for light-skinned or thin-skinned fighters who cut easily!)
Not only that but when the head is dipped, you're in an easier position to duck and roll under punches. It's much easier to go under from here than if you were standing straight up.
Your head can dip forward comfortably on all body punches except for uppercuts (which are easier with your head more upright or even leaning back).
SOME NOTES: the most key one is to dip your head when you throw the right hand to the body (or any right hand on the inside); this allows you to exchange punches much more safely and increase your chance of knocking him out. The other note is that dipping your head can affect your arm reach. Dipping the head forward may help with straight punches but shorten some hooks and uppercuts. Vice versa for when your head is more upright (or even leaning back).
Slipping the head down to the right side.
Pull it down to the side as you you throw left jabs or left hooks to the body.
You decide how low you want to go. Can be just a small slip to get past his jab, or a deeper bend to get under his left hook.
You also don't have to get totally under his left hook, you only need to drop your head just enough so that it grazes the top of your head (which is ok).
Slipping the head down to the left side.
You can also slip your head down to your left side. You can use this to slip INSIDE of jabs, or OUTSIDE of right hands.
I highly don't recommend slipping left against left hooks. It may feel like you're rolling off the shot but in reality, it ends with you being angled away and giving your opponent many free shots from your weak side (you end up being temporarily southpaw). It may sound weird but best way for slipping hooks is to slip right and throw the top of your head into the punch. NOTE: you have to be semi-crouched when you slip right against left hooks. If you're upright, it's dangerous and almost like you're throwing your face into his punch. (Probably best to watch videos of the pros.)
Head popping up.
On the inside when you're crouched or hunched a bit (head dipping forward), just popping your head up can be a slick defensive maneuver and provide angles for body shot counters.
Most like you'll be popping up with hooks to the body, usually left hooks. You can pop-up with a right hook as well if you stand more square.
METHOD #1 – you can pop your head up slightly simply by unbending your knees but keeping the hip dipped forward.
METHOD #2 – pull you head straight up (so it's not dipped anymore) by pulling your torso upright, knees can stay bent or straighten…however you want them.
Pulling the head to the back right.
This is for digging uppercuts or shovel hooks with your right hand. Pull your head to the far back-right as he falls/reaches in (missing), and DIG!
Your stance may have to adjust depending on your opponent's stance. If he's more square, then angling your feet can help make room for this punch. If he's more sideways, then you might have to square off more for this punch to reach easier.
Pulling the head to the back left.
Use this for digging uppercuts or shovel hooks with your left hand. It works best when he's leaning on you or reaching in with punches (falling onto you).
You might find this punching angle easier if you stand a little more square. You can also step back in this moment with your left foot to help create the angle. A small step is all you need, no need to make it flashy.
Footwork for Body Punching
Hot damn, this guide is getting way too long (the reason why it's taken me 6+ years to write from when you guys started requesting it).
Ok, there are many different footwork techniques and tactics to help you get body punches in. The way you stand greatly affects the kind of leverage you get on your punches and also how you control the fight on the inside. You have to remember that the inside-game (where you'll do most of your body punching) is game of balance more than anything. And without control of your balance, you will NEVER get a chance to throw those body punches—or at least not against the skilled boxers.
I'll write a basic breakdown for this today and do a more intense-one later!
NARROW STANCE – mobility, reach, energy-efficient.
The narrow stance (with feet closer together) allows you better mobility and uses less energy. This is probably the default stance for body punchers. Study the old school boxers and you'll see most body punching and inside-fighting are done from an upright position—not crouched over!
The narrow stance allows you to move in-and-out easier, also pivot much easier. And if you want a slight bounce in your footwork, the narrow stance does it better. Watch the old timers; many of them kind of walk around with their feet close and then maybe a little bounce here and there with their punches.
BTW, it is widely believed by skilled boxers that the narrow stance has BETTER BALANCE than the wide stance. Many beginners find this shocking as they usually choose the wide stance for better balance.
The narrow stance also has better reach simply because you're taller. You can reach him with more punching angles and also your back hand will be closer as well since the back foot is closer.
Being "taller" also helps with defense as your head is above his head (where he's not as able to see/punch) and so you don't have to worry about it as much when throwing body punches.
The narrow stance allows faster punches for me as well, especially with shoe-shine punches. I'm guessing it's because you have less distance to shift your weight.
Notable narrow-stance boxers – Duran, Toney, Ali, pretty much any old school guys you want.
WIDE STANCE – leverage, distance control, defense.
The wide stance (with feet further apart) allows you more leverage on your punches and to surround your opponent more. You should be careful not to over-do it. The pros on TV may look like they're standing super wide but they're not; they're only a little wider with maybe a slight more bend in the knees—no more than that!
The first thing that comes to mind is the wide stance is more planted. It allows you to sit down on your punches more and dig with more leverage from certain punching angles. If you're feeling especially powerful or like winging huge shots one at a time, the wide stance is probably better for it. If you want fast combo turnover on the inside, the wide stance is probably slower and more exhausting to do it.
The wide stance requires a lot of leg strength, which is why you only see it used by athletic guys. It burns a lot of energy and should only be used sparingly. This is also why you see more in amateur fights where they only have 3 rounds and most fighters are only going in-and-out instead of pivoting. The wide stance is terrible for pivots.
The wide stance is terrible for mobility but great for controlling distance. Offensively, you can square up with it to cut off the ring or trap a guy on the ropes (shutting out his exits). Defensively, you could stand sideways with it to make yourself farther away (using the front leg as an obstacle to prevent him getting closer).
The wide stance is usually terrible for reach but can give you better defense if you like ducking under. Widening your stance and bending into your knees makes it easier to get lower. There are more uses for it than you think. The obvious use is to get under your opponent's punches. The less obvious use is to pull YOUR body out of the way. For this reason, many short fighters like Miguel Cotto or Mike Tyson do this sometimes. It allows them to use their shortness to their advantage, lowering their body out of reach so they only have to worry about head punches.
BTW, getting lower doesn't help you reach the body easier! When your body is lower, all opponents will know to block their body more and won't have to worry about their head as much!
Notable wide-stance boxers – Rigondeaux, Canelo.
MIXED STANCE strategies – transitioning tactics
The reality is all boxers will mix both narrow and wide stances as they need. I put only a few examples below to keep this guide from becoming a book.
NARROW-to-WIDE transition tactics:
Cutting off the ring – use the narrow stance to follow him around, keeping him in front of you. Once you get him on the ropes, widen your stance and dig into his body.
Angle off the inside – use the narrow stance for inside-fighting, then quickly step one foot out or around him to dig at his body from a new angle.
WIDE-to-NARROW transition tactics:
Outside-to-Inside – use the wide stance to keep a distance, then step the back foot up to square off into a narrow stance and bombard him with body shots from both hands.
Escaping from the inside – use the wide stance to plant and trade punches on the inside, then narrow your stance to stand up and walk or pivot yourself out of range.
Arm-wrestling for Body Punching (on the inside)
One of the most annoying things you have to deal with for body punching (especially during inside-fighting) is all the arm wrestling that goes on. Instead of a clean distance where both of you race your arms back and forth, it always feels like your arms are forever tangled up or busy pushing each other off-balance. Even when you do get to punch, it's like you have to punch through a thicket of vines to get to your target. It's frustrating as hell, but you have to stay calm in these scenarios!
Body punching requires a lot of arm-wrestling skills!
The power punchers who like having their arms free to punch, will have the most problems with body punching on the inside. They are used to having space where their hand-speed, punching power, and explosive footwork can be channeled directly to the opponent. But inside-fighting (where most body punches happen) isn't like this at all!
When you fight on the inside, it's like a constant game of contact (not space or space). You have to imagine 2 gladiators on a tiny platform trying to push each other off. The more you try to make space, the less space you have and the more space your opponent takes up. Inside-fighting is very much the same. The more you try to make space and free your arms, the more he will be all over you and punching you from all angles. The only way to win is with superior control of balance on the inside! (Just like wrestling, ok?)
Default arm position – wrestling (not defending)
The first thing to understand is where you arms should be on the inside for body punching. If you think the best position for body punching is with your hands in front of your face, you'll be in for a rude surprise. That position, if anything, makes it easier for YOU to be the one taking body punches.
The better position is probably with your hands under your chin, around chest level, or even in a clinching position somewhere around your opponent's arms. Get used to having your arms more relaxed, lowered, and away from you. If you don't feel comfortable with both arms down, that's fine; try just one.
And again, I'm not advocating bad defense. You still have to move your head or find angles. You still have to be defensively responsible. Maybe have your hands up in some moments and a little bit lower in other moments. It's all about adapting to the situation and making calculated decisions, ok?
Punching at the arms
Biggest mistake in body punching: punching around the opponent's arms.
The biggest mistake in body punching for me is to try and punch around the arms. If anything, I try to punch right where their arms are. Why?…because THOSE are the spots that will be most open when your opponent moves his arms. Also, we instinctively defend the most vulnerable parts of our body, so you can bet whatever he's protecting back there will be a good [painful] place to hit.
I don't aim right on the elbow mind you! I aim right at the forearm, or right at the glove. Or right above the elbow. Almost anywhere on the arm, basically. Sometimes you hit arm, and other times—you hit exactly what you want to hit! (Just like with headshots!)
Punching inside the arms
Punching inside his arms can be done in two ways. One way is by angling off your body either to one side so that you can swing a hook right into the middle of his body (between his arms). The other way is like an intercepting punch, where your body punch is thrown inside of his arm when HE punches.
The concept of intercepting body punches can also be done in 2 ways. One way is to trade shots with the cross-arm. For example: he throws a left jab at you first, you drop into a body jab up the middle (going between his jabbing left arm and his right hand guard). Or maybe he's throwing a right hand at your head; you slip your head to the left (outside his right) while swinging a right hand to his body up the middle. This cross-arm interception tactic is great because the cross arm goes perfectly against his turning momentum, doing more damage.
The other way to use the interception concept is to punch with the mirror-arm. For example if he's jabbing at you with his left, you throw a body shot with your right—you may or may not need some head movement with this tactic. This intercepting tactic is also incredible when he's throwing body punches. Suppose he throws a left hook at your body, you could throw a right hook to his body (you need to be faster, of course) and intercept his punch while hitting him at the same time. It's not as easy as I say it, but now you have ideas!
Punching around the arms
Ok, yes, you CAN punch around the arms. This is probably a natural instinct for you already; your opponent blocks his body, so you punch around his arms/elbows to get to his body. The concept is simple but course, I have a few tricks to really make this work.
Many pros like to say, "aim just behind his elbow" and they make it sound easy. But when you do it, you ALWAYS HIT THE FREAKEN ELBOW!
The first tactic is to throw 1 or 2 punches at his forearm first. Try aiming right at the elbow (or the forearm right in front of the elbow, where it's less painful). This will train him to defend there. And then NOWWWWW, you throw another body shot but aim it a little further back…he'll mistakenly think his arm/elbow is in place to block but he's wrong! Teehee. (Btw, you can also try throwing slightly straighter shots at first to make him expect frontal body shots although he might shift when he sees the arm hooking around.)
Another tactic is to go "OVER HIM". This works surprisingly well. Instead of thinking that you are in front of your opponent and punching around his arms. Think that you are on top of him, like put your head over his shoulders or over his head (it distracts him into expecting front body shots, like uppercuts) and from here, you're in a much closer position and more able to hook over and around his arms into the back of his ribs.
I've also written other guides on setting up hooks to the body. Basic common sense…
Pushing with the arms
Classic tactic to frustrate opponents, keeping them busy and forever entangled in your arms. To free up your arms AND create openings on the inside, you have to get your opponents to invest their arms into doing anything other punching and defending. One of the best ways to do this is mess with their balance. When fighters lose balance, their instinct is to regain balance rather than to punch. (Even if they did punch, it wouldn't have much effect.)
Yes, use your arms to push and THEN you punch!
When you push, he instinctively pushes back.
When he tries to push back, you punch him in the body.
When he tries to defend his body, you push him again.
Repeat till he goes down. MUAHAHA!—evil laugh
CLASSIC ARM-WRESTLING TACTIC:
When he defends, you push.
When he pushes back, you punch.
Keep repeating.
Instead pushing, you can also pull with your arms. Read my Boxer's Guide to Inside-Fighting.
Fighting Strategy for Body Punches
Now we cover the overall fighting strategy on how to use body punches throughout the fight. Instead of just small tactics here and there, I show you the whole picture of how body punching can break down or control opponents over the course of an entire fight.
Early Rounds – body punching strategy
Body punches are incredibly useful during the early rounds to help you maintain an element of surprise and prevent skilled or fast opponents from getting too confident. During these rounds, I feel body punches should be used to either get a reaction (exposing his head) or as an investment for the later rounds (wearing down his body). They most likely won't cause much damage early on so be careful how you throw them.
Typical early-round body punching tactics are to mix in jabs to the body with jabs to the head, or to dig hard hooks at the body when he gets too close (keep him honest). You want him to feel like you can touch him anywhere at any time. Don't let opponents relax thinking it's only a headshot game. Also, throwing body shots early on can show that you're confident in your power and a very skilled puncher.
The biggest risk in the early rounds—AND YOU MUST BE CAREFUL—is to trade punches. The worst thing that can happen, and it does happen, is that you throw a jab or hook to the body and he fires a hard right to your head. Your head is especially vulnerable early on when you aren't warmed up yet and could easily be caught cold by a flash knockdown or even flash knockout!
The other issue (not exactly a risk), is that your opponent is probably too fidgety and anxious during the early rounds to relax into his timing. If he's really defensive early on, you might want to ease off on throwing too many body punches. You don't want to show him all your punches and get caught by a hard counter. You also don't want to overdo it with body shots, allowing him to score the more eye-catching head shots and winning the scorecards in the judges eyes.
Mid Rounds – body punching strategy
This is where the fun begins. With your opponent more loose and comfortable throwing punches, you now have more opportunity to get your body shots in. This is probably a good time to let out all your tricks and power punches. You should also be more warmed up now, accustomed to his power and habits, and less afraid of getting countered.
Time to let your hands go. Work that timing. Dig at the body. Sometimes you throw light punches at his body to open up his head. Other times, you snap sharp punches with perfect timing. In close, you dig hard at his body. Remember to have calm energy, and have your eyes and overall presence coming at his UPPER body when you throw body punches. Don't telegraph by looking down at his body or doing anything that makes him feel you're going below.
Heck, the same way we use body punches to set up head punches…you can do the opposite—using head punches to set up body punches! Pop-pop-BOOM! Pop-wait-BOOM! Get close, BOOM-BOOM-BOOM! Being confident in your attitude and demeanor is the best way to keep him in his defensive shell. If you throw those body shots (or any shots, really) without confidence, he's much more likely to take chances and counter you. Be assertive, my friend!
Late Rounds – body punching strategy
Body punches only have three main functions in the late rounds. Either 1) you've successfully hurt his body and know exactly which punches do the most damage, 2) you use body punches to set up head shots (and hopefully knock him out), or 3) you use body punches to stay busy on the inside.
The strategy changes a lot in these rounds because you're probably too tired to do much damage with body punches. Your arms and shoulders are tired and you either don't have the power or don't have the speed to land very many punches.
Head punches are probably the smarter option in these moments because he's more tired as well. Head shots can snap his head back more (catch the judges' eyes), more chance of damage when your arms are tired (even cause a surprise knockdown), and just overall looks like you're busier and more aggressive when everyone can see your arms extending towards the head (as opposed to towards the body).
Sure, you can throw body punches if you're up in close range or if you've been hurting him with them all along. In that case, fine, keep digging at the body if you're visibly hurting him or affecting him with those body punches. Otherwise, stick to head shots in the late rounds.
Disguising Body Punches
This is one of the hardest parts of throwing body punches for some people. It seems like every time they go the body, their opponents always pick up on it and defend them easily. Before I continue, please remember not look down at his body or crouch too much when you go to the body. (I know I said this 800 times already.) PS: looking down at his body 8 seconds before you punch there is still obvious, OK?!
Most obvious telegraphs for body punches:
LOOKING DOWN at the body, and CROUCHING.
If you're already avoiding those 2 obvious telegraph mistakes, your problem is most likely having predictable head movement: 
head straight up = head punches
head slipped forward = body punches
See how obvious that is?
You can fix that issue by mixing up the following positions and punches:
head punches from straight-up position – jab, cross, hooks, uppercuts, anything
body punches from straight-up position – jabs/rights to solar plexus, hooks to body
head punches while slipping the head forward (chopping rights, lead rights)
body punches while sipping the head forward (jabs/rights to the body)
head punches while pulling the head up (jab to the face, swinging left hooks, left uppercuts, right uppercuts)
Mix all that up and your opponents will never be able to tell if you're going upstairs or downstairs. Your head could be straight up but your hook can still reach their body. Your head might be low but you might fire up to the head from there. Make them feel exposed from everywhere no matter where your head is!
Any DISADVANTAGES to body punches?
It would be completely irresponsible of me not to validate the main concerns (and fears) of throwing body punches. I have personally felt the risks of throwing body punches myself and even been punished heavily for throwing them.
Here are ALL the concerns about throwing body punches!
Throw a left hook to the body, leaves the left side of your head vulnerable to his right cross. There's always this risk especially if you don't have a good chin. (It's no surprise that Mexicans, who have great chins, are also uninhibited body punchers.)
Throwing body punches drops your arms and shoulders preventing your punching arm from helping to defend against counter-punches.
Throwing body shots requires you to get closer (since your arms have less reach when you aim lower), putting you more at risk.
Throwing body shots can damage your hands when opponents block with their elbows.
Hooks to the body can be easily blocked and countered with uppercuts.
Body shots require more push-through to cause maximum damage (you have to penetrate soft tissue), whereas head shots seem to cause more damage off the snap (harder surface). Faster guys may prefer the hard surface feeling of hitting a skull than the cushioned feeling of hitting the body.
You have to sit down on your body shots. You can't throw body shots while moving the same way you can with some head punches (pivot jabs, strafing rights). Fighters that like to move a lot will find it hard to plant long enough to dig body shots. You may also find it hard to land body shots against moving opponents.
Throwing body shots always feels trading punches (since his body is only open when his arms are extended). This is scary for faster fighters who primarily rely on speedy potshots to the head against slower fighters.
Body shots aren't as eye-catching as head shots. They're harder for judges to see and you may not get credit for them.
So there, I said it all. Body shots CAN be risky to throw. But once you know the risks, you can take them as calculated risks. If anything…deploying these risks can be part of your strategy to bait opponents into planned reactions. 😉
Best Body Punchers in Boxing
I tried to think of all my favorite body punchers (aka the "bodysnatchers") in the history of the sweet science but there are really so many. So I stuck to the ones I know best and the ways that they did it.
Roberto Duran body punching
Brutal fight of Roberto Duran destroying the younger, bigger, undefeated Davey Moore. Watch from round 2 and up.
Very clean work by Duran. Constant activity and head movement up top to keep Moore busy. Duran's head movement is pure magic, he can bother Moore with just his head alone. Sometimes the head is shoving Moore back like an annoying bull. Other times, the head is moving all over the place and being hard to hit.
Then when it's time, he sends out clean touches and potshots to the body. But when Moore tries to go to the body, Duran's forearms and elbows are always there. Body-punching clinic at its finest!
You want to be a real body puncher? You better learn how to move your head on the inside really well so that your arms are free to punch!
Julio Cesar Chavez
The great JCC wearing down the faster/flashier undefeated Meldrick Taylor with body shots! Incredible textbook example of how to deal with faster fighters using superior timing. Chavez literally beat the career out of Taylor in this fight; he was never the same again.
A few lessons learned here. You can see JCC really made him work. He forced Taylor to think every second of every round. Taylor may have won many rounds clearly but his mind was being taxed from all angles. While Chavez may not have landed as many punches early on, he did a great job controlling the pace with feints and constant movement to prevent Taylor from taking over.
When the time for body shots came, you can see that Chavez had a willingness to be inside. He was not only throwing body shots but also comfortable being inside. This is very different from the usual "hit-and-run" mentality many fighters have. For body shots, you have to be willing to "hit-and-stay".
Miguel Cotto
Here's Miguel Cotto smashing his way through everyone with his signature left hook to the body. He's living proof that you really can be a deadly body puncher with just one shot over and over again.
It's impressive because he's a short guy with short arms, not the fastest on the block (although not slow, either), and yet he manages to dig that hook again and again. You'll have to watch his full fights to get a sense of how he does it. Stay calm, dip your head, and dig!
Want a hint? Watch his head position and right glove position when he throws the left hook to the body. It'll help you figure out his body mechanic for how he gets so much power on it. Another hint is to pay attention to the slow motion, his arm is much straighter and more in a slapping position than you think; it's not such a bent elbow.
Ok ok, ONE LAST HINT! Tell me…when he throws that left hook to the body, is he leaning FORWARD into the punch? Or is he leaning BACK into the punch? 😉
Saul "Canelo" Alvarez
Here you see Canelo against a famous body-puncher in Miguel Cotto. Canelo himself is a really interesting breed of Mexican fighter. He's got all their skills, also fast and very slick. Despite moving forward a lot, he's extremely defensive-minded and doesn't throw many punches.
There's no doubt, you can see he's got tons of power in his body shots. But he doesn't force them in. He's the opposite, being super patient and then exploding with snappy shots when he does throw them. He's more like a potshot body-puncher rather than a slugging body-puncher.
Guillermo Rigondeaux
Oh, here's someone you don't think about for body-punching but wow, what an incredible body puncher! Rigo is no joke. Full on, full-power swings like he's punching a blind opponent.
If you got that high-speed, crazy power and confidence, you can do it like Rigondeaux! Aside from being a master boxer, this guy gets the job done with speed. His hands are so damn fast, he can just swing freely. No need to dip his head or set up the body shots or any of that. He simply gets in front of his opponent, sit down into that wide stance and swing for the fences.
And those opponents don't do anything! Why?! Because they're terrified of his speed and power, and busy ducking for cover. It goes to show that head shots can set up body shots!
Mike Tyson
I was torn between using the video above or this one. If there's one thing I don't like about showing Mike Tyson videos is that many of his opponents were so terrified, they made it easy for him…just hiding behind their guard on the ropes praying for a quick ending. Real life opponents aren't like this, THEY will be the ones doing all the punching and it's up to you to fight through that.
But nonetheless, the Tyson videos makes some key distinctions that I love to challenge fighters with. Answer my questions:
1) During body punches, is Tyson more compact or straight-up and loose?
2) Where is Tyson's "other hand" when he throws body punches?
I think you'll be shocked to find that Tyson isn't as "compact" as many people believe him to be. There's this image that he's always balled-up in an impenetrable "peek-a-boo" defense but the video shows exactly the opposite. His head is straight up when he's throwing body punches with both arms spread wide.
Why does he does this? I'll let you figure that out on the heavy bag for yourself. This isn't the guide for punching mechanics right now.
Bernard Hopkins
https://www.youtube.com/watch?v=at5hsNdT5EI
Bernard Hopkins first fight with Jean Pascal in Montreal. Really tough to find clean videos of Hopkins and this was the best I could find.
There are 2 recurring themes throughout this fight. One is that Hopkins consistently leads with the left hook to the body. It's incredible, he has no fear at all for the potential counter-right to his face. If anything, it seems he's trying to bait for exactly that response. How DOES he get that lead hook to the body? From what I see, he does it with tons of feints. He's always twitching his body in all directions that when he finally commits, his opponents decide to shell up and be safe…giving him all the time in the world to drop that left hand and dig to the body.
The other pattern is that Hopkins comes in with his head A LOT! It's serves as the third weapon, distracts opponents, baits them into firing at a target that doesn't really hurt (top of the skull is strong, remember?), and allows him to dig multiple body shots without fear. It's such a basic tactic and yet it works again and again and again.
Mike McCallum
They don't call you the "Bodysnatcher" for nothing! Check out his long-arm body punching skills. Full leverage and kinda cool he has that trained ducking reflex to evade afterwards. Also notice after his body punches, he mixes in short left uppercut to the head or a full swing left hook at the head. It's kind of tricky to know which one he'll opt for.
I also love that he's got various tricks with his right hand. Most guys will just swing it praying to get it around the opponent's left elbow. Mike will mix catch-and-shoot tactics, or doing full right-hand exchanges (ducking underneath his opponent's right cross to the head while swinging his right to the body). Sometimes his head is forward, sometimes his head is leaning back. He's a lot of fun to watch. Very clean and confident body punching!
Andre Ward
I'm not a fan of how this fight played out, with legal AND ILLEGAL body shots mixed in together, but it's a great example of body-punching tactics.
Notice Ward's timing on many of the shots. He does it at the end of exchanges when Kovalev is expecting head punches. Ward also likes to lunge in with his head often, makes Kovalev instinctively want to defend his own head (defending headbutts) or go for head counters (opening himself up to body shots). Ward also has some interesting positions where he crouches his head low, hangs his elbows low, and slaps his right hand to the body from the side. (Yes, it DOES hurt and many fighters have used this before.)
Lucian Bute
Southpaws, if you ever needed a body-punching inspiration—HERE HE IS! Look at just that left hand alone. He somehow manages to reach all the way around his opponent's right elbow with it. That long-ass left uppercut to the body is a killer!
It's really fun to see how he sets that up with the jab. Sometimes he quickly taps you on your left (his right) with the jab, not unlike how kids tap each other on the opposite shoulder, and then sends his left shovel hook on the opposite side. Other times he taps first with the jab, then ducks your counter, then sends out the left shovel hook. To really mix things up, he sometimes drops his left glove but then sends a left uppercut to the head or even straight left to the head—HOW TRICKY!
Ricky Hatton
Non-stop pressure and relentless aggression from the "Manchester Mexican". Ricky Hatton has a very high-energy take on body-punching. Instead of ramming his head in like with other inside-fighters, I suspect because of his fairer skin and likelihood of getting cuts, he keeps his head back at a safe distance and instead likes to wrap up opponents with his arms.
With his head on the outside and lots of footwork bouncing in and out and cutting around his opponent's side, Ricky loves to tap opponents here and there (usually around the head) before snapping his hands all the way to the sides and slamming them back into his opponent's ribs. If his frenetic pace doesn't wear you down, his relentless body shots will.
Marco Antonio Barrera 
A murderous TRUE Mexican body-puncher! Look at how he keeps his head in the same place; mostly upright with only a slight hunch if he crouches at all. He can throw everything from here, head punches and body punches. I'm sure it also helps that he's got a granite chin.
Just look at how vicious the shots are. His opponents don't even try to counter. I don't think many fighters would trade a head shot against a Mexican to eat a body shot in return. (Hey, I wouldn't either!)
One thing I noticed is how "clean" his body punches are. Notice how he likes to keep a distance! Most people think body punches require you to get in real close and make lots of body contact. They'll also lean on the heavy bag or shoulder it when practicing body punches. But here you can see Barrera is doing the exact opposite. He's far out and uses the entire reach of his arm to get the shot.
Floyd Mayweather
While Floyd isn't known for body punching he's no slouch in this department, either! I showed the video with him against Maidana but you should also check out his body work against Mosley and Judah.
Mayweather is sharp enough to get respect on his body shots but they're mainly there for speed, distraction, and scoring. His hands are so fast and his tactics are so clever that his opponents end up over-reacting to every move.
Sometimes Mayweather targets the body from long range, dipping into that back lean. Other times, he'll come in with his head (to shove opponents around) while using his arms to push and dig shots. It's frustrating for his opponents as they want to push him back and right when they do is the exact moment they get caught with a body shot.
The magic of body shots
My very first KO ever was actually a body shot knockout. It was totally unexpected, happened during a backyard fighting session with a friend (Dary) who outweighed me by 60lbs. (I'm 5'7 140lbs, he's 6' 200lbs.) A quick right hook tap to his left side was all it took. He dropped like a sack of potatoes, clutching his stomach and screaming in pain while our friends laughed in disbelief at what just happened.
A small guy had accidentally knocked out a much bigger dude with a body shot. Up until that moment, I used to think you could only beat bigger guys with head shots as their body was probably too thick to punch through. Well I was wrong and here we were. I kind of laughed too and felt really bad as I never wanted to hurt him. We were friends and although he was a street kid, he still wasn't a trained boxer. My other friend who was waiting in line to go after Dary decided he didn't want to box anymore.
Live and die by the sword!
Not surprisingly, the first time I had ever been stopped was also from a body shot. I feel embarrassed sharing this as I have a fantastic chin and have never been knocked down by a single shot. There have been some TKO stoppages when my coach jumped in to save me from further punishment but I was always physically fine.
But the most painful shots in sparring for me have always been those random shots to the solar plexus. I always had to play it off but little did my opponents know, all they had to do was touch me one more time right there and I would have been on the ground.
My day would finally come when I sparred one late night with Nathan, a stocky southpaw brawler with speed, skills, and pressure that just doesn't let up. He's one of those 100% guys even though he's a total nice guy in the gym, just not in the ring. We had a pretty even session up until I countered him with an uppercut. I didn't know it but it really hurt him and ticked him off. He flipped a switch and went into kill mode in a split-second. While I was still relaxed in the corner, he unloaded about 6 shots to my body immediately teleporting me into a world of pain.
Nathan's not only my friend but also the friend of another close friend. It was late night and I just wasn't in the mood to fight fire with fire. I voluntarily took a knee and was like, "DUDE!!!" He apologized for going berserk and my cornerman just laughed in disbelief at how easily I went down when he's seen me take on multiple opponents back-to-back in the past.
You've got to have faith!
I think learning how to throw body punches is so tricky because even when you do all the technical parts right, you never really know if you hurt him. Unlike head shots which give you great tactile feedback and the visual whiplash of the head, body shots just kind of feel like a dull thud. It's a bit like punching a car seat. It's not a solid hit, the sound isn't always a clean pop, and opponents usually don't even react the way they do with head shots.
But trust me…
There is a soft spot on even the TOUGHEST opponents. It is there! You have to find your calmness and pay close attention to how they react. You've probably hurt a few opponents to the body a couple times but never realized it.
I want so badly to tell you that there's a specific density to every opponent. And a specific place to target your punches. And let you believe that I know where it is on every opponent but I don't. I just fling out punches blindly at every angle and trust that I'll get to him at some point.
And all fighters have their telltale signs as well. Some let out a little yelp. Others take a step back or bang their fists. Some just stay quiet or lower their arms subtly, or stop throwing their right hand altogether. But here's the thing, you don't even have to hurt your opponents. Fighters instinctively do not like getting hit or touched to the body. It's kind of like when your friends go around poking your stomach. It's annoying as hell.
Confidence, not desperation, will get your body shots through!
So all you have to do is get respect! Having the confidence to trade punches is what earns your body shots respect. This confidence is what makes your opponents hesitate and slow their punches just long enough for your body punches to get through. Trust me, trust me, trust me. Just get used to throwing them and they'll happen sooner than you think. Have faith in yourself, let the body shots go, and the KO's will come!