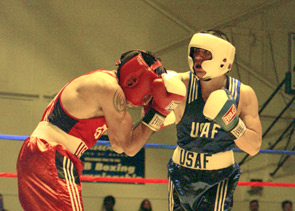 Learn how to box in just 15 minutes. Learn how to punch, block, move, and the rules of boxing.
This article started out as a fun answer question and to an impossible question.
Can you show me how to box?
Anytime I meet new people that end up hearing about how I do boxing, the first question I always hear is, "Can you show me how to box?" My immediate answer use to always be, "no" because I didn't think it was possible to teach boxing in 15 minutes.
Well times have changed and I've figured out a very quick routine you can use to show anybody (or even yourself) how to box in 15 minutes. The goal is to make sure they have fun and convert them into boxers or at least people who appreciate boxing that much more. I've actually gotten very good at it since I've been able to convince dozens of people over the years to pick up boxing. Some of them fell in love with the sport just as much as I did. Even if some people never liked fighting very much, they did appreciate the fights that much more. Imagine how popular boxing would be if we could all appreciate everyone's appreciation for boxing. end up hearing about how I do boxing, the first question I always hear is, "Can you show me how to box?" My immediate answer use to always be, "no" because I didn't think it was possible to teach boxing in 15 minutes.
The Game of Boxing
Boxing is a game of outscoring your opponent. You score "points" by being able to hit your opponent with punches. You keep your opponents from scoring points by not letting them hit you. The game also allows for a knockouts which is an automatic win if you manage to knock your opponent out. Because of the chance of getting knocked out, you shouldn't let your opponent hit you even if you're way ahead on points. In short, the goal of boxing is to hit and not get hit.
Rules Of Boxing
You can only score points by hitting your opponents with a closed fist and making contact with the knuckles. You can only hit your opponent on the front of their body from the belly button up to the head. Hitting your opponent with any other part of your hand or body is not allowed. Hitting the back of your opponent or below the belly button is not allowed.
Illegal Moves
No cheap shots, hitting below the belt, hitting behind the head, hitting on the break, holding each other's arms, stepping on each other's feet, headbutting, elbowing, pushing, etc. If it feels cheap or dirty, it probably is.
Now For Some Boxing Techniques
The Stance
Stand with your dominant hand and dominant foot in the back. Feet are spread about shoulder-width apart with the toes pointing out diagonally at roughly 45 degree angles. Your gloves are generally held to your cheeks with your elbows pointing down. Your knees are bent a little and the back is straight. Your shoulders are turned a little to the side so that your upper-body is not facing your opponent straight on.
Moving Like A Boxer
You can move around the ring however you want. Try to keep your feet close to the ground and slide them or don't raise them too high off the floor when you lift your feet. You should try not to cross your feet, let them get too close or too far because you can be easily pushed off balance and you wont be in position to punch. Regardless of how you decide to move, try to return to your stance before you punch. Just remember that jumping around will waste a lot of energy.
How To Throw Boxing Punches
Jab – punch your front arm straight towards your opponent.
Right Cross – throw the back hand straight towards your opponent, pivot your back foot and rotate your whole body into the punch to get more power
Left Hook – Pivoting your entire body including the feet, extend your left arm out a little and then swing your fist sideways in front of you as if you're trying to punch your opponent from the side
Left Uppercut – Pivoting your entire body again but instead drop your left fist momentarily before throwing it upwards as you pivot your body.
Right Uppercut – Pivot your whole body like you're throwing a right cross but then drop your right hand a little before throwing it upwards.
Some Punching Tips
Straights and hook punches are usually thrown with the fist rotating so that the palm faces the floor when you punch. when you throw uppercuts, rotate the fist to that the palm is facing upwards.
You can throw punches one at a time but it's usually better to throw 3 or 4 at a time. No more than that.
Boxers typically aim their punches at the head, the chest, the stomach, the ribs, or anywhere else on the body.
Conventionally, fighters will throw straight punches from long distance and then use hooking punches or uppercuts only at close range. You should breathe with each punch to conserve energy and add power. You should also turn your whole body with each punch to maximize punching power.
Basic Boxing Defense
Your basic stance should already provide a reasonable amount of protection. When punches come at you, simply raise your gloves or drop your elbows to block. When you punch with one hand, remember to block with the other hand to decrease your chances of getting caught. Use your right glove to block your opponent's left hand punches and your left glove to block your opponent's right hand punches.
Counter-Punching
This is a combination of defense and offense. Beginners just learning how to box will typically switch off between punching and defending. A more experienced boxer knows how to defend and punch while the opponent is attacking. Once you learn some basic boxing counters, you will learn how to block your opponent's punch while at the same time attacking him on the side where his punching arm has left a hole. Examples of counter-punches would be to punch over, under, or around your opponent's punches while he's punching you. You can also beat his wide punches by throwing a straighter punch right down the middle.
If you can do everything above, CONGRATULATIONS: you've passed How To Box 101!
And there you have it. A super simple, quick and easy guide on how to box in 15 minutes or less! Sure I've left out a ton of details but it should be enough to get anyone started and boxing (or mimicking boxing) within 15 minutes. Once they're getting the hang of it, you can then step in and start refining their technique. The goal for the beginner is to make sure they have fun boxing right away. If they're not going pro, why force them to jab for 2 weeks straight before being allowed to learn other punches?