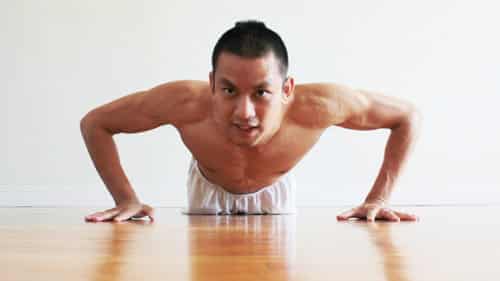 Whether you're training for a fight, for weight loss, or any kind of physical activity, push-ups will be a one of your regular workouts. It's a great exercise to build strength and power for the upper body and doesn't require any special equipment other than the ground and gravity.
For fighters, push-ups are especially beneficial for developing the chest, shoulders, core, and triceps. You can even develop a bodybuilder's physique with push-ups if you do enough of them.
But for now, let's go over what I call the perfect push-up form and technique:

*** Watch my video to see how I do push-ups. ***
How to do a PROPER Push-Up
1. Straight body
The first thing you'll want to do is to straighten your back. Don't sag at the hip or lift at the hips. It should be a straight line from head to toe. Check the mirror to see that your hips are in line. The most uncomfortable position is probably the right one. (It will take some core muscle to achieve this!)
Back straight, hips not lifted or sagging.
The most uncomfortable position is the right one.
2. Feet together
Place your entire feet together. Toes AND heels together. There are many people don't care about the feet and this usually results in very sloppy form. Remember that your entire body is placed on your hands and feet.
Keep your toes & heels together.
3. Hand placement
When you place your hands on the floor, imagine that there is an imaginary line between them, and that your chest is hovering above that line. The sweet spot is most likely somewhere between your shoulders and your nipples.
If your hands are hovering too high (such as above your shoulders), you will feel like your elbows are swinging out too high and not supporting your body weight when you go down. If your hands are too low (such as below your nipples), you will feel like the push-ups are too stressful on your shoulders.
The width of your hands should be a little wider than shoulder width. The exact width depends on various factors such as arm length and the type of push-up you want to do (chest VS tricep). A narrower hand placement will use more tricep muscle and cause you to travel a longer distance to and from the ground. A wider hand placement will use more chest muscle and cause you to to travel less distance to and from the ground. Ideally, you want to find the width that allows you to do the most push-ups without one muscle group (chest or triceps) tiring out before the other. It takes some time to figure out your sweet spot.
Another distinction between chest push-ups and tricep push-ups is the way that your elbow points out as you go down. For chest push-ups, your elbows will point out sideways. For tricep push-ups, your elbows will stay along body so that the elbows are touching your lats and rib cage as you go down. It is also possible to have the elbows travel somewhere diagonally in between but I don't recommend this as it's hard to keep it perfectly even on both sides (especially for beginners).
When I was in the Army, all the guys that broke the push-up records were "tricep pushers". But even still, I preferred chest push-ups. They were harder but I liked the feel of working a bigger muscle and felt I benefitted more from that version.
The hand can be placed on the floor with your fingers together or your fingers spread. I prefer to spread my fingers because it feels stronger and more stable. It's also important to press your hand completely flat into the ground. Push off the ground with all four corners of your palm. Distribute your weight across the entire palm instead of only on the heel of your palm.
Hands at chest level, wider than shoulder width apart.
Fingers spread, pressing with the 4 corners of the palm.
Elbows open sideways for chest push-ups,
or open downwards for tricep push-ups.
4. Head alignment
The head should be lifted to extend straight out from the spine. Unfortunately this is hard to do because your body will change in angle from the ground as you do push-ups. Most people are usually focused on the ground which leads to a dropped head, and a dropped head makes it harder for to get down low to the ground and also makes it harder to breathe.
My best advice is to stare at the ground 3 feet in front of your head this tilts the head up and keeps it more in line with your spine and at the same time helps to open your throat for breathing.
Eyes looking at the ground 3 feet in front of your head,
to keep a straight position
and open the throat for breathing.
5. Proper "DOWN" position
How low do you go to the ground? There are 2 standards. The rule I like to use is to go until your chest is one inch off the ground. It doesn't have to be exact; go down until your chest is close to the ground. You should feel a bounce of a stress on the sides of your chest where it connects to the shoulders. (Make sure you keep your muscles contracted for support.)
The other standard is to go down until the upper arms (from the shoulder to the elbow) are parallel with the ground. The elbows will probably be close to a 90-degree angle at this point depending on where your hands are placed.
Go down until your chest is 1 inch off the ground,
or until the upper arms are parallel to the ground.
Push-Up Techniques
1. Push-Up Rhythm
There are 2 different rhythms for doing push ups depending on your level of fitness. The beginner rhythm (about 99% of most people) is to go DOWN SLOW and then UP FAST. You'll see them lower themselves slowly to the ground and then push themselves up quickly.
The more advanced rhythm and much harder way to do push-ups is to go DOWN FAST AND UP FAST. This is how you break push-up records; by going down as fast as you can. It makes a lot of sense if you think about it. You can save a lot of time by dropping down as fast as you can and then pushing up as fast as you can. The reason why it's so hard is because the faster you drop, the more momentum you have to overcome at the bottom and the more challenging it is to push yourself back up.
When I want to go down fast, I don't just rely on gravity to bring me down, I imagine that my hands are pulling on the ground to PULL MYSELF DOWN as fast as I can. It's very challenging and just about impossible for beginners to do as they will probably slam their faces on the ground. But this is a good goal for you to work up to later on.
As you try to go down quickly, you will realize that going down is the hardest part because you spend more energy to stop yourself from hitting the ground than you do to push yourself up. So beginners spend their energy going up and advanced pushers will spend their energy going down. Going down fast will build explosive strength in your upper body very quickly.
Beginner push-up rhythm = down SLOW, up FAST.
Advanced push-up rhythm = down FAST, up FAST.
2. Breathing Technique for Push-Ups
Just as there are 2 different rhythms for doing push-ups, there are 2 methods of breathing technique to accommodate each rhythm.
The beginner style of breathing is to inhale while going down and then exhale while going up. INHALE DOWN, EXHALE UP, INHALE DOWN, EXHALE UP. A beginner push-up will look like (DOWN SLOW) INHALE SLOW – (UP FAST) EXHALE FAST. It sound like innnnnnn-OUT-innnnnnn-OUT.
The advanced style of breathing is to exhale when going down. Their exhalation will be a short quick breath that happens at the hard moment (the peak of descent) when their body is about to hit the ground. They use this quick exhalation to help "bounce" them off the ground. The advanced push-up will look like DOWN FAST – DOWN FAST – DOWN FAST, which a quick exhalation every time they go down. The inhale only as needed (could be once every 10 or 20 reps) as it's hard to inhale when you're going fast. The advanced push-up will sound like a rapid *SSHH!* – *SSHH!* – *SSHH!* as they breath explosively for explosive power.
Beginner push-up breathing = inhale DOWN, exhale UP
Advanced push-up breathing = exhale DOWN
Breathe explosively for explosive power.
3. Resting Technique
When it comes to resting while doing push-ups, the common tendency is to sag at the hips or wiggle around on the arms. What I like to do is to put my body into the inverted V-position (known as "downward dog" in yoga) where you raise your hips high into the air as you straighten your legs and back and arms. This position will momentarily give your push-up muscles a break by using a slightly different set of muscles.
From this upside-down "V" position, I take some deep breaths before quickly dropping back into push-up position and squeezing out 1-3 push-ups before switching back again into the inverted V-position again. With this tactic, I can easily squeeze out 20-30 more push-ups even when I felt like I couldn't do anymore. Some of you will notice intense veins coming out of your muscles and maybe even want to barf as you've now allowed yourself to exercise far beyond the point of failure. (Good job!)
Rest by returning to INVERTED V-POSITION
as you squeeze out your final push-ups.
4. Squeezing Technique
Here's another trick to help you squeeze out more push-ups when you feel like you have nothing left. Instead of imagining yourself pushing the ground away from you, instead try to imagine yourself pulling your elbows in closer to each other. So instead of focusing on pushing up with your triceps, try to focus on pulling your elbows into a straight position. This visualization will make it easier to lockout your elbows straight when you're struggling on the last upper half of the push-up.
Focus on bringing your elbows in,
instead of pushing the ground.
Push-Up Workouts
Do intervals
There are too many people who focus too much on doing X number of push-ups. It doesn't matter if you do 500 a day or 1000 a day, everything is easy when you're not pressed for time. Instead you should give yourself set intervals such as 1 or 2 minutes where you do as many as you can in that period. Intervals are MUCH harder than you think.
Doing push-ups (as well as other exercises) in intervals will very quickly develop superior levels of conditioning in your body and put your focus on a more functional athletic goal (rate of effort) rather than just purely (total effort).
Do intervals for a better workout.
It's too easy when you're not pressed for time.
60/45/30/15/10 Interval (Army workout)
My favorite push-up workout and one that I did regularly in the Army is what I call the 60/45/30/15/10 interval:
Do as many push-ups as you can in 60 seconds.
Rest 60 seconds.
Do as many push-ups as you can in 45 seconds.
Rest 60 seconds.
Do as many push-ups as you can in 30 seconds.
Rest 60 seconds.
Do as many push-ups as you can in 15 seconds.
Rest 60 seconds.
Do as many push-ups as you can in 10 seconds.
It goes without saying that you should be using proper form and technique. A push-up with bad form doesn't count as a push-up and more importantly, doesn't count as beneficial exercise!
60/30/15 Interval (for beginners)
I'm sure many of you will not be able to handle the previous interval and so here is another one I would recommend for beginners.
Do as many push-ups as you can in 60 seconds.
Rest 60 seconds.
Do as many push-ups as you can in 30 seconds.
Rest 60 seconds.
Do as many push-ups as you can in 15 seconds.
This will be quite the challenge as each set should take you to the point of failure.
15-ON/15-OFF Intervals (tabata interval)
This is doing push-ups in tabata drill style. Very effective and more challenging than you think.
Do as many push-ups as you can in 15 seconds.
Rest 15 seconds.
Do as many push-ups as you can in 15 seconds.
Rest 15 seconds.
Repeat this interval for up to 10 sets if you can.
Another way you can do this is to try to do 10 push-ups every 15 seconds. Every time the interval starts, you do 10 as fast as you can. The faster you do them, the sooner you can take a break. Do this for 10 sets if you dare.
What can you do with push-ups?
Variations of the push-up
I get questions everyday asking about whether it's a good idea to do diamond push-ups, one hand push-ups, knuckle push-ups, clapping push-ups, or any of the million other variations out there.
My answer is always this: focus on the basic push-up. The standard form gives the most focus to proper technique and basic benefits of the push-up. Anytime you do something else like being on your knuckles or using a very tricky hand placement, you start to distract yourself from the true benefit of the push-up and end up focusing on the "trick".
I would say you probably shouldn't be thinking about doing push-ups tricks until you do at least a couple hundred of the basic push-ups in one sitting. In the meanwhile, if you want some basic variation. Go wider, go narrower, or go faster. Or switch from the chest version to tricep version.
Do intervals
Do push-ups in intervals. Intervals really make it so much harder and more beneficial! Just counting push-ups alone doesn't mean much. Once you get into really good shape, you can pretty much do push-ups all day and it doesn't mean anything. Do as much as you can, but in intervals!
GET BUFF MILITARY/PRISON STYLE
For those of you who don't know, you can get really buff and muscular just by doing push-ups. It's a common routine for guys in the military or in jail to get really ripped and get 18″ arms just by doing push-ups.
The common routine is to do 1500 push-ups a day. That's 30 sets of 50. And it will probably take you 30 minutes to do. It used to be 2000 push-ups a day but guys have figured out over time that doing 1500 push-ups is enough. It may sound hard to you but you can work up to it fairly quickly if you're dedicated and have time. I've known many guys who got big doing this (yes, even skinny ones). They look like they've been lifting weights but it was really just push-ups.
Another push-up routine I know for getting buff is to do 1200 push-ups a day. You do 20, then widen your hands by an inch, and then do another 20. And keep repeating as you widen your hands all the way out and then bring them all the way in as you keep doing 20 each time.
Beat my record
If you like you can try to beat my 30-second record of 47. I'm a long-arm guy and used the chest version which is harder to do but 47 was my magic number at the peak of my time. I can't remember what I did at the 60-second mark, probably around 85. And my 2-minute mark was probably around 110-120. I held the record in my platoon but the guys holding the record in the company did around 180 in 2-minutes. (They had shorter stockier arms and used the tricep method.)
Push-ups are easy
You just have to do them. If you did push-ups everyday, you could easily work your way up to a thousand within a year. Of course, not one thousand in one sitting but maybe over over dozens of sets. You can get to a point where you can do push-ups indefinitely.
I remember the times in the Army when our drill sergeant punished us by making us do push-ups for 30 minutes. I have no idea how many I did. But that's how it was…we never counted, we just went for time. They would say, "GET DOWN AND BEAT YOUR FACE!" And leave us there for an hour.
Read my guide on how to do sit-ups for boxing: