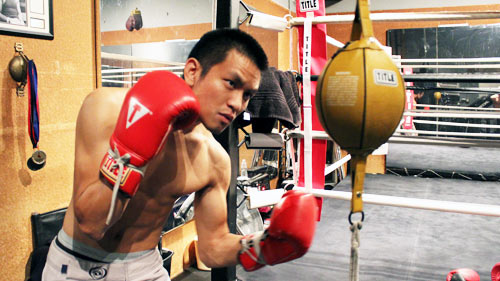 My favorite double end bag drills to improve your fighting skills. There's so much you can get out of this tricky punching bag!
Here are some fun double-end bag drills to improve your punching accuracy, hand speed, defensive reflexes, footwork, and overall boxing skills.
Great Double End Bag Drills

*** Watch my video to see how I do my double-end bag drills. ***
Make sure you read my first guide on How to Hit a Double End Bag. It'll help you get started!
1. Constant Combinations
As you already know, you should be able to hit the double-end bag with constant combinations. Solid, steady, quick little punches are the way to go. Remember: the double-end bag is more like a speed bag than a heavy bag! (Another note: it can be difficult to throw quick combinations if the cords are so loose that the bag swings far away from you.)
The most import thing is to keep hitting the bag consistently and not wait for it to slow down!
Don't wait more than 2 seconds between combinations.
LLR/RRL Basic Rhythm
The LEFT-LEFT-RIGHT and RIGHT-RIGHT-LEFT are basic rhythms you should have learned in the first guide on the DE bag. Start out with this to warm-up.
Straight Punches
Throw nothing but jabs and straight rights. Try to keep the bag straight; you'll have to be very accurate and hit the right part of the bag to keep it going straight.
Example combos:
1-1-2

1-2-1-2

1-2-1

1-2-1-2-1

Make up your own.
Hooks & Uppercuts
The hardest punch to land on the double end bag is the left hook.
Example combos:
1-2-3
1-3-2
3-1-2
1-2-3-2
1-2-5-2-3-2
Mix it up and create more combos. Add uppercuts, too.
Head & Body
Now go up and down. Some punches for the head, some punches for the body. If your double-end bag has only one section, then try aiming your "body punches" at the cord under the bag. Likewise, you can also hit the cord above the bag.
Example combos:
1b-1b-2 (1b = jab to the body)

1-2-3b
1-2-3b-3-2
1-2b-1-2
Make up your own.
2. Combinations & Defense
Here is one the unique qualities of the double-end bag–it can help you drill your defense. Throw punches and then defend as if the bag was punching back at you. (Note: it may be easier to practice your defense on a loose bag that swings back more.)
Punch & Block
Throw some punches and block so the bag can bounce off your guard, then immediately go into a combination. You can practice your shoulder rolls too! If the bag doesn't swing far enough to hit your guard, you can try getting closer OR you can keep track of the rhythm and continue as if it made contact.
Example combos:
1-2-BLOCK-2
1-BLOCK-1-2
1-2-1-2-BLOCK-2-1-2
Make up your own.
PUNCH & Slip
Punching and slipping! This makes perfect use of the double end bag and can be a lot of fun.
Example combos:
jab & slip, double-jab & slip twice
1-2-slip-slip-1-2
1-2-slip-2
1-2-3-2-slip-2-3-2
1-slip-5-2-slip-2-3-2
Make up your own.
A general rule is to slip to the side you just threw from. (For example: slip LEFT after a jab. slip RIGHT after a right hand.) You can deviate from this rule once you get the hang of punching and slipping.
3. Combinations & Footwork
Now we're going to punch and move. Beginners should work on being able to move after every combination. Advanced boxers can move during the combinations. Take your time and keep practicing if you don't get it. It takes a lot of coordination to be able to punch and move.
Moving AFTER Combinations
Throw a combo and then take a step either with the right foot or the left foot.
If you're new to this, you can start small:
throw a combo
move the left foot to the left just a few inches (circling around the bag)
throw another combo
slide up the right foot
throw another combo
You can also go in the other direction, and you can also try pivots instead of the usual step-drag. Move your feet only a few inches at most. A slight tweak is all you need. Right now you're developing only the coordination, later on you'll be able to move both feet after a combination and move around more. The challenge is not only the movement itself but being able to maintain your accuracy/rhythm on the bag because it will come at a different angle.
Moving DURING Combinations
This is much harder. You can move during combinations by stepping in with your step jabs (common) or sliding up the right foot when the right hand hits (less common). Another common example is to pivot with the jabs and left hooks. This is very tricky because you'll have to be able to hit the bag at different angles in the middle of your combinations.
Example combos:
1p-1p-2 (1p = pivot jab)
1-2-1p
1-2-1p-2
1-2-3p-3-2
Make up your own.
For beginners: try repeating the same combo several times before moving on to a new combo. You'll see how this can get quite challenging very quickly. If you've gotten this far, try mixing up everything you've learned so far. Head punches, body punches, blocking and slipping while throwing punches, moving DURING & AFTER combinations.
4. Double End Bag With a Partner
This is one of my favorite drills to do on the heavy bag. Nothing is more motivating than training with a partner because both of you create new combinations and movement on each other. Both of you will force each other to punch faster and be more alert.
COMBINATIONS with a Partner
Take turns throwing combinations—BUT MAINTAIN THE RHYTHM. As soon as one fighter finishes, the other fighter has to throw punches right away. Don't wait for the bag swing back and forth 3 times and slow down. Throw immediately so the bag is always being attacked. This will force you to be accurate under pressure.
COMBINATIONS & MOVEMENT with a Partner
Same deal as before but this time you move right after throwing a combination. So when your partner is hitting the bag, you're moving. And when you're hitting the bag, your partner is moving. Both of you take turns hitting and moving WITHOUT dropping the rhythm on the bag. Keep hitting the bag!
COMBINATIONS & DEFENSE with a Partner
This time you're punching and slipping. Try to slip the bag as your opponent throws punches. This will be very tricky as the bag can fly out at different angles unexpectedly. Once you've gotten the hang of this, combine the defense with the footwork. Sometimes you're slipping when he punches, sometimes you're moving with he punches. Whatever you do, maintain that rhythm!
5. Punching with the Boxer's Bounce
This last drill is very relaxed and very easy to do if you've been skipping rope. All I'm doing is bouncing with every punch. I'm not throwing real power punches. I'm standing pretty square in front of the double end bag (although I sometimes stand more angled like a real boxing stance), and bouncing as I throw quick little punches.
This is a great exercise (similar to the jump rope) that can develop your body coordination and rhythm as your warm-up or warm-down drill. I like to do this whenever I'm "relaxing" in the gym such as when I'm chatting with the guys at the end of the day or when I'm watching a sparring match.
You'll have to watch my video above if you need to see how I throw punches with the boxer's bounce. The general idea is that I use the same boxing shuffle rhythm that's normally used on the jump rope. If you don't have the rhythm, keep practicing until it's natural and doesn't take much energy. Ideally, you should be able to do this forever.
Once you get the hang of it, you can use the boxer's bounce while throwing real combinations and during the other double-end bag drills.
Other boxing guides on the double-end bag: