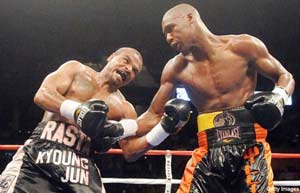 Learn how to cross the danger zone, get in range, and beat a taller boxer. You can only do that by fully understanding the advantages and disadvantages of their style and body shape.
I'll never forget the feeling of being beat by a taller boxer. It is one of the most irritating type of fights you will ever experience. I really hate losing fights where the other guy is slower, weaker, and less skilled but wins only because he is taller.
Lucky for me I did in fact figure out their weaknesses over time and learned how to catch up to them and take them down.
There are 3 simple principles you must understand when fighting taller boxers:
Stay out of the danger zone.

Use his height against him. 

Don't forget to box him.
What Is The Danger Zone?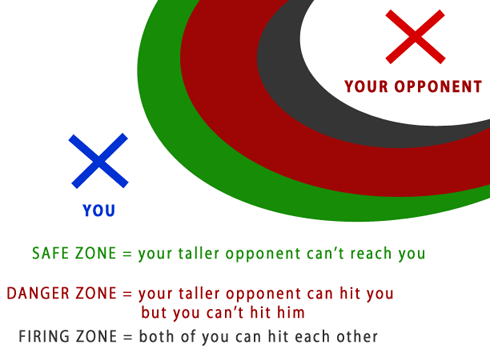 The danger zone is the range where your taller opponent can hit you but you can't hit him back. A really good taller boxer will can keep you in his danger zone for the entire fight and making life a living hell for you in there. So there's your first step for fighting a taller boxer.
Get the hell out of the danger zone! Either move forward until you're in range so you can trade punches or backstep just enough to get you outside of his range. A taller boxer will definitely force you to move a lot whether it be forwards or backwards. Be prepared to move a lot and have good cardio.
How to Cross The Danger Zone
So you've probably figured out by now that staying outside is much easier than getting inside. The danger zone is keeping you from bringing your cannons within range and forcing you out of the fight. If you ever want to beat this tall guy, you're going to have to find out how to cross the danger zone. I've enclosed some tips of my own that's worked before in the past.
Always remember that you have to cross the Danger Zone twice! You will cross it once to get within range and again after you land some punches and want to escape. Many guys forget this and so they eat punches to get within range only to eat a few more punches when they try to cross over the Danger Zone on their way out. Move cautiously when you move in AND out of the Danger Zone.
Come In Behind His Jab Or Under It
The taller guys usually fight behind a long jab. They rely on that more than anything else. It's usually the only weapon they have that keeps you from getting through the danger zone. What you can try is timing their jab and coming in when they retract their jab. You want to make sure that you're coming in under their jab or behind it so that their own jabbing arm is blocking their power hand from nailing you with cross. Don't forget to throw a counter on your way in.
Follow Your Lead Power-Punch Inside
Throw a big lead left hook or lead right hand and let your body follow behind the punch to get inside. Sometimes, the taller guy will choose to block instead of counter and you would have crossed the danger zone for free.
Feint Your Way In
Let's say the taller boxer knows how to counter everything you do. When you chase, he runs. When you run, he chases. When you jab, he jabs longer. The only way to outsmart this is to throw a feint. Whatever he does next will probably be ineffective since you didn't do anything. By feinting, you hope to draw a punch or bait a movement out of him. From there, you can use the free opportunity to cross the danger zone and get yourself within punching range.
Good Defense Alone Doesn't Work
I'm not saying that you shouldn't use good defense. I meant that having good defense alone will not help you cross the danger zone. Many people falsely believe that you can just walk down the tall guy by holding their hands high with a tight guard. This plan is faulty because the tall guy will just jab and throw punches at your defense all day while constantly moving away from you. Not only that, but the tall guy's best skill is to jab you to death while running away. He's been trained to do that for a long time and your tight defense alone will certainly not help you get inside.
Use His Height Against Him
This is an attack on his style. Every boxer has a weakness and taller boxers are no exception to the rule. I've used many of the tips with great success and have also seen them used by professional boxers.
Blind to Overhand Bombs
Many experienced boxers will use lead overhand rights to get inside on a tall opponent. Taller boxers are vulnerable to lead overhand rights because they aren't use to seeing punches come down at them and it's also not a commonly thrown punch. I think another advantage to overhand rights against taller boxers is that the punch starts from an angle BELOW the taller boxer's head but lands from an angle ABOVE their head. From their field of vision the punch moves up and then down which makes it harder for them to defend against the punch. In contrast, the overhand right may not be as effective against shorter boxers because the punch only appears to move downwards and is therefore easier to defend against.
Go To The Body
One of my trainers has always stressed, "When you chop a tree down, you don't start from the top." Chop at his body. His long skinny arm will leave holes all over it and his midsection may be thin and vulnerable to body shots. His long torso will be harder for him to defend and also conveniently placed at a height you can reach. So go ahead, chop him down starting from the bottom up. Conventional boxing will teach you to attack the body to get him to lower his guard exposing his head.
Punch Through His Skinny Guard
Because his arms are skinny, his guard may also be weak up high. Assuming you've successfully crossed the danger zone and got yourself within punching range you might  be surprised to find that your taller opponent is not very effective at blocking punches up close. His skinny arms may leave holes around his neck where you can sneak some punches in and still be able to partially reach his chin. You might also be able to punch straight up the middle and split his guard from the center. He is definitely not as mobile as a shorter boxer and therefore unable to roll with punches, if you punch at his gloves he will still feel the impact through them especially if he holds them tight to his head.
Attack the Arms
This is something one of the trainers in my gym always suggested. Tall guys usually have long skinny arms. Try to throw hooks into his shoulder or upper arm when you slip his jabs and crosses. His arm travels a longer distance than your arms do, so it's a good idea to bruise his arms and make it painful for him to throw punches.
Chase The Arms
Tall boxers have long lanky arms that take longer to recover than short arms. If you're fast enough, you can chase down their punches and land counters when they're pulling back their long arms. Once you're inside, his long arms will be smothered to your advantage.
Go Inside
Everybody knows tall guys are usually at a disadvantage on the inside. Their long lanky arms don't have room to punch and they can't extend and deliver maximum damage up at close range. Taller guys are also not as agile and able to slip all your punches on the inside. If you get inside, you can rain shots down on the tall guy and force him to take a lot of blocked shots.
A very important thing to remember on the inside is NOT to get under your taller opponent. That can be an award thing to remember. Again, you want to get close but don't get under him. By "getting under" him, that means don't let him lean over you and crush you with his upper body. This will quickly sap your strength. It's also easier for him to lay on you with his chest and rain down shots on you with his arms while you're busy trying to push him off you! Get close but don't get stuck under him! If you need examples, there are many videos of Mike Tyson being tied up by several of his taller opponents. Don't let that happen to you.
Don't Forget to Box, Not Brawl
For whatever reason, some people think fighting a taller guy is a license to brawl on the inside and do their best impersonation of Mike Tyson mugging people at close range. Just because he's taller doesn't mean it's useless to box from the outside. You can still benefit from proper distance, good defense, and well-timed punches.
You don't need to fight your way through the danger zone to get to him. You can still use your boxing skills. Keep your defense up, cut off the ring, slip & slide your way in and attack when you're in range. Use your head. Don't get frustrated. Try to keep your eyes on him instead of hiding behind your shell. Pay attention and you'll notice his pattern and maybe some openings.
Best Examples of Shorter Boxers Beating Tall Boxers
Floyd Mayweather VS Diego Corrales
Shane Mosley VS Oscar De La Hoya 1
Nate Campbell VS Ali Funeka
Ray Leonard VS Thomas Hearns
Roberto Duran VS Iran Barkley
What if you're the taller boxer? Learn How to Beat a Shorter Boxer