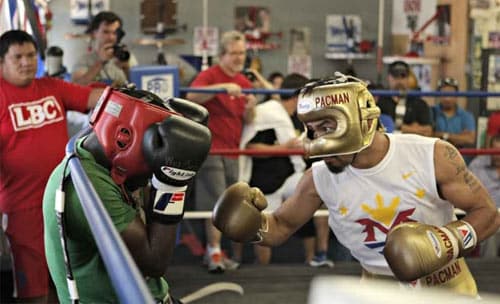 How do pro boxers fight?
What techniques do pros use that amateurs don't?
What are some special things that only pros do?
What are the things that pros do really well?
I've put together a list of key fighting techniques that I've seen in practically all professional boxers but rarely in amateur boxers. Many of these special techniques are subtle and require truly refined skills that can only be developed through years of training. They are very hard to see and even harder to do. I share them to the best of my ability for your enjoyment and perhaps future boxing inspiration.
Here they are: 10 POPULAR pro boxing techniques!
This guide isn't so much about giving instruction as it is about raising awareness. I will TELL you what they do, but I won't TEACH you what they do (at least not in this guide). My hope is to at least open your mind to other techniques out there.
It's time for you to start noticing the little details and things that you didn't realize existed before and hopefully one day incorporate them into your game. If you're too inexperienced that you can't notice these details (even with my descriptions), you're probably not at the right level to try them yet. It's ok. Give it time and one day you'll get there.
1. Staying HEAVY
Anybody who's been in the ring with a pro before will know what I'm talking about. You know right away when you're in with a pro because he feels as solid as a rock. You can feel his "weight" even when you're only punching into his guard. You could put 140lb pro in with an amateur 160lb middleweight and the pro will EASILY push the amateur around. Pros have great balance and stay very grounded. You can feel their weight when they punch, when they push you around on the inside, and even when you throw a punch into their guard.
HOW do the pros stay so heavy? One thing I've noticed: they're very relaxed that their weight can "sit" comfortably on the ground. They don't move around or fidget around so much like the amateurs. And they hardly take their feet off the ground. It's not about being low to the ground, it's about not lifting your legs (and disturbing your center of gravity) so much.
They've also got an incredibly powerful core. It doesn't matter if they're in-shape and ripped or out-of-shape and fat, you always feel like you're pushing a guy that made of brick on the inside.
Being heavy allows the pros to stand their ground very comfortably. They don't fall all over the place or fall off balance like amateurs. They stand wherever they want and they move only when they want to move. Their great balance allows them to move faster and move to more angles. Last but not least their superior balance allows them to throw punches with so much more power.
2. Endless ANGLES
Just like I said, the pros have endless angles. When they're punching you, you feel like the punches can come from all over. A jab can slice up the middle (passing the inside of your forearm) or around the side (passing the outside of your forearm). A right hand can come high, low, around, under, or straight through. It can come twice. The left hook can come high, low, at your chin, at your forehead, at the side of your head, at your body. The left hook can hit your body even when you think your elbow is blocking it. The uppercuts seem to come from all over as well…to your head, to your body, even battering you through your gloves.
You start to feel like a child hiding behind the door when you helplessly put up a peek-a-boo defense to keep out the pro. He always finds angles to hurt you even when you think you're totally covered. You feel like his punches can squeeze through the tiniest of holes and hit your chest, your chin, your solar plexus, kidney, anywhere.
When you're the one punching them, the pro always finds an angle to escape. He's over, under, to the side, too far back, too close, or always somehow tilted or turned away so that your punches have no effect. Most annoying of all is that he's right in front you…I mean LITERALLY…RIGHT IN FRONT OF YOU.
3. Game-stopping JAB
I call the pro boxer's jab a "game-stopping jab" because it can counter ANY punch. The pros have a jab that can interrupt the opponent NO MATTER WHAT. It can stop his right hand, it can stop his hook. It can stop him from coming forward. Obviously, there is one condition: it has to land!
How do they do it? Well, it's more than just having that stiff sharp power and great accuracy. Pros have such precise timing with their jab. Sometimes they throw it with a fast snap to surprise you. Sometimes they add power to pop you with a counter jab right when you punch. Other times, they throw it as a lightning fast touch to distract you before you can even think of throwing a punch. From any angle, any position, the pro's jab always finds a way to interrupt your thoughts and combinations.
It can be long or short, soft or hard, leaning in or leaning back, standing tall or crouched, while moving, while pivoting, well-timed and well-placed. A pro jab can beat any punch.
4. Make You MISS Wide
Pros are so amazing at slipping punches. Their obvious skill is avoiding your punch. Their not-so-obvious skill is making you aim at the wrong place. I can think of few better ways to evade a punch than by making someone miss in the first place.
This requires several skills and strategies and LOTS of sparring experience. Pros are very good at knowing which positions bait which punches. They also know the natural rhythm and flow of certain combinations. And statistically they're able to guess that from *this* position, the opponent is most likely to throw *this* punch and then follow up with *that* punch.
And then what they'll do next is bait *this* position to make you miss the first punch, and as you're missing, they'll quickly move their head to *that* position to really bait you into throwing an even harder follow-up shot. You might have only barely missed the first punch but you'll totally miss the second punch for sure. Which buys him all the time to land whatever counter-punch or counter-combo he wants to throw.
What does this require? Skill AND PATIENCE. If the pro had countered after the first slip, he would have missed the opportunity to bait you into throwing (and missing) an even wider shot. And so pros will slip about 2-3 times to make you miss wider and wider before countering you. This is how they create the opportunities to land those devastating knockout punches!
The pros have been boxing for so long that they always know exactly what punches are likely to come next. Whereas the typical amateur boxer will fire back immediately because he might not get that opportunity to counter later.
5. Killer INSIDE-FIGHTING Game
Pros are especially adept at fighting on the inside for many reasons. They're more comfortable with fighting and exchanging up close (compared to amateur boxers) because the pros have better defensive skills. Amateurs, although quite skillful, still rely more on footwork for defense. The amateur boxing system is based on a point system which helps taller longer guys throw a bunch of pitty-pat shots and run away. Pros have to land damaging shots to win over the judges which requires them to get closer and stay in firing range.
A pro boxing match can last up to 12 rounds whereas an amateur boxing match is only 3 rounds. This means a pro fighter does not have the energy to run as much and will need to stay in the inside to conserve energy and or clinch and buy time.
Years of being in the ring has allowed pros to become quite comfortable up close with an opponent. They understand punching rhythms and know how to roll off the punches even at point blank. It's also important for pros to know how to fight on the inside because the referee might be biased and let the other guy clinch or use more dirty tactics on the inside. With no energy to run away, they have no choice but to get comfortable up close.
Pro boxers are really slick on the inside. They know how to wrestle a guy, push him, turn him, spin him, hold him, clinch him. They know how to use their body on the inside to defend, move, or create space for punches. They can punch and defend even without looking.
I can easily spot pros in a sparring match because they're comfortable being RIGHT IN FRONT of their opponents. And I don't mean this in the way like a reckless brawler being stupidly aggressive, but a slick guy who is inches in front of his opponent, slipping and sliding, and totally outmaneuvering even without letting his opponent lay a hand on him.
6. Painful BODY SHOTS
Body punching is another one of those things that differentiate the pros from the amateurs. In amateur fighting, head shots are easier to score because they're clearer and easier to see. There's more of a visual effect when the head snaps back. Body punches aren't as easy to see and score and sometimes look like blocked shots. With amateur boxing matches being only 3 rounds, there sometimes isn't enough time for the fighter to reap the long-term gains of body punching. Body shots can slow down an opponent but they may take some time to really affect the opponent.
Another concern for amateurs is losing out on the exchange by getting countered to the head as they go for the body. Quite often, some amateurs only use body punches to set up head punches. Many amateurs don't rely on body punching as part of the their main arsenal.
Pro boxers on the other hand are very different! They LOVE body punches and they have the necessary skills to land them. It takes a tremendous amount of skill to slip inside without taking damage, time the punch to land as the opponent's elbows are lifted, aim precisely into the body where it hurts the most, and then get out without getting countered. Imagine having to do all this with a full commitment of power and not get worried about getting hit in the face while your arm is down.
Pros use body punches for many reasons. Throwing punches to the body can make their opponents drop their elbows and expose the head. Body punches can damage their opponent's core making it painful to move around (great for slowing down running fighters). Body punches can severely hurt a fighter and take out his wind, removing power from his punches. Body punches can be very painful and mentally crippling to an opponent. A perfectly placed body punch can actually cripple an opponent and knock him out. He'll fall to the floor in so much pain and his legs will be so paralyzed that he can't get up (even if he has the heart to continue).
Body punches can be a tremendous equalizer in fights where the opponent is too fast or has too much head movement. Body punches can be used to slow down the faster fighters. Body punches can also be used to drag better-skilled opponents into messy wars where the brawler gets more chances to cause damage. Many boxers with great chins have been known to drop their arms freely at times and throw body shots at close range to bait less durable (or less engaging) opponents into dangerous exchanges.
7. Deceptive DISTANCE Control
Pro boxers are so SOOOOOO incredibly clever and deceptive at changing the distance on you. I'm not talking about the ability to move quickly or have good footwork. I'm talking about the ability to move in a way that your opponent cannot feel you moving! Imagine a guy whose punches were so perfectly non-telegraphic that you couldn't feel them coming. In the same way, imagine a guy whose footwork was so perfectly non-telegraphic that you couldn't feel him moving in and out on you.
You think he's far away and yet he hits you. Of course he moved in at some point before hitting you but you never noticed him moving in. Or sometimes he's up close and right as you're about to throw a punch he's already gone. And again…you didn't notice him moving away! It's even more incredible than that. I've had pros close 3-4 feet of space and whack me with big combinations without me seeing it!
This is something you have to see in person, FROM INSIDE THE RING, to really appreciate. It's easy to watch this on TV and say, "Oh he should counter him when he comes in." But that's the thing…YOU CAN'T FEEL HIM COMING IN! You cannot feel his body getting closer, you cannot feel his feet shifting and sliding or whatever he's doing down there. This isn't just good footwork, this is ULTRA-SLICK footwork!
Again, it's not about speed, it's about being undetectable. Part of how the pros do it is through using incredibly relaxed footwork. That's the only way. It's like punching. As long as you're being totally relaxed and free of tension, the opponent cannot read you because you're not "loading" any tension in your body. There is nothing to "read". The other part of it is timing. The pros really understand when are good moments to come in and they have the experience to know when you're not prepared for it.
8. LEAD right hand
Pros have great lead right hands. It's not the most powerful knockout punch in the world but it's a nice surprisingly quick shot with just enough pop to stop you in your tracks. They'll land it right as you're about to throw a jab or even right before you throw your right hand. A pro popped me good once with a lead right as I came in with my head while trying to throw my right hand. It taught me to keep that head back or maintain a distance always. The lead right is so much faster than you think and so hard to see.
The trick to the success of this right hand seems very much to be the result of two things: the body position and the punching technique. Pros use a wider variety of relaxed free-flow body positions. They're able to punch and defend from every position so they're not always forced to rigidly spring back into the "basic stance". Because of their skill, they have more freedom to square up their shoulders or lean in at times which brings their right hand closer.
Their punching technique for the lead right hand is very much like a jab technique. A quick little pop in the shoulder and that's it, not so much twist in the hips or pivoting in the feet (like with a normal right hand). They simply hold the ground right there and then *POP!* there goes the lead right. Because their punching technique is so minimal, they can get that right hand off so much quicker and from any position.
The pros lead right hand technique is all about setting up the arm and then firing it using a little pop in the shoulder. The real SKILL in landing this punch is knowing the timing and when to throw it. When thrown properly, you can stun an opponent right in front of you without him even knowing what hit him, it's THAT fast. And then you can finish him off with some hooks and an even harder right hand.
Having a fast lead right hand makes your right arm a much more balanced weapon. It's very common that you see a fighter with a well-developed left arm that can throw both fast punches (jabs) and hard punches (hooks/uppercuts) but the right arm is a bit one-dimensional and can only throw hard long range shots. Having that fast lead right allows the right arm to have both fast and hard punches at your disposal. This makes you far more threatening to your opponents because now they really have to watch out for both of your hands.
9. WALKING Around
This is one of my favorite qualities about pro boxers. They walk around a lot. They look so calm, relaxed, and nonchalant about fighting but they're actually always ready to engage. They'll walk in, hit you, and walk away. Slick as hell, you don't even realize how easily they walked in on you. And you frustrated when you see how calmly they walk away. When they want to run, they don't jump or panic or anything like that. They simply walk: a step to the left, another step to the right, maybe two steps to the left again and they're out.
Walking keeps their feet grounded, energy conserved, and the fight relaxed. It takes a really slick fighter to be able to walk around the ring without a care in the world but that is what the pros do well.
10. Lots of TOUCHING
Pros touch their opponents a lot. And I mean A LOT. It's a stark contrast to how amateur boxers fight because amateur boxers are usually keeping their hands up for defense and keeping their hands to themselves. When you watch pros in sparring, you always see them laying their hands on their opponents, touching here and there. It's such an effective technique and when strategically used, it can create all sorts of offensive and defensive opportunities in the fight.
Offensively, you could touch an opponent simply to distract him. Instead of jabbing him to the head (which is slower), you could touch his head, or if his glove is up, you could touch his glove and then quickly throw a hook to the body. You can punch with the same hand that touched or use the other hand. You could touch any place to concentrate his guard there and then attack him from a different angle.
Defensively, you could touch an opponent to interrupt his punches. Suppose you didn't have time to throw a counter jab, maybe your body wasn't in position to throw a proper jab or your hand isn't retracted back enough, you could just extend the hand and quickly push his face away. It's a very annoying tactic and can buy you just enough time to move away.
It's common to see pros touching their opponent's head or shoulders. Touching an opponent's shoulders can force him to fire a curved punch instead of a straight punch, which is then easily avoided by leaning back. It's easier to defend because you knew what to expect. You can do the same by touching an opponent's head as you move away from him. It's annoying and can frustrate an opponent because it limits his punching options and can even prevent him from coming in.
On the inside, pros also like to touch an opponent's head or shoulders to use that as a lever to push him or spin him away. Many pros will touch or even hold their opponent's shoulders as they move around their opponents. It's pretty slick and very fun to watch.
It's important to know that nobody likes to be touched. Even the simple contact of your glove on your opponent's body can make him anxious and exert more energy than he would have. I especially like to put my hands on guys with thick arms because it makes them more reckless and wears down their heavily-muscled arms. If you've ever fought a pro before, then you know how annoying it is to have to punch around his forearms all the time.
Watch a Pro Boxer Train
One of my favorite videos of a pro sparring an amateur. Notice the difference in technique, strategy, and mastery of the sweet science. Here's another one of an international level amateur boxer fighting a pro boxing champion.
I highly recommend for you to watch how a pro boxer trains.
There are so many things you can learn simply by watching IN PERSON. So many things that you would have never thought of to ask. So many things that are impossible to explain and can only be understood by seeing. It would be a great benefit for you to see up close and in person how a pro boxer fights. It would also help to learn the pro boxer's mindset.
There are so many things you will see:
how they train
how they move
how they punch
what exercises they do
And so many things you will realize:
that pros are so incredibly relaxed (but yet still deadly powerful)
they can fight in all positions (all stances, squared up, off-balance, southpaw, on the ropes)
they break the rules all the time (dropped hands, walking around, not jabbing first)
how intelligent they are
how incredible they are
You don't have to fight like a pro,
but at least you can watch how one trains and fights.