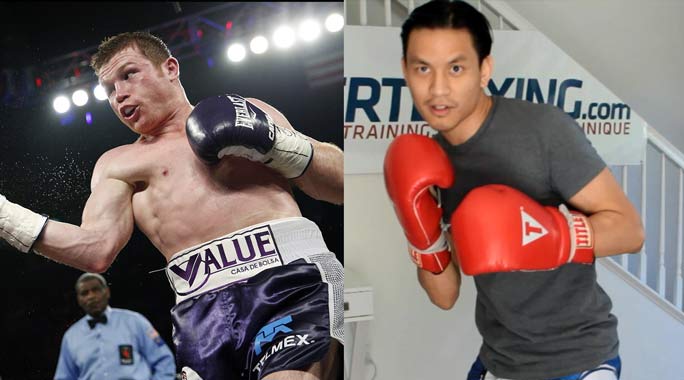 My favorite boxing tricks from the incredible Mexican junior middleweight champion!
Saul "Canelo" Alvarez is one of the biggest and youngest champions in boxing. Only 27 years old and already the sport's biggest PPV star. Today, I'll break down the moves I've seen him do the most and release my own interpretation on how and when I think he does them.
Canelo's a stocky pressure fighter with lots of speed and power but fights very differently from how you would expect. He's patient instead of trying to overpower opponents with his strength. Throws very few punches and likes to box from the outside despite his shorter arms. Although he's got all the physical attributes, he's very much a thinking fighter and prefers to take his time.
On to the breakdowns, shall we?
Canelo's favorite boxing tricks
1. Head Movement Baits
The first thing that comes to mind is Canelo's impeccable head movement. For a stocky aggressive Mexican fighter, he's actually a very slick guy. Well-schooled and very fast. It's part of what makes him so fun to watch. He's not only aggressive but can also set up his shots instead of running in wild.
Most fighters use head movement to get inside. Canelo uses head movement to make you reach off balance.
What makes his head movement so different from other fighters is he uses it. Most fighters, especially the shorter ones, will use head movement to get inside. Canelo uses head movement to make you reach off balance. This is done by not only staying in his own place instead of moving forward into opponents, but also by slipping as often as possible instead of blocking or parrying.
Head movement against the jab
You can see Canelo's tactics very clearly in how he defends the jab. Most fighters would either block it or slip and counter immediately. What Canelo will do is simply lean his head into different angles to make you reach with your jab. Once your jab is long enough, he'll throw a big counter over it. It's clever in that he prefers to lull you to reach in more and more instead of him trying to dash into your space. I imagine it's more energy-efficient to fight this way as long as your head movement skills are good enough. This tactic is also good for tempting the usual jab-and-run fighters to stand and trade a little more.
Head movement against the hook
You'll notice that Canelo never blocks left hooks. He'll either lean out of range, roll under them, or he'll roll his head away (all the way to his left). It's like his body is temporarily southpaw. (I've also written about this "blade-slipping" body movement technique before.) It's an extreme roll tactic but one that sets up many unexpected counters. Which is exactly what I'll be covering next…
2. Deep Left Roll
As mentioned previously, one of Canelo's favorite evasive maneuvers is to do a deep shoulder to his left side. He simply turns his entire torso to his left and uses that to avoid punches as well as set up tricky counter-punches.
Deep Left Roll against the JAB
Instead of just slipping his head OUTSIDE the jab—which is a normal tactic for boxers—Canelo will also turn his torso to his left side so he can throw a right uppercut under his opponent's jab (aimed at the head). This requires quite a bit of body contortion and as I've already said, it's usually not expected.
Deep Left Roll against the LEFT HOOK
As already explained, Canelo will roll off the left hooks so that they swing at the air. This is a great way to make opponents swing themselves off balance or wear their arms out. Also another way to keep opponents from realizing that he's already in range to land his own punches.
Deep Left Roll against SOUTHPAWS
Canelo will also use this move effectively against southpaws. Instead of slipping OUTSIDE the southpaw jab, like what most orthodox fighters will do, Canelo will instead slip INSIDE the jab while doing this deep left roll. From here, he can throw a counter left uppercut with the roll or just roll off the jab and come back with his own left cross. This deep left roll tactic can also be used against the left cross. Whereas most orthodox fighters will simply slip outside the left cross and counter back with a counter-cross, Canelo will not only slip outside but also face his body to the left so he can get some right uppercut angles.
3. Tricky Uppercuts
Unlike other fighters that only throw uppercuts from inside, Canelo can throw uppercuts from the outside at tricky angles.
Canelo loves the uppercut and he's very clever with how he sets them up. While most fighters only use uppercuts from the inside, Canelo likes to throw uppercuts from the OUTSIDE. It's very unexpected as uppercuts thrown from the outside typically come from long-armed fighters. It's a testament to Canelo's skill and elusiveness that he manages to throw it as comfortably as he would with any other punch and not be worried of counters.
LEFT uppercut STRAIGHT up the middle
From mid-range and even somewhat on the inside, Canelo manages to throw left uppercuts straight up the center. But it's not the typical uppercut you expect which arcs from down under. Canelo's shorter arms come very straight and the uppercut looks more like an upside down jab than the typical upward-curving uppercut. It's hard for opponents to tell if it's a straight punch aimed downwards at the chest or upwards at the chin.
LEFT uppercut OVER the opponent's right elbow
Very clever move that's awfully hard to detect. Canelo throws a curving left uppercut that LOOKS like a left hook to the body, but instead goes over the opponent's right elbow and into his chin. I love this move so much. Try it a few times in sparring and you'll see why it works so well. In case you need to help set it up, I suggest jabbing at the body or your opponent's left elbow a couple times before throwing this trick uppercut to the head. It's different from the usual uppercuts that sneak up the middle INSIDE of the opponent's arms.
RIGHT uppercuts as a LEAD or COUNTER
Canelo's right uppercuts are very different as well. Most guys will throw it from a stationary position, or they won't even use it because they're wary of the counter left hook. Canelo employs many tricks with it. One is the usual move where he blocks his opponent's right hand and comes back with a right uppercut (like how Floyd Mayweather does it). Another way he uses it is from the deep-roll position where it's hard to tell if it's going to the head or body. Most fighters throw it from the normal stance.
The trick to the right uppercut isn't just the setup but also in how he avoids the counter left hook afterwards. If he's close to his opponent, he will duck his head FORWARD and then roll down under and back (as the hook misses above). If he's far from his opponent, he'll simply do the deep left roll maneuver.
4. Dipping feints + HARD LEAD
I love this tactic from Canelo and actually use it a bit myself. It's a sudden sharp jerking movement down to your left or to your right. It's like a slip, but a micro version of it. You move just a tiny bit to make him react or distract him, then quickly fire a lead right or lead left hook. This move can also be considered an off-rhythm attack. So you don't have to do it fast as possible but simply create a timing and then strike faster than expected.
Different ways to use the dipping feint:
DIP LEFT, feinting a left hook to the body, then throw a lead right.
DIP RIGHT, feinting a right hand to the head or body, but instead dig a left hook to the body or fly up with it to the head.
DIP RIGHT, feinting a right to the body, but instead throw a straight right or (using a deep left roll) throw a right uppercut to the head.
Jab to the head, fast touching right to the body, then big left hook to the head.
Canelo Boxing Style
A lot of Canelo's boxing tactics are centered around getting him into distance and using his speed and skills to land tricky counters with deadly power. This makes a lot of sense considering his stocky body type, with its shorter reach and high power. While most shorter guys will use pressure and lots of energy to close the distance, Canelo does the opposite. He likes to lean back and let his opponent's come to him. He'll slip just outside of their range to make them reach in more and more. And once he's got them in the range he wants, that's when he strikes.
You'll see that he uses slipping to lure opponents in instead of slipping to bring himself into range. He's a very calm mover. Never spending much energy and never trying to outwork the guy. He walks in calmly, slips once or twice, and BANG!…super fast counter.
He's definitely a head movement specialist. Real clean, real subtle, and many awkward angles that give him different looks that you wouldn't get with the typical movement. All he needs is to distract you for one second just so he can a single punch in. Once one lands, opponent's will probably be too stunned and scared to trade punches with him and that gives him all the time to follow up with others.
Which one is your favorite? What other strategies or tactics have you seen Canelo do a lot? Share your thoughts below.