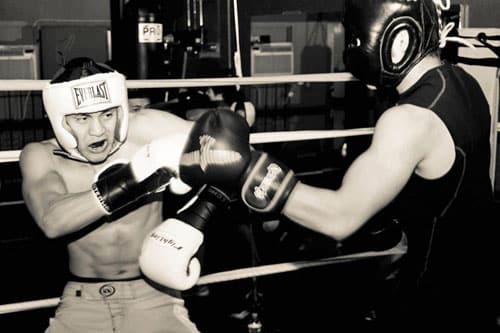 We've all been here before. The feeling of self-doubt, uncertainty, fear, pain, confusion.  One minute I was excited to be the greatest fighter in the world. The next minute, I was wondering if boxing was even the right thing for me.
I gave up on myself a thousand times. I hated my jab, hated my footwork, even hated my own boxing style. I lost all confidence in my own abilities. The sport I had fallen in love with had become my greatest enemy. I was all but permanently retired from boxing when a light shined at the end of the tunnel.
It turns out: failure can be the greatest thing to ever happen to you. FACT: many people actually reached great success AFTER failure.
Here's how I reached absolute failure within 6 months of boxing…
1. Excitement
Getting started in boxing, living the fantasy…
I'd have to say all failure starts with excitement. You have to be excited about something to ever really "fail" at it.
My first day of boxing was one of the most exciting days of my life. I hadn't even stepped foot in the gym and already I was thinking, "Man, everyone is going to be amazed by my natural power!" I had seen enough Rocky movies and watched enough fights. I had never boxed before but I certainly didn't consider myself a beginner. In my mind, I was only a few months away from bobbing and weaving like Mike Tyson.
The first day of training couldn't gone any better. I was able to follow all my trainer's instructions with perfect form. The jab, the cross, the hooks, uppercuts, all the footwork. My trainer said my technique was perfect, and my power & speed INCREDIBLE. Considering that other more experienced fighters were watching me, I was turning out to be every bit as good as I had imagined.
I couldn't wait to come back the next day. I couldn't wait to buy my own gloves. I eagerly accepted my new identity as a boxer. Not just any boxer, but one of the greatest of all time.
2. Realization
Losing fights, getting embarrassed, realizing you're not as good as you thought…
Everyone gets humbled at some point in boxing. Sometimes it happens when you get shown up by an old trainer, or even more embarrassing—get beat up by a girl. My humbling moment came at the hands of Rigoberto, a 20-year old middleweight. He was a cousin of one of the pros in the gym and easily outweighed me by 15-20lbs. But still, I made up the betting odds to be in my favor. It wasn't that I saw him as some sort of handicapped opponent, it's just that I was disillusioned to think I was better than him. This is why people tell you ego can be the most dangerous thing to a man.
The first round started with me controlling the center and pushing the pace. I walked him down and threw numerous combinations from all angles. I didn't land everything but I did connect and I definitely was the more aggressive fighter. He seemed to be confused by my speed so I let him have more of it. The more passive he got, the more confident I grew. And as more punches landed, my confidence had swollen like a giant hot air balloon.
In that second round, the giant hot air balloon was popped. He let me chase him onto the ropes where he pulled his head slightly away from my right hand and came back with a huge counter right. When I jabbed, he jabbed harder. When I blocked his jab, his right hand came around my guard. When I tried to block his jabs and rights, his left hook battered my ribs. At one point he rolled under my wide hook and threw a short right straight into my stomach. My body shook in pain and I thought I was going to barf.
I didn't remember the Rocky Movie to be this painful. I didn't want to be Rocky anymore; I wanted to protect myself. I cowered up in fear as Rigoberto slipped left and right and rolled under all my counters. Deadly hooks and crosses punished me for every missed jab. Any surface exposed on my head was found immediately. My gloves made a terrible umbrella in preventing his punches from raining down on me.
My trainer had seen enough and stopped the match. He took off my headgear and told me to warm down. He didn't tell me that I did good or did bad. He didn't say, "Nice try." All I heard was, "You're done." A lot of people were watching this sparring match; in awe of the mismatch (many of them, fans of my previous battles). My little brother was there to see me slay this giant Mexican dragon, but instead saw me stopped in 2.
And just like that, my ego came crashing down like a burning fighter jet.
3. Fatigue
Getting tired of boxing, mentally and physically…
I started to get tired of boxing. I don't know if it was mental or physical at first, but it ended up as both. My body was getting nagging injuries. My shoulders were always the first to tire out and my lower back was stiff. I always felt handicapped during sparring matches; always feeling like I could have won the match had only I been 100% healed. It wasn't only that I never showed up at the gym 100% physically ready anymore, I was never 100% mentally ready either.
Everything bothered me. The gloves didn't feel right, the headgear was always too loose. My hand-wraps and shoelaces kept coming undone. I swore the universe had conspired to give me a stomach ache and calf cramps before every sparring match. Although I was still one of the hardest working fighters in the gym, I wasn't excited about boxing anymore. I trained because I had to, not because I wanted to. Sometimes when I lost count of my sit-up reps, I just rounded up the number and finished.
Sparring, for the first time in my life, was starting to feel painful.
4. Insecurity
Self-doubt, damaged confidence…
I secretly hated everything about my style. My jab always tired out my left arm. My head movement was never fast enough. I always had the worst endurance and I HATE HATE HATE when someone slips my jab.
When my opponents slipped my punch, I felt I was too slow.
When my opponents hurt me with a punch, I felt I had no chin.
When my opponents outworked me in the ring, I felt I had no endurance.
When my opponents ate my punch and countered back, I felt I had no power.
Maybe I wasn't meant to be a boxer. Maybe I'll never be great because I don't have the natural talent or athletic genes. The more I trained, the worse I felt about myself. Maybe boxing's just not for me.
5. Quitting
Slowed progress, not getting any better, skipping training…
It didn't matter how hard I trained, I just couldn't get any better! The harder I tried, the harder I failed. Everything worked fine on the mitts but never in sparring. I will still making the same dumb mistakes, getting caught by the same counters, and beat up by the same people.
My patience broke when I saw beginners getting better than me. It really hurt to see other beginners picking up things so naturally without being taught. They had such great balance and endurance even with so little training! It got to a point that I didn't even want to BE in the same ring as these "beginners".
I started skipping training days and then weeks at a time. I wasn't man enough to admit to myself that I had quit boxing. I simply made excuses to myself that I was too busy. School, work, friends, life. All sorts of things get in the way when you're purposely avoiding something.
The greatest failure of all
is never admitting to yourself that you failed.
Failure is the beginning (of greatness), not the end
I thought quitting would plunge me into the darkness forever. That I would never again catch up to my initial greatness, that I would never live up to high expectations I had for myself. But actually, I realized the opposite.
There is a light at the end of the tunnel. And if you walk towards that light, you'll find a new sun…and a new world, and a new life. You start to realize quitting isn't the end. Actually, it's the beginning…of a whole new you.
That's what success really is: creating a whole new you, OVER and OVER and OVER and OVER a million times. And you can't really make a whole new you until you quit and give up on your old self. Because the truth is, you were never that good to begin with. And it takes the realization of knowing how shitty you really are in order to grow beyond that.
You have to realize how terrible you are,
to grow beyond that.
Failure was one of the best things that could have ever happened to me. I came back a month later with a clearer goal, to get better at boxing for myself. I stopped caring about beating others, or having the hardest punches, or doing the most sit-ups. All I did was listen to my trainer and put in the work. No complaints, no self-judgement, no ego. I relearned all my boxing techniques and became one of the best fighters in the gym again in less than ten weeks.
So go ahead: Get angry AND QUIT. Give up on yourself. Then come back and do everything right, and succeed beyond your wildest imaginations. I've given up on myself enough times to know that the way I feel doesn't matter anymore. What matters is my technique, my training, and my strategy. On my worst days, I say to myself, "You're a piece of shit" and then get right back to work.
Now it's your turn. How many times have you quit already?
Read the other parts of this series: