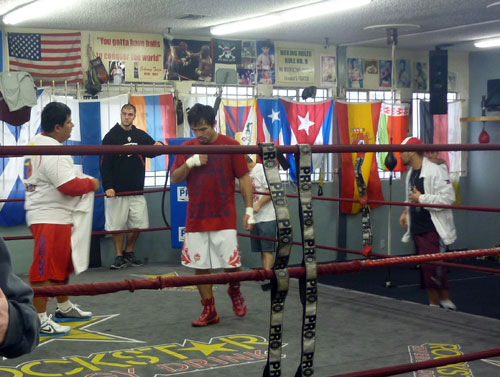 I'll have to be honest. I didn't come here to train; I came here to see Manny Pacquiao. But then it ended up being a training session with former world champion "Cool" Vince Phillips, the only man to ever knock out Kostya Tszyu. He slapped me in the face several times for dropping my hands.
This gym is like a boxing zoo or boxing theme park! I've never seen so many people in one place. The size of the gym was like 2 boxing rings and some extra space. I saw at least 60 people crammed in there and another boxer told me it was only half as packed as normal – CRAZY! It was common to see 2-3 people sharing a heavy bag or double-end bag. I saw 2 sparring matches in the ring at the same time while Vince Phillips worked mitts with me IN THE SAME RING! Hahahaha! I'll never forget the madness.
I also did see Manny Pacquiao finishing his workouts. I saw Jose Benevidez and Shawn Porter warming up as well as a ton of other well-named boxers. It was like a star-studded gym workout. I even spoke with Freddie Roach for 5-10 minutes about some upcoming fights.
A friendly place for serious boxers. Crowded but the busy atmosphere will definitely challenge you!