How many new exercises have you learned since you started boxing? How many have you tried and then never used again?
If you count everything you've seen in the gym, pre-fight training videos, and Youtube, we've got all the exercises we need … and more. Much more. It's easy to think there's some magical exercise out there to make you the next Muhammad Ali but I disagree. There's only so much exercise your body can handle so you'll have to prioritize.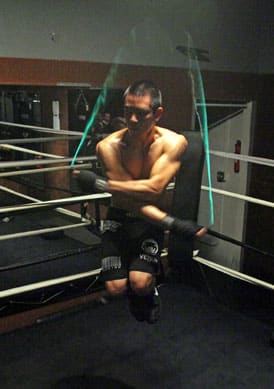 How are my favorite boxing exercises…
1. Sparring
There's no training that better mimics fighting conditions than sparring. Aside from the excitement of trading punches, it's a great boxing workout. Sparring is so much harder than training! You work every muscle in your body jumping, twisting, and contorting in an effort to respond to your opponent's every move. Your arms get tired because you're swinging at the air. Your legs wear out faster because you keep going off balance. Your mind is panicking because you're don't usually have to think so fast during training. You can't breathe as quickly because you got a mouthpiece on and an opponent who won't give you any room to breathe!
Is there any workout more challenging
than punching and trying not to get punched?
How to Spar
I don't recommend this for everyone but here's how I do sparring: I try to spend as much time as possible in the ring. I spar for warm-up, I spar for exercise, I spar to develop my skills. If no one says anything, I'll hog the ring for over an hour!
Here's my secret:
I go slow. When I first hit the gym, I'll spar light with a beginner to warm-up my muscles. I'm only touching him, not trying to hurt him. He'll usually have a trainer coaching him but it's ok, he's only a beginner anyway. It works out nicely because I'm getting a live opponent instead of boring shadowboxing (which I still do, btw). After the warm-up sparring, I head to the jump rope (if I haven't already done this), bag work, stretching, etc.
After the warm-up exercises, I'm back in the ring again! This time it's a workout, I'm in there moving and trading with a solid opponent. We're both being fast and powerful. It's controlled, but it's still a workout. I last 3-6 rounds, tops. I step out of the ring exhausted this time, and start chatting with coaches and other fighters about improvements to make on technique or strategy. I do some work on the mitts, try out the new moves in front of the mirror and on the heavy bag.
And then, I'm BACK IN THE RING AGAIN! This time, I go light with another skilled boxer. We work on different combos and strategies but we're not trying to beat each other up. We're helping each other out, giving each other different looks and chances to improve. For example: If I throw a combo that lands and he didn't see it, I'll throw it again for him to develop the counter for it. I might throw the exact same combo 5 times in a row until he sees it counters it perfectly. Once he's got it, we both smile and move on to other things. We'll trade punches again giving each other chances to work on new things, sometimes coaching each other as we fight. Because it's really light sparring, we're usually more aggressive and staying in range with each other to keep a continuous flow of punching. Being that nobody's getting hurt, we go up to 30 minutes straight — no breaks.
When sparring is done right, it develops EVERYTHING a fighter needs — conditioning, skills, and mental confidence. You'll learn more from sparring if you keep it controlled. Don't try to be a tough guy. If you're just sparring to beat each other up, you won't last beyond a few rounds.
2. Mitts
The mitts is probably the best boxing drill to learn new technique. It's similar to sparring in that you get to improve your offense and defense simultaneously. (Actually, I can't think of anything other than sparring to test your defense.) The real benefit is that you get a trainer who can see your every move and give you instant feedback. Hitting the mitts is the probably the best way to develop new skills and it's a lot of fun.
The advantage of the mitts is that it works your timing and accuracy in conditions that mimic a real fight. You'll have a moving target that also punches back at you. My advice when working on the mitts is DON'T GET TIRED. Yes, hit it hard if you must but learn how to punch right. Try going for 30 minutes straight and then when you're ready to stop, finish off with 3 hard rounds. Don't just throw power into every shot, develop your accuracy, timing, breathing, coordination, and reflexes. Just like with sparring, the keyword is "CONTROL". Control yourself, don't get tired!
Anybody that gets tired hitting the mitts
is definitely going to get tired against a live opponent.
3. Shadowboxing
One of boxing's most underrated exercises. Physically, it develops your form, speed, and balance. You can practice anything you want at full speed and move around. Sure, it's not as glamorous as beating up the heavy bag but it's deadly effective. It conditions your body to throw fast punches and gives you the opportunity to practice all fighting movements.
Shadowboxing is like
meditation and visualization exercise for a boxer.
Use the opportunity to practice anything you want — like a difficult counter getting past your opponent's guard. You visualize as you shadowbox, moving around an imaginary opponent. Shadowboxing in front of a mirror allows you to check your form and see instant changes in your movements.
My favorite benefit of shadowboxing — you can do it anywhere. In front of the TV during commercials, while talking to friends, waiting in line at the grocery store, underwater in the pool, or anywhere you can find a mirror. The only equipment you need to shadowbox is a place to stand and a few seconds of time. 😉
4. Double-end Bag
This right here is my favorite bag. The double-end bag is something between a heavy bag and a speed-bag. Hitting a speed-bag can get repetitive and a heavy bag is a bit hard on my hands over the years, so the double-end bag naturally became my favorite "bag".
You can hit the double-end bag as hard as you want
but you have to time it right and be deadly accurate.
It's far more challenging to hit and develops your higher level skills, mainly timing & accuracy. I understand some fighters (especially beginners) don't spend much time on it but I will say this, "Do it! Train on the double-end bag, and you will get much better at hitting opponents in the ring." It's pretty satisfying to land combos on the double-end bag and much more satisfying when you can do it to a moving opponent.
Aside from the timing and accuracy, the double-end bag is great for developing hand speed and arm conditioning. It's far more tiring to the double-end bag because you have to be fast each time. I think of it as the minimum hand speed — if you're not fast enough to hit the double-end bag, you're probably not fast enough to hit an opponent. I recommend you wear 12 to 16oz gloves and hit the double-end bag for at least 3 rounds. Sometimes I'll go for 30 minutes straight (even while chatting with other boxers), but hey, that's just me.
5. Jumprope
The jumprope is one of
the best exercises for full-body conditioning!
I'll tell you it's my why favorite conditioning exercise for boxing. It teaches you how to increase your muscle efficiency, WHILE developing your muscle conditioning! If you've ever skipped rope before you'll know what I'm talking about, and if you haven't then you'll just have to take my word for it.
Using the jumprope trains 2 things, body conditioning and relaxation. Most beginners have a problem of always using their muscles and not knowing how to relax. If you do this on a jumprope, you'll gas out in a few minutes tops. However, if you DO know how to relax you can jump rope forever and not spend much energy. A beginner will exert his energy the whole time on the jump rope whereas an experience skipper will relax with very quick bounces that require only a split second of muscle contractions.
When I first started jumping rope, I was out of breath in about 2 minutes. Now I can go for at least 2 hours; I actually don't break a sweat until 15 minutes in. The difference is that I know how to relax and contract my muscles just in time to skip over the rope. It develops my mental relaxation and maintains a minimum level of awareness of all times (you have to always be aware of the rope). Later on this raised level of awareness can be used to slip jabs or other punches. You're always use to moving and thinking AND you can still relax while doing so.
Physically, it works the arms, shoulders, back, and legs. You'll develop better footwork and more relaxed footwork. Combine that great body conditioning with the improved muscle relaxation, and raised minimum level of awareness and you'll see why the jump rope makes better fighters. At the very least, you should be able to jump rope and tell jokes without getting tired. Anybody that can do that will be able to box without getting tired.
Honorable mention: CRUNCHES & RUNNING
These exercises ALMOST made it to my list but unfortunately they don't because they're boring as hell and don't develop any boxing skills.
Core exercises like crunches are important for ANY sport because your core connects your entire body together. Having a stronger core allows you to combine the power of all your muscles so to exert force as one solid unit. Almost all moves that you make in boxing requires the synergistic output of your entire body. Having a strong core allows you to punch harder, run faster, and move explosively without losing control. Most fighters that have bad balance will typically have a weak core. Think about it…if balance is about staying centered, then what muscles in your body are helping center yourself? THE CORE! The core is especially important in boxing because your opponent is hittnig you there with punches. If you don't have a strong stomach, your stomach will hurt when you try to move your legs or throw punches. You'll be weak and you'll be in pain if you don't do those crunches. Quite simply, it's impossible to make explosive movements with your body if you don't have a strong core.
Running is one of the most functional movements of the human body. Human bodies were MADE to run — yes, we were anatomically evolved to travel quickly using 2 limbs. I can't think of any other animal that can run the same way we humans run. Our bodies were built to run as a means of transportation, but I guess nowadays in this age of technology running just means exercise to most people. Well, it's a good exercise because our body is made to run efficiently. The structural placement of our limbs and muscles make running one of the most natural and efficient ways to use (and exercise) our entire body. I guess that's the secret to developing athletic ability, you have to workout using natural movements to make your body more functional. Sure, you can lift a ton of rocks and argue that lifting rocks is harder than running. But does lifting rocks really make you more functional overall as an athlete? Hmmm…
The Best Exercises for Boxing
The best boxing exercises should help to develop higher level boxing skills. After training for so many years, you get sick of just running or doing crunches. You start to appreciate the more challenging exercises. All of these exercises (except the jump rope) will allow you to practice your more advanced fighting moves. The best exercises to me are challenging AND fun.
What about other boxing exercises?
Calisthenics, push-ups, etc. I don't enjoy them as much but they're all important. You need to do everything, but if it were up to me…you know exactly where I'd be spending my time.
You can do all the exercises you want,
but PRIORITIZE!