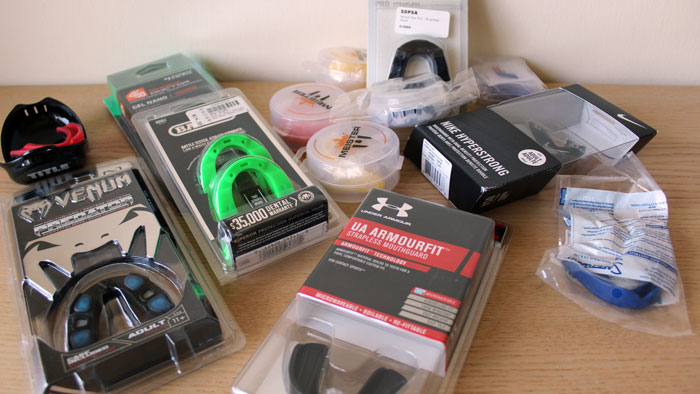 The #1 mouthguard review! 20+ brands and dozens of models covered.
I'll break down what qualities to look for in a mouthguard. Which things feel nice and protective, and which things feel annoying or less-protective. I've tried dozens over the years and also get free ones all the time.
Let's decide which mouthguard will protect your teeth, jaw, and brain the best from punches!
IMPORTANT QUALITIES for boxing mouthguards
In case you don't know WHY fighters wear mouthguards, it's to protect themselves and also their opponents. Your teeth can cut into your lips, insides of the mouth, or their tongue, or dig into your opponent's knuckles. Or also the other terrible scenario, you don't want someone's teeth getting punched out.
I can tell you from my own personal experience that sparring without a mouthguard is a terrible mistake. You are bound to bite your own lip or chomp on your own tongue. I've bitten through my own tongue (basically gave myself a tongue piercing) when I got hit with an uppercut while not wearing a mouthguard.
1. COMFORT
You have to feel like it fits your mouth comfortably and that you feel "natural" with it in. If it feels like a rock is suffocating your mouth, that's not the right feeling! If it feels like it's leaving your mouth open and kind of vulnerable to getting punched, that's also not the right feeling. If you don't feel comfortable, you won't relax.
The worst mouthguard are the ones that don't feel like they leave your jaw in a natural position. Some will make your mouth, jaw, or neck muscles tired. Others make you salivate a lot. Tension is really bad, as even a little bit of jaw tension can spread down your neck and to the rest of your body, affecting your overall body movements.
2. PROTECTION
The mouthguard should protective your teeth, your jaw, and brain. The teeth is protected by the "rigidity" of the mouthguard. The jaw is protected by the mouthguard keeping the upper and lower jaws aligned; if the lower one is "loose", it feels like it can be broken! The brain is protected by how well the mouthguard distributes the shock impact across your entire skull instead of only to one area.
NOTE: everything I just said is a wild guess. I'm not a doctor or mouthguard scientist. I'm simply going by what I feel!
3. BREATHABILITY
You have to be able to breathe through the mouthguard. There's no point in a mouthguard that feels secure but makes it harder for you to breathe. Some mouthguards feel like they cover all your breathing holes, or that you have to use more lung muscle to force air in and out. This feeling can come because the breathing holes are too small or maybe because the way your lips roll over the mouthguard. Everyone's mouths are shaped differently so it can come down to personal preference as well.
4. MULTI-DENSITY
I think the best mouthguards absolutely have to be made of multi-density plastic. It's because if you have single density, they end up being either SOFT all over (for comfort) but then are easily chewed through or aren't rigid enough to offer support….ORRRRR…..they're HARD all over and don't mold well enough to your mouth for comfort. I think the best balance is that the parts that get bitten have to be strong enough to resist your teeth and the parts that wrap around your teeth should be softer for comfort (molding to your mouth better, and also not cutting into your gums).
PERSONAL QUALITIES for boxing mouthguard
1. BOIL-&-BITE vs CUSTOM MOUTHGUARDS
In my opinion, the cheap $25-50 boil-and-bite mouthguards, will most likely always be better for you than even a $150 or $2000 custom mouthguard (yes, they exist).
IMO, standard BOIL-&-BITE is usually better than a custom mouthguard.
PROS & CONS of boil-&-bite mouthguards:
SINGLE and DOUBLE options – if you love having a DOUBLE mouthguard which also covers the lower row of teeth, or maybe you like having breathing holes in the center, your only choice is to get a boil-&-bite. Custom mouthguards do not come in the DOUBLE design. I think it's because it's incredibly hard to know exactly how the top and bottom row will line up for each individual person.
CONVENIENT – you can buy them from a store and mold them right away to your mouth within 10 minutes. With a custom mouthguard, you have to get an appointment to get fitted somewhere (which also has a wait in itself) and then wait a couple more weeks to get your mouthguard. If for whatever awful reason the fit isn't perfect, you have to do it all over again.
CHEAP – boil-&-bite mouthguards may cost only $25-35 for the absolute best ones. Custom mouthguards can run anywhere from $50-150 for the best ones.
BETTER PROTECTION – I feel more protected with boil-&-bite mouthguards than I do in custom ones. Granted, I haven't tried very many custom ones but the experience I had was enough for me.
PROS & CONS of custom mouthguards:
CUSTOM FIT – if you need a truly custom fit around your teeth, gums, and mouth…custom mouthguards are your best option.
THINNER MATERIAL – because they are custom, they can be far less bulky and yet still protective because they're made of a certain material.
CUSTOM DESIGN – custom mouthguards can have your own design and names put on them since they are made custom after all.
BETTER PROTECTION – custom mouthguards can also seem more protective because they're perfectly fitted to your teeth and don't feel like something foreign that you have to bite on.
My experience with custom mouthguards….
I know…it's funny, right? Everyone assumes that a custom-fitted mouthguard should be not only higher in quality but also better fit. I will happily be the first to advise you against that.
First off, I think the boil & bite mouthguard will fit just as well as any expensive custom mouthguard simply because you're actually biting the mouthguard that you're using. I know the "custom mouthguards" sell themselves as having a better fit but I haven't found this to be true. You have to go to get a mold done by a dentist, and then your mouthguard is based on THAT mold.
Basically, your mouthguard will be a copy of a copy, or more accurately—a negative copy of a negative copy. I think having multiple copies allows for tiny imperfections…and then the mouthguard is "cured" and hardened outside of your mouth, which only leaves room for further imperfections. By the time you get it, I assure you it will not fit as well as a "BOIL & BITE" mouthguard that you actually bit into and let cure while it was in your mouth!!!
Secondly, I think the BOIL & BITE mouthguards are simply better/fancier material. They have multiple layers and a more refined design in my opinion. The custom guards seem to spend all their time focusing on the "custom fit" process and not as much on the actual material. The ones I did see that even offered different material choices, still didn't look or feel as fancy as the higher end B&B mouthguards. Again, I'm sure custom mouthguard have gone a long way and I've yet to try a recent model (but I will soon).
You're welcome to prove me wrong and let me know if you found a custom one worth trying. I was not able to. I can offer a few words of advice in case you still want to try a custom mouthguard anyway:
Go to a dentist or company that specializes in BOXING/FIGHTING/COMBAT mouthguards. Many of them are familiar more for baseball, football, basketball, or sleeping (to avoid teeth-grinding)…which I feel are made in a different way and with a different material.
Don't let the mouthguard reach so deep into your mouth. I had one with that issue that made me salivate like crazy. You can generate so much spit, you almost feel like you're choking/drowning during a fight.
Custom mouthguards are probably your only choice if you have a weird mouth alignment or teeth layout that doesn't fit a standard boil & bite.
I imagine fighters with braces may also prefer a custom mouthguard. But this is also weird to me since custom mouthguards don't cover the bottom row, so those will still be exposed.
2. DOUBLE mouthguard vs SINGLE mouthguard
In case you don't know the difference…the DOUBLE mouthguards protect both your top and bottom teeth and usually have some breathing holes in the middle. The SINGLE mouthguards are usually more slim and protect only the top row, and/or a tiny bit of the bottom row.
It's a matter of personal preference. Which one feels more comfortable, secure, and easy to breathe. Honestly, I've seen people who said the similar things about both mouthguards.
Some people feel single mouthguards are more comfortable because it's less material in your mouth. Feels more secure because your mouth closes tighter and you don't feel like your lower jaw is hanging out so far (vulnerable to getting punched off). Feels easier to breathe because you can open your jaw to breathe and also breathe around the entire bottom of it. It breathes as well as if you didn't have a mouthguard in. I will also say that if you can't breathe with your mouth closed with a SINGLE mouthguard, it ends up being more of a risk since you'll open your mouth to breathe!
But likewise, other people will feel the same advantages about double mouthguards, although in a different manner. Some say they feel more secure because they cover more of your teeth and lock the upper and lower jaw together. They also feel it's easier to breathe because your mouth doesn't have to shut the teeth perfectly closed to grip the mouthguard, and that the mouthguard has nice breathing holes right in the middle.
I would say if you like a naked feel, go for a single.
If you like a more protected feel as if you're wearing a shield in your mouth, go for the double.
If you like the nakedness of a single mouthguard but still want the lower jaw to lock in, there are actually some single mouthguards that have a little bit of bottom coverage to lock in the lower jaw somewhat…kind of like a 1.5 mouthguard.
If you have braces, get a double.
If you like to breathe in and out deeply in a huff-and-puff manner (basically panting), single mouthguards are easier for that and don't leave your mouth as open/vulnerable as a double mouthguard.
If you like to breathe in a sharp hissing manner, a double mouthguard will feel perfect and not at all like it restricts your breathing.
Honestly, I recommend you to just try both and see for yourself which one feels better.
Single mouthguard:
Feels like your mouth can close tighter.
Simpler, slightly less hassle to put on and off.
Doesn't collect as much saliva.
Easier to breathe.
Easier to talk or sip water.
Lets you open your mouth without the mouthguard slipping off.
Cheaper.
Less coverage than double.
Double mouthguard (my personal preference):
Secures both upper and lower jaw together.
More teeth coverage (covers the bottom row as well as the top).
Absolutely needed if you have braces.
Harder to breathe (for some).
Feels like you have to always bite down on it, or else it falls out. Some considered this a "PRO".
Harder to talk and sip water.
More expensive.
May cause more saliva.
3. HARD mouthguard vs SOFT mouthguard
Mouthguards do come in a range of hardness; HARD, MEDIUM, and SOFT. I would say Brain Pad is HARD, Under Armour is MEDIUM, and Shock Doctor is SOFT. I think it's part personal preference and also has to do with your teeth hardness and bite strength.
If you have a stronger your jaw (and stronger bite), you'll likely prefer a harder mouthguard. The soft mouthguards will feel too soft and too easy to bite through. On the other hand…if you have softer teeth or softer bite, you'll feel the harder mouthguards are too stiff and too uncomfortable to bite, almost like you'll chip your teeth.
Soft mouthguards:
Can feel more comfortable, less painful/tension to bite on, flexibility is more allowing of imperfect teeth alignment.
Less durable as the teeth can bite through the material easier.
Can feel less protective upon impact since it has less rigidity to distribute the entire impact.
Can melt too easily during the boil process or are too weak to reboil again.
Hard mouthguards:
Can feel more protective because its rigidity distributes the impact more across the jaw and skull.
More durable since you can't bite through the material as easily.
Stiff material can be really annoying and require a reboil if the teeth don't align perfectly.
The stiffer material can feel like it "sticks" to your teeth better and less likely to fall out when you open your mouth.
4. Bite depth
Some mouthguards have more teeth coverage and feel like a protective shell that completely wraps around your teeth. Others feel super slim like you're biting on some gum that covers only half of your teeth; these also allow you to speak during your sport.
I would say the fighting ones will protect more teeth and the slimmer ones are made only to minimally protect you. For this reason, I don't recommend using basketball or ball-sport mouthguard for fighting. Not only do they cover less teeth but I think they're more likely to fly off when you're getting hit.
5. What if you have braces?
If you have braces, you absolutely need to have a double mouthguard (or at least have coverage on whichever rows of teeth that have braces). Without covering the braces, they'll cut the insides of your mouth during impact when you get punched.
You should also look into the mouthguard specifications to see which ones can be used with braces. I don't think all of them are compatible. Don't quote me, but I think the ones that work with braces will have like an inside track or space where the braces can lay…instead of having to mold the mouthguard perfectly to your braces.
6. Kids or females
Kids or females may need to wear smaller mouthguards to fit their smaller jaws. Any reputable mouthguard brand will definitely smaller mouthguard sizes available or you.
7. SPORTS mouthguard vs COMBAT mouthguards
To be honest, I've never used any mouthguards outside of the ones made for fighting. I've never tried the basketball or football ones. I do feel many of them are made to allow more breathing and talking rather than purely to secure the jaw. Some of them look somewhat similar to fighting mouthguards but others look noticeably different. I also feel mouthguards made for weightlifting are built more to resist biting.
I don't know the difference and not sure which ones are interchangeable. I can't help but feel like mouthguards made for other sports are softer and less protective against impact. Again, I don't really know; it's a made-up thought I have off the top of my head.
8. What about mouthguards that promise increased power/performance?
What?! A $2,000 mouthguard that makes you run faster, jump higher, and punch harder? C'mon, don't be an idiot.
9. Moldability
I think this is part due to the quality of the mouthguard but also how well you mold it to your teeth. I highly recommend that you mold the walls very tightly and perfectly to your teeth so that there's no room for air in there. Get it as close as you can.
You know what happens if you let air get in there? It's especially annoying with single mouthguard as the air space feels like you have to breathe out through your mouthguard…imagine a BLOCKED coffee straw and that you're exerting more energy to exhale. This is only an issue with single mouthguards as double mouthguards usually have breathing holes right in the center. Nonetheless, you should get as tight as you can for better protection anyway.
10. Flavored mouthguards
I think this is a recent thing and definitely not something I feel was invented to help fighters. I think the flavored mouthguards are made for children in football or wrestling. And they're actually talked about and compared in terms of flavor (how good it tastes) and how long the flavor lasts (like bubble gum).
I don't get the whole flavor-thing to be honest. It might make sense if you're standing around bored, but to be producing saliva in the middle of a fight and confusing your body's fight-or-flight instincts? That's probably too distracting for me.
It would make sense if existing mouthguards tasted so gross and therefore the product actually solves a problem. But current mouthguards don't bother me or taste funny. And during a fight, I don't even notice how they taste.
11. Boxing/Kickboxing vs MMA
I've never done too much MMA, and almost nothing for kickboxing so I have absolutely no expertise in those. I feel boxing and kickboxing, you need the best protection against jaw impact. But for grappling, comfort may be a little more important. I think it's also easier for the mouthguard to fall out during grappling struggles so it's important to have one that really stays in your mouth (sticks to your teeth) even if you open your mouth a little.
NOTE about mouthguard rankings:
I list all the mouthguards here by my own personal preference. I typically prefer double-mouthguard and more on the stiffer side. Some of you may prefer a single mouthguard, or one that's more on the soft side. You're welcome to go by what you feel is best for you!
BEST BOIL-N-BITE MOUTHGUARDS – Brain Pad & Shock Doctor
Brain Pad and Shock Doctor are the 2 best brands of mouthguards in my opinion, and should be your first choice if you've never had a mouthguard before. They're both comfortable, protective, come with dental warranty, and easily found in most fight stores for about $20-35.
I also respect these brands the most since they seem to have built their name off of mouthguards…and not off of other products like gloves, shoes, etc. They focus only on mouthguards and also offer the highest dental warranty compared to anybody else.
In case you're curious, I never heard of anybody actually claiming the dental warranty. I've never seen anybody lose their teeth with a mouthguard on and I also wonder if it's just a gimmick (with fine-print to avoid paying out claims). In any case, it's nice that they stand behind their product.
Anyway, if it were up to me: I want you to stop reading here and just pick either the most expensive option of Brain Pad or Shock Doctor. It's a couple extra dollars, pay the extra bucks, and protect yourself! Don't even waste your time with the gimmicky cheap stuff!
Brain Pad – the stiff double
I list Brain Pad first because they are my favorite mouthguard.(RED) Don't quote me but I think they're the older company of the two. They also seem much more serious and I love their old school company vibe and branding. Even their packaging looks like a 90's toy brand.
They offer only a few solid product choices and with all of them being high quality. I hate the other companies that offer tons of choices and colors. C'mon now, it's just a mouthguard!…and not some silly "lifestyle brand"!
Brain Pad branding is pretty ugly and so is the product. It's a very industrial-looking design with hard lines and edges. But the fit and protection feel great. I love it! I would say the material feels a bit stiffer than most other mouthguards on the market, and especially compared to Shock Doctor (which has a softer "gel" feel). If there's any downside to Brain Pad offerings, it's that they don't seem to offer any SINGLE mouthguard designs. All of their mouthguards are DOUBLE, which is totally fine by me!
I also like the huge breathing holes. You feel like you can breathe just as well as if your mouth was wide open, and not like you're trying to suck air through some tiny coffee straws. With that said, some people do complain that Brain Pad mouthguards have too much material, leave your mouth too open (vulnerable to getting knocked out), and cause too much saliva/drool. That's up to you to decide and they do have slimmer versions that don't have that issue.
I would also say that Brain Pad is great for people with big mouths, big jaws, and strong biters…which describes me perfectly. Other mouthguards feel too small (not as protective, doesn't cover as much), and too soft (like I can bite through them). I love the rigid strength of Brain Pad but I totally get why some people complain that it's too stiff. Yeah, I can see it being uncomfortable if you feel like the mouthguard is harder/stronger than your teeth.
high quality, few product offerings
no-nonsense old-school branding
great fit and protection
big breathing holes
"stiff" feel, but they do offer "soft" feel if you want
only DOUBLE mouthguard designs
can feel big/bulky, but they do offer slimmer models
Brain-Pad, Inc. (3XSWP) 3XS Triple Laminated Mouthguard with Special Formulated Super Gel Pads WHITE/BLACK Adult ($22.99)
Their top model (the 3XS series); it's a DOUBLE mouthguard. I love it. Very protective and feels high-tech. Stiff and strong. Great breathing. Some people might complain that it's too bulky but I don't mind it at all. I love it.
It can also fit over top and bottom braces. Can also be used for football and other sports.
Brain-Pad 3XS Triple Laminated Strap/Strapless Combo BLACK/BLUE Adult ($21.99)
I think it's the same model as the one above but with different colors.
Brain Pad 3XS Professional Youth Mouthguard with Case ($15.99)
Same 3XS model but in smaller size for children, and maybe even females.
Brain-Pad PRO+PLUS Strap/Strapless Mouthguard – ADULT – Black/Gray ($21.10)
The PRO series is the next step down but a great quality model as well. Great protection. You can also get this in clear color.
Brain-Pad Youth PRO+Plus Double Laminated Mouthguard BLACK/GRAY ($7.99)
Awesome PRO design but the youth model. I'd say it's a massive bargain at only $7.99.
Brain Pad LoPro+ Adult Mouth Guard ($14.99)
Their "LoPro" models feature a slimmer design for smaller mouths or those who don't like such a bulky mouthguard. These can still cover and protect braces as well.
Other options: BLUE/CLEAR, CLEAR, WOMENS/PINK, YOUTH/BLACK, YOUTH/BLUE, YOUTH/PINK.
Brain-Pad Adult Double Guard Single material Mouthguard BLACK ($9.99)
This is their "cheap" line. It's made of only one material. From what I've read, it's still pretty stiff and pretty good protection. They also sell this in "youth" size as well but I couldn't find any links at the moment.
Shock Doctor – the super soft
Shock Doctor is for me the "cool brand" of the mouthguard industry. Sexy sleek designs and packaging. Tons of colors and options. All kinds of fancy choices. Lots of gimmicky marketing and over-hyped "technology" features as if they were selling cars. Anyway, they sell mouthguards ranging from $5 all the way up to $30.
Unfortunately, all of these things are a huge turnoff for me. I don't take them very seriously because of that. What kind of self-respecting mouthguard company even bothers to sell the crappy $10-mouthguards?! Do you see Ferrari's selling $50k entry-level cars? NO, YOU DON'T! I also don't like that Shock Doctor has so many designs. It certainly feels like they're ripping off designs from other mouthguard companies.
But let's focus on the actual mouthguards, shall we? I found them to be subpar because of the softness. I don't feel as protected with them on (compared to Brain Pad). But I do understand their appeal. Many fighters love their "soft" feel as it's more comfortable than a "stiff" mouthguard that can sometimes seem to bend your teeth. If you like how they feel, then get it!
The other thing about Shock Doctor that I think is a benefit is that their mouthguards do come in SINGLE and slim designs. This is nice if you don't like having so much material in your mouth. They're a great choice for those who like the feel of a slim or SINGLE mouthguard but still want some protection for their lower teeth. Shock Doctor has many designs that are like 1.5 coverage (full top, and half bottom).
Overall, I'll never like Shock Doctor because they're too soft. I feel like I'll bite right through them. I also feel like their material is so soft that if I don't bite it perfectly on the first try, they'll be too mashed up to re-boil again. But again, you should try them regardless as they might still be a good option for you!
They have way too many designs so I won't cover all except for the most notable ones. There are also many designs that I think are more intended for other sports rather than for fighting. They're too slim or too soft or don't have the right shape for fighting IMO. Shock Doctor also has tons of cheap stuff (although they look fancy).
soft gel feeling (very comfortable)
great fit
feels more protective than usual SINGLE mouthguards
too soft, melts while boiling or can be easily bit through
may feel less protective than harder mouthguards
some people feel they fall off easily
Shock Doctor Fangs Braces Double Mouth Guard ($26.99)
As is the case with most Shock Doctor guards. Most people like it, love the fit and comfort. The ones who don't like it either don't like the fit or because they feel it's too soft, too easy to bite through, and not protective enough. This one is good for braces. Adult and youth sizes available.
Shock Doctor Gel Max Power Print Mouthguard ($21.99)
Some people like it. Others say it's made too cheap or awkwardly-sized (too big). There's also complaints that the design comes off, ouch…major turnoff and big reason why I hate "cool designs" on mouthguard.
Shock Doctor Superfit Convertible Mouthguard ($19.99)
Sold as an "all-sports" mouthguard. I never tried it but it looks flimsy to me!
Shock Doctor Gel Max Power Mouthguard ($10.99)
Comes with a nice $10k warranty but honestly, I think it's cheap stuff.
Shock Doctor Nano 3D Convertible Mouthguard ($19.99)
It's called "Nano" because it's smaller, slimmer, thinner, and has about 1/3rd less material than traditional mouthguards. Some people love it. I think most fighters will find it's too slim to be protective. I've also heard complaints about it falling off easily which isn't surprising when you have a small AND soft mouthguard. Also pay close attention to the low height of the inside wall and it's not hard to imagine why the might not clamp onto your teeth as well. They do have some really cool colors though that can cost as much as $40.
Shock Doctor Nano Double Mouthguard ($24.99)
The DOUBLE version of the Nano 3D mouthguard. Some like it and some complain that the lower part doesn't mold well or doesn't cover enough. Others say the outside and inside edges are too hard and can cut into the lip or top of the mouth during impact.
Shock Doctor Nano Double Fight Mouthguard ($24.99)
I have no idea what the difference is between the NANO DOUBLE and NANO DOUBLE FIGHT models.
Shock Doctor Ulra-slim Microfit Mouthguard ($19.99)
No, I don't recommend this guard at all. I only listed it here cuz I was appalled at this blatant rip-off off SISU's mouthguard design. Somebody please let me know if I'm wrong!
Shock Doctor Gel Max Convertible Mouthguard ($7.99)
This is the iconic Shock Doctor design that most people have recognized for years. I think it's cheap shit and still not worth getting. All their other ones below this are definitely NOT worth getting. The main complaint is usually along the lines of too soft, and also too small.
Shock Doctor Pro Mouth Guard ($7.99)
Cheap and too soft. At least they put enough material around the molars so you don't bite through. And at first try, the mouthguard doesn't feel so bad. But once you compare it to others, you realize it doesn't mold well to your mouth despite how soft and thin it is.
2ND TIER MOUTHGUARDS – Nike, Under Armour, Venum, Title, etc
These are in my opinion, the next best brands for mouthguards. They are probably not as good as the Brain Pad and Shock Doctor, but are still better than nothing and still better than the super cheap ones.
I do like to make of these brands and call them the "wannabe mouthguards" since they try so hard to look just as premium. They come with fancy packaging and also offer dental warranty. I reckon if I was a new to boxing or MMA, that I might have thought they were more prestigious. My bias against them is probably because I know mouthguards aren't their main focus, and simply only another product segment for them to make money off the sport.
Do keep in mind that many of these brands make the cheap $5 mouthguards as well but I don't bother showing those as they're a waste of time and I don't like covering products I would never use myself.
Nike – football specialist
Nike mouthguards feel like a joke to me. The material looks like whatever.
Nike Adult Hyperflow Flavor Mouthguard BLACK CHERRY ($39.99)
This looks to be their best one. Looks bulky and high-quality. I think it was designed more for football than for fighting. Nice breathing holes and dual-density. As always with Nike products, it's pretty stylish.
Nike Pro Hyperflow Mouth Guard BLACK/WHITE ($29.99)
Still looks stylish but much cheaper model because of single density. Don't be fooled by the fancy design. I don't think this is very good at all.
Nike Pro Hyperflow Mouthguard ROYAL-BLUE/WHITE($29.99)
Same thing as above but different color.
Nike Hyperstong Mouthguard ($14.99)
Dual-density and looks stylish. The one I have molded nice enough and the material feels strong enough for boxing. I like that there's enough material in the molar area to bite. Might be ok if all you need is a simple SINGLE mouthguard and you like Nike. I've also seen them priced as low as $11.99 in some stores.
Nike Youth Hyperflow Mouthguard ($19.95)
I hear it's bad and melts easily in hot water. Also, it looks like the cheap $2 crap but with a Nike logo on it.
Under Armour – football specialist
Under Armour makes a ton of different mouthguard models and I'm not sure which ones can be used for fighting or not. It seems most of them are made for football and also with the "flavor feature" (what for?! lol). I was able to try 2 models myself and will have to guess on the performance of the rest based on those.
Under Armour ArmourBite Antimicrobial Mouthguard Adult ($34.95)
This is probably their premium model. Super high-quality and comfortable. Anti-microbial qualities, blah blah blah.
Under Armour UA ArmourBite Mouthguard Medium Tropic Pink ($22.95)
Same thing as above but smaller version for females.
Under Armour ArmourShield Mouthguard Adult Red ($24.95)
Multi-layered mouthguard supposedly designed for all contact sports. Looks alright to me.
Under Armour Adult Armourshield Flavored Mouthguard ($21.95)
Not the best reviews. Some people complain it's too small (child size). But there were some good comments about long-lasting flavor.
Under Armour Mouthwear ArmourFit Mouthguard STRAPLESS ($11.95)
Looks kinda simple but has some good reviews online. The good comments are due to it molding well, durable, and some people liked it better than even Shock Doctor mouthguards. I kind of have to agree. It does fit nicely and I like the thickness around the molars. I'm not so sure how good it'll be for fighting but it's definitely one of the better cheap SINGLE ones. I'd also say the design is more of a 1.5 design where the bottom row does get some coverage (just a little) but it still feels like a single.
Venum – Thai clone
Oh boy, here comes another "Shock Doctor". Tons of colors and designs. Price ranging from $8-20. Luckily, their seemingly limitless color options essentially boil down into only 2 models, the more premium "Predator" or the standard "Challenger".
Venum Predator Mouthguard ($19.99)
Tons of color options. Has a multiple-layer core, and then also some bits of gel for comfort. I think this is the one to buy if you like Venum stuff. I'd say the mouthguards look fancier in pictures than in person. I have it and it looks really cheap and gimmicky in person. It seems like usable protection but hard to aim your bite (especially if your teeth aren't perfectly line up a certain way). It has the similar issue as Title being that it melted together too quick.
I'm not a fan of the user guide pamphlet saying "This mouthguard passed M33:2011 Performance Level 2 impact tests for players playing lesser contact sports and recreation…etc..etc.." What the heck do they mean by "lesser contact sports"? Isn't boxing a GREATER contact sport?!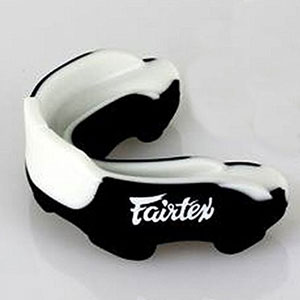 Oh and what's this? Just as I've made fun of Venum gloves before for being a "Thai clone brand", it seems they've done the same for their mouthguards. You can look up the Fairtex mouthguard on Amazon yourself. It's the exact same design with just a different logo. Seriously, go see for yourself. This kind of crap makes me lose respect for brands entirely.
Venum Challenger Mouthguard ($14.99)
This one has tons of color options as well. It might look cool and have multiple colors, but I think it's only single density and basically just Venum's redesigned version of the super cheap mouthguards.
CHEAP MOUTHGUARDS – Battle, Meister, Safeguard
These brands for me are the absolute lowest you should ever go. They're priced pretty cheap but still intend to be protective (or at least market themselves to be). I honestly wouldn't use any of these unless I had no other choice. Seriously…the Title ones even have instructions "DO NOT CHEW YOUR MOUTHGUARD"…hahahah, how pathetic!
Some advice for you when boiling cheap mouthguards…DON'T TRUST THE INSTRUCTIONS! It might say to hold it under water for 30 seconds, or 60 seconds, or 90 seconds. Just trust me on this. You should eye it yourself to know when to pull it out. The moment you see the side-walls collapsing under the heat is when you should take it out. Wait a second longer and your mouthguard will completely melt to pieces. The higher quality ones can withstand more heat.
Title / Fighting Sports – Pakistan clone
Ahhhh, where would we be without Title doing copycat "me-too" generic products? Just like their boxing gloves, Title has released several different mouthguard models and designs, ranging from $0.80-12. And yes, they're all pretty much crap. Not enticing whatsoever and I don't recommend them personally. They also don't offer any dental warranty. Let's go through their "better" options shall we?
Title GEL Victory Mouthguard ($11.99)
Lots of material for a cheap mouthguard. Get it if you like the feeling of biting on a sock.
Title GEL Triple-Shot Mouthguard ($12.99)
I don't know about you but this insults my intelligence. Title sells a mouthguard under their brand that's also released in the exact same design by another brand (not surprisingly, another copycat brand in "RDX"). These cheap companies just can't find a way to produce their own unique stuff, can they?! They do the same with boxing gloves (LINK) too if you don't already know.
The instructions say to boil it for 90 seconds but I knew better. I pulled it out around the 30-second mark because the walls were already collapsing and the mouthguard was visibly shrinking. Luckily I took it out in time as any longer and I would have ruined it completely. It molded just fine and I like that there's a lot of material to bite into. It's good if all you want to do is lock your jaws together but I don't think it's a good guard. I highly doubt that the way it fits is what the company intended. I think they meant to have medium-thickness walls around your teeth but because this things melts together into a lumpy mush, it just feels like you're biting on a thick sock.
Oh, and in case you think I'm just bashing on this mouthguard unfairly, I'M NOT! I got it for free (as a review product) and can attest to its suckiness from day one. It's just way too soft. Maybe you'll like the "gel feeling" and amount of material in your mouth but I'm still skeptical about its protection abilty. It's not a bad attempt at wanting to be premium but once you try it side-by-side with a better brand, it looks like a joke.
Title Assassin Mouthguard ($10.75)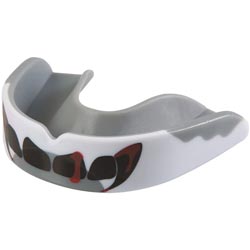 It's looks like a typical cheap plastic mouthguard but the bottom has some slightly thicker pads where your molars can bite down harder.
Waste of time. Instructions tell you keep it in boiling water for 90 seconds and don't take it out before 90 seconds. Well at 45 seconds, the mouthguard already melted into a mess of ugly bubble gum. I took it out at 60 to salvage what was left and stuck in my mouth anyway and tasted some melted plastic—GROSS!
Battle – football specialist
Their brand and product line is built more for football and so are their mouthguards. Most of their mouthguards are the football lip-protector type that look like pacifiers. But they do have have like 2 models which I think might be ok for fighters. Both come off as "cheap crap" to me but I have to consider them as they offer $30k in dental warranty. I wasn't blown away or anything when I tried one but who knows, maybe you'll like them.
Battle Fangs Mouthguard 2-PACK ($16.99)
They look really simple but actually feel pretty good. Probably the best below the $10 mark. And actually better than many of the $15-20 ones. The plastic feels thick and strong, boils well without melting. Enough material to bite through without having too much material in your mouth. I liked it. One of my favorite SINGLE guards for sure.
WORST MOUTHGUARDS – Bottom of the barrel
This is the bottom of the barrel. the worst of the worst. The kind that you probably only buy in bulk, like $10 for 100…and you hand them out like disposable mouthguards to first timers at the gym.
Why are they the worst?
The material they use is really cheap, the lowest quality, or too soft. Most of them will melt too easily in hot water barely surviving the boil if at all (also can't be re-boiled), easy to bite through, too soft, don't pretend against impact, uncomfortable, also feel cheap (which can affect you psychologically).
Meister – cheapest Pakistan clone
I don't take this company seriously at all. It's the really cheap stuff masquerading as "branded gear". All their gloves and all other equipment have the same generic Pakistan designs. Their
Meister MMA Moldable Double Mouthguard w/Case
Absolute piece of crap that doesn't deserve to be called a mouthguard. The instructions say to put it in hot water for ONLY 10 SECONDS. That's how pathetically fragile it is. I tried this exact model myself.
First off, it's both too fragile and also too inflexible at the same time. It melts easily as hell…I'll bet 50% of you will ruin it on the first boil. It melts into an ugly mess and the breathing holes will close. Secondly, parts of it will melt way too easily collapsing the "protective" part of the mouthguard BUT other parts don't melt uniformly around your mouth so things like the inside walls or lower half look like you didn't melt them enough.
Lastly, even if you DID manage to melt it perfectly to your teeth, you'll notice the mouthguard is way too soft. The material is so damn soft that it doesn't feel protective at all; no rigidity to block the impact or to lock your jaws together. It's a bit like you're biting on a pacifier. Completely soft. If you even bite down just about 25% strength, you'll close the center breathing holes. It's a great lesson to myself…never buy CHEAP double-mouthguards. The material is so soft that the center holes won't stay open. Cheap mouthguards should be SINGLE if you ever have to use them.
Meister MMA Single Mouthguard ($2.99)
This one actually feels better than the double the plastic is slightly thicker, and also I think there's less material in there to feel how cheap it is. But still, it feels way too soft to be protective. I also hate that it doesn't mold well. Most of these cheap ones don't. It's like the water isn't hot enough to melt the plastic, but then once it gets to boiling point then it melts too easily.
I really wouldn't put any trust in this one still. At best, it's like half a notch better than those super cheap $0.50 ones.
SafeTGard – cheapest "usable" mouthguard
This is the name brand version of those cheapest clear SINGLE mouthguards that are given out like candy at the local boxing gym. I was really expecting something cheap but I love the material they use. Yes, it's probably too soft for impact protection but it molds so well and so perfectly to your mouth. I like the grip as well. This is probably the best mouthguard you can get if you want a "naked" feel.
Again, I like how they feel but I don't think they were originally designed for boxing, probably more for avoiding teeth-grinding when you sleep at night. Anyway, this is probably the best of the $1-2 mouthguard range.
UNTRIED MOUTHGUARDS – brands I never tried
I don't know (or never tried) these brands but will leave my comments in case you really want my completely-uneducated opinion on them. (NOTE: several of them promised to send me review copies but I've yet to receive them, even after waiting over a month, so I'm just gonna post this review now and update it when I actually receive my review copies. Hopefully, I'll have tried more of the custom ones later to review them accurately.
SISU
To be honest, I'm a bit on the fence about this brand. I love that they're a far-away European company with a unique idea for mouthguards. Different shape, different design, different protection logic…and above all, a truly different mouthguard product!
So how are their mouthguards different? They're really thin, way less material, and really stiff. Their extra rigidity allows you more protection so that you can have less material in your mouth. This way you feel more comfortable, more natural, and able to talk. Now when it comes to fighting…I have to ask myself, is this "naked/natural" feeling what I really want?
I WANT a protective feeling. I WANT there to be a giant shield in my mouth that makes me feel like it's taking all the damage. A small thin mouthguard makes me feel like all that damage is gonna transfer straight to my jaw. The smallness of it also makes me wonder…is there additional benefit to small vs large mouthguards? I feel a large mouthguard has more cushion and area to disperse mouth impact across a wider area of my jaw. But maybe a small mouthguard is less likely to be hit and therefore my teeth are less likely to absorb damage to punches that are landing only near the mouth but not directly on the mouth itself.
Anyway, I've yet to try the brand and didn't feel they were worth buying with my own money to try. Their company doesn't focus solely on fighting sports and some of the reviews I've seen out there aren't that great. Some fighters complain their thinness (hard edges) and holes cut their lips during impact and also that they really aren't as protective as the more typical bigger mouthguards. There's less to bite down, less to cover your teeth, and overall just less material to absorb impact.
SISU MAX 2.4cm Custom Fit Mouthguard ($14.99)
This is the thickest model that they offer (recommended for combat athletes). It's still 30% thinner than most other mouthguards on the market. Get this if you want to try something really thin.
Other mouthguard brands:
Adams – they make mouthguards for football, but some people like them for boxing. Either way, it's a cheap small mouthguard that I don't think is very protective.
Adidas – looks cheap.
Everlast – they sell both cheap stuff and also wannabe-premium cheap stuff.
Fairtex – Fairtex mouthguards look exactly like Venum mouthguards. I don't like generic gear so I'd just avoid this wannabe-premium crap.
FightDentist – popular mouthguard company, but god-awful outdated website design.
Gladiator – popular custom mouthguard company.
GuardLab – yet another "premium custom mouthguard" company.
impact – popular, and also one of the cheaper custom mouthguards out there. Funny 90's-style marketing videos and brand design. They promise maximum protection with minimal feel. Note the top cutouts in the gumline and decide if you want that or not.
Makkar / PPM (Pure Power Mouthguard) – don't be stupid. If you want more power, work on your conditioning and technique rather than paying for this over-priced junk science!
MOGO Mouthguards – they make flavored mouthguards that supposedly taste great and last all season. I don't take them seriously in terms of protection.
MouthpieceGuy – I've yet to try their mouthpiece but am curious. It looks like they've really evolved the world of "custom mouthguards". It's not only just custom-fitted to your teeth but also to the gumline and properly centered. If I had any reservations, it's that I still prefer DOUBLE over SINGLE mouthguard. I also like that this company is from Covina, CA which is a really popular area for MMA fighters and also some boxers, and that the owner himself was a former fighter.
OPRO – popular mouthguard company in the UK area. They promise really thin custom mouthguards. I love that they offer D30 material (same stuff Rival uses in their gear as well) that absorbs shock really well. They're probably the only mouthguard company I know that does that.
Revgear – I haven't tried but they look like the same cheapest grade Pakistan guards.
Sanabul – cheap crap, that comes in different colors.
My personal mouthguard tips
The funny thing is most fighters only think of wearing mouthguards during sparring but I do recommend smoe other moments. You can wear them during bagwork and mitts, and also during running/skipping-rope! This will help you get used to them faster.
Mouthguard boiling tips:
ignore the boiling instructions, eye it!
shape it perfectly to your mouth or else air gets through.
singles should have breathing space on bottom
thick mouthguards should be bitten through
practice lining up your lower jaw bite
mouthguards typically float when boiling, can use strap or spatula (pushing down, then lifting out)
pay attention to any mouthguard saying to boil for only 10 seconds, that means it's the really cheap kind!!
When to wear it in practice (building comfort):
sparring
bagwork & mitts
shadowboxing
running
throughout your day (be careful that you don't end up chewing right through it!…this tip is just to help break it in a little faster!
can even wear it while sleeping
Special shoutouts to …..

www.zoobgear.com – ZoobGear is an online superstore for Boxing, MMA & Fitness equipment!
I would like to thank ZoobGear store for sponsoring this mouthguard review. They donated around 20 mouthguards for me to try out. It is through their generosity that I'm was able to put together detailed review guides like this for you.
Please check out their incredible store and support them just as they have supported our sport.