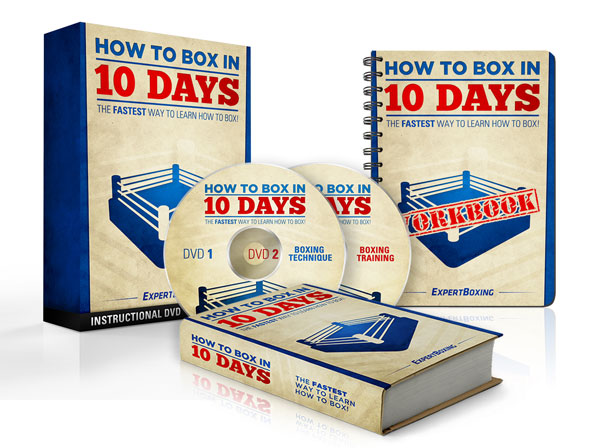 The FASTEST way to learn how to box!
Hey guys, you asked for it time and time again and I listened. I spent the past year of my life creating the fastest boxing course for beginners, fighters, trainers, or anybody wanting to learn how to box.
The "How to Box in 10 Days" boxing course consists of a 300-page instructional ebook, 32-page workbook, and 1hr 45min of video instruction — for only $105.

This accelerated boxing course will teach you all the proper fundamentals of boxing to go from day one to sparring in just 10 days. You'll learn all of the proper boxing techniques such as punching, defending, countering, and moving around the ring. You'll also find tons of advice, drills and workout routines to develop your skills. Even if you don't plan on competing, you'll still get a great workout and have lots of fun learning how to box.
I've put equal amounts of love and energy into this as I have into the articles in my site. The advice comes from my own experiences and from the boxers and trainers around me 24/7. As always, it comes with the special 'EB' Touch: my own epiphanies, discoveries, and secrets on how to become a better boxer.
I'm excited to share it with you, and I'm sure you'll enjoy reading it as much as I enjoyed writing it.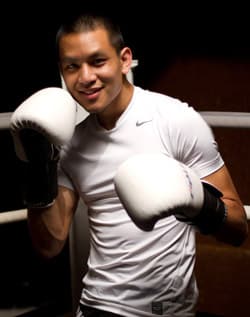 Thank you for the support and good luck!
Johnny Nguyen, founder of ExpertBoxing.com
"How to Box in 10 Days"
BUY IT NOW FOR $105
300-page eBook — broken down into 10 days of step-by-step instruction, with detailed explanations and over 300 hi-res pictures! Discover the techniques and training methods used by professional boxers! Learn and avoid over 200 common mistakes made by beginner boxers.
32-page workbook — workout routine and checklists to monitor your progress daily. These are great for review, since you can skim them quickly to reinforce the skills you need most.
1 hour & 40 minutes of instructional video — HD quality footage of boxing demonstration. See exactly how boxers throw, defend, and counter punches inside the ring. Learn how to use boxing equipment to hone your fighting technique.
THIS IS A STREAMING COURSE – no physical items are shipped, and also no video downloads allowed. (The ebook is downloadable but I no longer want to deal with large video file hosting.) You'll receive a member login after signing-up, where you can stream your course videos.

You need internet to watch these videos.

PLANNED UPDATE – I'm planning to re-do this course at some point with updated information and better video quality. All existing customers will get free access to it.


CLICK to see actual pages from the E-book
10 days of organized boxing instruction.
Stance, Footwork, and Punching.
Intro – Safety briefings, details of boxing equipment, gym, and trainer
Day 1 – Stance & Footwork
Day 2 – Straight Punches (jab, right cross, 1-2 combination)
Day 3 – Curved Punches (hooks, uppercuts, body shots)

Defense, Combinations, and Counter Punching.
Day 4 – Basic Defense (blocking & parrying)
Day 5 – Advanced Defense (rolling & slipping)
Day 6 – Punch Combinations (basic combos, advanced combos, mitt drills)
Day 7 – Counter Punching (steps and details of over 60 common counters)

Advanced Skills, Training and Sparring.
Day 8 – Advanced Skills (tips to improve your punching, defense, body movement)
Day 9 – Boxing Training (weekly workout plan to develop fight conditioning)
Day 10 – Sparring (sparring drills, fight tips, fight strategy)
Final Words – advice, top 10 boxing questions, congratulatory hug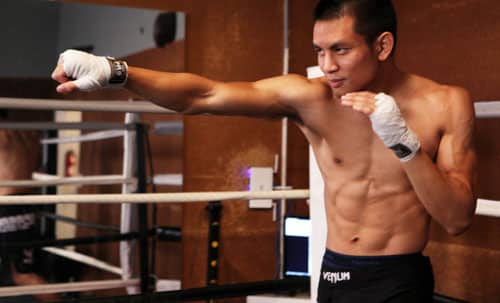 PS: If you want to see more details (or like reading sales pages), click How to Box in 10 Days